Get professional mental health care sponsored by Cherokee Nation
Welcome to Calmerry — an online therapy platform that will help you improve your well-being. You now have access to text and video sessions with licensed professionals and digital mental health tools.
How your therapy journey with Calmerry will look like
Let us get to know you
After you register on our platform, we'll ask you to complete a brief survey to evaluate the state of your mental well-being. It will help our team match you with a therapist that fits you best. Usually it takes less than 1 hour.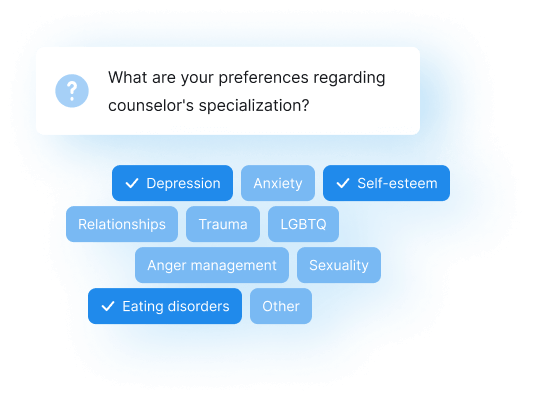 Set goals with your therapist
When we find the right therapist, we'll invite you to connect with them in a secure messaging space. You can start a conversation right away, and your therapist will answer within a business day. Together, you will fill in your Therapy Plan.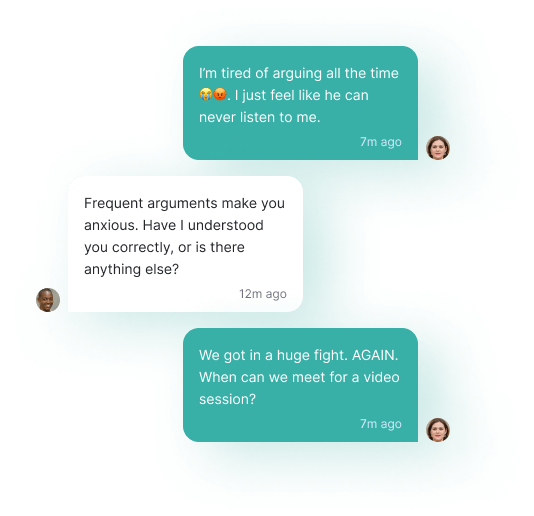 Get measurable therapy outcomes
Once goals are set, you will start working with your therapist towards achieving them. Also, you'll have access to free mood tracking and journaling tools to stay on track of your progress. It usually takes 15-20 sessions to see changes in your condition.
Start with a free assessment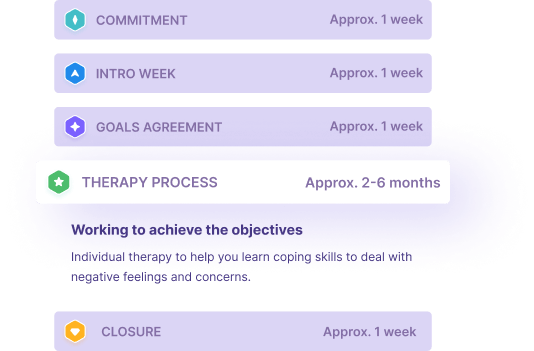 Start with a free assessment
What is included in your treatment plan
What is included in your treatment plan
Personalized Therapy Plan with goals, objectives, and measurables to track your outcomes.
Journaling tool to record your mood notes and reflections and share them with your therapist if needed.
Mood tracking tool to record your daily mood in a few clicks and see patterns and trends in your emotional state.
Meet our mental health professionals
We are proud to present our fully licensed and vetted mental health professionals who are experienced to support you on your way to coping with:
We have therapists who speak your language! Our team will help you get matched with them as you require.

Diamond Thaxton
LMHC
3 years in practice
Verified license

Megan Pollock
PhD
6 years in practice
Verified license

Liese Zilberleyt
LICSW
6 years in practice
Verified license

Cecelia Salamone
MA, LPC
25 years in practice
Verified license

Dora Cario
LCSW
4 years in practice
Verified license

Jennifer Leos
MA, LPC
15 years in practice
Verified license
and 100+ licensed and vetted mental health professionals