Feel Calm With Self Esteem Therapy
Self-esteem is an important aspect of our spiritual and emotional life. When people doubt and criticize themselves pretty often and always put other people's needs before their personal ones, it means a person has low self-esteem and needs professional treatment. Our qualified therapy team will help you work on yourself and change your self-esteem for the better.
Human-centered therapist matching process
Affordable way to achieve a balanced life
Licensed therapists you can trust
What Is Counseling for Self Esteem?
Counseling for self-esteem is a special form of psychotherapy aimed at helping people with low self-esteem rebuild their way of thinking and make them confident and fulfilled. Self-esteem is all about valuing yourself enough. Online therapy is your first step to a new happy life.
Having self-esteem issues often include doubting your abilities and skills, criticizing yourself all the time, thoughts of not being good enough, negative thinking about yourself. It will result in a depressive, anxious mood, and you might even start avoiding people and public places. Our qualified self-esteem psychologist will make everything possible to work on your behavior and thinking patterns to increase your self-esteem and help you start loving and respecting yourself.
Our licensed specialists will find the most personalized approach to help you solve your issues with self-love and respect. They will apply cognitive behavioral therapy, so you can achieve tangible results and improve your emotional well-being soon.
How Does Self Esteem Help Work?
If you decide to improve your self-esteem, it's important to understand how the therapy works on our platform. The first step will be to register on our therapy website. It takes only a few minutes to sign up as only the basic contact details are needed. Once you are done, you can get familiar with the interface, explore pricing plans, and see how to schedule therapy sessions.
Meanwhile, you have to complete a brief questionnaire. This step is very important. Be honest about issues that bother you, and don't forget to mention your preferences regarding a counselor you would love to work with. Based on your answers, we will assign the matching specialist. Then you have to choose the desired pricing plan and make the subscription payment.
Answer a short survey to get started. Be confident when sharing your thoughts and worries.

Choose a suitable subscription plan
Get a quote based on your answers, compare the offered plans and pick the one that's best for you.
Talk to a therapist online
Сommunicate with your online therapist through messages, worksheets, and live video sessions.
Make the most of online therapy
Follow your long-term therapy objectives and short-term goals, use guidelines, and track progress.
When you are done with all these steps, you can already schedule the first introductory therapy session to discuss what brought you to this platform. You can connect with an expert in various ways. It can be instant text messages and video meetings that will be a great choice to have the most tailored and personalized therapy sessions. By scheduling digital meetings regularly, you will be able to achieve progress faster and boost your self-esteem.
What Are The Benefits Of Counseling For Self Esteem?
Here are the main Calmerry's advantages that make us the best therapy platform. Look what's unique about us.
Our experienced team will connect you with the best online therapist suited to your unique needs.
All therapists are background-checked, verified, trained and hold valid licenses from their state.
Get access to a unique therapy space where you can set up goals and track your progress in real time.
Our friendly support agents are available 24/7 to help you and give accurate answers to your questions.
Select the subscription plan that best suits your needs and budget. Plans start at just $53.
If a new issue arises during therapy, we'll match you with another therapist without charging you anything.
How to Improve Self-Esteem
Every person is unique and requires the most tailored approach and special attention, especially when it comes to self-esteem problems. Our licensed therapists have all the qualifications and knowledge to make your healing process as effective and individualized as possible. Therapy will help you discover your main priorities in life and how to fight for your interests, no matter what. Usually, people with low self-esteem don't know how to do it, and a professional will help you change your behavior and thinking pattern to start valuing yourself more.
You will be able to discuss everything that bothers you with a counselor. In their turn, a therapy specialist will provide you all the effective guidance and support to help you improve self-esteem as well as some practical exercises that will make you even closer to a better version of yourself.
Therapy will help you finally do what you want, be nice to yourself, stop criticizing and doubting your abilities and worthiness. You will learn to control negative thinking, building a new, more positive self-image. Our platform is a safe environment for you to grow and strengthen your personality. It's the perfect time for you to give self-esteem therapy a try and rise above yourself.
Message your therapist whenever you need it. Receive responses daily. From just $53 a week.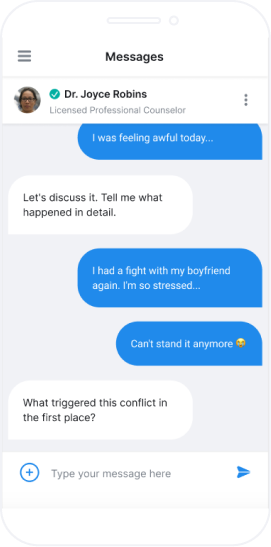 Add Video Sessions to you package to make a deep dive into therapy. From just $90 a week.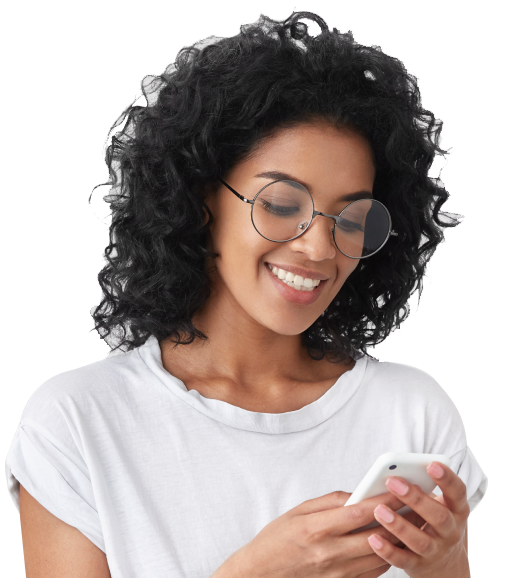 "
"Thanks for the constant emotional support and help. My therapist provided me with effective advice when I needed it the most. All my insecurity is almost gone, and I will keep working on my self-esteem."
Alexia
September, 2020
"
"Having self-esteem issues isn't anything terrible, but it has an impact on my life. My counselor is a great professional, as I feel amazing emotional improvements."
Samuel
September, 2020
"
"Recognizing that I have self-esteem issues was already a huge step for me. Then I felt that I really need professional help. So happy I found this therapy platform online, as it was exactly what I was looking for. We had a deep connection with my therapist, so I could tell everything that bothered me. Now I feel so much more confident, and I will stick to self-esteem therapy to have bigger progress."
Norah
August, 2020
"
"I love the interface, it's very simple. I had a chance to work with a professional therapist that helped me to change my behavioral patterns and boost confidence."
Brandon
August, 2020
"
"I wasn't sure if therapy will help improve my self-esteem, but it's pretty effective. In addition, having therapy sessions online is more comfortable than in-person therapy. It is a great substitute."
Ada
August, 2020
Everything You Should Know About Self Esteem Help
Before getting started with self-esteem therapy, check out a brief Q&A to find out more about the process.
How Can a Self Esteem Psychologist Help You?
A licensed therapist that will be assigned to you will come up with an effective treatment tailored to your personality that will help you become more confident, change behavior patterns, and boost your self-esteem. With online therapy, you will find out the reason for your insecurity and will learn how to change the way you perceive yourself.
Can You Get Therapy in Case of Low Self-Esteem?
Getting qualified help and guidance is highly recommended if you have low self-esteem issues. Usually, this is quite a delicate problem that's hard to handle on your own. So a professional counselor will apply all professional therapy knowledge to let you feel better.
Can Online Counseling Improve Self-Esteem?
Online self-esteem therapy will have the same positive effects as regular face-to-face meetings. You will be able to boost your confidence and solve plenty of other personal issues to live a happy and fulfilling life.
What Are Reasons for Low Self Esteem?
The reasons for having self-esteem issues might be different. It can result from disapproving parents or romantic partners, bullying, over-controlling parents, emotional trauma, or abuse. No matter your reasons, we are here to help you become a better version of yourself through effective therapy.
Why Do People Struggle With Self-Esteem?
It's not that easy to find the root of the problem, and our skilled and experienced professionals will help you define why you struggle with self-esteem. Nevertheless, many people have these problems because they have been disapproved, neglected, punished, ignored by important authoritative people.
For more information, please visit our FAQ
Advice For Good Mental Health
Find advice and support from mental health professionals for common problems. Learn about self-help strategies that can help improve your mental well-being. Tips for good mental health from Calmerry.
Even when we clearly understand that we need to see a counselor, we might postpone this decision simply because we don't know what's going to happen during the session. Moreover, prior to coming to the session, we need to find a therapist that would fit our...
Sign Up And Schedule Your First Therapy Session
In case you are suffering from self-esteem problems, you can fully rely on all our professionals with hands-on experience with a similar issue. Give us a call right now, and we will guide you through all our therapy services. Sign up and schedule your first therapy session with a professional to improve your self-esteem and become a better version of yourself.
Start your therapy journey today
88% found Calmerry to be as effective or more effective than traditional therapy.
95% found it to be more convenient than traditional therapy.