Published August 21, 2022 / Updated June 1, 2023
How Much Stress Is Too Much for You? Take This Stress Level Test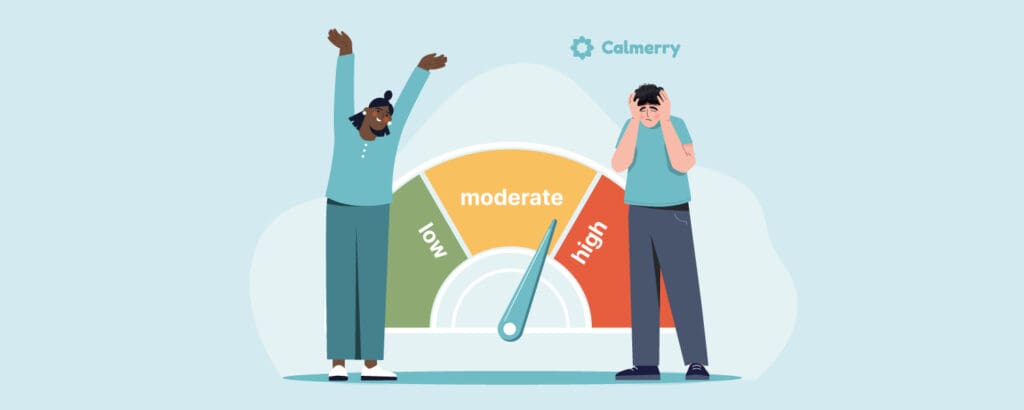 Reading Time:
4
minutes
Stress is a normal and common human reaction to demands. It can come from various sources: job, family, relationships, financial worries, health concerns, day-to-day inconveniences, or traumatic events. Moreover, stress can also stem from positive changes.
But regardless of the causes, it often may be hard to recognize what exactly contributes to stress, how it feels in the body, and when we're under too much pressure.
So, how to measure a stress level? Taking a stress test can be helpful. There are several well-established psychological instruments available. And below, we're inviting you to learn more about one of them – the Perceived Stress Questionnaire (PSQ-30) – and take it online in less than 5 minutes.
Test your stress level with the Perceived Stress Questionnaire (PSQ-30)

One way to measure your stress level is through the Perceived Stress Questionnaire (PSQ). It's a clinically validated self-assessment developed by American physician Susan Levenstein in 1993. She showed the connection between stress and gastrointestinal diseases.
Today, the PSQ is considered a reliable, widely used, and gold-standard measure of perceived stress – how a person feels about the amount of pressure they experience over a given time.
This stress test consists of 30 items that assess your symptoms and help examine the stressors over the past year. The items are the statements that determine the frequency of symptoms and pressure-inducing experiences and are rated on a 5-point scale, ranging from 0 (almost never) to 4 (usually).
Each item is assigned to one of the seven subscales to asses:
Fatigue
Overload
Harassment
Irritability
Lack of joy
Worries
Tension
What does a stress test show? The total score for the PSQ can range from 0 to 100, with higher scores indicating more perceived stress. A score of 44 or below indicates a low level, while a score of 45-60 indicates a moderate level, and a score of 61 or above indicates a high level.
Some quick recommendations before the start
Although some of the questions in this test may seem similar, each one is different and separate. Try to answer as honestly as possible and quickly – without overthinking. This will help you get the most accurate picture of how you feel and the possible causes.
Note: This test isn't diagnostic. It's provided purely for your self-assessment and educational purposes. But the results can help you determine whether you might benefit from further evaluation and professional support from a mental health professional.
How does stress affect the body and mind? Key signs and symptoms
When you're stressed, no part of your body is immune. It affects your emotional, physical, and mental health.
But because people cope differently, symptoms can vary from person to person. Moreover, some of them may feel vague, go unnoticed, or be misinterpreted as the symptoms of medical conditions. That's why by being aware of them, you take action to protect your well-being.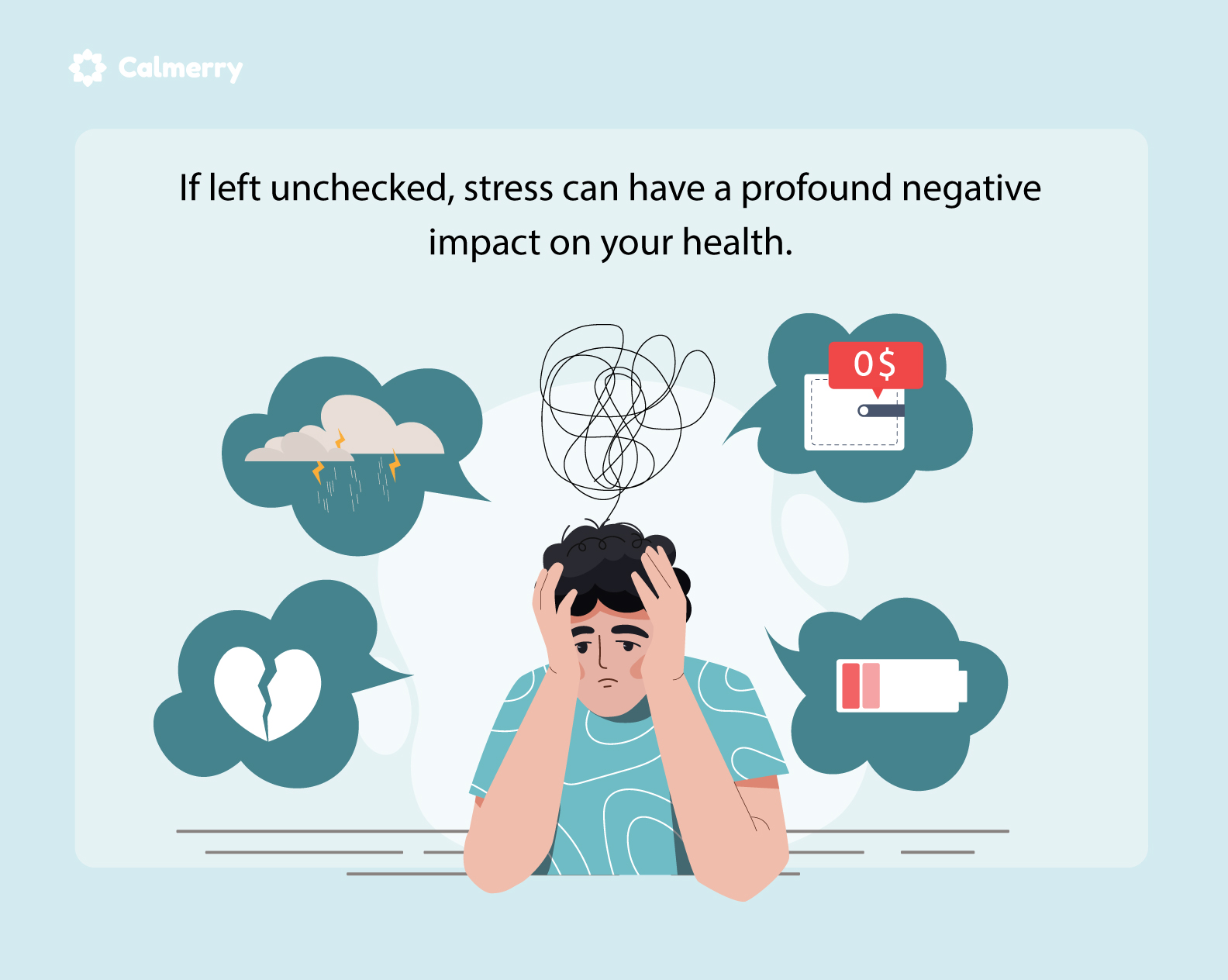 Some common signs and symptoms include:
Headaches
Irritability
Digestive problems
Emotional overwhelm
Muscle aches
Racing thoughts
Dizziness
Apathy
Chest pain
Having a hard time relaxing
Difficulty breathing
Poor concentration
Fatigue
Sudden weight gain or weight loss
Sweating
Social avoidance and isolation
Changes to your menstrual cycle
Note that if you're regularly feeling this way, it's likely that you're under too much pressure, and your symptoms may become unmanageable. And if left unchecked, stress can have a profound negative impact on your health.
For example, over time, chronic stress can lead to heart disease, high blood pressure, and diabetes. Additionally, it worsens existing mental health conditions, such as anxiety disorders and depression.
The good news is that there are ways to manage stress and promote wellness. One key step is to keep your levels in check and spot the main triggers. You may consider using the tool above.
Subscribe
to our mental health digest
Let us support you on the way to better mental well-being. Get expert tips and insights on mental health delivered to your inbox monthly.
Take the first steps in managing stress and achieving wellness
If you often struggle to manage stress, there are many strategies to help you reduce it in the short term and improve your well-being in the long term. Check out these effective techniques to learn healthier ways to respond to stressors.
Second, make time to care for yourself, as it's essential for maintaining good mental health. This might include your daily self-care routine, physical activity, and practices like meditation, deep breathing exercises, mindfulness, or journaling.
Finally, talk to a mental health professional, especially if the stress test suggests you have a high or moderate level.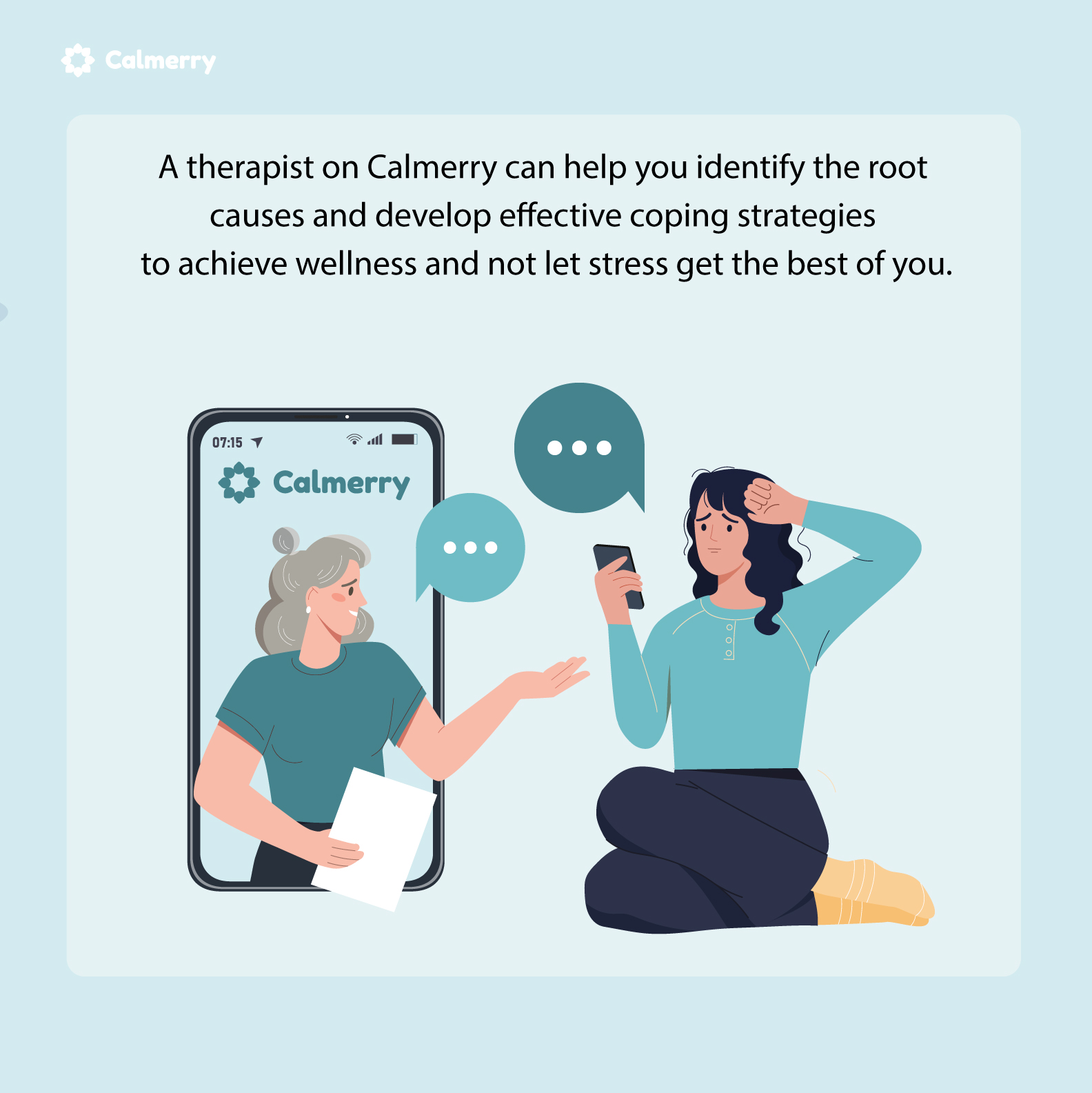 Therapy can be an invaluable tool for managing stress and taking back control of your life. Seeking support from a licensed therapist if your stress is too much to handle on your own is the right strategy to learn to cope with it and take care of your well-being. A therapist can help you identify the root causes and develop mental health skills to achieve wellness and not let stress get the best of you.
Сheck your mental well-being for free: