Feel Calm With Relationship Counseling
A romantic relationship is something you need to work really hard on, and sometimes it can turn pretty sour. It's time to get professional help to find the root of all conflicts and misunderstandings crashing over your couple and fix your relationship before it's too late. Our licensed counselors with years of experience will come up with an effective strategy that will save the situation and stop your emotional struggles.
Human-centered therapist matching process
Affordable way to achieve a balanced life
Licensed therapists you can trust
What Is Relationship Counseling?
Relationship counseling is a type of psychotherapy that aims at exploring and resolving conflicts, misunderstandings, and other issues that a couple might experience. If you and your partner decide to work through problems to strengthen the relationship, then online services will be the perfect solution. Our licensed counselors will help you better understand each other, figure out the reason for all disagreements, and teach you how to change your behavior patterns to foster a much healthier partnership.
How Does the Process of Counseling for Relationships Work?
The whole process of getting relationship counseling sessions online is pretty simple. Your first step will be to sign up and create your personal account. Keep in mind that at Calmerry, we respect your desire to stay anonymous, so you can use an alias instead of your real name. Once your account is done, you can move on to choosing the best-matching pricing plan. Discover what services you will get with each option and make the payment.
Answer a short survey to get started. Be confident when sharing your thoughts and worries.

Choose a suitable subscription plan
Get a quote based on your answers, compare the offered plans and pick the one that's best for you.
Talk to a therapist online
Сommunicate with your online therapist through messages, worksheets, and live video sessions.
Make the most of online therapy
Follow your long-term therapy objectives and short-term goals, use guidelines, and track progress.
Then, your job will be to complete a brief survey and answer a few questions. Be frank about what relationship issues you want to resolve with the help of counseling and what your main requirements are regarding a specialist you would love to work with. Once the right specialist is assigned to you, you can have an initial welcoming consultation and schedule more sessions to cope with interpersonal problems. Feel free to connect with a therapist via text messages or video calls to make sessions even more effective and personalized.
What Are the Main Benefits of Relationship Counseling?
Our online platform offers a wide range of professional services, including relationship counseling. Customers choose us due to a few reasons. Here is what our strengths are.
Our experienced team will connect you with the best online therapist suited to your unique needs.
All therapists are background-checked, verified, trained and hold valid licenses from their state.
Get access to a unique therapy space where you can set up goals and track your progress in real time.
Our friendly support agents are available 24/7 to help you and give accurate answers to your questions.
Select the subscription plan that best suits your needs and budget. Plans start at just $53.
If a new issue arises during therapy, we'll match you with another therapist without charging you anything.
Why to Consider Getting Relationship Counseling?
Relationships are never easy, and facing challenges is natural for every couple. It's never too late to get professional help and make everything work for you two. The important thing will be to make the first step towards a healthier relationship by opting for online counseling. You will be able to benefit from the professionalism and experience of an unbiased counselor who will do everything possible to help you solve your issues. They will apply a variety of approaches and their knowledge to identify harmful mindsets and behavior patterns that hinder your happy life.
A specialist will offer you effective solutions. You should try to minimize conflicts, become more willing to reconcile. You and your partner will be able to improve not just the partnership but to improve the way each of you feels. Working on the overall emotional and mental condition of each individual is as important as solving interpersonal issues. You can go through relationship counseling with your partner as well as by yourself. Even if you are the only one who decided to try out counseling, then be sure it will still be effective for your couple.
It is a perfect chance for your partner and you to express all your feelings, thoughts, be honest with each other. While doing this under the supervision of a fully-licensed therapist, you will be able to avoid any conflict escalation to make it calm and peaceful. It is a perfect and safe environment for you to tell everything you have been hiding inside, release your emotions, and find the most appropriate and satisfying solution to all problems that withheld you from a happy life.
Message your therapist whenever you need it. Receive responses daily. From just $53 a week.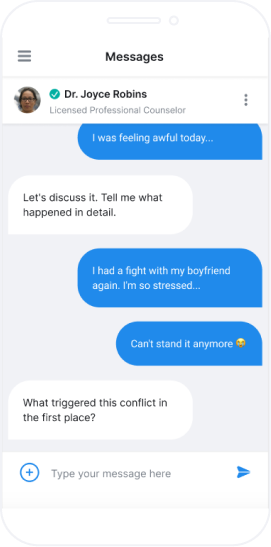 Add Video Sessions to you package to make a deep dive into therapy. From just $90 a week.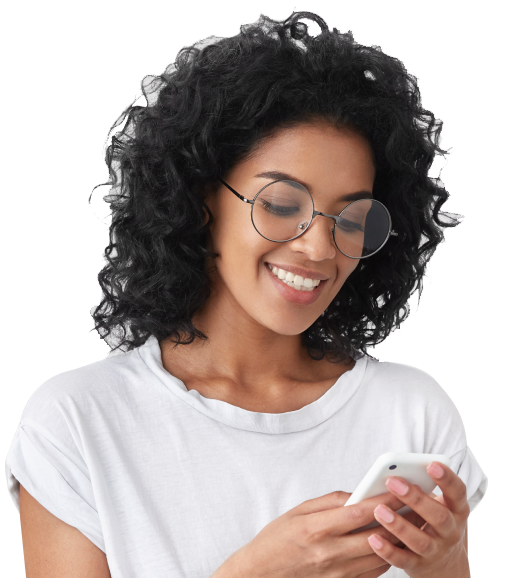 "
I'm so happy I found this counseling service online. Everything was pretty smooth and professional. Would recommend it to anyone.
Tiffany
August, 2020
"
After 10 years of our marriage, things started being difficult for us. We wanted to save the relationship, so we decided to try out online counseling. Frankly, I was pretty skeptical about all this, unlike my wife. Yet, the service provided exceeded my expectations. We managed to work all major relationship issues out with the help of our therapist. Thanks for doing such a great job!
Ryan
September, 2020
"
Online counseling helped us improve our relationship a lot. I had counseling sessions by myself, but it had a positive effect. My counselor helped me find ways to get a better understanding of my partner. I have changed myself, and so did our relationship. Very satisfied with a counselor's qualification and with the overall website support.
Harriette
September, 2020
"
This platform helped my girlfriend and me solve serious relationship problems that affected our lives. Now, we feel some amazing changes, thanks to your professional guidance.
Samuel
September, 2020
"
I have tried in-person counseling, but after I had my baby, I didn't have much free time, so I switched to online services. We had some minor misunderstandings with my husband that we worked through with my therapist's guidance.
Emma
September, 2020
Frequently Asked Questions about Relationship Counseling
Here are some most commonly asked questions about relationship counseling online that we get from our clients. Check out the answers that might come in handy.
What to Do If My Partner Doesn't Want to Participate?
If your partner doesn't want to take part in the whole counseling process, we still recommend you do this on your own. The main thing is to mention that you are looking for ways to improve your marriage or intimate relationships. Even if you attend online relationship counseling sessions on your own, it will still be effective for both of you.
Can a Relationship Counselor Convince Clients to Get Divorced?
The main online counselor's job is to identify weak points in your marriage and do everything to make it work. If you and your spouse are ready to take steps towards a healthier relationship, it's great. If you see that there is no chance it can work, it's possible to consider getting a divorce. A therapist will help you make the separation process less painful, so you can separate on a positive note.
Do You Offer Relationship Counseling Services to LGBT Community Representatives?
Our therapists will work on your relationship issues, no matter what is your gender, religion, or sexual orientation. They will provide effective guidance and support to each client while taking into account their individual peculiarities. We have experts who have the experience of working with LGBT community representatives, so feel free to fill in the registration form and meet your new counselor.
Do You Provide Premarital Relationship Counseling?
Our online relationship counseling services are suitable for married couples as well as for couples in an unofficial relationship. No matter your status, you can feel free to seek professional guidance and support to make your partnership work for your significant other and you. A qualified specialist will help you figure out the cause of problems in your relationship and offer effective ways to solve them.
For more information, please visit our FAQ
Advice For Good Mental Health
Find advice and support from mental health professionals for common problems. Learn about self-help strategies that can help improve your mental well-being. Tips for good mental health from Calmerry.
According to closure psychology, some people struggle with ambiguous ends to relationships. It is understandable - it's devastating when someone you love leaves with no clear explanation. You feel hurt, rejected, and confused. You want answers that justify the abrupt...
If you have faced challenges in your relationship, your life is filled with conflicts, disagreements, and resentment, then getting qualified help might be the right solution. If you want to improve your relationship, ignite the spark all over again, and live a happy and fulfilling life along with your partner, call us now to start using our counseling services. Rely on us as we are here to help and support you.
Start your therapy journey today
88% found Calmerry to be as effective or more effective than traditional therapy.
95% found it to be more convenient than traditional therapy.