Reading Time:
6
minutes
Our mood may change depending on countless factors. Emotions are a response to our environment, thoughts, and experiences, so they cannot be static — there will always be ups and downs. Even though all of us would like to always be happy and joyful, it's virtually impossible for a human being to constantly stay positive.
Sadness is one of the basic emotions that we all feel from time to time. Most often, we feel sad when we are disappointed, hurt, or frustrated. Everyone has many reasons to be sad, and when we're feeling low, we usually know exactly what ruined our mood. However, sometimes, people feel like their sadness came out of nowhere.
What to do when you feel sad for no reason? The main thing is to keep in mind that sadness is usually followed by a feeling of relief. Just like any other emotion, sadness won't last forever so don't be afraid to acknowledge and validate your emotions. Even though sadness is a negative emotion, sometimes it may even be helpful.

Subscribe to our mental health digest
Let us support you on the way to better mental well-being. Get expert tips and insights on mental health delivered to your inbox monthly.
Sometimes, sadness can help reevaluate relationships with others and reconsider priorities. If you're sad, that doesn't mean that you're not coping with a problem — it may simply mean that you need some time to process the situation and adapt to it.
In this article, we will consider sadness in more detail, explore the connection between sadness and mental health, and think of what can cause negative thoughts and feelings.
Understanding sadness
Everyone experiences sadness differently. For example, sadness can be accompanied by general unhappiness, anger, guilt, anxiety, or distress. The way you feel when you're sad directly depends on the situation that triggered this emotion, as well as your perspective and interpretation.
Sometimes, these other feelings can be much stronger so you may not even realize that you're sad. Besides, sadness can manifest itself not only emotionally but also physically. For instance, you may have headaches or sleep problems.
Sadness may also affect people's behavior. When we feel sad, we may avoid social interactions or act defensively around others. Sadness can also lead to loss of motivation, affecting a person's productivity and professional performance.
Why we feel sad
There are millions of possible situations that can make someone feel sad. Here are just a few common reasons for sadness, some of which may look familiar to you:
A breakup;
A divorce;
Problems at work;
Chronic stress;
Problems with health;
Major life changes;
A loss of a loved one;
Hormonal changes caused by puberty, menopause, drugs, or medications;
Unhelpful thinking patterns, including self-criticism or focusing on the worst-case scenarios.
Any of the examples above can create a lot of room for negative thoughts, and these thoughts can in turn make you feel worse. Therefore, it's important to keep in mind that sadness itself isn't bad. There's nothing wrong with you and this feeling — you just have to acknowledge it and take some time to cope with it.
But why am I sad for no reason?
If you feel down but cannot figure out why it may feel weird. However, you should keep in mind that it's completely normal to feel sad without knowing the reason. Some people may note that their mood declines when it rains outside, while others may feel sad because of negative memories that they try to ignore.
If you're feeling low for no apparent reason, you can figure out what made you upset by talking to a therapist. Sometimes, we just need to dedicate more time to self-reflection and pay more attention to details. Therapy allows you to spot unhelpful thoughts that trigger negative feelings so that you can challenge them and regain control over your emotions.
Depression vs. Sadness
Depression is one of the most common mental health problems, with 3.8% of the world population affected by it. While sadness affects everyone — it's an emotion, not a disorder. So, if you feel sad, that doesn't mean that you necessarily have depression. Nevertheless, you should never rule out such a possibility.
Sadness is one of the typical depression symptoms. As a symptom, it lasts longer than usual. People with major depressive disorder may feel down almost every day for at least 2 weeks.
It might be also accompanied by a number of other symptoms: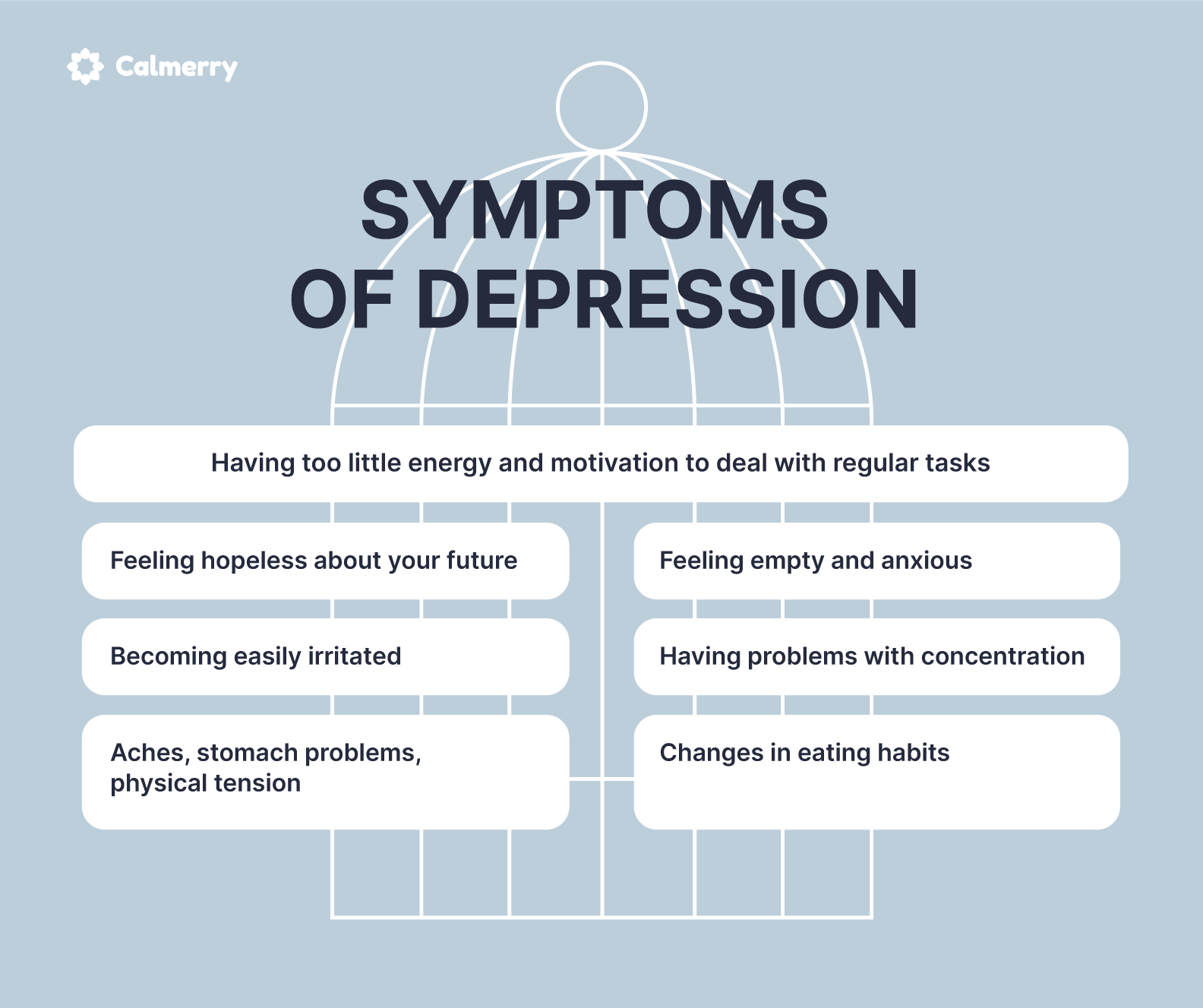 For people with depression, sadness can become an almost constant feeling. Moreover, severe depression may intensify sadness, leading to a strong persistent feeling of hopelessness and suicidal thoughts.
Are people with depression always sad?
There is a common opinion that people with depression are always sad and never look happy. The truth is that it's no more than a misconception. The Diagnostic and Statistical Manual of Mental Disorders (DSM-5) describes several types of depression. Most often, people experience episodes of depression that may last for a few weeks or longer. Once an episode is over, a person may not feel sad or have any other symptoms.
However, persistent depressive disorder, also known as dysthymia, is different. It doesn't let you take a break in between episodes. In this case, symptoms of depression may last for years. The symptoms, however, may not have the same disruptive impact on one's life as when dealing with major depressive disorder.

People with dysthymia may hold a generally pessimistic attitude. Besides, this disorder may lead to a low self-esteem and lack of motivation.
If you keep asking yourself, "Why do I feel sad for no reason?" and your sadness doesn't seem to ease with time, the best solution is to take a depression test and discuss the results with a licensed therapist. A therapist can also suggest some coping strategies that might help you if you're feeling sad for no reason.
Other possible reasons of being sad
Depression isn't the only mental health issue that can make you feel sad. Here are some of the most common reasons why people experience sadness without any obvious reasons.
Bipolar disorder
Sadness can also be a result of bipolar disorder. In this case, sadness caused by depressive episodes is followed by episodes of mania when a person experiences an intense feeling of happiness or even euphoria. Changes in the mood usually happen quickly, with both depressive and manic episodes lasting for a week or longer.
Seasonal affective disorder
Some people may also feel sad in winter and autumn. If the weather triggers a strong and persistent feeling of sadness, it can be a sign of seasonal affective disorder (SAD). In this case, sadness isn't necessarily related to depression or any other mental health problems. For instance, sometimes, it is rooted in physical health.
Hormonal changes
Sadness is a common symptom of premenstrual syndrome. 48% of women in their reproductive age experience its symptoms which may vary in severity. The reason why the menstrual cycle may affect your mood is that your hormonal balance changes. For the same reason, many women develop symptoms of depression before menopause.
Drugs and medications
Sadness can also be related to drug use. It's a common symptom of withdrawal, but it's not always caused by the use of illegal substances — it can also be a side effect when taking various kinds of medication. For instance, many women who use hormonal birth control pills report having symptoms of depression, including sadness.
Closing thoughts

If you're feeling low, you should keep in mind that this feeling won't last forever. Sadness doesn't necessarily mean that you're depressed — you may just need some time to reflect on your feelings.
You can better understand what factors make you feel down by practicing self-awareness, and don't forget about self-compassion — there's nothing wrong with being upset. It's impossible for a human being to always feel happy and joyful. However, the reasons for sadness may not be obvious.
If you're feeling sad for no reason, don't hesitate to talk to a mental health professional on Calmerry. People feel sad for different reasons, and a licensed therapist can help you figure out what exactly could trigger changes in your mood. They can also suggest effective self-care practices so that you can regain control over your emotions.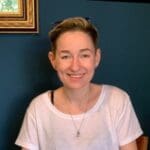 Kate Skurat
Licensed Mental Health Counselor
|
Washington, USA
Kate has a B.S. in Psychology and M.A. in Clinical Psychology from Pepperdine University and has worked in healthcare since 2017. She primarily treated depression, anxiety, eating disorders, trauma, and grief, as well as identity, relationship and adjustment issues. Her clinical experience has focused on individual and group counseling, emergency counseling and outreach.
Read more