Published March 17, 2023 / Updated April 21, 2023
Bipolar Disorder: A Closer Look at Symptoms, Causes, and Possible Treatments (+TEST)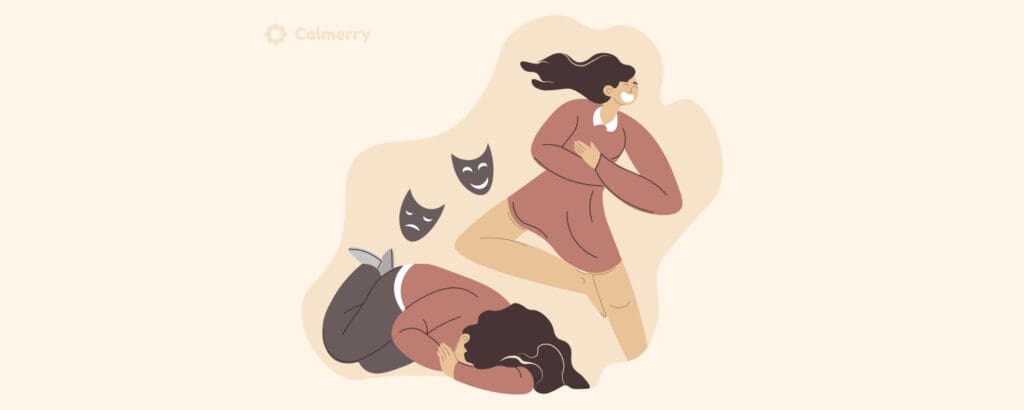 Reading Time:
6
minutes
According to the WHO, 40 million people worldwide live with bipolar disorder. Some of them have episodes several times a year, and others can experience them rarely. A common misconception is that this disorder is just about having mood swings. However, it's not as simple as that. The truth is a severe mental condition that can negatively affect one's quality of life.
In this article, we'll explore the symptoms, causes, and types of bipolar disorder, as well as possible treatments for this condition.
What is bipolar disorder?
Bipolar disorder is a mental health condition characterized by unusual shifts in mood, energy, activity levels, and concentration shifts. Everyone has ups and downs, but with bipolar disorder, these changes are severe.
The changes range from episodes of extreme highs called mania to extreme lows called depression. Unlike ordinary mood swings, the mood changes of bipolar disorder are so intense that they may interfere with relationships, productivity at work, and everyday life.
A manic episode or mania is an episode of irritability, hyperactivity, sleeplessness, and reckless behavior. Despite being very active, the person is scattered and unproductive, with severe consequences for the person.
Depressive episodes are marked by low energy and activity, apathy, and difficulty performing everyday tasks. People with bipolar disorder often have repeated thoughts of suicide.
If you or someone you know is considering suicide, contact the National Suicide Prevention Lifeline 1-800-273-TALK (8255) (En Español: 1-888-628-9454; Deaf and Hard of Hearing: 1-800-799-4889) or the Crisis Text Line by texting HOME to 741741. If it's a life-threatening emergency, dial 911 or your local emergency number. All emergency resourses you can find here.
Causes of bipolar disorder: genetics vs. environment
There is no one apparent cause of bipolar disorder. It results from a combination of genetic and environmental causes. Certain factors may trigger episodes in people who are predisposed to the condition.
Is bipolar disorder genetic?
According to multiple studies, bipolar disorder is highly likely hereditary. It is more likely to develop this condition if someone in your immediate family has it. The risk is higher if your parents or your twin has been diagnosed with the condition.
Researchers are yet to determine the particular genes responsible for the disorder. It is clear that more than one gene is involved. However, not everyone with an inherited vulnerability develops the disease.
Therefore, genes are not the only cause. Bipolar disorder is also associated with an imbalance in certain chemicals in the brain, such as dopamine, serotonin, and norepinephrine. However, healthcare providers base their diagnosis on a patient's symptoms and history rather than brain imaging.
Bipolar disorder development can be triggered by environmental factors
Research indicates that external factors can trigger episodes of mania or depression. Environmental influences may also make existing symptoms worse. For instance, changes in the seasons, such as the change from winter to spring, can trigger bipolar episodes in some people.
Stressful life events and trauma can trigger the disorder in someone with a genetic vulnerability. Such events involve major life changes, such as losing a loved one, going away to college, losing a job, or moving. Positive life events such as getting married can also trigger an episode.
Not only traumatic events can trigger bipolar episodes symptoms. Substance use, alcohol, and drugs can cause mood swings.

Furthermore, research shows that certain medical conditions, such as thyroid disorders or multiple sclerosis, have been associated with an increased risk of developing bipolar disorder.
The types of bipolar disorder
According to the Diagnostic and Statistical Manual of Mental Health Disorders (DSM-V), there are three main types of bipolar disorder based on the nature and severity of symptoms.
Bipolar I disorder
It is the classic form of this disorder and was originally called "manic depression" or manic bipolar disorder.
This type of bipolar disorder is characterized by a sudden, extreme mood shift and rapid changes in behavior that last for at least seven days. Depressive episodes may also occur, often lasting for at least two weeks.
Bipolar I disorder with psychotic features
Bipolar I disorder with psychotic features typically causes psychotic symptoms during a manic episode in some people. These episodes cause hallucinations, delusions, disordered thinking, and a lack of awareness of reality.
Bipolar II disorder
Frequent episodes of major depression characterize Bipolar II. Bipolar depression episodes seem very similar to episodes of major depression. The main factor that separates these two conditions is the presence of manic episodes. A single episode of mania can lead to a diagnosis of bipolar disorder rather than major depression.
People with this type of disorder experience a less severe form of mania called hypomania, but it still involves symptoms such as elevated mood, increased energy, and impulsivity.
Rapid cycling bipolar disorder
This type of bipolar disorder is characterized by frequent mood swings, with periods of hypomanic symptoms followed by periods of depressive symptoms.
These symptoms are less severe than those experienced in Bipolar I or II types, but they still significantly impact daily functioning. There can be mild symptoms that last for one to two years.
Symptoms of bipolar disorder
Typically, bipolar disorder is diagnosed in late adolescence or early adulthood. Symptoms can appear in children, pregnant women, or after childbirth.
The symptoms of bipolar disorder can vary depending on the type and severity of the condition, but there are some common ones. And here, we shared helpful self-care tips for living with bipolar disorder.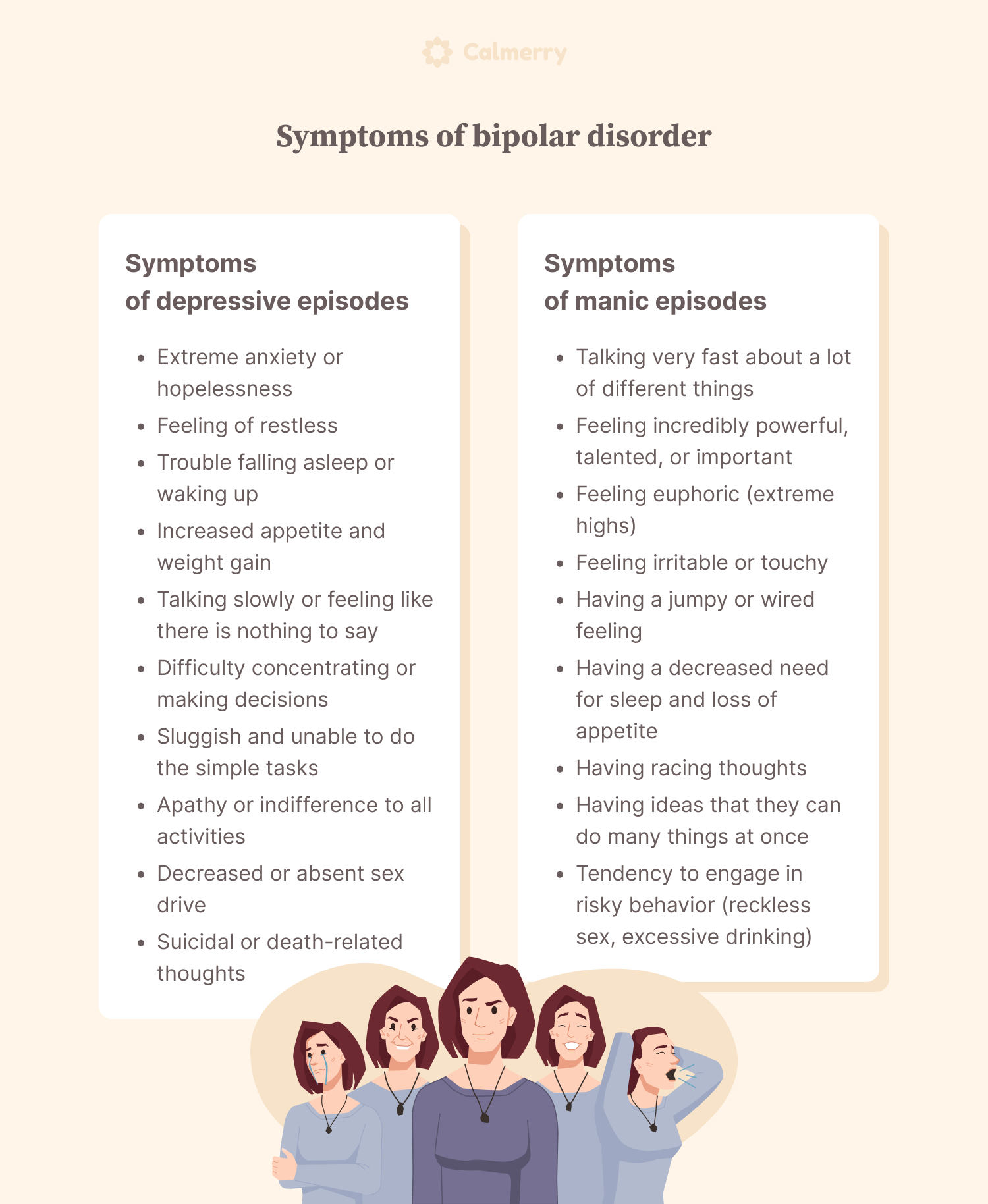 Symptoms of manic and hypomanic episodes
In this state, a person may feel extreme highs and engage in risky behavior. However, this does not necessarily mean a person is violent or dangerous. Although hypomanic episodes share the same symptoms, they are less extreme than manic hypomanic episodes.
Common symptoms of a manic episode include:
Talking very fast about a lot of different things
Feeling incredibly powerful, talented, or important
Feeling euphoric (extreme highs)
Feeling irritable or touchy
Having a jumpy or wired feeling
Having a decreased need for sleep and loss of appetite
Having racing thoughts
Having ideas that they can do many things at once
Tendency to engage in risky behavior such as reckless sex, excessive drinking, and impulsive spending
Hypomanic episodes, however, may include increased energy and decreased need for sleep. And despite the symptoms, it is possible to keep normal functioning in everyday life.
Symptoms of depressive episodes
As previously learned, depressive episodes occur more often with Bipolar II disorder. Depression can be more difficult to deal with for some people than manic or hypomanic episodes. A contrast between high and low moods can make depression seem more severe than manic episodes.
Depressive episodes include:
Extreme anxiety or hopelessness
Feeling of restlessness
Trouble falling asleep or waking up
Increased appetite and weight gain
Talking slowly or feeling like there is nothing to say
Difficulty concentrating or making decisions
Sluggish and unable to do the simple tasks
Apathy or indifference to all activities
Decreased or absent sex drive
Suicidal or death-related thoughts
Bipolar disorder test
This test was adapted from Goldberg's Bipolar Spectrum Screening Questionnaire. The test contains 12 items and is designed to detect the symptoms associated with bipolar disorder.
Please note that no test will definitively diagnose bipolar disorder. This instrument can help identify whether a person meets the criteria for this diagnosis.
If you or someone you know have mental health concerns, please reach out to a qualified mental health professional for further assessment and treatment.
Possible treatments for bipolar disorder
Most commonly, bipolar disorder is treated through a combination of medication and psychotherapy. It requires long-term treatment to prevent relapse and manage symptoms.
Medication
Medication treatment for the condition is highly individualized. It depends on the types and severity of symptoms one experiences. It may include different types of medications:
Mood stabilizers, such as lithium
Anticonvulsants to stabilize mood swings
Antidepressants to alleviate depressive symptoms
Electroconvulsive therapy (ECT) is an alternative medical treatment for those who have not responded to other front-line treatments. It is effective in relieving severe mania or depression.
Psychotherapy
Psychotherapy can be effective for people living with bipolar disorder as an adjunctive treatment alongside medication. For example, here we looked closer at types of psychotherapy for depression treatment.
Cognitive-behavioral therapy (CBT)
Cognitive-behavioral therapy is the first-line approach for treating bipolar disorder. It is based on the premise that mood problems can be managed by changing dysfunctional interpretations of stressful events.
Interpersonal and social rhythm therapy (IPSRT)
Interpersonal and social rhythm therapy may also be used to treat this condition. It focuses on regulating basic daily habits to help symptom management. This mode of treatment focuses on daily routines such as sleeping, eating, and exercising.
Subscribe
to our mental health digest
Let us support you on the way to better mental well-being. Get expert tips and insights on mental health delivered to your inbox monthly.
Final thoughts
People living with mental health conditions can have a better, fulfilling life and maintain healthy relationships. An experienced therapist can help you learn skills to cope with bipolar symptoms in a non-judgmental environment effectively.
Online therapy with Calmerry is a good tool for developing coping mechanisms, maintaining motivation, and taking care of yourself.
Сheck your mental well-being for free: