Published September 22, 2022 / Updated January 24, 2023
Do You Have Anxiety? Try This Anxiety Test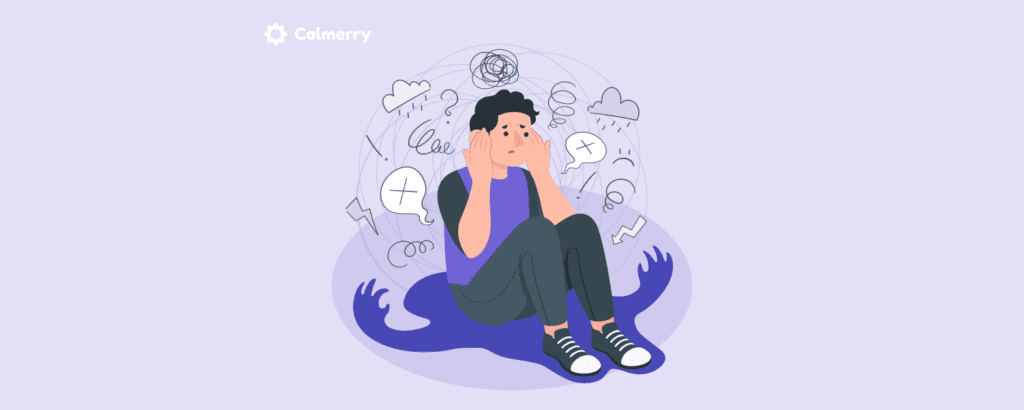 Reading Time:
3
minutes
Anxiety is the most common type of mental health problems in the U.S. About 6 million adult Americans have generalized anxiety disorder, and more than 15 million adults in the U.S. have social anxiety.
The main symptoms of anxiety feature excessive feelings of nervousness and worry. While there's nothing wrong with feeling anxious occasionally in stressful situations, anxiety disorder can trigger such symptoms almost constantly and unexpectedly – without a particular trigger. Besides, a person may experience various physical symptoms, including dizziness, sweating, trembling, and rapid heartbeat.
When left untreated, anxiety can get worse, having a significant negative impact on many areas of one's life. Therefore, it's important to talk to anxiety therapists so that you can understand what caused the problem and what to do about it.
But how to understand whether you have regular anxiety or anxiety disorder? Here's an anxiety test that will help you see if it's time to talk to a therapist.
Take the anxiety test: The GAD-7 screening tool

If you want to take a quick anxiety test used by professional therapists, you can do it on the Calmerry tests page or just click the button above.
This simple test is widely used as a screening tool to identify and measure the symptoms of generalized anxiety disorder. It was developed by Dr. Robert L. Spitzer and his colleagues in 2006. It features 7 simple questions.
When taking the test, you should tell how often you've experienced certain symptoms over the last 2 weeks: not at all, several days, more than half the days, or nearly every day. These answers are assigned a score from 0 to 3. The total scores of 5, 10, and 15 indicate mild, moderate, and severe anxiety.
Keep in mind that scoring high on the GAD-7 anxiety test doesn't mean having an official diagnosis. However, that means that you will likely benefit from discussing the results with a licensed therapist.
Symptoms and signs of anxiety
As we've already mentioned above, everyone experiences anxiety from time to time, as it's a rather natural reaction to stressors. So, how to understand whether or not it's time to take the screening test?
Well, if you realize that your feelings start to interfere with your everyday activities or episodes of anxiety become more and more frequent, learning more about it and taking the anxiety test can be beneficial.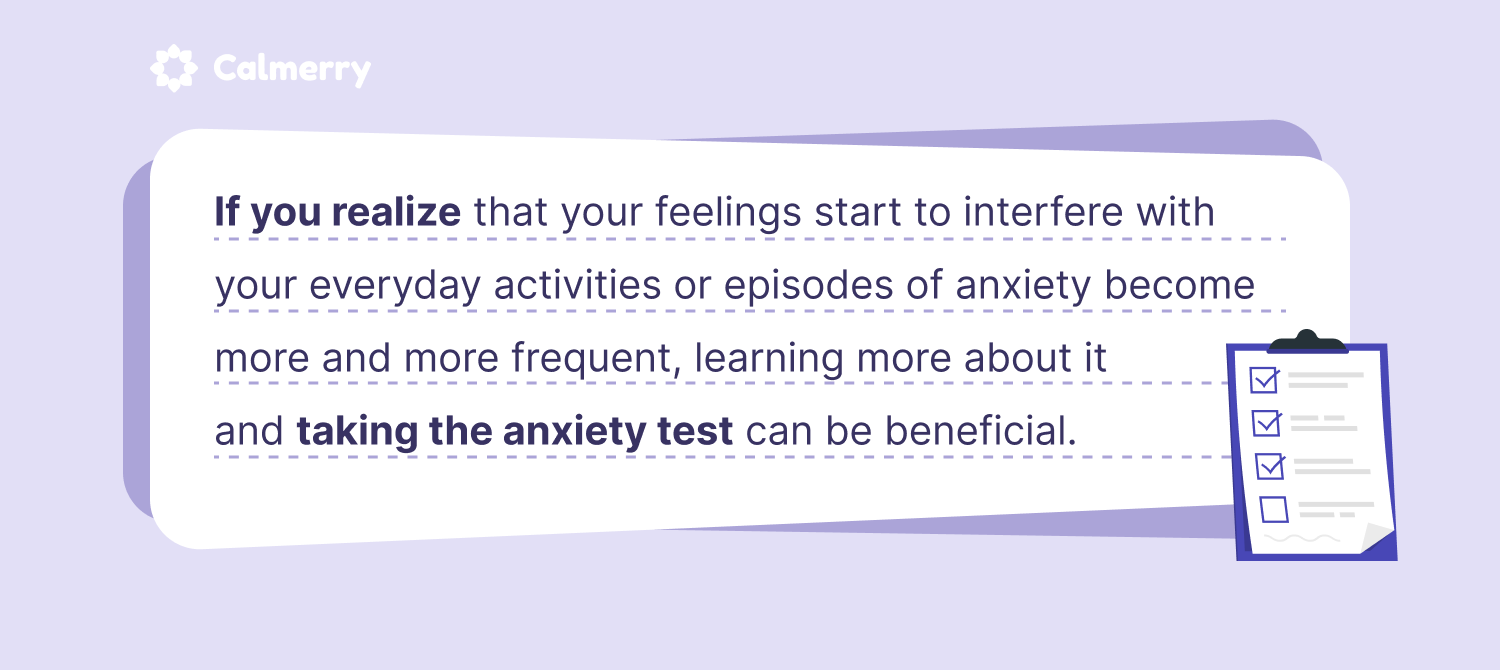 Here are some of the common signs of anxiety to watch for:
Feeling tense, nervous, or restless
Panic
Sweating
Intrusive negative thoughts
Muscle tension
Trembling or shaking
Fatigue
Headaches
Trouble concentrating
Dizziness
Problems with falling asleep
Rapid heartbeat, etc.
Every person is unique, and anxiety may manifest itself in different ways. Some symptoms might be more severe than others, or a person may only experience a few symptoms from this list.
The main factors are the intensity of the symptoms, and whether or not they ease with time.
How to know if you have anxiety
While the GAD-7 anxiety test can be very helpful when it comes to evaluating one's mental health, it cannot give you a precise diagnosis. So, if you want to get an official diagnosis, you should talk to a licensed mental health professional.
If you have an anxiety disorder, a professional will come up with a personalized treatment plan. It will likely include talk therapy so that you can learn to deal with the triggers and symptoms.
Subscribe

to our mental health digest

Let us support you on the way to better mental well-being. Get expert tips and insights on mental health delivered to your inbox monthly.
Closing thoughts
If you've taken our anxiety test and it shows that you have a high level of anxiety, keep in mind that you're not alone. Anxiety is one of the most common mental health problems, and millions of Americans deal with it on a daily basis. The main thing you should know is that anxiety is manageable, and anxiety disorder is treatable.
Cognitive behavioral therapy (CBT) is the most popular and effective approach for treating many types of anxiety, including generalized anxiety disorder, social anxiety, obsessive-compulsive disorder, panic disorders, etc.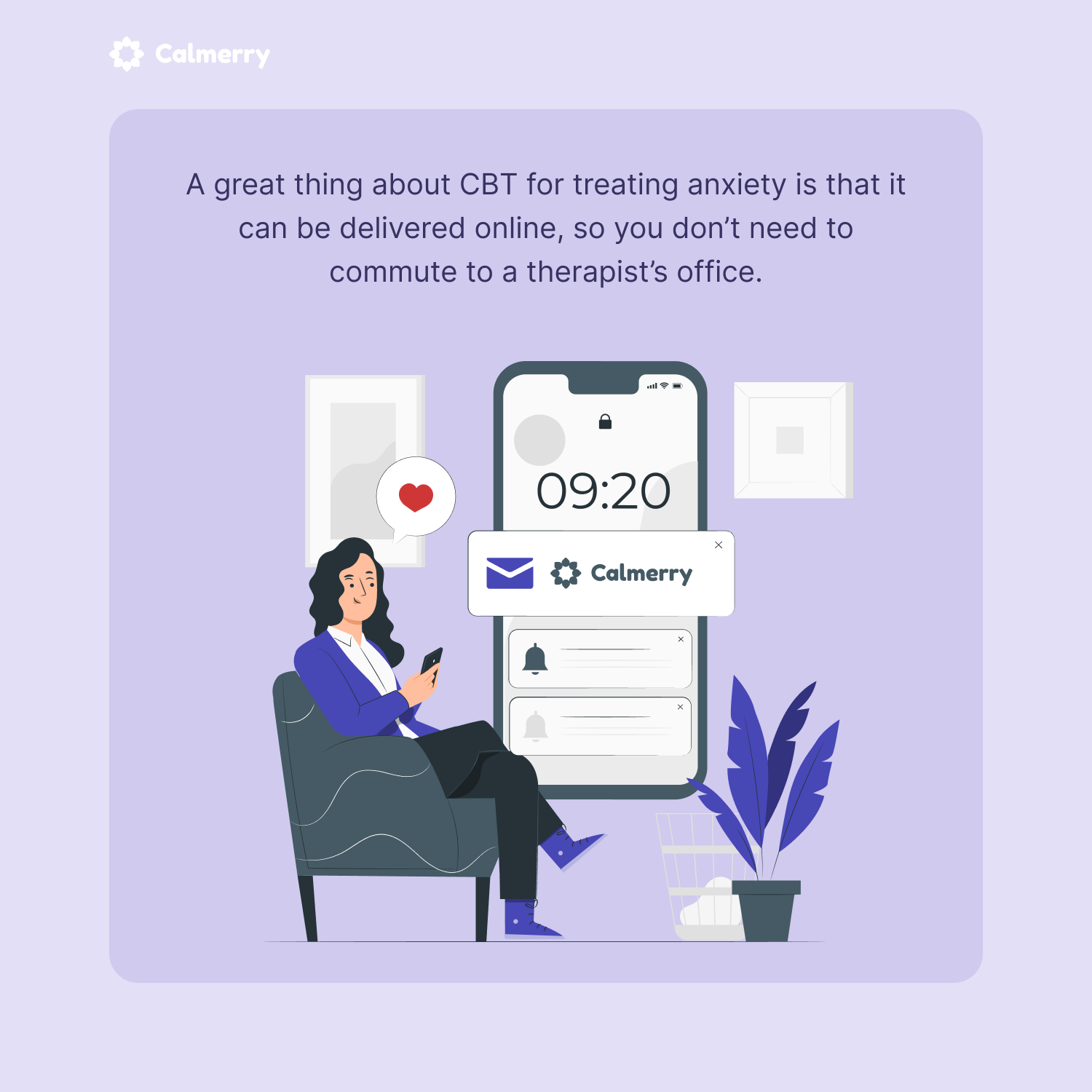 Calmerry allows you to get the necessary help from wherever you are. With a pool of experienced therapists and a discount for the first month, Calmerry provides not only flexibility but also accessibility of professional help.
Сheck your mental well-being for free: