Published September 19, 2022 / Updated December 1, 2022
How to Tell the Difference Between Anxiety and Fear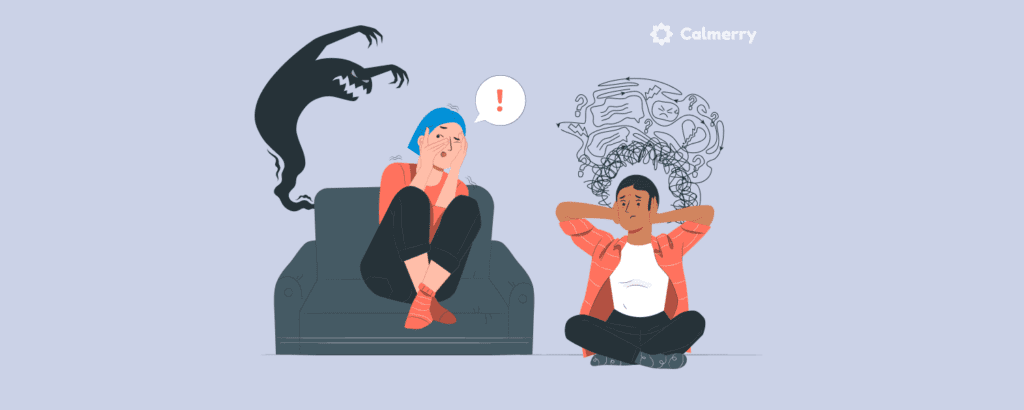 Reading Time:
5
minutes
We all experience fear and anxiety at some point in our lives. But due to their similarities, there is often some confusion between them. So what exactly are they? And how do they differ?
While both fear and anxiety are normal human reactions that prepare us to deal with potentially dangerous or harmful situations, there are some clear differences between them.
In this article, we'll explore these key differences so that you can better understand each one. We'll also offer some tips on better managing fear and anxiety.
What's the difference between anxiety and fear?
Fear and anxiety are both normal reactions that serve an important purpose. People often use the terms interchangeably. However, while they both produce a similar fight-or-flight response, they are not the same.
What is fear?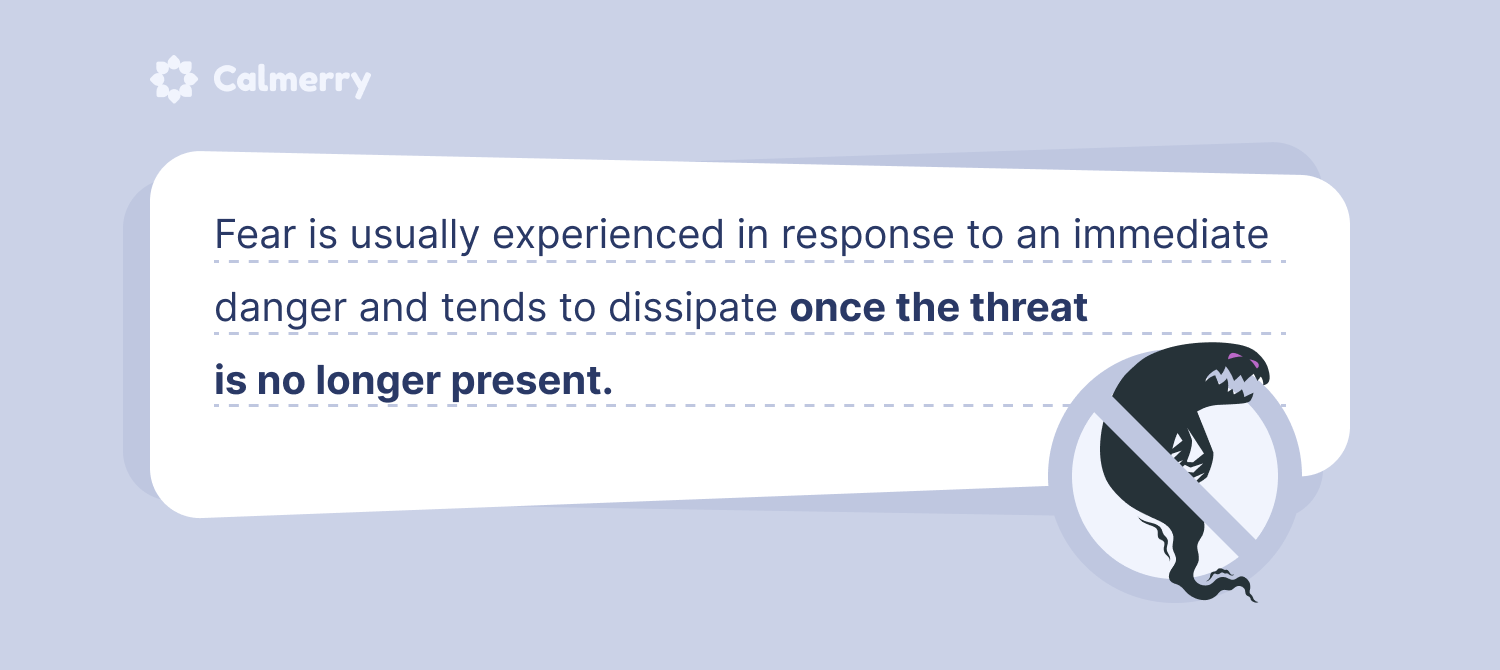 Fear is a feeling of intense dread in response to a real or perceived threat. It is often accompanied by physical symptoms such as a racing heart, sweating, and trembling. In addition, a biochemical reaction triggers the release of adrenaline and other hormones in the body, which prepare us to fight or flee from danger.
Fear is usually experienced in response to immediate danger and tends to dissipate once the threat is no longer present. It differs from anxiety because it is more short-lived and usually has a distinct trigger.
In some cases, fear can be helpful, such as when it motivates and prepares us to avoid dangerous situations. However, it can also become problematic when it is disproportionate to the threat or prevents us from living a full and enriching life.
What is anxiety?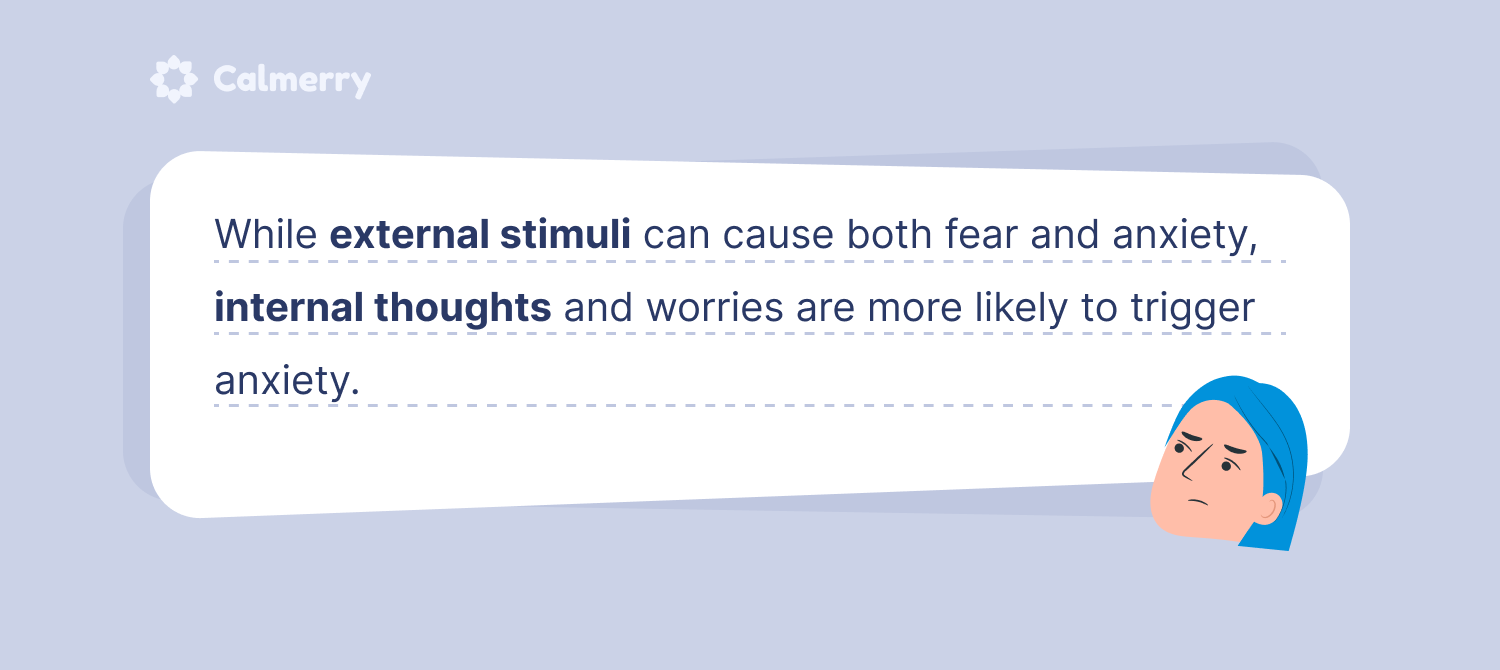 On the other hand, anxiety is a more general term that refers to feelings of unease or worry about future events. Unlike fear, it can occur in response to indefinite threats, such as feeling nervous about walking alone in the dark due to the possibility of something happening rather than a definite immediate threat.
While external stimuli can cause both fear and anxiety, internal thoughts and worries are more likely to trigger anxiety. It can also be more long-lasting and chronic. And it can become problematic and may lead to an anxiety disorder. As a result, people with an anxiety disorder may constantly feel on edge and have difficulty relaxing.
Anxiety disorders are the most common mental health conditions, and there are many different types, including social anxiety disorder, panic disorder, phobias, and others. An anxiety disorder is usually characterized by excessive worrying and rumination about potential threats that interfere with normal functioning.
Fear vs. anxiety: Their symptoms and signs
Both fear and anxiety can cause physical, mental, emotional, and behavioral symptoms. Here's a quick look at some of the signs and symptoms they share and those that are more prevalent in each.
Physical signs and symptoms they share include:
Chest pain
Rapid heart rate
Chills or hot flushes
Dry mouth
Stomach ache or nausea
Hyperventilation or shortness of breath
Sweating
Trembling
Headache
Mental and emotional symptoms they share include:
Feelings of dread, danger, or panic
Difficulty concentrating
Irritability
Restlessness
Feeling nervous and tense
Signs more common in fear include:
The flight response, such as running away for safety
Inability to move or talk (Freezing up)
Fighting via physical or verbal means
Clenched fists
Goosebumps
Symptoms more prevalent in anxiety include:
Avoidance of people, places, and situations that trigger your anxiety
Excessive rumination and frequent worries, even when you are safe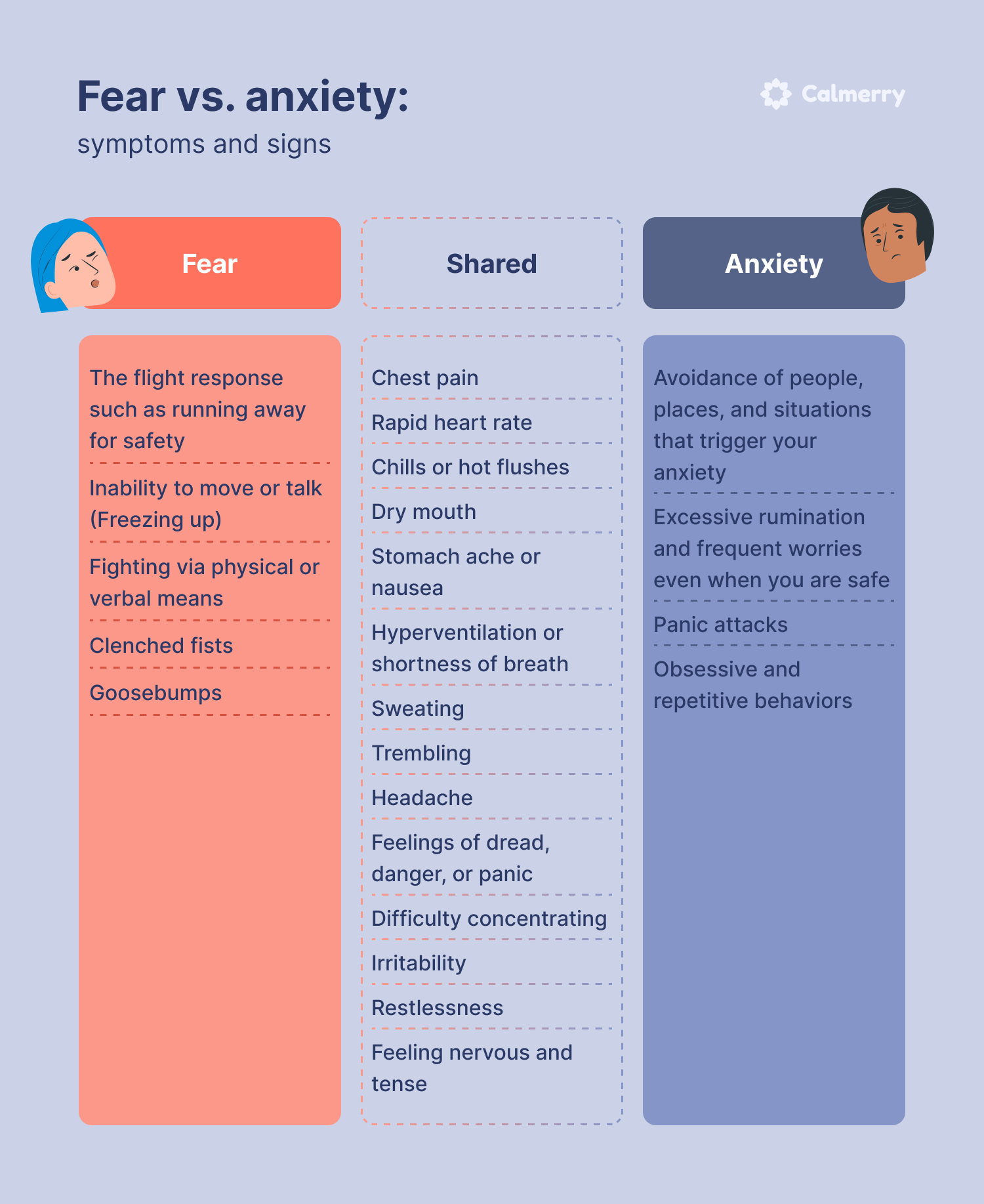 How to overcome fear and anxiety
Everybody has fear or anxiety from time to time. It's a normal part of life. However, if you feel these reactions are becoming excessive and negatively affecting day-to-day life, here are some steps you can take to manage them:
1. Understand your fear or anxiety
Taking time to understand what you are feeling can be helpful in managing fear or anxiety. This may involve reading about anxiety, self-reflection, talking to a therapist, or journaling.
Try to analyze what your triggers are, what your thoughts and feelings are, and how your body responds. This can help you spot patterns and develop a plan to manage your fear or anxiety more effectively.
Through understanding and knowledge, you can begin to take control of it.
2. Note that avoidance is usually not the answer
While people often try to avoid things that make them anxious, this can make the anxiety worse in the long run.
Of course, avoiding toxic or dangerous situations that can genuinely harm you is important. But if you find that your fear or anxiety is preventing you from living your best life, it may be time to start facing your fears.
This may mean gradual exposure to what you are afraid of or immersing yourself in the situation. Either way, facing your fears, especially with the support and guidance of a professional, can help you overcome them.
3. Learn to relax and calm yourself
Relaxation techniques such as yoga, meditation, grounding techniques, and deep breathing can help to calm anxiety. There are many different relaxation techniques available, so find ones that work for you and stick with them.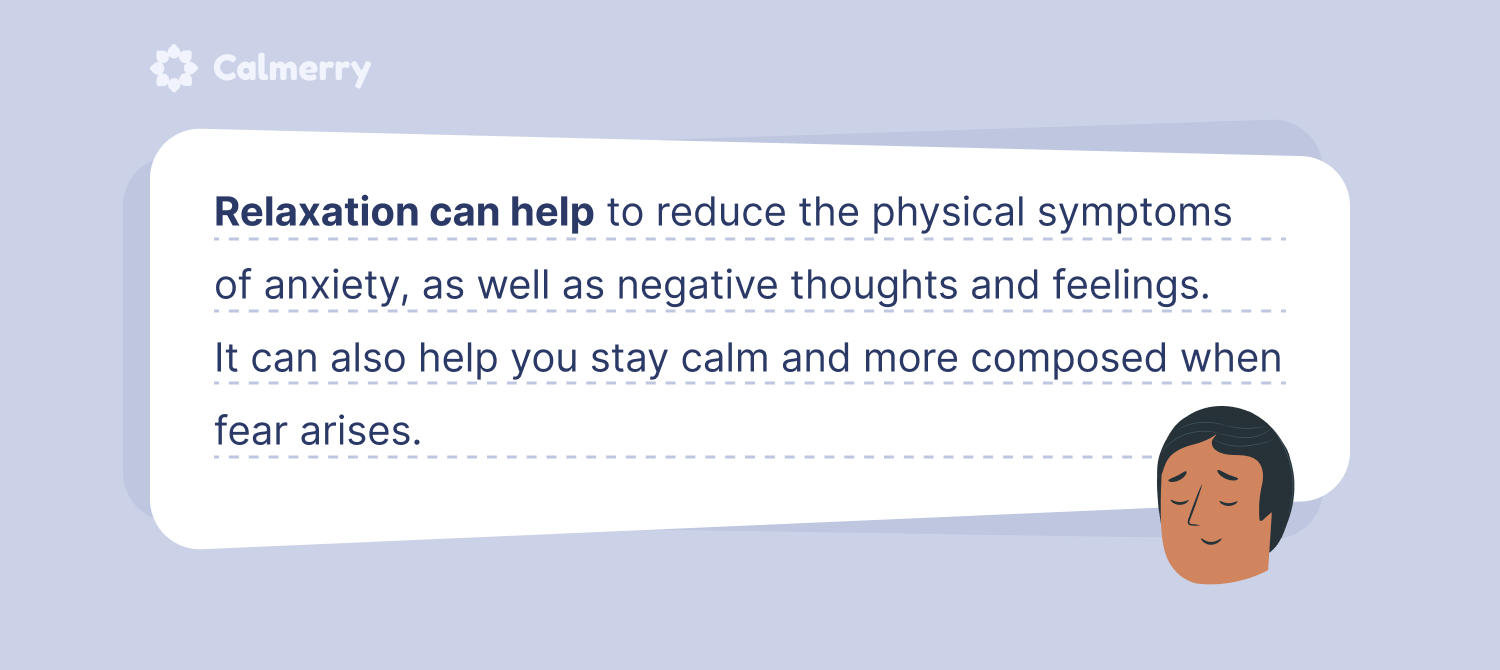 Relaxation can help to reduce the physical symptoms of anxiety, as well as negative thoughts and feelings. It can also help you stay calm and more composed when fear arises.
Learning to relax is also about finding enjoyable activities and getting adequate rest. Remember that scrolling through social media or reading dramatic news headlines are very stimulating and do not count as rest, even if you are sitting on the sofa.
4. Challenge your negative thoughts
Negative thinking is a common symptom, and if you can learn to challenge these unhelpful thoughts, you can help reduce your anxiety.
One way to do this is to use evidence to challenge your beliefs. For example, if you think, "I'm going to fail this test," look at the evidence. What are the chances of you actually failing? If you have prepared well and have a history of doing okay in tests, the chances are probably lower than you think.
Another way to challenge your thoughts is to question the assumptions you are making. For example, if you are thinking, "Nobody likes me," why do you believe that? What evidence do you have for this? In many cases, the assumptions we make about how others perceive us are based on our own insecurities and fears rather than reality.
5. Know when to get help from a professional
If your fear or anxiety is proving too much to handle on your own, it may be time to seek professional help. A therapist can help you understand and manage your anxiety and teach you healthy coping mechanisms.
If you're unsure whether online therapy is for you, consider trying it for a few sessions to see if it fits your needs.
6. Join a support group or forum
Joining a support group or forum can also be very beneficial. Here you can share your experiences with others who understand what you are going through.
You can also get helpful advice and tips from people who have been there before. This can be a great way to feel less alone and find others going through the same thing.
Subscribe
to our mental health digest
Let us support you on the way to better mental well-being. Get expert tips and insights on mental health delivered to your inbox monthly.
Summary
Anxiety and fear are normal and healthy emotions that everyone experiences at times. Hopefully, this article has given you a clearer idea of their differences and similarities.
If you are struggling and feel your fear or anxiety is unmanageable, remember that help is available. Seek professional help if needed, and be patient with yourself as you work to overcome your fears and worries.
Сheck your mental well-being for free: