Feel calm with online therapy
Discover the most convenient and affordable way of getting online therapy. Calmerry is an innovative service that gives you access to a wide range of licensed online therapists ready to provide qualified emotional support and guidance.
Advanced client-counselor matching
Affordable way to achieve a balanced life
Fully-licensed professional therapists you can trust
Cancel any time
Joining the dots with online therapy
Calmerry helps open doors to new opportunities by connecting people who want to get e-therapy help from licensed therapists nearby, like joining the dots.
Providing mental support on your schedule
Enjoy unlimited messaging therapy and on-demand video sessions with your therapist. At Calmerry, all conversations are carried out in a secure, HIPAA compliant therapy space to keep them completely confidential.
Offering accessibility from any device
With Calmerry, you can send text messages to your online therapist using a tablet, PC, laptop, or a mobile phone with a stable internet connection.
How online therapy works on Calmerry
Answer a few questions to get started. Be confident when sharing your thoughts and worries.
Choose how you get therapy
Pick the subscription plan that's best for your lifestyle and budget. Get matched with a therapist that fits you.
Chat with your therapist privately or have live video sessions. Build a life with greater meaning.
Let's take the first step to find your inner peace, together
88% found Calmerry to be as effective or more effective than traditional therapy.
95% found it to be more convenient than traditional therapy.
Our experienced team will connect you with the best online therapist suited to your unique needs.
All therapists hold valid licenses from their states. They are vetted by our team, so you receive the highest quality care at a low price.
You can cancel any time you want and easily renew your subscription if you choose to come back.
Our friendly support agents are available 24/7 and will gladly answer all your questions.
Select the subscription plan that best suits your needs and budget. Plans start at just $45 per week.
If you would like to change a therapist, we'll match you with another professional at no extra cost.
Message your therapist whenever you need it. Receive responses daily. From just $45 a week.
Add Video Sessions to your package to make a deep dive into the therapy. From just $63 a week.
Our therapists are professional clinical counselors licensed to practice individual and family psychotherapy.
We check the licenses, references and employment history of all applicants before qualifying them for the job.
All of our online counselors have a vast amount of successful hands-on clinical experience.
We manually select therapists based on your individual needs, preferences, and the modality needed.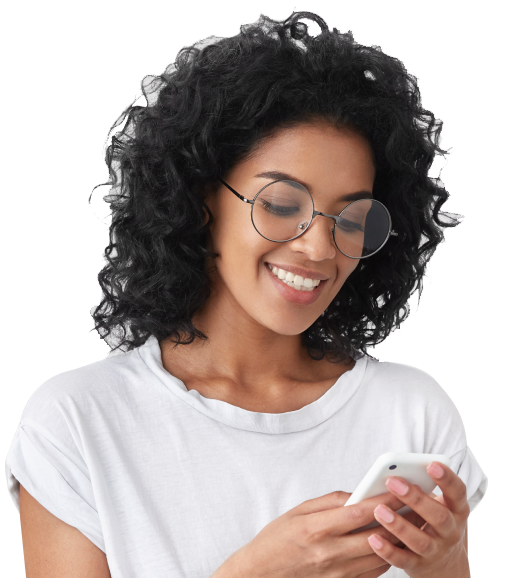 "
I was so overwhelmed with my studying and a part-time job. I've ruined my relationship with my ex-boyfriend… Offline counselor wasn't an option for me, so I've tried message therapy, and finally, I can handle my life better.
Michelle
November, 2020
"
I like Calmerry because I can reach out to my therapist whenever I need advice! And it's much cheaper than other therapy platforms and apps.
David
October, 2020
"
I really like the fact that my therapist gives me fresh perspectives on my problems, and I feel more confident that I can navigate them. I learned new things about my personality, and it really helped me improve my self-esteem.
Allison
November, 2020
Frequently asked questions
Here is a brief Q&A section that will tell you more about the process and will answer all the most commonly asked questions.
What is Calmerry e-therapy?
Calmerry is a credible and trustworthy e-therapy platform. We match clients with verified mental healthcare professionals and offer text and video therapy sessions based on client-oriented scheduling. Our specialists have undergone full training and are licensed to help clients with almost all mental health disorders. Calmerry is flexible to patients' needs and sensitive to each result.
How does the service work?
Here's your guide to Calmerry e-counseling:
1. Create an account and complete a 3-minute survey.
2. Decide on a subscription plan. Currently, we offer monthly, quarterly and biannual plans.
3. Get matched with an online therapist and start therapy. Usually, it takes up to 24 hours.
4. Follow the therapist's guidelines and track your progress.
For sure, you can ask questions, leave feedback, and gain insights about your results.
Is Calmerry therapy affordable?
Our prices depend on the subscription plan you select. Plans start at just $45 per week.
What kind of therapy sessions does Calmerry provide?
1) Text Therapy. It's an unlimited messaging therapy that allows having a live text session with your therapist anytime. For privacy purposes, all conversations take place in a secure therapy room.
2) Live Therapy. It's a remote service with the same benefits as traditional in-person therapy, including scheduling appointments with your therapist ahead. The best thing about live therapy is that you don't have to travel long hours to see the therapist as you can do it from your home's comfort.
To clients willing to make use of both options, we offer Text & Video Therapy Sessions.
Will I communicate with legit online counselors?
Yes! All online therapists are checked for qualifications, licenses, and references before being listed on the site.
If you have any therapist-related questions, please contact us via live chat, email, or call our toll-free number at +1 833 386 0559
How long should I wait until matched with a counselor?
Success in therapy mostly depends on how well you "click" with your therapist's personality and style. That's exactly what our algorithm was designed for — to match you with the best fitting therapist for your situation in the shortest time possible. Usually, the matching process takes up to 24 hours.
Is it possible to change a therapist?
Absolutely! If you're not happy with your match, simply log in to your personal therapy space and request a therapist change. You can also contact our customer support team via live chat, email, or call our toll-free number at +1 833 386 0559
What are the cancellation/hold/refund terms and conditions?
Choosing Calmerry, you choose flexible terms and conditions allowing you to:
Cancel subscriptions at any time
Put unfinished sessions on hold
Pause your account for as long as you like
Get a refund if you're not happy with our services
Simply contact our customer support, and they'll walk you through the process.
How is my personal information protected?
We take our responsibility to protect the confidentiality and privacy of customer information very seriously and have implemented a range of measures to protect that information from unlawful exposure, including:
1) We have passed the Health Insurance Portability and Accountability Act (HIPAA) audit. That means we can provide a secure HIPAA compliant server hosting service for all of our clients.
2) We constantly ensure that all of our therapists adhere to the American Psychological Association (APA) Ethical Principles of Psychologists and Code of Conduct and the APA Record Keeping Guidelines and take all the necessary security measures during counseling.
Didn't find an answer to your question or need help?
Get in touch with our 24/7 support team via phone, email, or live chat, and they will gladly assist you.
For more information, please visit our FAQ
Advice For Good Mental Health
Find advice and support from mental health professionals for common problems. Learn about self-help strategies that can help improve your mental well-being. Tips for good mental health from Calmerry…
Self-esteem is important for everyone because it influences all our choices and decisions and affects every aspect of our lives, including our behavior and how we value ourselves. Low self-esteem can be a problem for a number of reasons. It causes lack of confidence...
Start your therapy journey today
88% found Calmerry to be as effective or more effective than traditional therapy.
95% found it to be more convenient than traditional therapy.