Published July 19, 2023 / Updated March 27, 2023
Individual Therapy for Relationship Issues: Build Healthy Connections Within and Beyond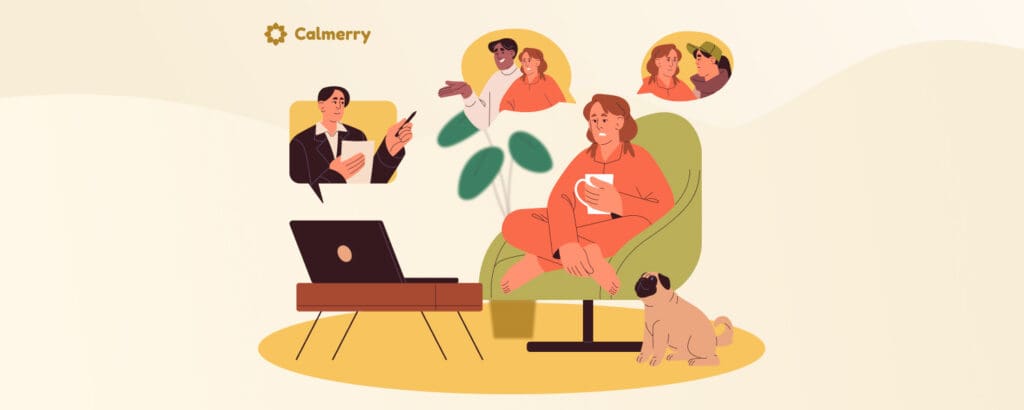 Reading Time:
10
minutes
Individual therapy or counseling holds significant potential for addressing relationship issues and fostering healthy connections. It can be a powerful tool for improving relationships with partners, family members, colleagues, friends, and yourself.
Individual therapy offers a safe and supportive space to navigate these challenges and build stronger connections, whether you face communication breakdowns, trust issues, or the desire for personal growth within relationships.
In this article, we'll explore the ins and outs of individual therapy for relationship issues, including when to seek it, its benefits, and how it works.
What is individual relationship therapy or counseling?
Individual relationship therapy or counseling focuses on helping individuals navigate their relationship concerns and improve the quality of their connections with others and themselves.
It may seem counterintuitive to address relationship issues individually. Still, it can be a highly effective way of gaining insight into oneself, understanding relationship patterns, and developing healthier ways of relating to others.
Do I need individual relationship counseling?
Individual counseling provides a compassionate and confidential space to explore relationship challenges and patterns, gain self-awareness, and develop healthy coping skills.
It offers an opportunity to work with a trained professional who can guide you toward personal growth, emotional healing, and improved dynamics.
Here are some signs indicating that talking to a relationship counselor may be beneficial:
You feel lonely and isolated, longing for meaningful connection and support
Your relationships consistently leave you feeling emotionally drained, overwhelmed, or neglected
You struggle with unresolved grief or loss, impacting your ability to fully engage in your current relationships
You have difficulty trusting others and forming new connections due to past experiences
Your relationships lack balance and equality, with one person exerting control or dominance over the other
You have unresolved past traumas or emotional wounds
You have a strained relationship with your family
You find navigating cultural or religious differences within your relationships challenging
You want to learn effective strategies for building and maintaining healthy relationships
You feel stuck in repetitive, unhelpful patterns, unable to break free from negative cycles or toxic dynamics
You feel a lack of intimacy and emotional connection, leaving you longing for deeper closeness and vulnerability
You experience difficulty expressing your boundaries and asserting your needs
You have a history of unhealthy coping mechanisms or self-destructive behaviors
You need to talk to someone about your relationships, seeking an objective perspective and support
You want to learn effective strategies for managing conflicts, resolving disagreements, and fostering healthy compromise
You experience communication issues and difficulty expressing your emotions effectively
You want to start healing from a breakup
You struggle with low self-esteem or lack of self-confidence
You notice patterns of codependency and/or people-pleasing behaviors that leave you feeling trapped or unfulfilled
You're going through challenges in adjusting to major life transitions, such as marriage, divorce, parenthood, or career changes
You want to build more authentic connections
You want to gain clarity on the signs of unhealthy or abusive relationships
You can't seem to maintain any relationships in your life
You struggle with relationships with coworkers and supervisors that affect your functioning or ability to maintain successful employment
This list is not exhaustive. There may be other signs or concerns that indicate the need for professional help. If you're experiencing any distress, uncertainty, or dissatisfaction in your relationships, it can be beneficial to seek the support of a relationship counselor.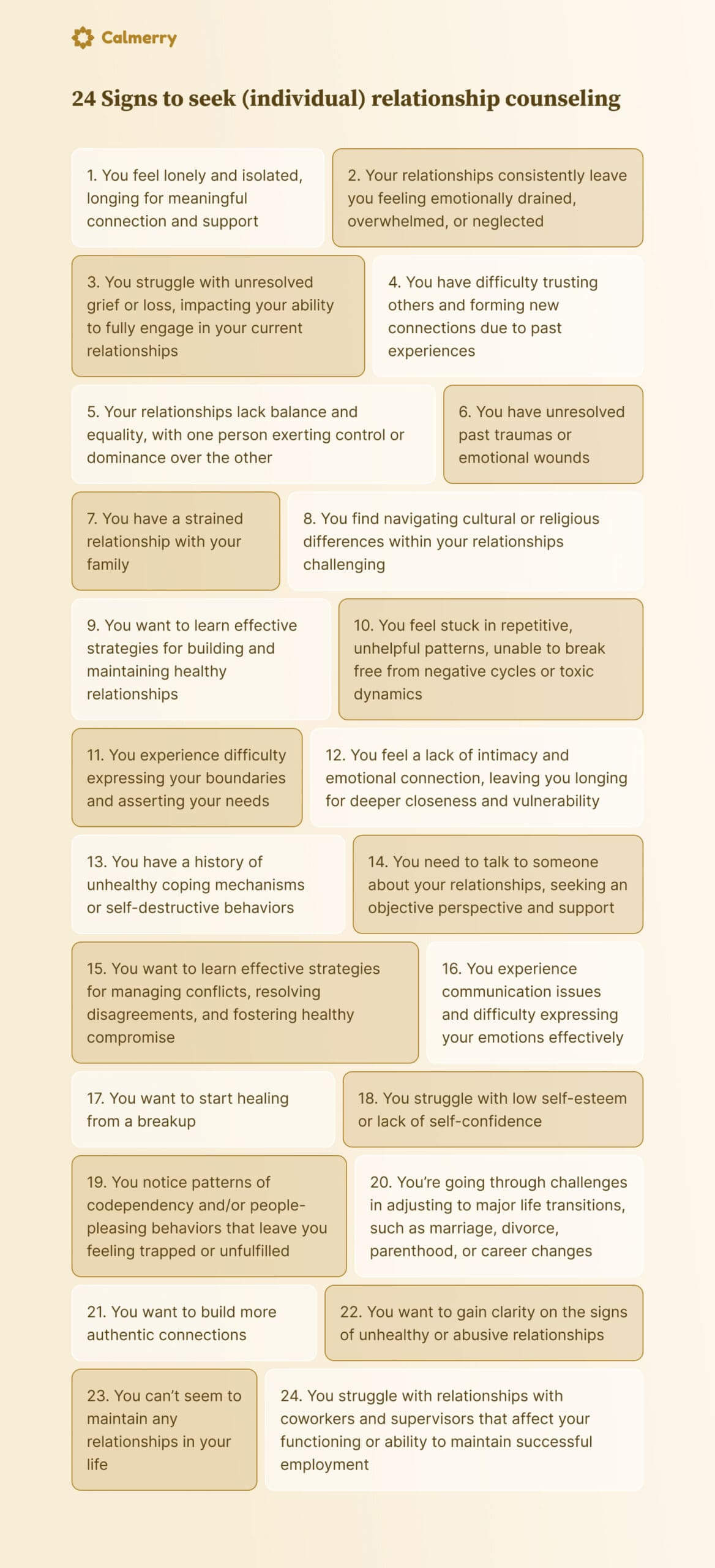 Is relationship counseling only about relationship issues with others?
No! Relationship counseling goes beyond focusing on problems and challenges with people around you. It also offers a transformative journey about you – your self-discovery, personal empowerment, reconnection, and growth.
For example:
Individual relationship counseling provides an opportunity to explore and cultivate self-love. By developing a deeper understanding of yourself, your needs, and your values, you can enhance your self-esteem and overall well-being.
It can address underlying issues contributing to low self-esteem or lack of confidence. A counselor can help you recognize and challenge limiting self-perceptions, practice self-compassion, and build a stronger sense of self-worth.
It can provide a safe and supportive space for reconnection with your true self for exploring your strengths, values, goals, dreams, motivations, sexuality, and identity.
It can give insights into your unhelpful patterns, beliefs, and behaviors that may hinder personal growth and meaningful connections.
It can guide you in developing effective coping skills, assertive communication, and setting boundaries that promote your well-being.
It can help you become a better parent by providing guidance and support in navigating parenting challenges. Therapists can help you develop effective parenting or co-parenting strategies, improve communication with your children, and address any personal issues that may impact your ability to provide a nurturing and supportive environment for your family.
Individual therapy vs. couples therapy – what to choose?
Choosing between individual and couples therapy depends on the individual's specific circumstances and needs.
While couples therapy focuses on the dynamics and communication within the relationship, individual therapy primarily focuses on the individual's personal growth, self-awareness, and understanding of their relationship patterns.
If you ask, "Should I do couples or individual therapy?" here are some factors to consider when deciding which modality suits your needs best:
Nature of the issues
Couples therapy may be more appropriate if the primary concerns relate to the dynamics, communication, and conflicts within the relationship.
This modality allows both partners to address shared concerns, improve communication, and work toward mutual understanding and resolution.
However, couples therapy is not recommended when the following concerns are present:
There is an active risk of emotional, physical, or sexual abuse or violence between partners.
If there is active and untreated addiction or mental illness with one or both partners.
When there is infidelity, and the partner is unwilling to give up the outside relationship to work on the primary relationship.
Some resources that can provide support and guidance in cases of domestic violence or abuse:
National Domestic Violence Hotline (US): 1-800-799-7233. Website: https://www.thehotline.org/

National Coalition Against Domestic Violence (US). Website: https://ncadv.org/

National Sexual Assault Hotline (US): 1-800-656-4673. Website: https://www.rainn.org/

One Love (International). Website: https://www.joinonelove.org/
Personal growth and self-exploration
Individual therapy can be beneficial if you have individual concerns, unresolved past traumas, or personal issues that impact your relationships.
It offers a dedicated space to explore your own emotions, beliefs, and behaviors, allowing for personal growth, self-awareness, and the development of healthy coping strategies.
Willingness and availability
Couples therapy requires the active participation of both partners. It aims to address relationship dynamics collaboratively.
However, if your partner is unwilling or unable to attend therapy, individual modality can still provide support, guidance, and insights into the relationship.
Individual therapy allows you to work on personal growth and develop skills to positively impact the relationship, even if only one person attends therapy.
It is not uncommon for people to start with one modality, whether individual or couples therapy, and then discover a need to seek out additional support for the other modality as they gain insight through this process.
Safety and confidentiality
In certain cases, people may feel more comfortable discussing sensitive or personal issues in individual therapy.
In this confidential and non-judgmental environment, you can openly explore your concerns, emotions, and experiences without concerns about the presence of your partner.
Complexity of the issues
If the relationship issues are highly complex or involve multiple layers of personal challenges, it may be beneficial to start with individual therapy.
It can help you gain insight into your own contribution to the relationship dynamics and provide a foundation for addressing those complexities in couples therapy, if needed.
Can a therapist see a couple individually?
Yes, in some cases, a therapist may offer individual sessions for each partner within the context of couples therapy.
However, it's important to note that not all therapists may provide this option. Some therapists prefer to maintain a clear focus on the therapeutic relationship with the couple as a unit.
So, they may offer only individual sessions or only couples therapy to protect the integrity of the therapeutic process. In this case, having separate counselors may be a good option.
Yet, individual sessions within couples therapy, if available, typically serve specific purposes, such as allowing each partner to explore personal concerns, emotions, or perspectives in greater depth.
These individual sessions provide a safe and confidential space for self-expression and self-reflection. Additionally, they can contribute to a more comprehensive understanding of each person's experiences and enhance the overall effectiveness of couples therapy.
Can I see a relationship counselor alone?
Yes, you can see a relationship counselor alone, regardless of whether you have a partner or are single. And if you have personal concerns or want to focus on your individual growth within the context of your relationships, this may be a good option.
Seeing a relationship counselor alone allows you to explore your own thoughts, emotions, and behaviors and work on personal goals. It provides an opportunity to gain insights, develop skills, and create positive changes within yourself and your relationships.
Can I get relationship counseling at Calmerry?
Yes, you can! Currently, we offer only individual relationship counseling to address your unique needs and concerns.
Our professional therapists are experienced in working with individuals seeking support and guidance in navigating relationship challenges – within and beyond.
We understand that each person's journey is different, and our online therapists are here to provide you with a compassionate and confidential space to explore your relationship issues, gain self-awareness, and develop effective strategies for personal growth.
How individual relationship counseling works
Individual relationship counseling operates on the foundation of a collaborative and trusting relationship between the therapist and the individual seeking help.
Here's what to expect:
Establishing a safe and non-judgmental environment
The therapist creates a warm and supportive environment where clients feel comfortable sharing their thoughts, feelings, and concerns about their relationships or themselves.
Confidentiality and trust are essential elements of this therapeutic space.
Active listening and empathetic understanding
The therapist actively listens and empathetically understands the client's experiences, validating their emotions and perspectives.
This deep level of understanding helps clients feel heard and acknowledged, enhancing the therapeutic alliance.
Exploration and insights
Individual therapy for relationship issues fosters personal growth by encouraging self-exploration and self-awareness.
The therapist guides clients through meaningful dialogue, reflections, gentle challenging, and questions to explore their relationship dynamics, patterns, concerns, and underlying emotions. They empower a client to reflect on their values, needs, behaviors, beliefs, triggers, and aspirations.
This enables them to make conscious, positive choices and cultivate more fulfilling relationships.
Developing coping strategies
The therapist collaborates with the client to identify effective coping strategies and skills to manage emotional challenges.
Some of these strategies may include:
Starting healing journey
Therapy provides a space for addressing unresolved past traumas or emotional wounds that may impact current relationships.
The therapist supports clients in processing and healing from these experiences, promoting emotional well-being and healthier relationship dynamics.
Approaches and techniques of individual relationship counseling
Individual relationship therapy draws upon various evidence-based therapy techniques, styles, and approaches.
Each offers unique insights and tools. Yet, the approach and treatment plan will depend on your specific needs and preferences.
Here are some common approaches and techniques used in individual counseling for relationship issues:
Cognitive-Behavioral Therapy (CBT) – helps you identify and modify negative thought patterns and behaviors contributing to relationship difficulties.
Emotion-Focused Therapy (EFT) – emphasizes the importance of emotional connection and aims to help you identify and express your emotions safely and constructively. It focuses on promoting empathy, understanding, and emotional intimacy.
Psychodynamic Therapy explores how past experiences and unresolved conflicts may influence current relationship patterns.
Mindfulness-Based Approaches – these techniques help you develop present-moment awareness and non-judgmental acceptance of your thoughts, emotions, and relationship experiences. They can enhance self-awareness, emotional regulation, and overall relationship satisfaction.
Solution-Focused Brief Therapy (SFBT) – focuses on identifying and building upon your strengths and resources to create positive change. It emphasizes setting realistic goals, exploring solutions, and implementing small steps toward improving relationship dynamics.
Narrative Therapy – involves exploring and reshaping the stories you tell about yourself and your relationships. It aims to empower you by helping you recognize alternative perspectives, strengths, and possibilities for change.
Interpersonal Psychotherapy (IPT) – aims to improve the quality of interpersonal relationships and social functioning. It provides strategies to resolve problems within four key areas (unresolved grief, interpersonal deficits, life transitions, and interpersonal conflicts) and to understand and use emotions as social signals.
Subscribe
to our mental health digest
Let us support you on the way to better mental well-being. Get expert tips and insights on mental health delivered to your inbox monthly.
Self-help strategies for working through relationship problems
While therapy provides a dedicated space for addressing relationship issues, we're also sharing some self-help strategies you can employ to work through concerns independently.
1. Practice active problem-solving
Identify specific issues or conflicts within your relationship and work towards finding practical solutions together.
Establish a mutual goal and offer to listen and validate the other individual's concerns before sharing your own.
Remember, validation does not equal agreement! It is simply being curious enough to ask questions until you can fully see their reasoning and express an understanding of their perspective.
Break down problems into manageable steps, brainstorm potential solutions, and collaborate with your partner, friend, or colleague to implement and evaluate these solutions.
2. Engage in relationship-building activities
Dedicate quality time to engage in activities that foster connection and intimacy with your partner. Plan regular date nights, engage in shared hobbies, craft something cute, or participate in meaningful conversations to deepen your bond.
Relationship-building activities can also be used with family members, friends, and colleagues to increase a sense of connection and mutual appreciation.
3. Use "I"-statements and observe and describe
When expressing your concerns or feelings, use "I" statements instead of "you" statements.
For example, say, "I feel upset when…" instead of "You always…!!!"
Besides, observing and describing is a great tool for avoiding assumptions or interpretations. For example, say, "When you said… I noticed a feeling of anxiety and a thought …come into my mind. My thought may not be accurate. What did you mean?"
This helps to express your emotions without blaming or attacking your partner or friend. And this promotes open and non-confrontational communication.
4. Practice active listening
Give your full attention to your partner when they're speaking. Maintain eye contact, nod to show understanding, and avoid interrupting.
Reflect back on what you've heard to ensure accurate understanding and demonstrate your engagement in the conversation.
5. Practice empathy
Show empathy and understanding toward a person's feelings and experiences. Put yourself in their shoes and try to imagine how they might be feeling. This can help create a supportive and compassionate atmosphere in your relationship.
6. Use "We" language
Foster a sense of togetherness using "we" when discussing problems or finding solutions. Instead of focusing on individual blame or responsibility, approach challenges as a team and work collaboratively towards resolutions.
7. Seek win-win solutions
Strive for solutions that benefit both you and your partner. Look for compromises and creative alternatives that address the needs and interests of both parties.
Avoid approaching conflicts as a win-lose situation but rather as an opportunity for growth and mutual understanding.
8. Take time-outs
If conflicts become heated or intense, taking a short break to cool down and regain composure can be beneficial.
Agree on a signal or keyword with your partner that indicates the need for a time-out. Use this time to relax, reflect, and gather your thoughts before continuing the conversation.
9. Recognize your relationship strengths and progress
Take time to reflect on the positive aspects, growth, and improvements you've made together. This helps to foster a sense of appreciation and gratitude, reinforcing the foundation of your relationship.
Celebrate milestones and small victories. Write forget-me-notes for memorable events and moments of connection to nurture a positive and warm outlook on your journey together.
10. Express appreciation
Regularly express gratitude and appreciation for your partner's qualities, efforts, and contributions. Recognize and acknowledge their strengths and actions that enhance the connection.
11. Prioritize self-care
Take care of yourself physically, emotionally, and mentally. Engage in activities that bring you joy, reduce stress, and promote well-being.
Set boundaries to ensure you have time and space for self-care, allowing you to show up more fully in your relationships.
12. Work on emotional regulation strategies
Learn to identify and regulate your emotions in healthy ways. Develop coping strategies such as deep breathing exercises, journaling, yoga, or mindfulness practices to manage stress, anxiety, or anger.
13. Seek professional help
Recognize when it's necessary to seek professional support. Individual therapy provides a transformative space for self-reflection, healing, personal growth, and acquiring the skills necessary to navigate relationship challenges.
If self-help efforts haven't yielded the desired results, or if you're facing complex or deep-rooted issues, reaching out to a licensed therapist can provide guidance and support tailored to your specific needs.
The truth is, seeking professional help is a proactive step towards investing in the well-being of yourself and your relationship. And our therapists at Calmerry can offer you a safe space to gain clarity and work towards building the harmonious, happy relationship you deserve.
Сheck your mental well-being for free: