Solution-Focused Brief Therapy (SFBT): When It's Used, How It Works, and Effectiveness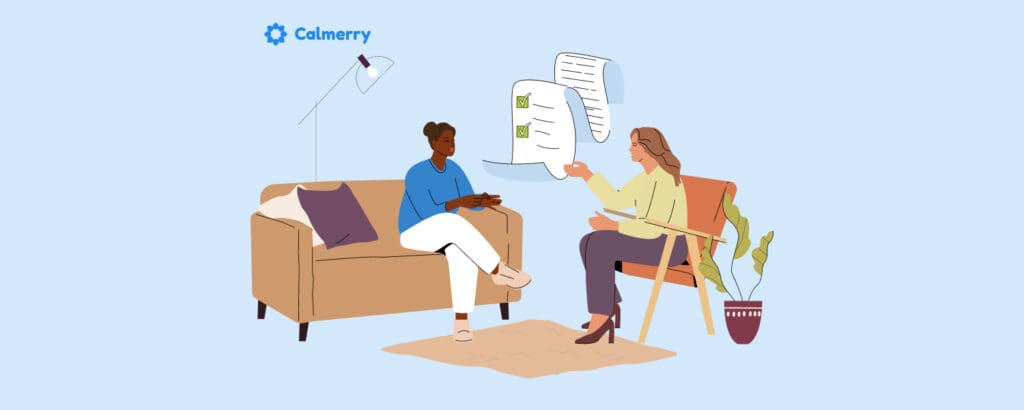 Reading Time:
5
minutes
Talk therapy is probably the most common way to treat mental and emotional health problems. While this is a common treatment modality, there are wide variations in the methods used in therapy.
One such method is solution-focused brief therapy (SFBT). It can be beneficial for people who are looking to engage in problem-solving to efficiently overcome personal challenges.
Before deciding if this therapy method is the right fit for you, it's helpful to have some background information about how it works.
What is solution-focused brief therapy?
Solution-focused brief therapy (SFBT) is a more modern approach to therapy, in contrast to older models, which focus on uncovering problems from the past.
Rather than focusing on past problems and generational patterns within a person's family, SFBT focuses on what is currently working well for the patient. 
This model also differs from other therapy modalities in that it is not focused on discussing a patient's problems. Instead, an SFBT practitioner helps a client to arrive at solutions.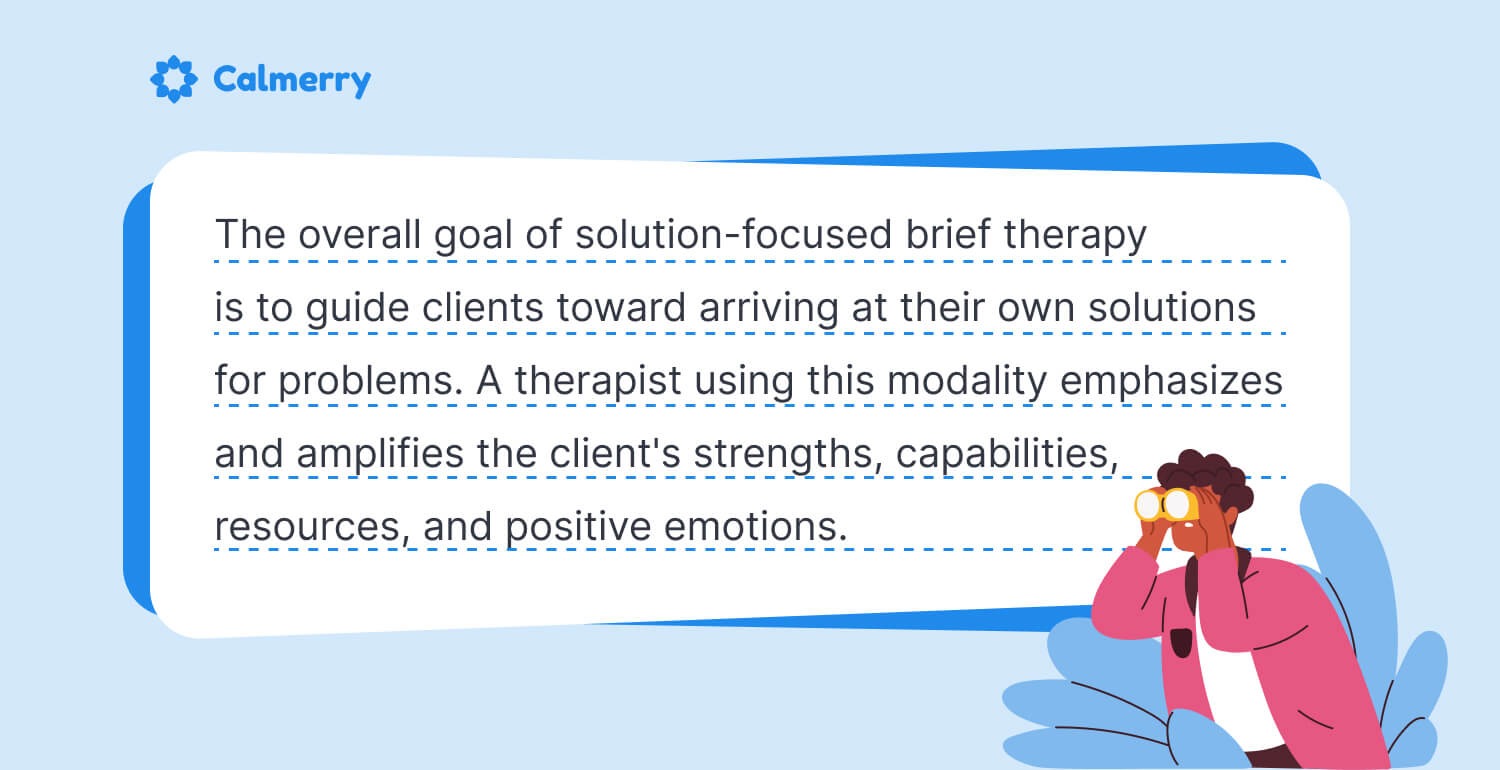 How does SFBT work, and who can it help?
Solution-focused brief therapy involves the establishment of a cooperative relationship between patient and therapist.
In therapy sessions, a patient works with the therapist toward collaborative goals, focusing on the patient's strengths. A therapist using this modality emphasizes positive emotions, such as hope, and guides a client toward identifying their own solutions for problems they are facing.
SFBT has been used with diverse populations, including children, teens, adults, and families, as well as with individuals from various cultural backgrounds, such as Chinese, Korean, North American, African American, Latino, and European populations.
Furthermore, SFBT has been found to be effective for treating a number of mental and emotional health problems, including:
Depression
Stress
Anxiety
Childhood behavioral issues
And substance use disorder
Goals of solution-focused brief therapy
The overall goal of solution-focused brief therapy is to guide patients toward arriving at their own solutions for problems. Rather than the therapist being seen as an expert who possesses the answers to the patient's problems, the patient is seen as the expert.
By engaging in dialogue with the patient, the therapist aims to help the patient use strengths they already have to quickly arrive at solutions.
Benefits of solution-focused brief therapy
SFBT comes with several benefits:
Therapy is short-term and can often be completed in as few as five sessions.
There is a focus on patient strengths and resources. So clients may leave therapy sessions feeling more confident and empowered rather than focusing on their perceived deficiencies or feeling somehow disordered.
This treatment modality is versatile, as it is beneficial for treating a range of mental health conditions in various populations.
The method is often cost-effective since it is intended to be short-term.
Patients may feel less stigmatized than with other treatment methods focusing on deficits or labeling mental health problems.
Limitations of solution-focused brief therapy
While many people find solution-focused brief therapy beneficial, the method isn't effective for everyone. For example, some individuals who live with severe, chronic mental illnesses may not benefit from short-term, solution-focused methods.
Similarly, patients who have a significant trauma history or who wish to explore unresolved issues from childhood or their family of origin might not prefer the SFBT method.
In addition, while SFBT has been found to be especially effective for treating anxiety, depression, and stress-related conditions, there is not as much evidence supporting its use for addiction and behavioral problems. Some people find that SFBT works for these problems, but others may benefit more from other methods.
As with any health problem, the best form of treatment will depend on a person's unique needs and preferences. And SFBT may not always be the best solution.
SFBT questions
What makes SFBT unique is the specific techniques and lines of questioning used with this model. Questions in SFBT focus on identifying patient strengths and arriving at solutions to patient problems.
Some of the most common questions used in SBFT include miracle questions, exception questions, and scaling questions.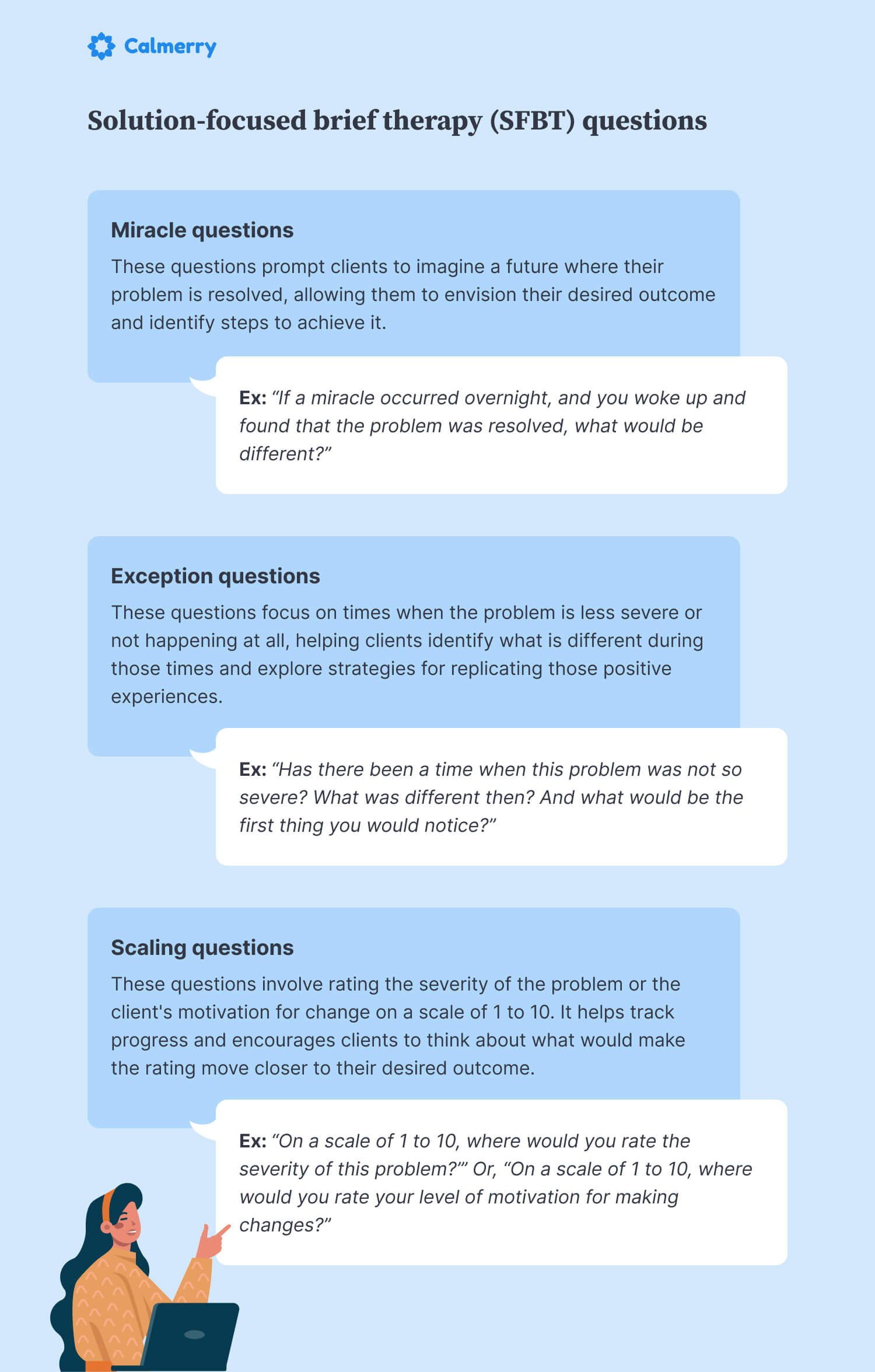 Miracle questions
Miracle questions are used in SFBT to help people arrive at meaningful goals for their time in therapy.
This question often involves the therapist asking, "If a miracle occurred overnight, and you woke up and found that the problem was resolved, what would be different?"
Answering this question can help patients think about what changes they'd like to make and what steps they can take to work toward meeting their goals.
Exception questions
The exception question is useful for identifying solutions to patient problems. It involves the therapist asking, "Has there been a time when this problem was not so severe? What was different then?"
If a patient can state what was different when a problem was not happening, they are likely to gain some clarity regarding what can help them to solve the problem.
Scaling questions
Finally, scaling questions are a common tool in SFBT, and a therapist using scaling questions will ask, "On a scale of 1 to 10, where would you rate the severity of this problem?'" The therapist may also ask, "On a scale of 1 to 10, where would you rate your level of motivation for making changes?"
These questions can help patients to track their progress. For example, if a patient's perception of the severity of the problem is at an 8 on a scale of 1 to 10, and it decreases to a 3 by the end of therapy, this would be considered a successful outcome.
What to expect in the first therapy session
During the first therapy session, the SFBT therapist often asks, "What has changed for you since you called to make this appointment?"
This allows the patient to talk about changes they've already made, revealing information about what they can continue to do to solve their problems. If they haven't made changes since making the appointment, the therapist may ask what needs to happen for the appointment to be successful for the patient.
The ultimate goal of this first session is to guide the patient toward thinking about and exploring potential solutions.
What to look for in an SFBT therapist
Finding a therapist who is a good fit for you can be one of the most important parts of treatment.
If you think SFBT is a good fit for you, it's important to find a qualified therapist who has experience and/or training in this modality. They should be a licensed mental health professional, such as a social worker, psychologist, or professional counselor.
An SFBT therapist should focus specifically on your strengths and help you to arrive at solutions. They should also listen to your perspectives on the problem rather than giving you "expert advice" regarding what you should do.
Your therapist should also treat you with dignity and respect and make you feel accepted.
At Calmerry, we have licensed therapists trained and experienced in the SFBT approach. Visit our webpage today to learn more about our online therapy services or sign up.
FAQs
The answers to the following common questions provide additional information about solution-focused brief therapy.
Is solution-focused brief therapy evidence-based?
Solution-focused brief therapy can be considered an evidence-based treatment modality.
Therapeutic strategies are considered evidence-based when research has demonstrated they are effective. Numerous studies have been conducted to test the effectiveness of SFBT with a variety of different populations.
There is a solid evidence base demonstrating that SFBT is effective. Results suggest it tends to have a larger benefit for people with internalizing problems, such as depression, stress, and anxiety, than externalizing issues like behavior problems and substance use disorder.
How many sessions are in solution-focused brief therapy?
As its name might suggest, SFBT is intended to be short-term. Many people complete solution-focused brief therapy in around five sessions, but some may require as many as eight sessions or as few as one.
As with any treatment modality, the specifics depend on each patient's needs.
Is SFBT similar to CBT?
CBT is often used to treat patients with internalizing conditions like depression and anxiety, much like SFBT. But the two modalities are different.
CBT is more deficit-based, focusing on correcting negative or distorted thinking patterns and maladaptive behaviors. On the other hand, SFBT is focused on arriving at solutions by identifying the patient's strengths, resources, and capacities.
Subscribe
to our mental health digest
Let us support you on the way to better mental well-being. Get expert tips and insights on mental health delivered to your inbox monthly.
Сheck your mental well-being for free: