What Is Cognitive Behavioral Therapy and How Does It Work?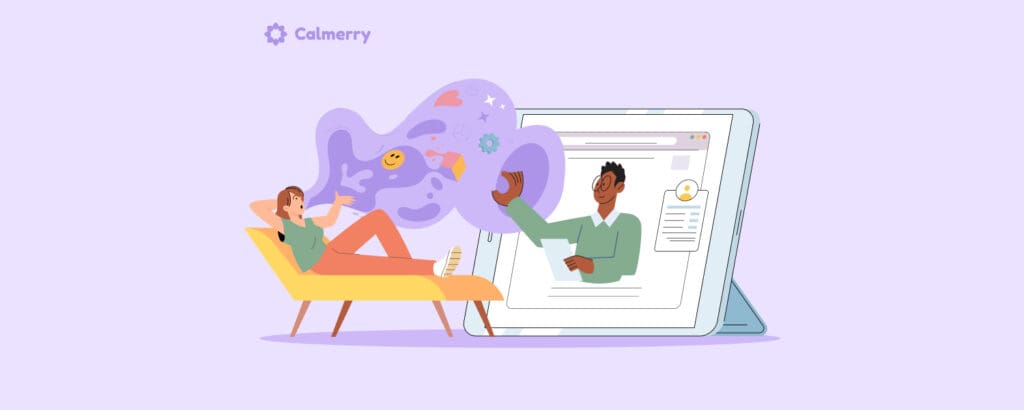 Reading Time:
7
minutes
If you think of yourself as uninteresting, unintelligent, and unworthy of anything good, you're probably not going to put yourself out there very much. In fact, you're likely going to miss out on a lot of connections and opportunities.
But what if your negative thoughts are just like any other bad habit that can be broken? According to cognitive behavioral therapy (CBT), that's just what they are.
What is CBT?
True to its name, Cognitive behavioral therapy (CBT) is a combination of cognitive and behavioral therapies that explores how your thoughts (cognitive) and actions (behavioral) intertwine to impact the way you feel and experience your life.
In other words, negative thoughts cause self-destructive feelings and behaviors. So if you think you don't deserve to be happy or you'll never amount to anything, you're likely not going to strive for very much.
On the flip side, unhealthy and self-destructive behaviors also lead to negative thoughts and feelings. So when you don't change out of your pajamas or get out of bed most days, you may start to feel sluggish, incapable, and useless.
CBT is the most researched form of psychotherapy. It takes a practical, structured, skills-based approach that's often short-term and focused.
As the client, you'll be actively engaged in the process both during the session and between sessions, with homework assignments, real-world practice, and self-reflection.
Core principles of CBT
CBT is based on a few core principles, which include:
Negative and self-critical ways of thinking contribute to psychological problems
Your actions and behavioral patterns also contribute to psychological problems
Psychological problems can be relieved by learning healthier ways of coping
How does CBT work?
The idea behind CBT is that it is possible to have some control over your thoughts, feelings, and behaviors.
What follows is that as you unlearn negative automatic thoughts and deeply held core beliefs and replace them with helpful or productive thoughts and beliefs, you can radically change your experience of life.
Furthermore, as you replace harmful coping behaviors with healthier ways of being, you'll feel better and be more equipped to cope with life's challenges.
CBT vs. DBT
These similar-sounding acronyms stand for two different kinds of evidence-based psychotherapies.
While cognitive behavioral therapy (CBT) focuses on changing thoughts and behaviors to impact your emotional state, dialectical behavioral therapy (DBT) encourages you to experience challenging thoughts and emotions and supports you in developing the tools to cope with them.
Goals of CBT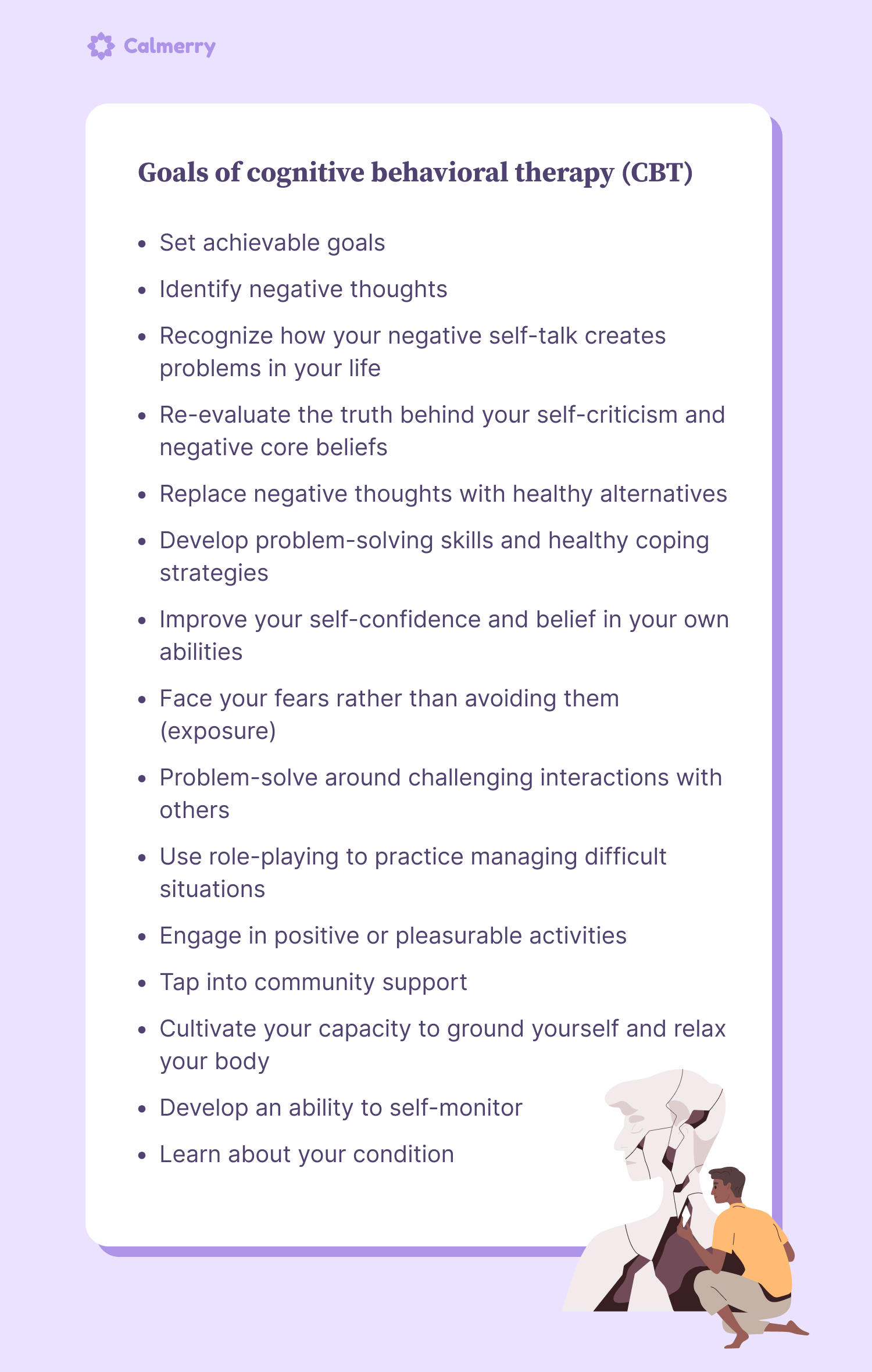 The aim of CBT is to:
Set achievable goals
Identify negative thoughts
Recognize how your negative self-talk creates problems in your life
Re-evaluate the truth behind your self-criticism and negative core beliefs
Replace negative thoughts with healthy alternatives
Develop problem-solving skills and healthy coping strategies
Improve your self-confidence and belief in your own abilities
Face your fears rather than avoiding them (exposure)
Problem-solve around challenging interactions with others
Use role-playing to practice managing difficult situations
Engage in positive or pleasurable activities
Tap into community support
Cultivate your capacity to ground yourself and relax your body
Develop an ability to self-monitor
Learn about your condition
Types of CBT techniques
One of the first steps in CBT is usually to develop an awareness of the thought-feeling-behavior interconnection so you can identify new ways of responding that better support your goals.
In therapy, you'll focus on changing both thoughts and behaviors using multiple skill-based strategies, including:
Role-playing
Completing workbook exercises
Filling out thought records, rating scales, and questionnaires
Some specific CBT techniques include:
Cognitive restructuring, which involves looking closely at your negative thought patterns and learning how to reframe your thinking
Guided discovery, during which your therapist will ask a series of open-ended questions to explore your beliefs and broaden your thinking
Exposure therapy, which can help people learn to manage their fears and other uncomfortable feelings
Behavioral activation, or scheduling activities and doing certain things that, in turn, affect your mood
Relaxation techniques, such as deep breathing exercises and progressive muscle relaxation
Successive approximation, which means taking large goals and breaking them down into smaller, achievable steps
Not every CBT therapist will use all of these tools. It's a collaborative process that depends on your treatment goals, preferences, and specific situation.
Subscribe
to our mental health digest
Let us support you on the way to better mental well-being. Get expert tips and insights on mental health delivered to your inbox monthly.
What is a thought record?
Thought records are a common CBT technique that allows you to take a closer look at the messaging you're giving yourself, notice when you're ruminating, and practice making impactful shifts in your perspective.
Completing a thought record typically includes five steps:
Identifying the "event" that triggers a negative thought
Marking down what the negative thought is
Taking note of how that thought is making you feel
Challenging the thought by offering alternative evidence, plans of action, and self-compassion
Taking note of how the replacement thought is making you feel
For example, suppose you're terrified that you're going to fail an upcoming exam. In that case, you might notice the automatic thought, "I'm a failure," attached to a deeply held core belief, "I'll never amount to anything."
Using a thought record, you can begin to notice how these thoughts make you feel and challenge them by listing evidence to the contrary and exploring potential alternative positive thoughts.
As you challenge the "failure" thought, you might say, "This is a really tough test (self-compassion). My plan is to study for 30 minutes every morning and evening (plan of action). I'll learn the materials as much as I can, and I'll do my best. When my fear of failing overcomes me, it doesn't help me pass the exam. In fact, it gets in the way of me doing what I need to do to succeed. I'm going to stop listening to that thought today."
What to expect during a CBT session
The focus of CBT is on the present. So you typically won't dive into early childhood experiences, analyze dreams, or go deep into the issues that lead up to your current situation.
CBT is usually broken up into phases, including assessment, the middle phase, and the ending phase.
In general, your therapist will:
Develop an understanding of the main things that you're currently struggling with
Ask you clarifying questions and have you fill out questionnaires to track your symptoms and progress
Set achievable treatment goals in a collaborative process that clarifies what you want to get out of therapy
Help you to identify harmful or problematic thoughts and behaviors
Work with you to unlearn and replace these thoughts and behaviors
Practice new strategies using role-play and other techniques
Provide you with information and written materials to learn more about your health and mental health conditions
Provide you with homework that allows you to continue to engage with the therapy process between sessions
Is CBT effective?
Research has found that CBT can be used to successfully treat a range of mental health conditions and issues for children and adults, including:
How long does CBT take to work?
Cognitive behavioral therapy tends to be one of the shorter forms of therapy that generally takes place over 10 to 20 sessions.
This doesn't mean that you'll experience results immediately. Changing your long-standing thinking patterns and deeply-rooted habitual responses will usually take time.
The good news is you may notice incremental positive changes with CBT, which can happen in a relatively short period of time.
Does CBT work for everyone? When not to use CBT
While each person and set of circumstances is unique, there are a few cases where CBT generally is not considered an appropriate form of treatment, including:
If you're more interested in exploring your unconscious, dream analysis, diving into your past, or engaging in another form of psychoanalysis
If you have a brain disease or injury that gets in the way of rational thinking
If you're not interested in, able to, or willing to complete between-session assignments
If you require another treatment before engaging in psychotherapy
If you're otherwise not ready to start psychotherapy and consistently attend sessions
If you're looking for a rapid fix
A note about CBT and medication
CBT can be used on its own or in combination with medication, which sometimes produces the strongest results.
There is not enough research to say whether cognitive behavioral therapy, medication, or another form of treatment works better for many mental health disorders. Much of it depends on your specific situation and preferences.
Potential benefits and disadvantages of CBT
Cognitive behavioral therapy can potentially change how you respond to the struggles you're facing, which can be profoundly impactful.
Benefits of CBT
In cognitive behavioral therapy, your therapist will work with you to become more aware of your harmful patterns and support you in replacing them with healthier and more positive habits and ways of thinking.
While CBT can't change the world around you, it can support you in changing how you experience it.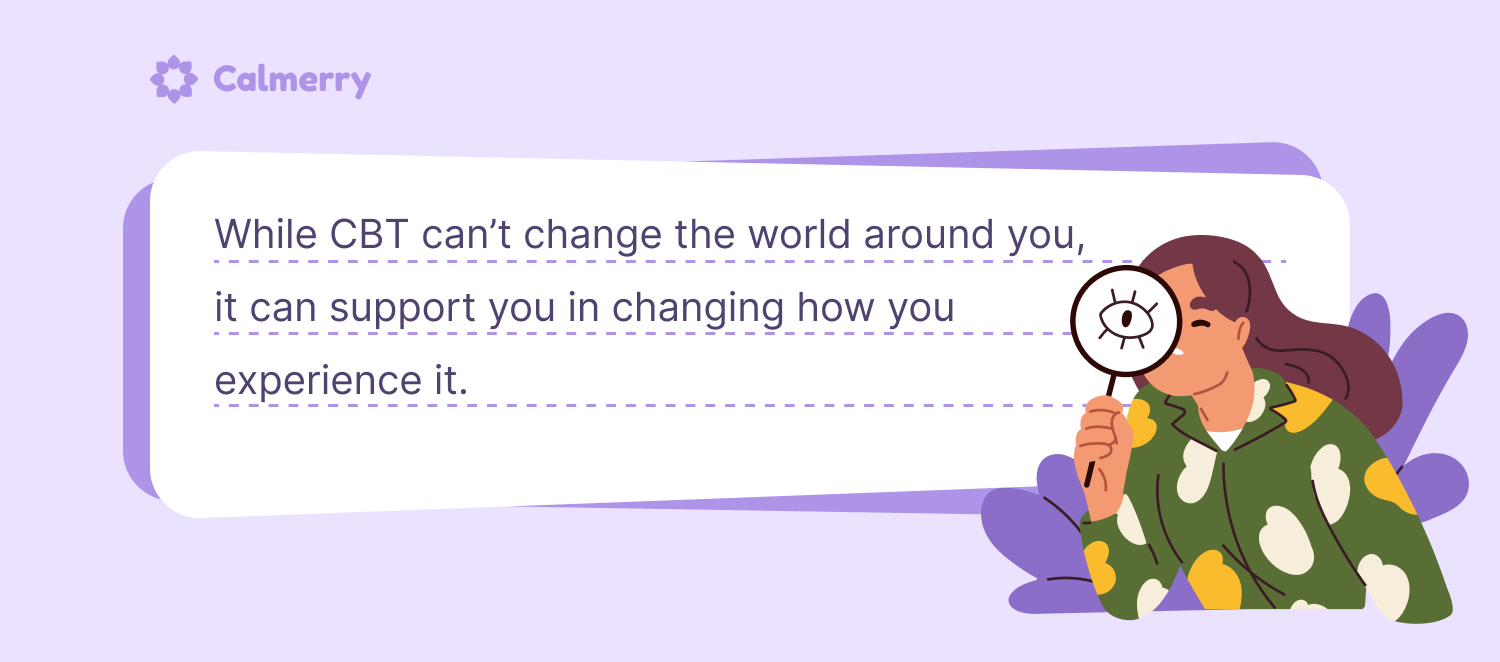 Potential benefits include the opportunity to:
Develop healthier and more positive patterns in your life
Create shorter-term, achievable goals with the possibility for improvement in five to 20 sessions
Treat a variety of conditions
Limit the number of costly sessions
Disadvantages of CBT
While CBT has been shown to be effective for many mental health disorders, it's not for everyone.
In general, psychotherapy can unearth uncomfortable feelings during the process. If this happens to you, it's important to discuss your experience with your therapist.
Additional drawbacks of CBT may include:
The time it takes for you to notice improvements
The need for you to be actively involved in the therapy process, including fitting homework into your schedule between visits
The highly structured nature of CBT may not be the right fit for you
The lack of opportunity to explore your past and your unconscious drives
CBT can be done online
If you're leaning towards trying CBT after considering some of the different forms of psychotherapy, you can connect with a Calmerry therapist from the comfort of your own private space.
CBT can be done in person or via teletherapy (online). And more research over the last several years of the pandemic is telling us that online therapy is a powerful and effective pathway for more people to connect to mental health services and support that they need.
Сheck your mental well-being for free: