Published October 13, 2023
How Is Behavioral Therapy Different From Psychoanalysis?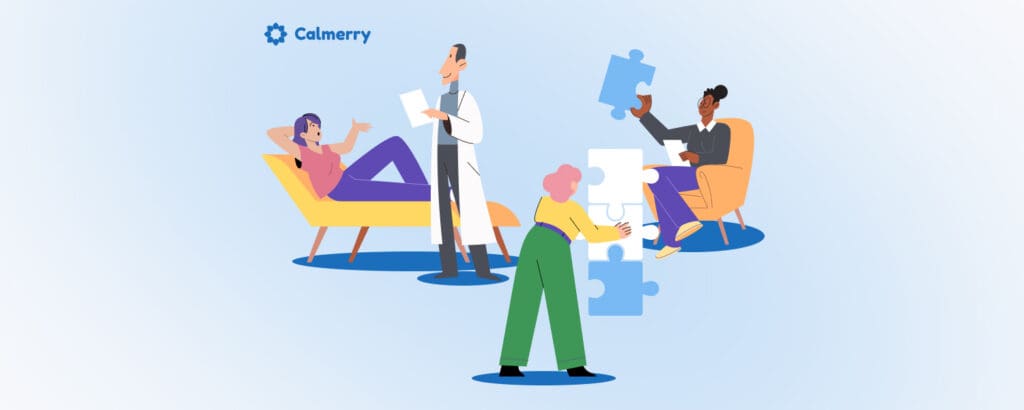 Reading Time:
7
minutes
When you're choosing a therapist to work with, one of the first things you look at is what type of therapy each person practices. Different types of therapy work for different people, but it can feel overwhelming to wade through all of the different therapy types and figure out what's right for you.
Although there are endless therapy types out there, they all basically lean toward one of two categories: insight-directed psychoanalysis, or action-directed behavioral therapy.
Psychoanalysis and behavioral therapy take radically different approaches to mental health treatment, so it's important to get clear about what each of them looks like and which is the best choice for you.
In this article, we'll provide a detailed review of both psychoanalysis and behavioral therapy, how exactly they're different, and how to choose between the two.
What is behavioral therapy?
Behavioral therapy is a broad umbrella term that includes many different types of therapy. [1] APA Dictionary of Psychology. (n.d.). https://dictionary.apa.org/behavior-therapy
What all types of behavioral therapy have in common is that they focus primarily on helping people identify and change unhealthy behaviors.
Behavioral therapy is used for a wide range of mental health and developmental concerns. We often think of it as something that's primarily used to help children with neurodevelopmental conditions (like autism), but it can be successfully used with adults, too.
Today, behavioral therapy is most commonly used together with cognitive therapy, which is a therapy method that focuses on helping people change their unhealthy thoughts. The resulting combination is called cognitive-behavioral therapy, or CBT.
CBT is based on the basic principle that our thoughts, behaviors, and emotions are all connected, and helps people change unhealthy behaviors and thoughts to feel better. You might have heard of CBT because it's one of the most common and effective forms of therapy for many different mental health conditions.
When it's used
Some areas of concern where behavioral therapy (or CBT) might be helpful include:
Generally, behavioral therapy can help you if you want to focus specifically on changing behaviors, whatever those behaviors may be.
Behavioral therapists typically don't put too heavy of a focus on helping you navigate past events.
What is psychoanalysis?
On the other hand, psychoanalysis focuses more on insight into your subconscious. [2] Psychoanalysis. (n.d.). https://www.apa.org. https://www.apa.org/ed/graduate/specialize/psychoanalysis
Of course, behaviors can never be totally separated from the mind, but generally, psychoanalysts focus more on what happened in your past than what you are doing now.
Psychoanalysis was originally created by Sigmund Freud, the "father of psychology." Freud believed that mental health problems arise out of subconscious thoughts and feelings that most people can't access.
The goal of psychoanalysis is to help people gain access to hidden areas of their mind, including subconscious thoughts as well as any repressed memories or feelings.

– Saya Des Marais, MSW, Therapist-turned-mental health writer
You may have seen an image of a therapy patient lying on a couch and talking freely about their problems. This popular imagery comes directly from psychoanalysis.
Traditionally, the psychoanalyst sits behind the patient and asks them to talk about topics like their dreams, their memories, their fantasies, and so on. As the patient talks, the psychoanalyst helps them make connections and bring the subconscious to the forefront of the mind.
When it's used
Psychoanalysis helps people go very deep into past experiences and feelings that they may have not even thought about in a long time. Because of this, it can be helpful for people who live with:
Depression: psychoanalysis can help people dig deep into their depression triggers and figure out where they come from.
Low self-esteem: people with low self-esteem and other problems with self-worth could benefit from digging deep into past experiences that may have led them to develop these feelings.
Past emotional traumas: psychoanalysis can help you uncover memories and the impact that they have had on your life and identity.
Relationship problems: psychoanalysis places a heavy emphasis on the relationship between the analyst and the patient. The psychoanalytic concept of transference is about any feelings that you, as the patient, might project onto your therapist. According to psychoanalysis, working through this transference can help you heal.
A desire to become self-aware: ultimately, psychoanalysis is about knowing yourself better. So, even if you don't live with a specific mental health condition, psychoanalysis can be helpful just to deepen self-awareness.
Psychoanalysis has lost popularity in recent years, particularly because it's so hard to measure how effective it is. Therapists who are trained in psychoanalysis often use certain principles to deliver psychodynamic therapy, which is less concerned with dreams and the unconscious mind.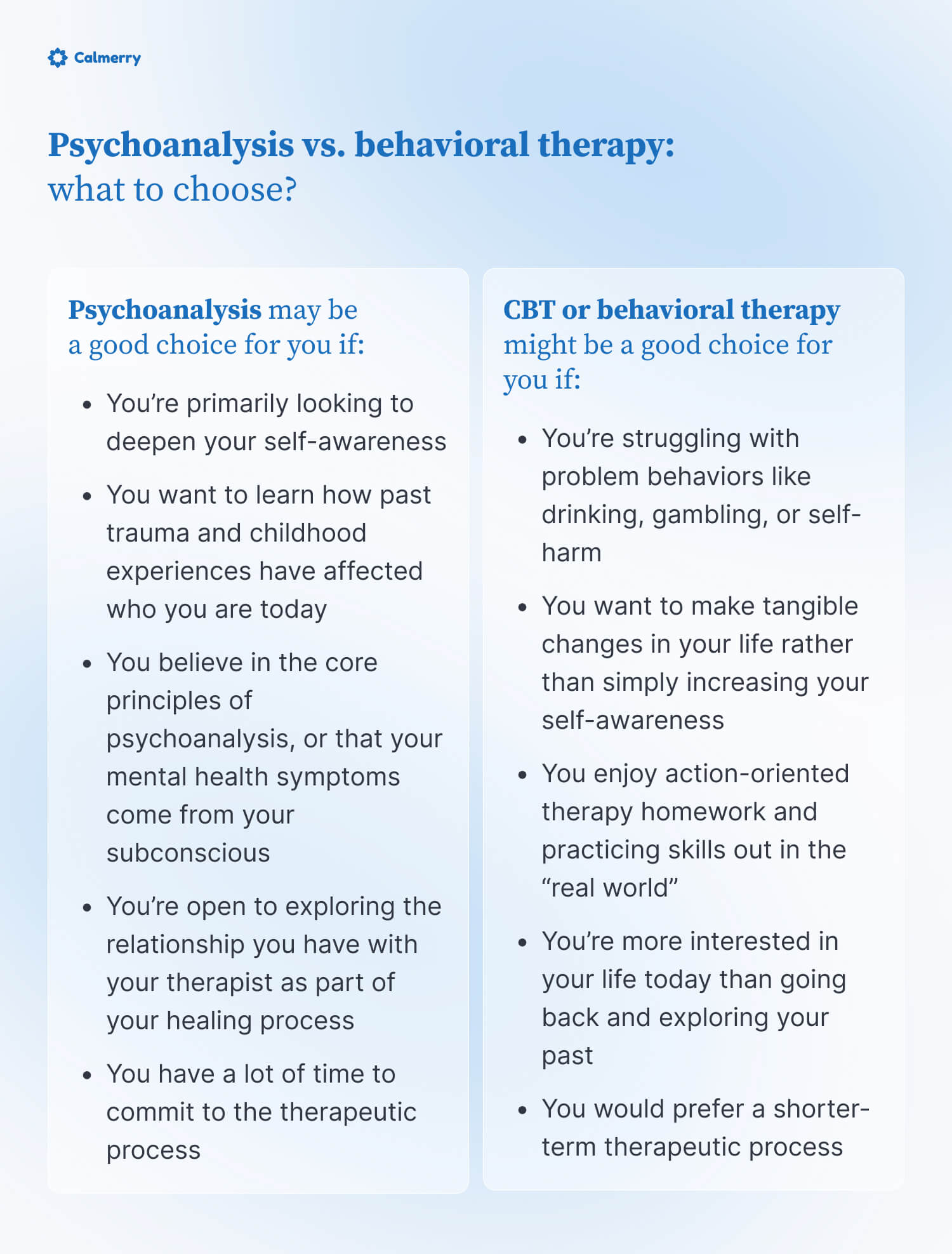 Psychoanalysis vs. CBT/behavioral therapy
Psychoanalysis and behavioral therapy are very distinct styles of psychotherapy. One could even say that they lie on different ends of the psychotherapy spectrum.
It's important to understand exactly how these two methods are different so that you can choose the therapy type that's right for you.
Historical background
As the original form of psychotherapy, psychoanalysis has been around since the 1890s when Freud created and popularized it.
Modern psychoanalysis has evolved quite extensively from its original form in the 19th century. Although the original form of psychoanalysis has received criticism for not being backed by evidence, we have a lot to thank Freud for – without psychoanalysis, we wouldn't have psychotherapy at all.
Behaviorism, on the other hand, didn't emerge on the scene until around the 1930s, when psychologists like Ivan Pavlov and B.F. Skinner studied learning theories like operant conditioning and how they could be used to change people's behavior.
At that time, behavior therapy represented a major shift in the way we viewed mental health problems and treatment.
Core principles
One of the biggest ways in which psychoanalysis and behavioral therapy differ is in their core principles and beliefs.
Psychoanalysis is based on the core belief that all of our problems (for example, mental health issues or relationship difficulties) are based on unconscious thoughts, desires, dreams, memories, and more. Psychoanalysts believe the most important task in therapy is to help people uncover what's in their unconscious and bring it to the forefront of their mind.
On the other hand, behavioral therapy is based on the core principle that we can help people by helping them change unhealthy behaviors. Behavioral therapy has its roots in the principles of behaviorism, which is the study of how changing environment can condition people to change their behavior.
Modern behaviorists, most of whom practice cognitive-behavioral therapy, believe that negative thinking and behavior patterns are at the root of people's problems.
To put it simply, psychoanalysis values insight, and behavioral therapy values action.

– Saya Des Marais, MSW, Therapist-turned-mental health writer
Techniques used
Because of the major differences in their core principles, the techniques used in psychoanalysis and behavioral therapy are also very different.
Psychoanalysts use techniques designed to help people freely explore their unconscious mind. Some specific techniques used in psychoanalysis include:
Free association or word association, which can help you explore openly what's in your mind. Unlike most other forms of therapy, psychoanalysis doesn't try to direct therapy sessions toward any specific goal.
Dream analysis, in which the psychoanalyst can interpret your dreams and what they might say about your unconscious mind.
Transference analysis: in psychoanalysis, the feelings you have toward your therapist themselves can become a central point in the therapeutic process.
On the other hand, behavioral therapy techniques are meant to help you change specific behaviors. For example:
Behavioral activation, which is a technique used to help you engage in healthy behaviors when you most need them (like exercising when you feel depressed).
Systemic desensitization, which helps people confront their fears slowly. This technique is especially effective for people who experience specific phobias.
Skills training, or teaching specific skills to help people function better. For example, a behavioral therapist might teach someone with ADHD how to manage their time, or someone with an anxiety disorder how to relax and manage stress better.
Duration and frequency
Behavioral therapy and psychoanalysis also differ greatly in the amount of time that's involved to undertake them.
Behavioral therapy can be delivered in a short-term setting, and research shows that people can start seeing improvement after just a few months. [3] Youn, S. J., PhD. (2018). Intensive CBT: How fast can I get better? Harvard Health. https://www.health.harvard.edu/blog/intensive-cbt-how-fast-can-i-get-better-2018102315110 Therapy sessions are usually once a week and last for 45 minutes to an hour. You might have some homework to complete between sessions so you can keep practicing your skills.
Psychoanalysis takes much longer, and some people work with a psychoanalyst for years or even decades. Individual sessions can be longer, and people usually attend sessions multiple times a week.
However, many modern psychoanalysts and psychodynamic therapists may not require you to commit to so much time.
Evidence and effectiveness
In terms of effectiveness, both behavioral therapy and psychoanalysis have been found to have positive results for people with mood disorders and other mental health concerns.
For example, one controlled trial found that both psychoanalysis and CBT helped people with chronic depression.
CBT and behavioral therapy are often touted as the more "evidence-based" form of treatment, and it may be true that there have been more research studies conducted on the effectiveness of CBT.
Some experts critique psychoanalysis for being founded on hypotheses (like the power of the subconscious) that can't be scientifically proven. [4] Zepf, S. (2018). Psychoanalysis Today—A Pseudoscience? A critique of the arbitrary nature of psychoanalytic theories and practice. Psychodynamic Psychiatry, 46(1), 115–134. https://doi.org/10.1521/pdps.2018.46.1.115
This doesn't necessarily mean that CBT is "better" than psychoanalysis. Psychoanalysis and behavioral/CBT therapists meet different needs.
How to choose between psychoanalysis and CBT/behavioral therapy
Again, psychoanalysis and behavioral therapy are so different that it's hard to compare the two. They can both be effective for mental health issues like depression, but they go about treatment in very different ways.
There is no "right" or "wrong" choice; it's simply about which you prefer.
Psychoanalysis may be a good choice for you if:
You're primarily looking to deepen your self-awareness
You want to learn how past trauma and childhood experiences have affected who you are today
You believe in the core principles of psychoanalysis, or that your mental health symptoms come from your subconscious
You're open to exploring the relationship you have with your therapist as part of your healing process
You have a lot of time to commit to the therapeutic process
CBT or behavioral therapy might be a good choice for you if:
You're struggling with problem behaviors like drinking, gambling, or self-harm
You want to make tangible changes in your life rather than simply increasing your self-awareness
You enjoy action-oriented therapy homework and practicing skills out in the "real world"
You're more interested in your life today than going back and exploring your past
You would prefer a shorter-term therapeutic process
Get therapy online!
Calmerry can match you with an online therapist who meets your unique preferences without the need to wade through hundreds of therapist profiles.
We have a large and diverse team of qualified therapists who can meet your needs, whether you're looking for a behavioral or CBT therapist or a psychoanalytic therapist.
We curate our articles with warmth and care, drawing from reputable sources and expert knowledge. Explore our editorial process to understand how we prioritize your trust and keep accuracy in every word we share.
Сheck your mental well-being for free: