Published April 11, 2022 / Updated March 13, 2023
How to Recognize Alcohol Dependence & Alcohol Abuse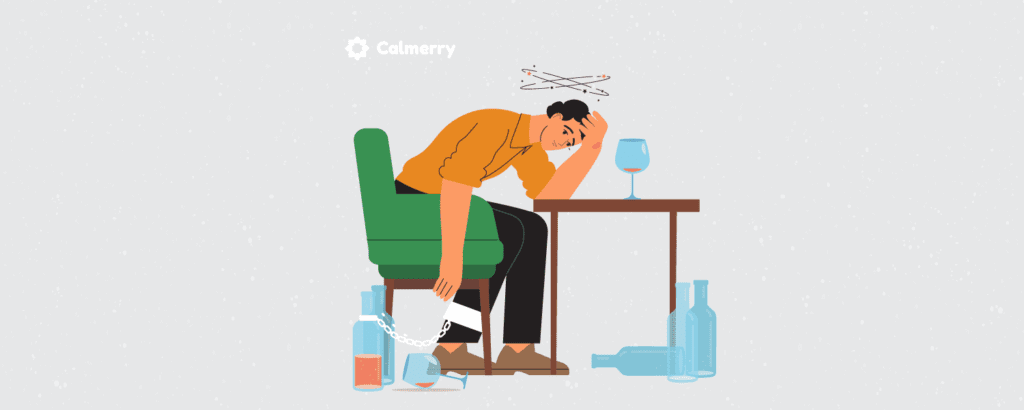 Reading Time:
5
minutes
Alcohol is a legal recreational drug, so the consumption of alcoholic drinks is deeply embedded in the culture of many countries. Having a drink is a socially accepted way to relieve stress, relax, and cope with the tension of a very busy work schedule.
Moderate drinking doesn't pose a problem to adults. But when you drink too much or too often or when alcohol consumption gets out of control, you may find yourself on a dangerous path to alcohol abuse and alcohol dependence.
Effects of alcohol vary widely from person to person, so how can you tell when you or someone you know have a drinking problem? Read on to learn about how to recognize the warning signs and symptoms.
What is the difference between alcohol abuse and alcohol dependence?
The terms alcohol abuse and alcohol dependence are often used interchangeably, but they are not the same. In simple words, alcohol abuse is drinking too much and too often, and alcohol dependence is the inability to quit drinking.
Alcohol abuse is a problematic pattern of drinking where someone uses alcohol in a self-destructive manner in spite of the fact that such behavior creates health, relationship, or work-related problems in a person's life. But just because a person abuses alcohol, it doesn't mean they are dependent on or addicted to this substance.
According to a study released by CDC in collaboration with SAMHSA, 9 in 10 adults who drink too much alcohol are not alcohol dependent. These are people who engage in excessive drinking and binge drinking. People who abuse alcohol often turn to it to escape reality or mask difficult emotions, but they don't feel the compulsion to drink. And although alcohol abuse can progress to alcohol dependence or addiction, it's not always true.

When people use the term dependence, they are usually referring to a physical dependence on a substance. Alcohol dependence is a chronic medical condition that may include a drinker's increase in tolerance, experiencing withdrawal symptoms, relying on alcohol to function, and feeling physically compelled to drink. People can't stop drinking without experiencing symptoms of withdrawal, so they continue drinking to alleviate them.
Signs of alcohol abuse
There are different warning signs that can help detect potential alcohol abuse. Many of them are recognizable, but some may be more difficult to identify. They may appear like minor issues and can be easily overlooked, but noticing them is vital to preventing serious consequences.
Common signs and symptoms of alcohol abuse include:
Using alcohol to relax and de-stress after every stressful day, for example, every time when you have an argument with your partner or your boss.
Repeatedly neglecting your responsibilities at home, performing poorly at work, or skipping out of commitments because of your habit.
Continuing to drink even though it has caused problems for you or your relationships.
Using alcohol in situations where it's dangerous for your health, for example, drinking and driving.
Experiencing repeated legal problems because of your drinking, for example, getting arrested for drunk and disorderly conduct.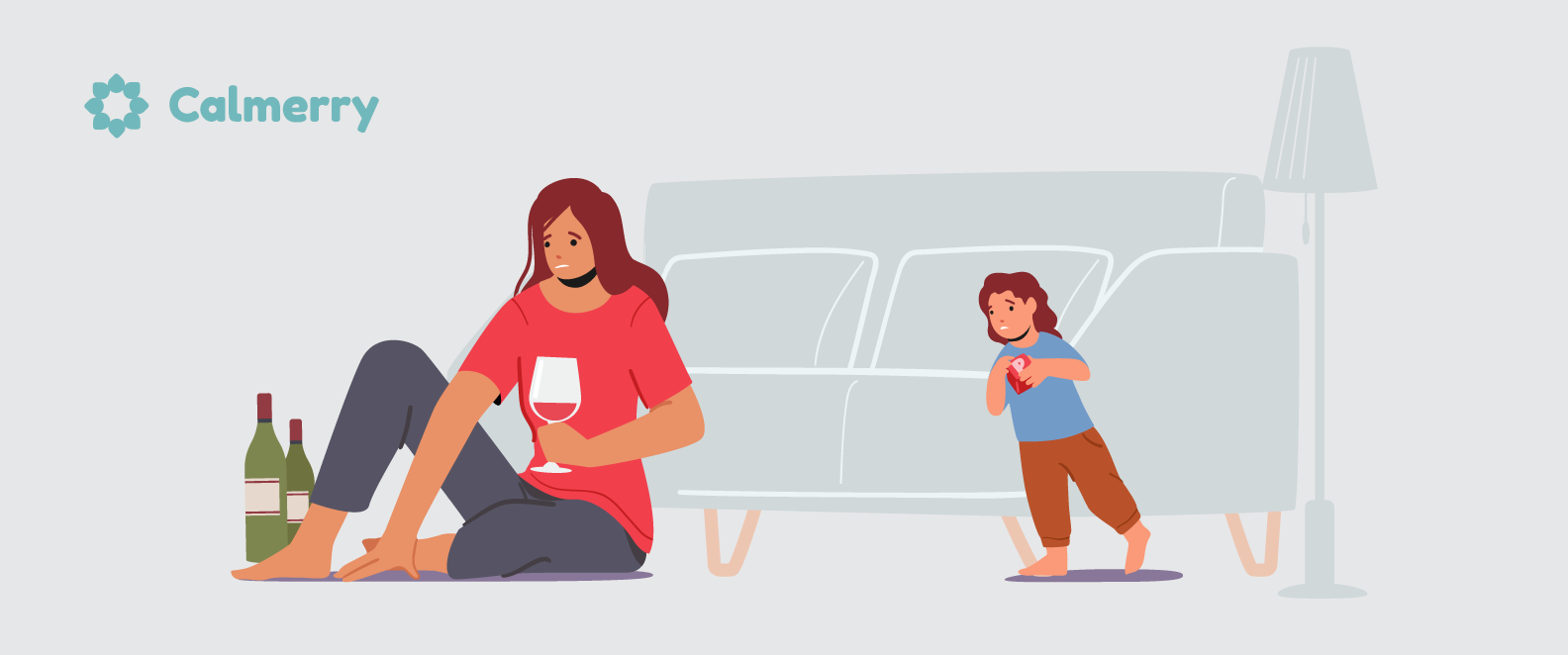 Signs of alcohol dependence
Being dependent on alcohol means that a person is drinking at a level that causes harm to their physical and mental health. But alcohol dependence affects different people in different ways, so a person doesn't always have to be drinking to extreme levels to become dependent on alcohol.
People who have alcohol dependence exhibit some or all of the following signs:
They develop alcohol tolerance and need to drink more alcohol over time to achieve the desired effects, for example, to feel relaxed or to get buzzed.
They experience physical and mental withdrawal symptoms after going for a short period without drinking, such as irritability, anxiety, mood swings, insomnia, headache, nausea, tremors, etc.
They lose control over their drinking. They often drink more alcohol than they wanted to, for longer than they intended, or even if they tell themselves they wouldn't.
They want to cut down or stop their alcohol use, but they can't, and all their efforts are unsuccessful.
They continue to drink even if they know it's causing problems, for example, ruining their marriage.
They want alcohol so bad that they can't think of anything else.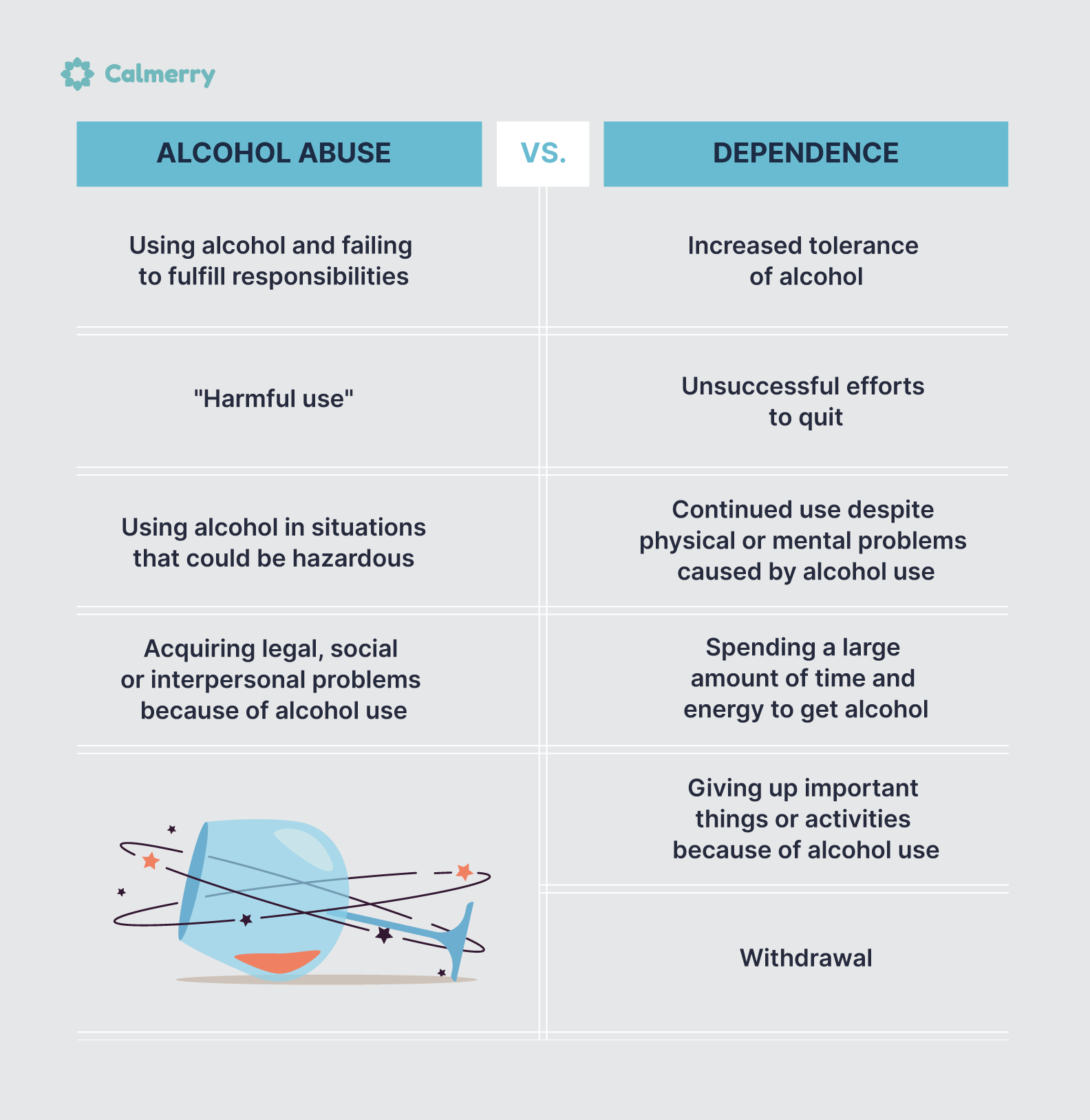 What is alcohol use disorder?
People who use alcohol excessively may have an alcohol use disorder (AUD), a medical condition that can be mild, moderate, or severe, based on the number of symptoms a person experiences. This relapsing brain disorder includes the conditions that some people refer to as alcohol abuse, alcohol dependence, and alcohol addiction.
Common symptoms of alcohol use disorder may include:
Being unable to limit the amount of alcohol you drink
Wanting to cut down or stop using alcohol but being unable to do so
Spending a lot of time getting alcohol, drinking it, or recovering from alcohol use
Strong cravings and urges to use alcohol so that you can't think of anything else
Failing to do what you should at work, home, or school because of alcohol use
Giving up or reducing social and work activities and hobbies
Continuing to drink alcohol, even when it causes problems in relationships
Using alcohol even when it puts you in danger, for example, when swimming or driving
Continuing to drink even if it makes you anxious or depressed
Developing tolerance to alcohol so that you need to drink more to feel the effect you want
Experiencing withdrawal symptoms like sweating, shaking, and nausea when you don't drink, having to drink to feel better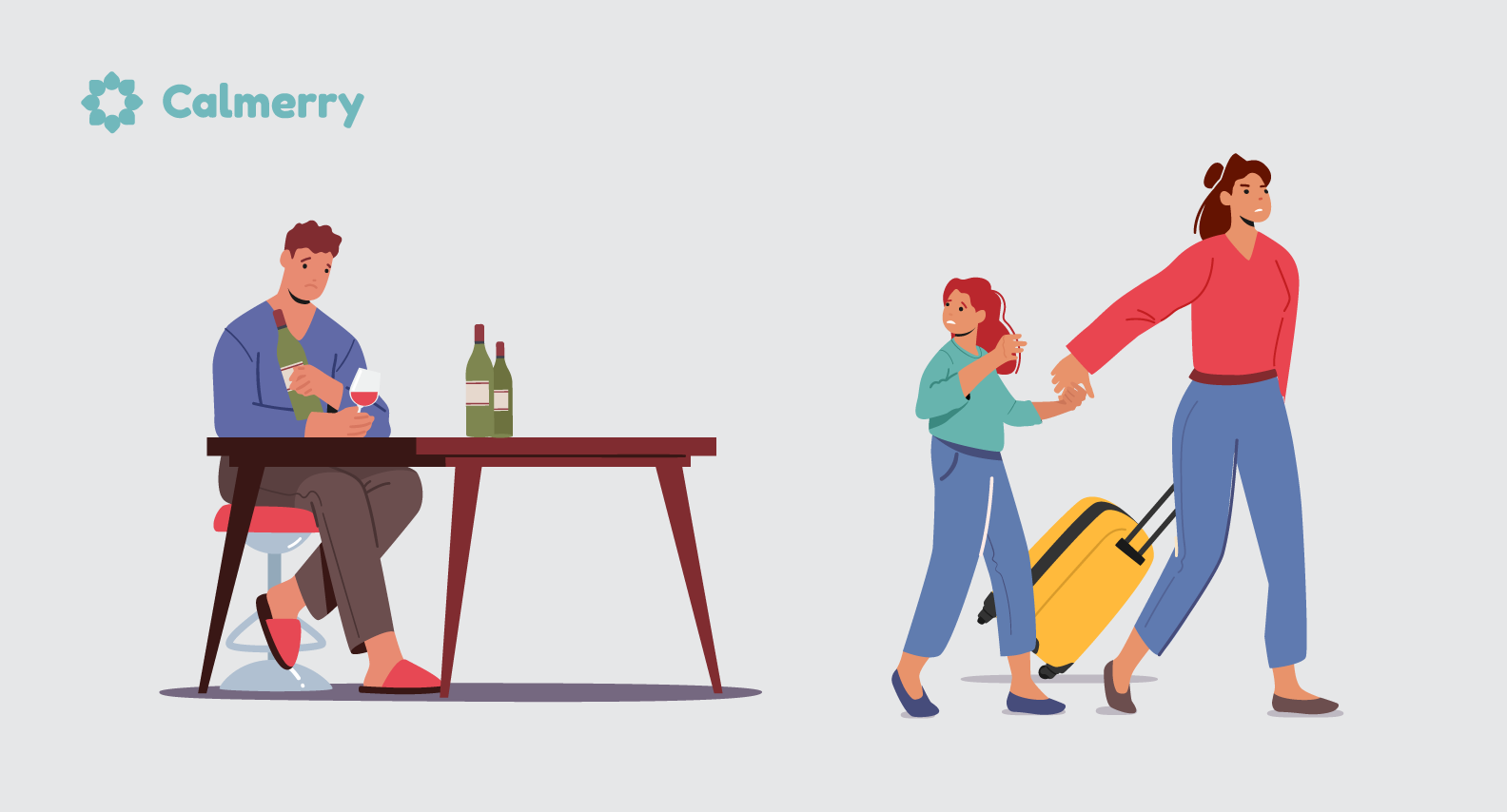 According to the DSM-5, you may have at least mild AUD if you've experienced at least two of these symptoms during the 12-month period of time. The more symptoms you have, the more severe the disorder and the more urgent the need for change is.
People with mild to moderate AUD (up to 5 symptoms from the list) may benefit from self-help to cope with alcohol addiction. But that requires a lot of motivation and resilience. And people with moderate to severe alcohol use disorders typically need outside help to stop drinking.
Getting help
If you feel that your drinking is causing problems, it's important to get help as soon as possible. Everyone's experience with alcohol is different, but there are effective treatment options. The main goal of treatment is working to stop drinking alcohol to improve quality of life.
A good first step is talking with your doctor, who can tell you if you need assistance. You can also talk with a mental health professional or seek help from a support group such as Alcoholics Anonymous or similar self-help groups.
Subscribe
to our mental health digest
Let us support you on the way to better mental well-being. Get expert tips and insights on mental health delivered to your inbox monthly.
But if you have been drinking alcohol heavily for a long time, quitting on your own can be potentially dangerous. If your body has become chemically dependent on the substance, it's imperative to have medical supervision during detox to make the process safer and less distressing.
Your healthcare provider can prescribe medications to help you manage withdrawal symptoms and offer you advice on further treatment options. Detoxification is followed by therapy and counseling sessions to prevent a relapse.
Cognitive behavioral therapy (CBT) can help change negative thought patterns that were the root cause of excessive drinking and teach you to cope with stress in healthy ways. Also, a therapist will help you learn life-long skills to manage triggers and cravings.
Whether you want to cut back or stop drinking altogether, there is no shame in seeking professional guidance and support. So don't wait and get started on your journey to help yourself regain control of your life.
Сheck your mental well-being for free: