Published December 9, 2022 / Updated March 10, 2023
12 Ways to Enhance Your Resilience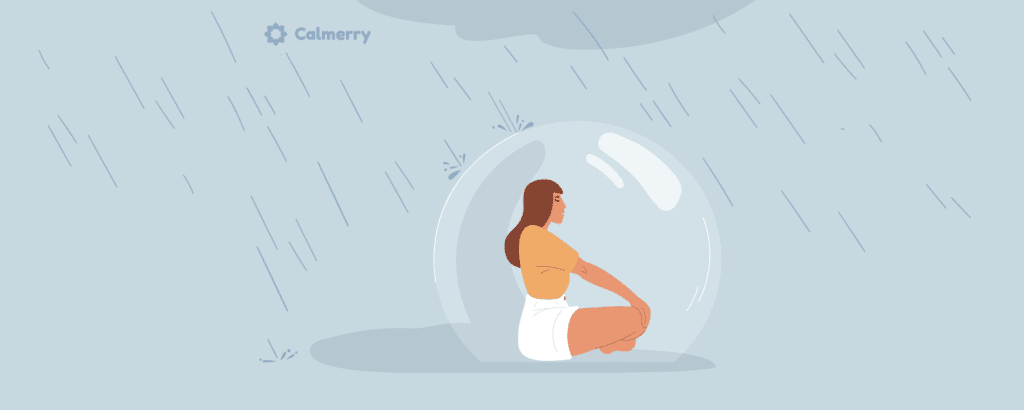 Reading Time:
8
minutes
Dealing with difficult, challenging, stressful, or traumatic situations is an inevitable part of life. Some of these challenges may be relatively minor, like not getting a promotion at work, while others can be traumatic events with a more lasting impact, like a serious illness, a life-altering accident, or the death of a loved one, and some are disastrous on a larger scale like terrorist attacks, natural disasters, or wars.
How we cope with and recover from setbacks and adversities can determine how we'll move forward in life.
Resilient people have the ability to harness their inner strengths and bounce back from the hardships in life. And those who lack resilience might dwell on the problems, feel overwhelmed or victimized, or use such unhealthy coping mechanisms as risky behaviors, substance abuse, gambling, shopping, or emotional eating to suppress or soothe difficult emotions.
What is resilience, and why does it matter?
Psychologists define resilience as the ability to adapt well to difficult or challenging life experiences, especially through mental, emotional, and behavioral flexibility and adjustment to external and internal demands.
Resilience helps us manage challenges, recover from them, and even grow and improve as a result of overcoming these challenges.
Adverse events do happen, and they are certainly painful and difficult, but they don't have to determine the outcome of our lives. There are many aspects of our lives we can control, change, and grow with, improving our lives along the way. That's the role of resilience.
Resilient people view themselves as survivors, have the ability to manage emotions when they experience stress, can look at challenging situations rationally, and always try to come up with solutions that will make a difference.
They also treat themselves with kindness and self-compassion when things are hard and have a strong sense of well-being and purpose.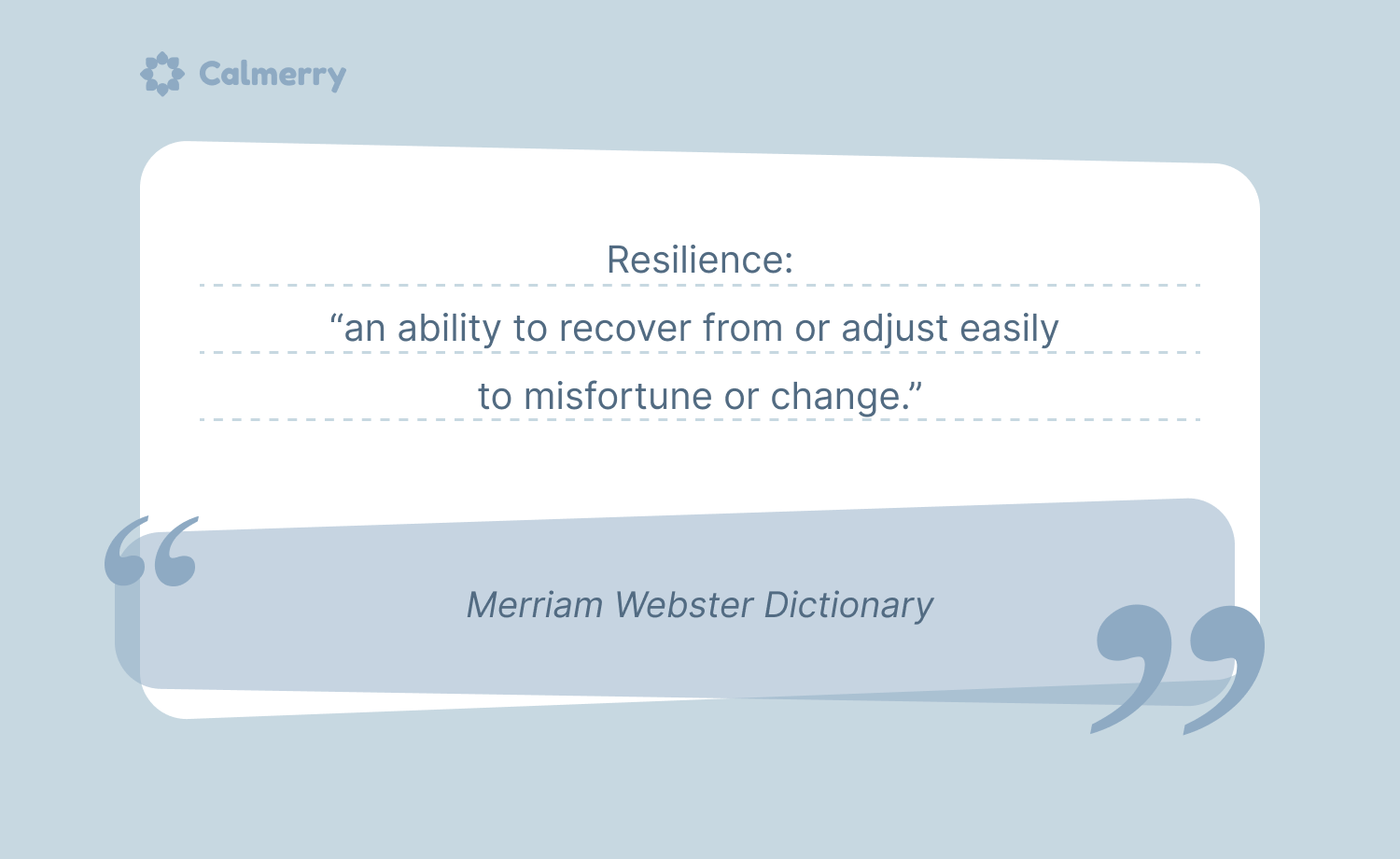 Some people have a natural ability to cope with stress more effectively and bounce back after changes, disappointments, setbacks, and failures due to genetics, while others don't. But resilience isn't a personality trait that only some people have. In fact, it's quite common.
Research suggests that resilience is a skill, and it can be learned. Cultivating and practicing resilience skills that involve learning healthy ways to move through adversity can help us cope better when we face relationship problems, workplace stressors, financial difficulties, serious health problems, trauma, and threats, and recover quickly.
Subscribe
to our mental health digest
Let us support you on the way to better mental well-being. Get expert tips and insights on mental health delivered to your inbox monthly.
What resilience is not
Being resilient doesn't mean that you won't experience difficulty or emotional distress when you face trauma or adversity. In difficult situations, resilient people experience anger, grief, emotional pain, anxiety, fear, and sadness, but they're able to keep functioning both physically and psychologically.
Resilience gives them the ability to see past their current problems and hardships, better manage stress, find enjoyment and meaning in life, and often become stronger than they were before.
Resilience is not ignoring or denying something. It's separate from such unhelpful behaviors as avoidance. But resilience isn't a choice because we all process trauma and adapt differently. No one should be blamed that they aren't resilient when they face adversities.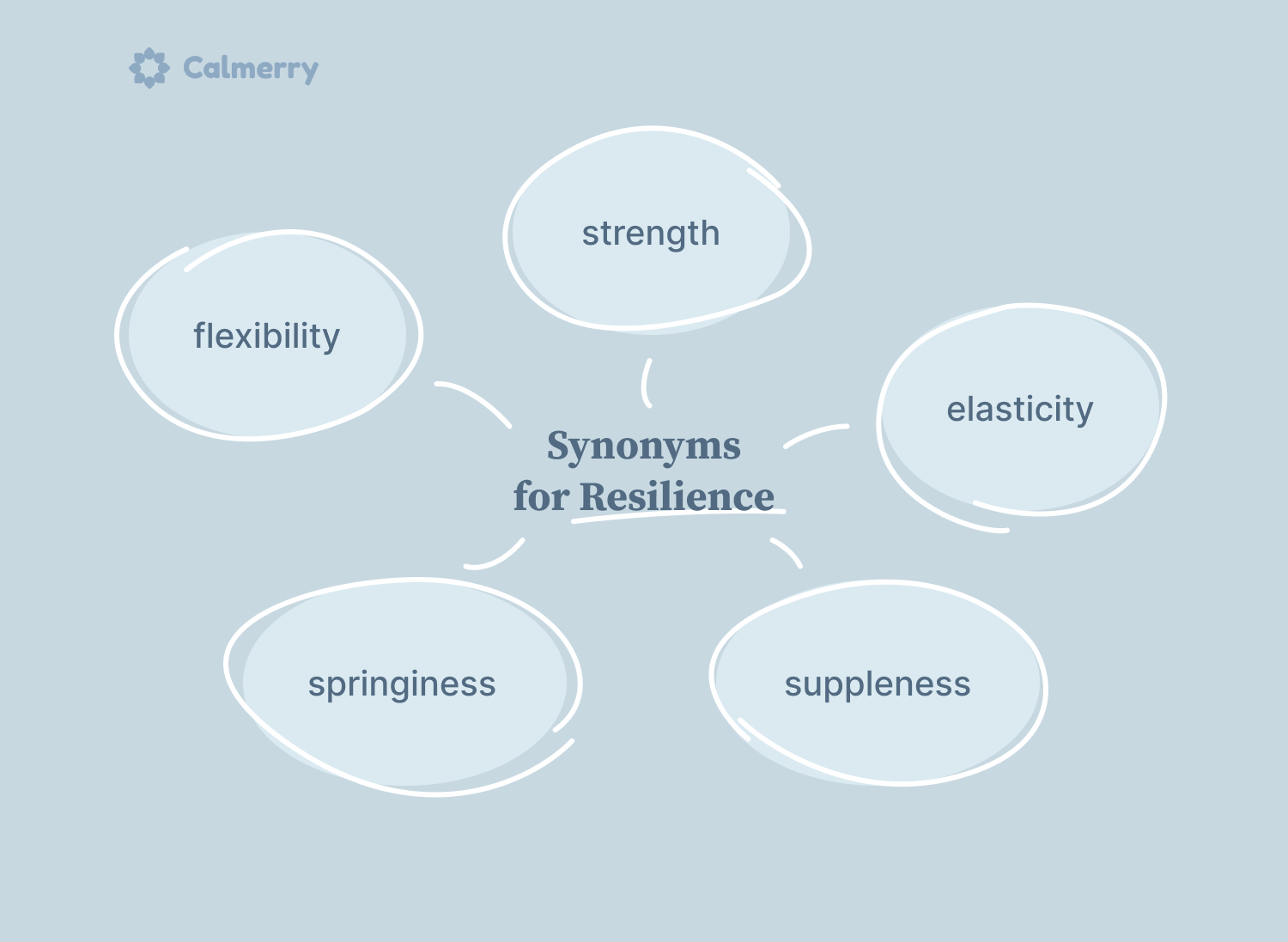 Being resilient isn't about putting up with something difficult, being stoic, or figuring out how to handle a stressful or traumatic situation on your own. On the contrary, the key part of being resilient is the ability to reach out to other people to find support and know when you need to ask for help.
Types of resilience
There are four types of resilience that we need to develop to support ourselves during difficult times. Each of these types can influence our ability to cope with different forms of stress:
Mental resilience refers to how we can mentally adapt to change and uncertainty. It allows us to be flexible and calm during times of crisis and withstand challenging circumstances using problem-solving skills.
Emotional resilience is the ability to manage negative emotions during times of stress. It's associated with emotional awareness, emotional intelligence, acceptance, perseverance, and optimism.
Physical resilience is the ability of our body to adapt to arising challenges and demands, maintain stamina and strength, and recover effectively from physical injuries and illnesses. We can improve physical resilience by making healthy lifestyle choices.
Social resilience (also called community resilience) is our ability to connect with other people in our community and work together to solve problems that affect us both individually and collectively. It's about how we support each other during natural disasters, make and maintain friendships, and work as a team. It involves such core elements as trust, respect, tolerance, acceptance, and perseverance.
Strategies to build resilience
So how to build resilience? It involves developing thoughts, behaviors, and actions that give you the ability to recover from traumatic or stressful events in life and learn from them.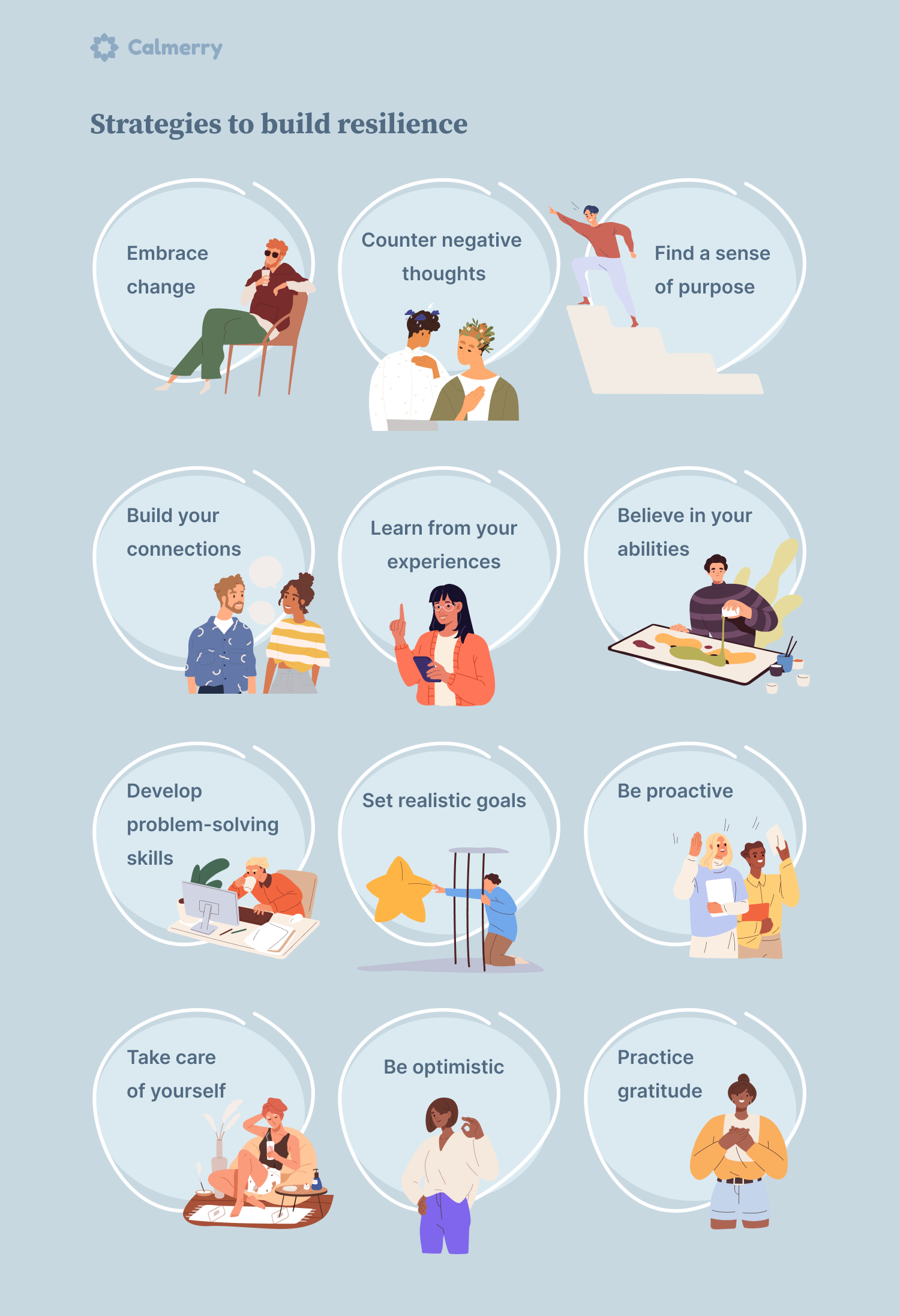 Embrace change
Accept that nothing stays the same because change is a part of day-to-day life. All of us will be challenged by obstacles many times in life, and adverse situations can prevent us from achieving certain goals.
Accept circumstances that you can't change and focus on the circumstances that you can control and change. It's always better to face life challenges with determination and confidence. That can help you adapt and thrive.
Radical acceptance is the skill that helps you see reality as it is. Download our free worksheet with tips on how to practice radical acceptance and learn to refocus your attention on things you can do now to improve your well-being👉🏻 Practicing Radical Acceptance Worksheet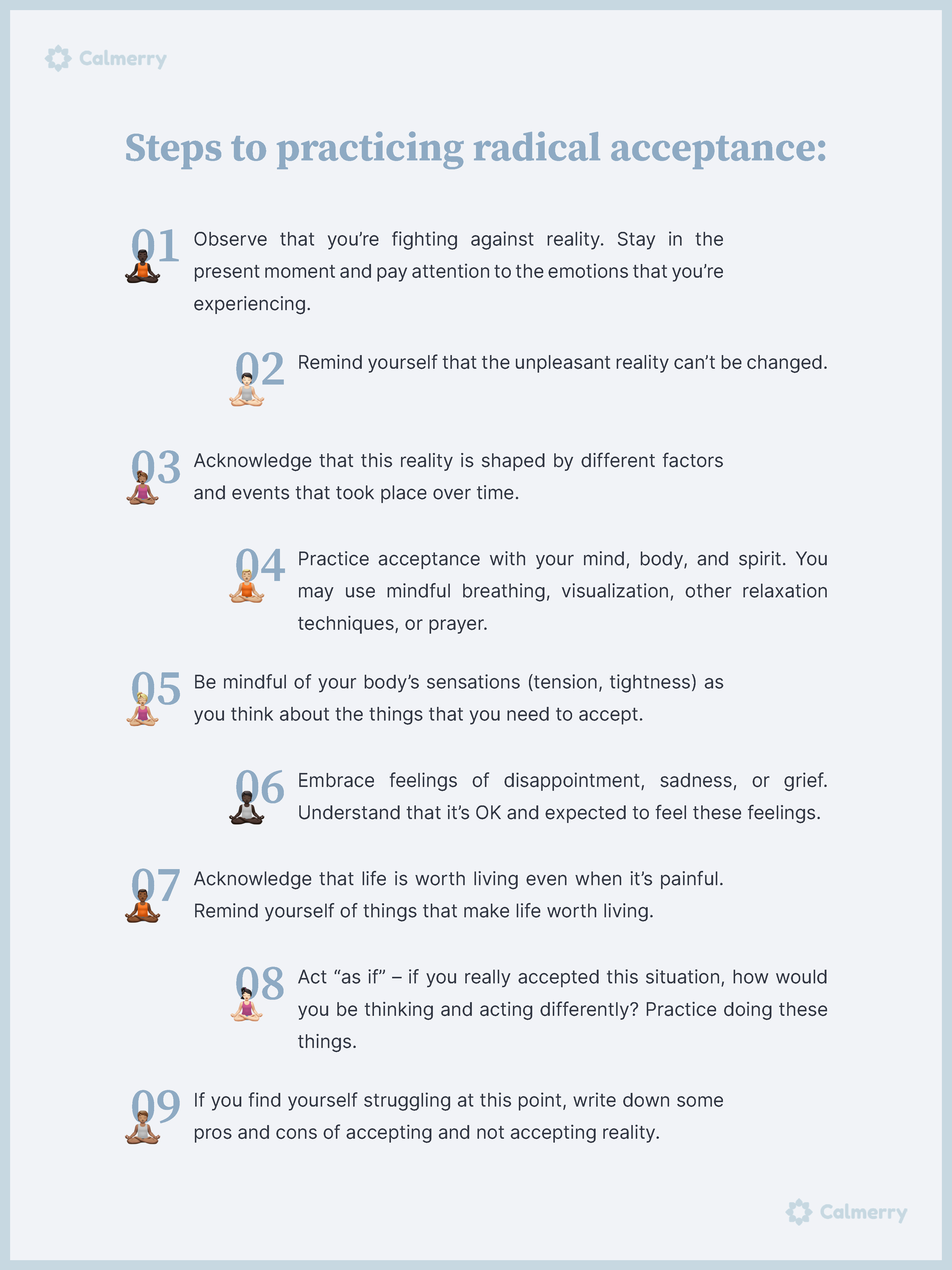 Counter negative thoughts
When you face obstacles, negative thoughts keep you worried and anxious, and if you continue thinking about the worst, it can increase your stress and wear you down. So it's important to break this cycle.
Try to identify unhelpful, irrational thoughts and adopt more balanced, realistic thought patterns. Then you'll be able to see challenges in a broader context.
For example, if you feel overwhelmed by an obstacle or a failure, remind yourself that things that happened to you aren't an indicator of how your future will be and that you're not helpless. Although you may not be able to change a highly stressful event, you can change what you think about it and how you respond to it.
Find a sense of purpose
It's important to do something meaningful every day. That will give you a sense of accomplishment and purpose and help you not to be discouraged by problems. You'll be more motivated to keep going.
Finding a purpose is especially important when you're experiencing emotional hardships such as the end of a relationship, divorce, or the death of a loved one.
Build your connections
Support system plays a vital role in resilience. Build strong, positive relationships with loved ones and friends. They can provide you with so much-needed support, guidance, and acceptance in both good and bad times.
You won't feel alone, having reliable, caring people around you who will listen and maybe give you some advice. Find opportunities to establish new important connections by volunteering and helping others.
Learn from your experiences
Think of how you've coped with challenges and failures in the past. What skills and strategies helped you through difficult times? You might even write about your past experiences in a journal. That will help you identify positive and negative behavior patterns.
Then you'll be able to control your behavior in the future and develop healthy habits.
Believe in your abilities
Embrace your imperfections and acknowledge your strengths and accomplishments that also determine who you are. And believe in yourself and your ability to cope with the stresses of life and deal with a crisis.
Hardships offer opportunities for self-discovery, and you may find that you have grown in some respect as a result of a struggle. So give yourself some credit. Silence your inner critic and replace negative comments in your head with positive phrases like "I can do it," or "I'm a great parent."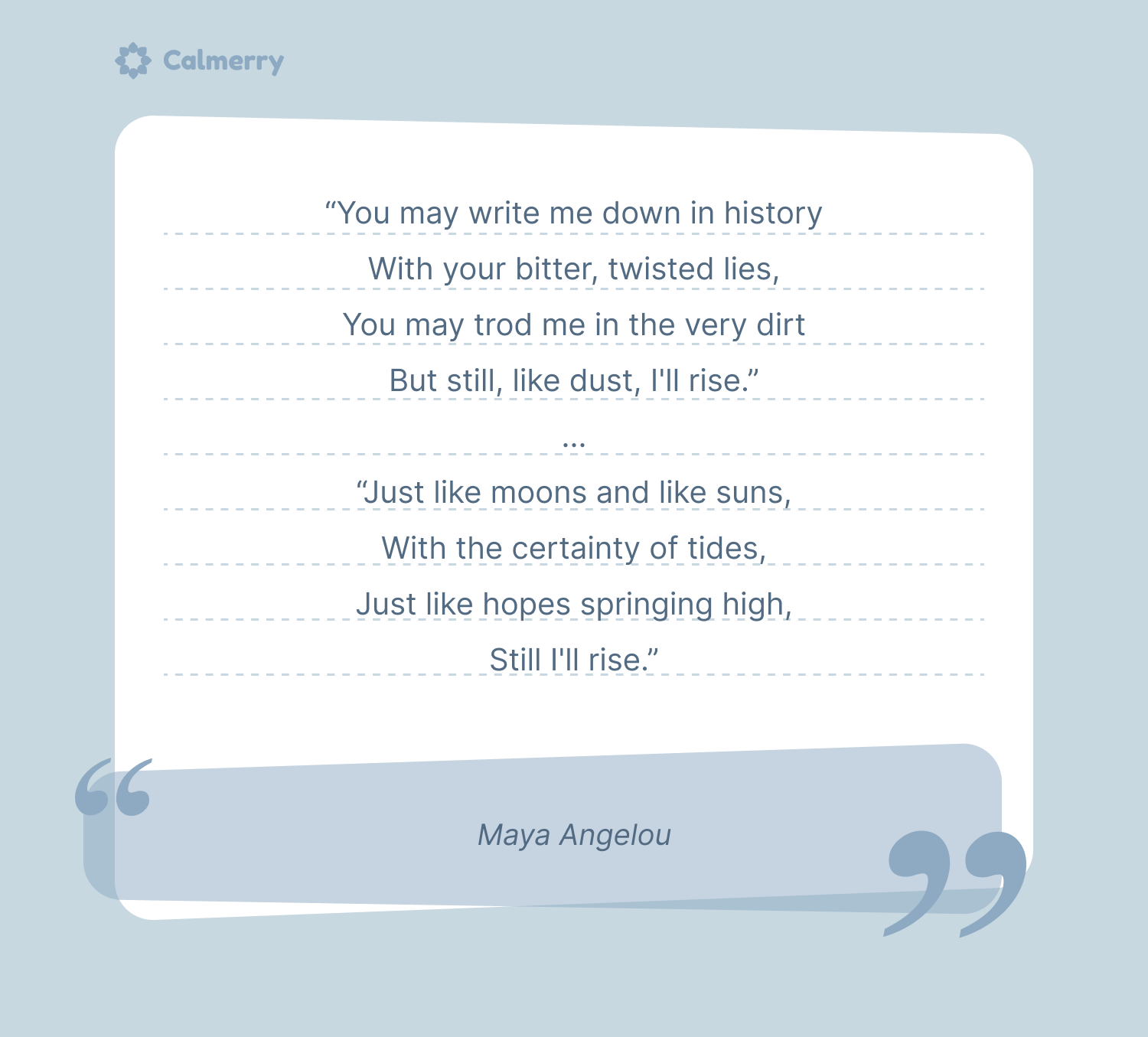 Develop problem-solving skills
People who can come up with solutions to difficult problems typically cope with stress more productively than those who have poor problem-solving skills.
So each time you encounter a new challenge, try to make a quick list of the potential ways that can help you solve it. Experiment with different strategies and focus on working through common problems in a logical way.
If you practice your problem-solving skills regularly, you'll be better prepared to cope when you face a serious challenge.
Set realistic goals
Don't focus on tasks that seem unachievable. Instead, set clear, realistic goals that you can accomplish regularly. Then it will be easier to move toward things that you want to accomplish short-term and long-term.
For example, these can be activities related to things you do for pleasure and fun or around your health routine. You can also engage in activities to give back to the community.
Be proactive
Don't ignore your problems or wait until they go on their own. It's a way to prolong the crisis. Instead, figure out what you can do to mitigate the problem, make a plan, and take action, even if it's a small step. It can help you know that you are in charge and are able to control even the most difficult situations, regardless of the outcome.
It takes time to recover from a major setback, traumatic event, or loss, but it's important to know that if you work on your situation, it can improve.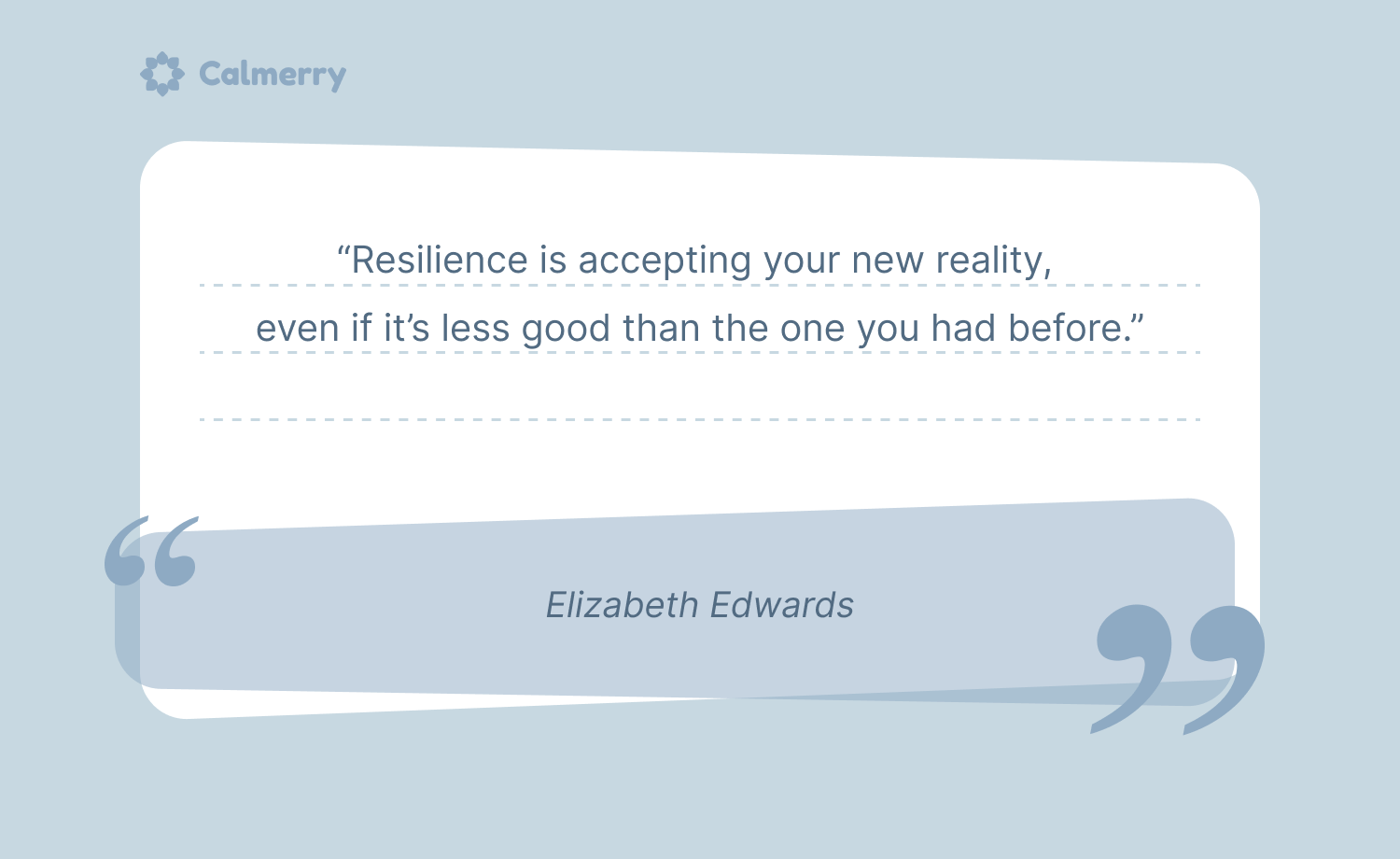 Take care of yourself
It's easy to neglect your needs when you're stressed and anxious. We often lose appetite, ignore exercise, and don't get enough sleep in crisis situations.
You should nurture yourself even if you are troubled:
Make time for activities and hobbies you enjoy
Exercise regularly, get enough sleep, and create consistent bedtime rituals
Eat healthy foods and stay hydrated
Learn healthy stress management strategies and relaxation techniques, such as deep breathing, guided imagery, or yoga
Practice mindfulness
Adopting a healthy lifestyle can strengthen your body, helping you adapt to stress and reduce the toll of negative emotions.
In addition to these self-care practices, considering online therapy can be a valuable resource to help you navigate and address the root causes of your stress and anxiety.
Be optimistic
The major factor that contributes to resilience is experiencing positive emotions, so be positive and look for a good side to any bad situation. Try to see crises as challenges you need to overcome. Remind yourself of the achievements you're proud of and previous successes.
In the middle of difficult times, remain hopeful because everything changes, setbacks are temporary, and there are always things to look forward to.
Practice gratitude
Research says that gratitude helps us cope with tough days, so be thankful for what you have. Practicing gratitude will give you an opportunity to stop and reflect on the good so you won't overlook it and pass it off as not important.
There are many simple ways to cultivate this important habit. For example, you can write a thank you letter, create a daily gratitude list, start a gratitude journal, and say thank you every time you notice that someone does something for you.

Final thought
How we navigate crises and traumatic events and cope with difficulties depends on how resilient we are. Building resilience takes time and requires motivation, but it's worth it.
Becoming more resilient will help you get through difficult life circumstances easier and empower you to grow as a person.
If you're working to enhance your resilience, you don't have to navigate your journey all alone. If you don't feel you're making progress, consider seeking support from a mental health professional.
Calmerry counselors can help you build the mental and emotional resilience that you need to overcome setbacks that keep you from succeeding in different aspects of your life.
Сheck your mental well-being for free: