Published November 11, 2022 / Updated March 27, 2023
Beginning Again: How to Start Over After a Divorce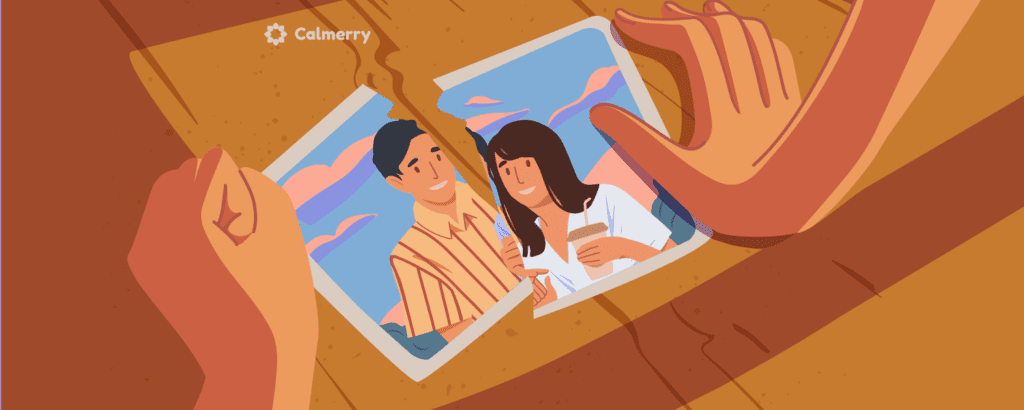 Reading Time:
6
minutes
Starting over after a divorce can come with challenges. The end of a marriage often means major changes to your finances, as well as helping your children adjust as you also cope with your own grief.
The good news is that healing after divorce is possible, and you can set yourself up for a happy future.
Below, learn some strategies for moving on after divorce.
Figure out who you are
Life after divorce means redefining who you are.
For the duration of your marriage, a significant part of your identity was largely tied to your role as a spouse. You may have also had shared interests or traditions with your spouse, which will no longer be a part of your life as you adjust to your new post-divorce reality.
Establishing a new identity as a single person can help you move toward healing. In fact, research has demonstrated that knowing who you are after a breakup is linked to higher psychological well-being in the future.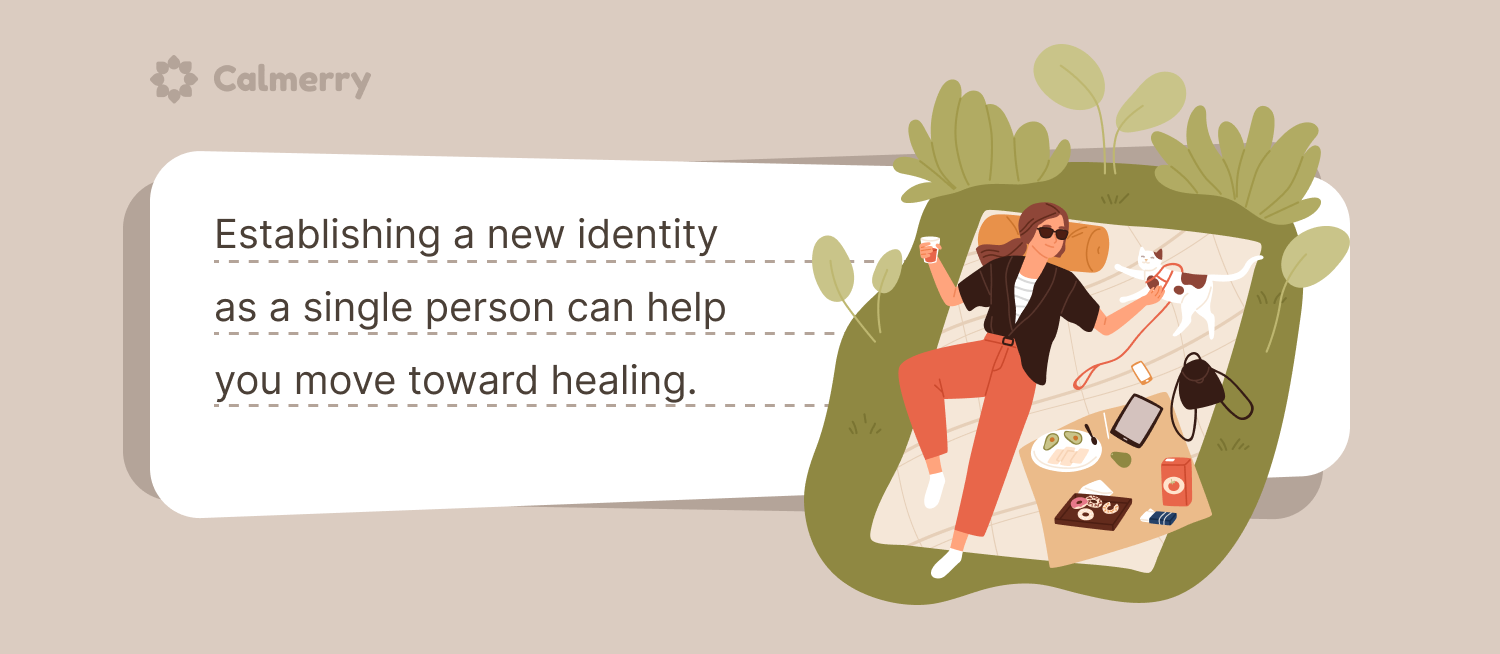 If you're having trouble establishing who you are as a single person, it can be helpful to consider the following:
Who were you before you got married?
How did you enjoy spending your free time before you got married?
What interests or hobbies did you enjoy separately from your former spouse?
Is there anything you gave up doing when you got married that you'd like to resume now?
Asking yourself some of the questions above can point you toward where your interests and values lie.
Ultimately, this can help you to determine who you are as a single person, so you can create a new identity.

Subscribe
to our mental health digest
Let us support you on the way to better mental well-being. Get expert tips and insights on mental health delivered to your inbox monthly.
Reach out to others
You may be tempted to isolate or keep your problems to yourself after divorce. But reaching out and talking to people who care about you can play an important role in moving on after divorce.
One recent study found that having social support is a key resource for people coping after divorce, and it can improve psychological well-being.
If you're feeling lonely, reaching out to friends and family can be helpful. Whether it's just calling to talk, or even meeting up for coffee, discussing your emotions with others can help you to process and move forward with life.
You may even find that you have more time to devote to friends and loved ones in your single life, which can end up being a silver lining.
Set new goals for yourself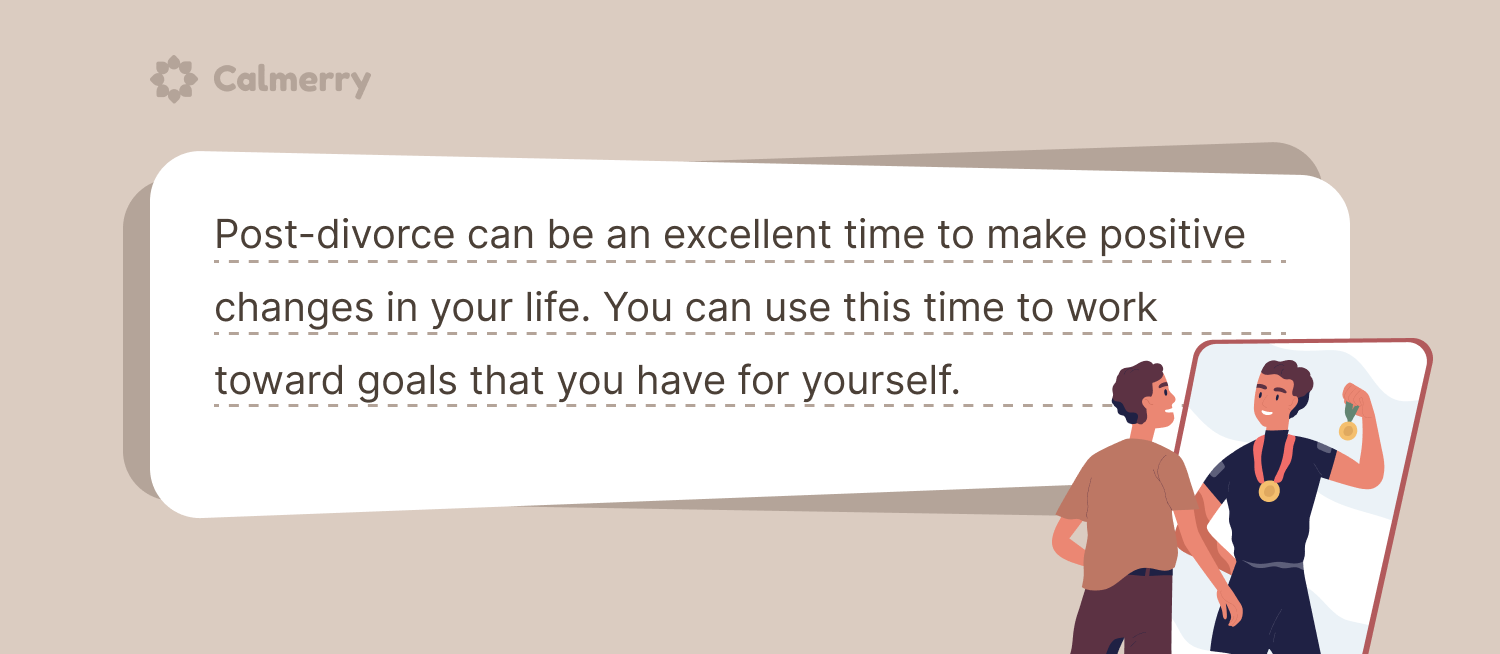 You're likely experiencing some grief and maybe even low self-esteem after the end of your marriage. But you can use this time to work toward goals that you have for yourself.
Maybe you have always dreamed of going back to school, or perhaps you want to challenge yourself to run a 5K race.
Setting a goal and working toward it not only fills your time to take your mind off of the divorce — you will also have a sense of achievement and enjoy increased self-esteem when you meet your goal.
Prioritize self-care
It's normal to experience stress, grief responses, and even feelings of depression after a divorce. While these reactions are normal, they do not have to interfere with creating a positive future.
Practicing self-care can help you to cope with negative emotions so that they do not interfere with healing after divorce.
Taking time to care for yourself may involve setting aside time for exercise, preparing healthy meals, and making a point to do enjoyable, relaxing activities such as spending time reading outside, or attending a yoga class.
Incorporating self-care into your routine and giving yourself some extra compassion during this time are important as you heal.
Focus on self-improvement
It's easy to get caught up in the negative aspects of divorce. But if you shift your mindset to view it as an opportunity for self-improvement, healing may come more naturally.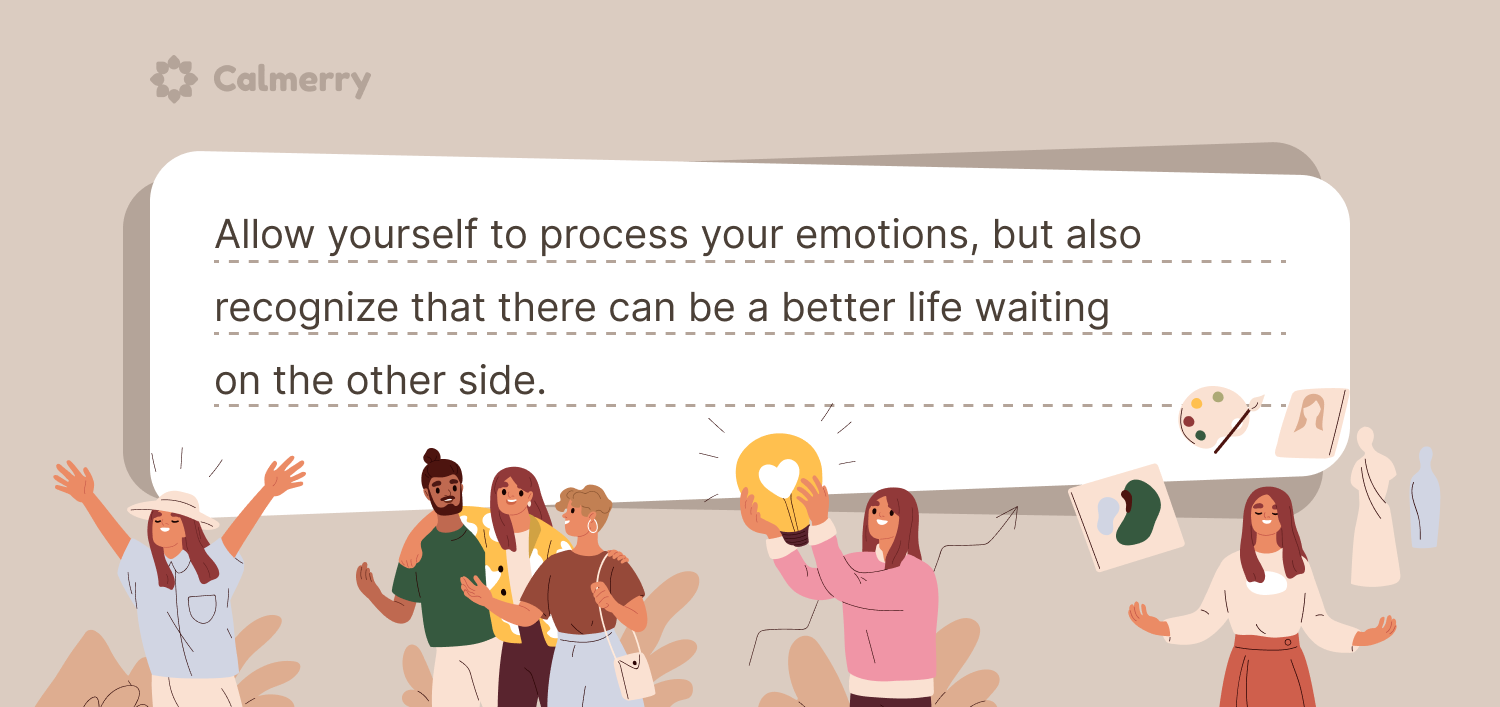 One study with women who were coping with the aftermath of divorce found that they benefited from working toward self-growth and self-improvement.
This involved taking steps such as:
Focusing on professional development
Becoming more active at church or in the community
Achieving financial stability
Valuing internal happiness, rather than relying on a spouse or partner to provide happiness
Taking time for self-discovery
Correcting dysfunctional patterns or behaviors that led to relationship problems
The takeaway is that divorce may be challenging and lead to feelings of grief, but you don't have to remain stuck in a negative state of mind. Allow yourself to process your emotions, but also recognize that there can be a better life waiting on the other side.
If you see divorce as a learning experience, you can take steps to improve your life. If you had remained in an unhappy marriage, you might have never had this opportunity for self-improvement.
Work on self-love
Moving on after divorce requires you to develop a sense of self-love because the truth is, if you don't feel positive about yourself, you're not likely to attract a healthy relationship.
Having a lack of self-love can lead you to seek validation from others, which ultimately does not make for happy relationships. Certainly, a healthy relationship can enhance your happiness, but you need first to love yourself in order to welcome healthy love into your life.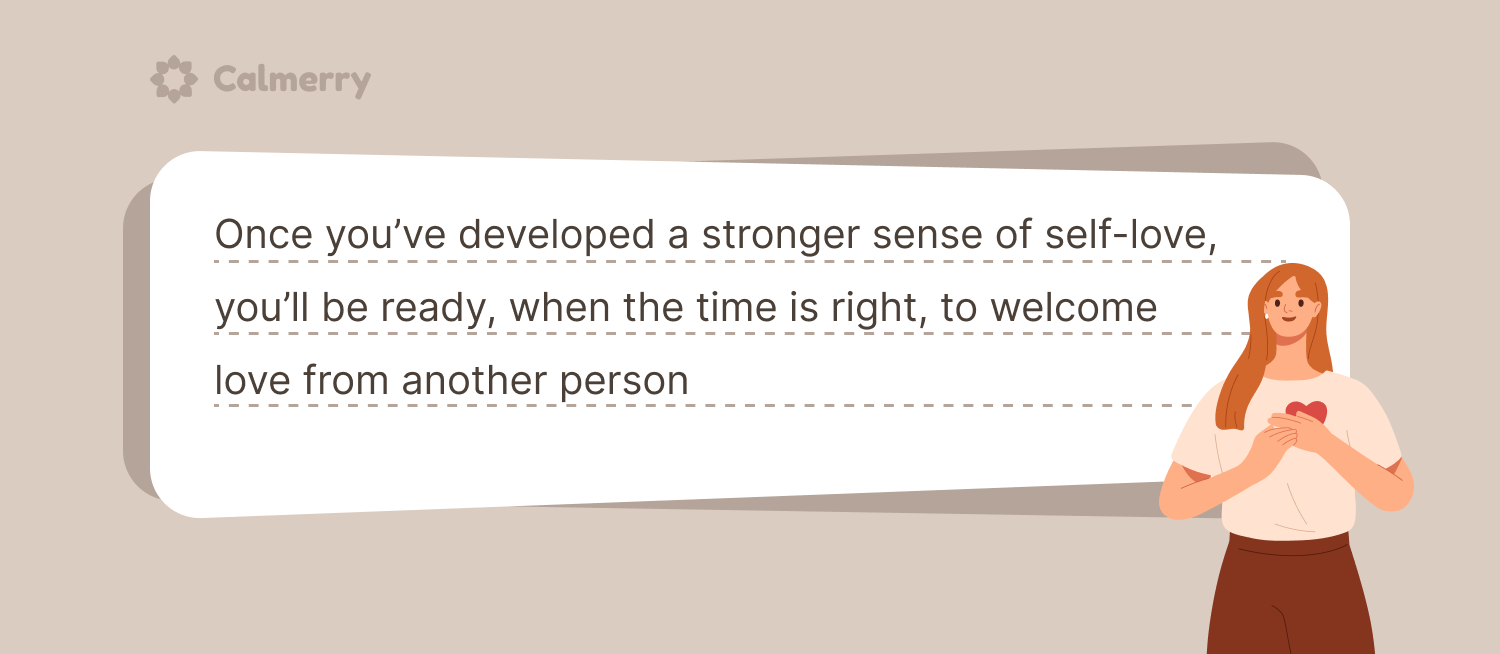 Research has demonstrated that self-love is important for relationships. A study in the Journal of Research in Personality found that self-esteem is strongly linked to relationship satisfaction.
When you feel better about yourself, you're better suited to make a genuine connection with another person. If you struggle with self-love, now is the time to address this.
Think about the things you like about yourself, or consider what your best friend or your closest relative would say they value about you. Learn to love these things about yourself – and you'll find that your sense of worth comes from within you, and isn't dependent upon having the perfect relationship.
Once you've developed a stronger sense of self-love, you'll be ready, when the time is right, to welcome love from another person.
Consider formal forms of help
It's natural to have feelings of sadness, grief, or distress following the end of a marriage. Long-term relationships play a critical role in our lives, and we end up deriving a significant portion of our identity from them.
When you spend years, or even decades, partnered with another person, they become a part of who you are. Even if the marriage turns sour, divorce represents the end of one chapter of life, and there is a sense of loss that comes along with this.
There are strategies that you can use to learn how to start over after divorce. Sometimes, people find that they can heal by focusing on themselves, spending time with supportive people, and rebuilding life through setting new goals and working on self-improvement.
While this may be the case, sometimes it's necessary to seek out more formal sources of support.
For instance, you may benefit from attending a divorce support group to help you move toward healing. In support groups, you can connect with others who are facing similar challenges and learn new strategies for coping.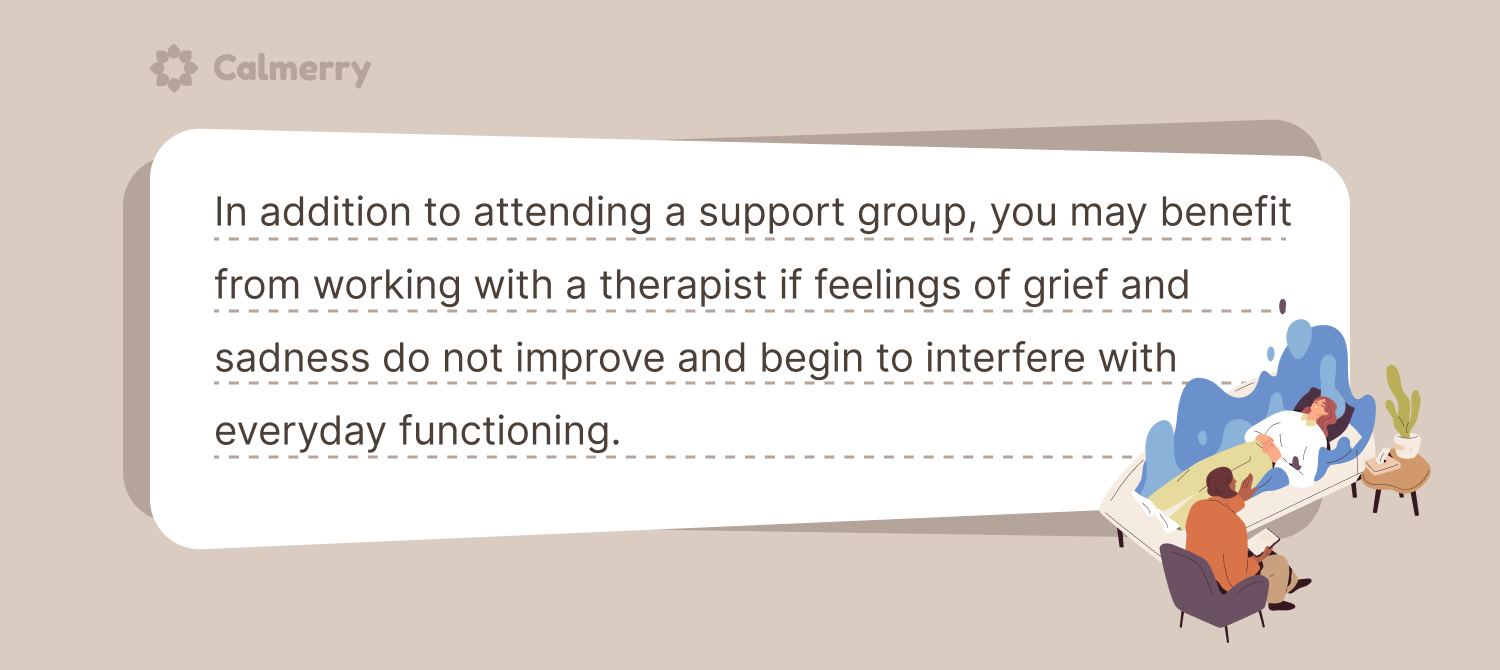 How therapy can help move on with your life after divorce
In therapy sessions, you can process your emotions without judgment, learn to reframe negative thinking patterns, and receive professional guidance as you set goals and work toward self-improvement.
While therapy can be useful when you're starting over after a divorce, some people may be hesitant to schedule this sort of service. Finding time for appointments can add another layer of stress. And you may have reservations about opening up to a stranger during this difficult time.
If you feel you would benefit from working with a therapist, online therapy may be a suitable option for you as you do the work of healing after divorce.
Online therapy allows you to meet with a professional from the privacy and comfort of your home, using video conferencing technology.
At Calmerry, we offer online therapy services, so you don't have to leave home to get the support you need. Our licensed professionals will provide you with online therapy or counseling wherever you are through both messaging and live video sessions.
Сheck your mental well-being for free: