Published October 26, 2022 / Updated March 22, 2023
How to Set and Achieve Life Goals the Right Way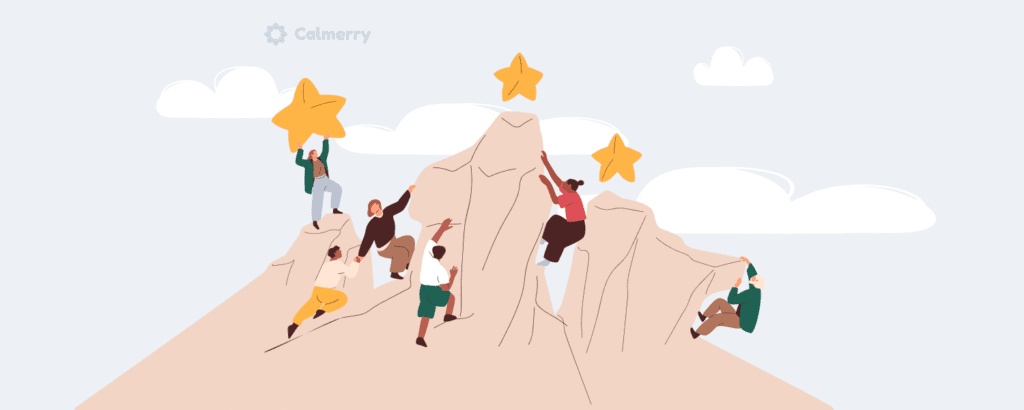 Reading Time:
6
minutes
Most of us have life goals that we'd like to achieve. These personal goals may pertain to career, relationships, or simply having a sense of life satisfaction. Achieving personal goals can give us a sense of accomplishment, but if we want to truly find happiness, we need to set goals that are actually meaningful to us, and we need to be successful in meeting them.
So, how do you accomplish this? Below, learn how to achieve life goals, by setting yourself up for success.
Think about what you'd like to accomplish
The first step in setting life goals is thinking about what you'd really like to accomplish. This means your goals shouldn't center on what you think you should be doing, or on what your parents or friends want you to do. Instead, personal goals should be meaningful to you.
When thinking about life goals, you may choose to focus on one specific area, such as career or finances. Or, maybe your goals center on family life, such as wanting to have a baby, or creating better work-life balance. Whatever your goal is, it can be helpful to sit down and picture what your life would be like if everything were perfect.
Where would you be living? What sort of job would you have? Thinking in terms of these ideals can give you an idea of what you'd truly like to accomplish.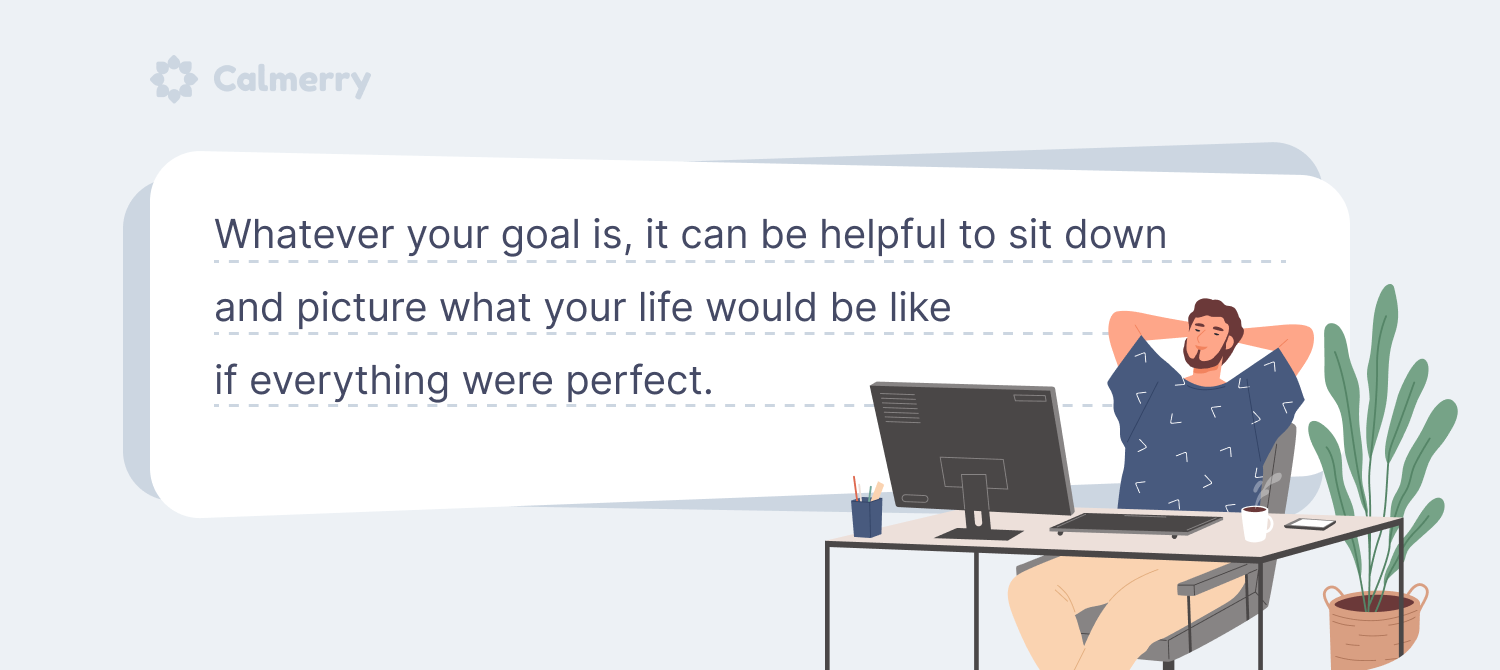 Another thing to keep in mind is that life goals do not have to be extrinsic. You may prefer to set intrinsic life goals, which may involve aspirations like becoming more patient or improving your relationship with your spouse.
These goals have been found to improve psychological well-being even more so than extrinsic life goals, like aspiring to become wealthy. If you find yourself feeling anxious or uncertain because you don't have any achievement-oriented extrinsic goals, there's no reason to feel ashamed. Intrinsic goals can assist with personal development, and they are more likely to align with your values.

Subscribe
to our mental health digest
Let us support you on the way to better mental well-being. Get expert tips and insights on mental health delivered to your inbox monthly.
Set SMART Goals
You've probably heard this before, but it rings true that SMART goals set you up for success. SMART is an acronym commonly used in goal-setting, and it stands for:
S-Specific
M-Measurable
A-Attainable
R-Relevant
T-Time-Limited
Research suggests that SMART goals increase motivation, and people tend to be more committed to them because they are both relevant and attainable. To increase your chances of success, choose specific goals, and give yourself a deadline for accomplishing them.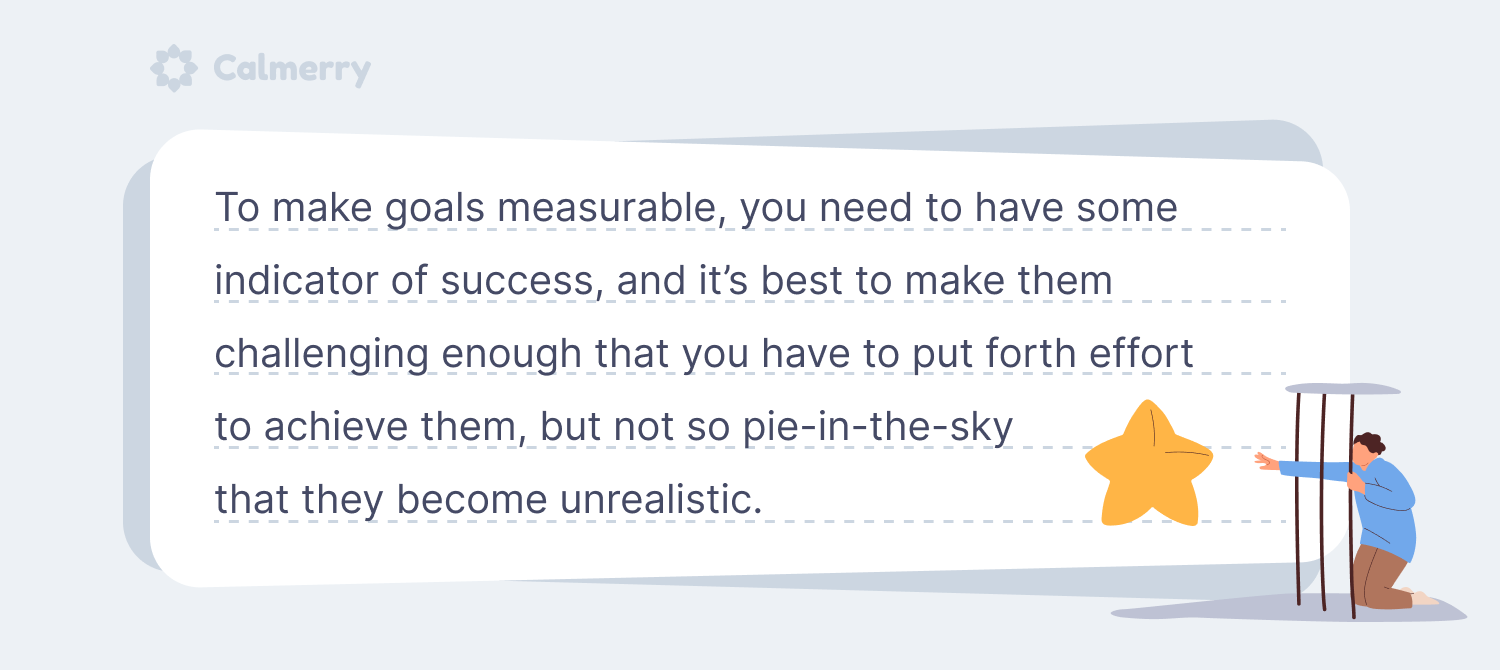 To make goals measurable, you need to have some indicator of success, and it's best to make them challenging enough that you have to put forth an effort to achieve them but not so pie-in-the-sky that they become unrealistic.
Set both long-term and short-term goals
You may have some long-term goals, such as earning a degree within the next three years or buying a vacation property over the next five years, but it's also helpful to have short-term goals. You can think of short-term goals as "baby steps" that you achieve along the way to reaching your ultimate goal.
People often ask, "How do short-term goals differ from long-term goals?" The main distinction is that short-term goals are more immediate, whereas long-term goals are what you'd like to achieve over many years.
While long-term goals may be what you'd ultimately like to achieve, short-term goals can help to keep you committed. Some short-term goals examples might be saving $2,000 over the course of six months for a vacation property or completing five classes toward your degree over the course of a year. Researchers have found that making progress toward short-term goals increases well-being.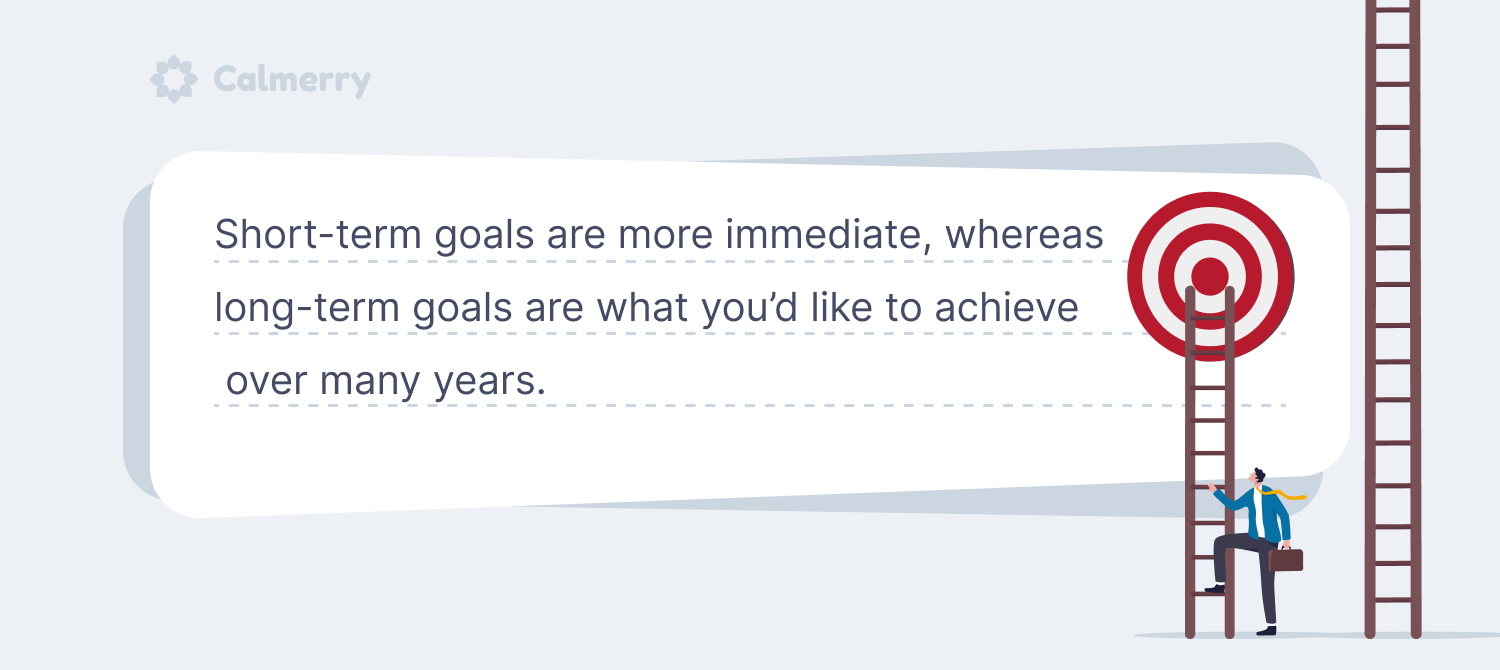 Another benefit of short-term goals is that achieving them can build your confidence, which helps you to stay motivated to work toward long-term goals. For instance, consider the idea of saving $20,000 for a down payment on a vacation property.
The thought of saving that much money over the long term can seem intimidating, but if you set a short-term goal to save $2,000 over six months, reaching that goal will boost your self-esteem, and you'll feel more capable of reaching your long-term goal.
Specific strategies for achieving life goals
Above, you've learned several strategies for setting life goals: choosing something that is meaningful to you, using the SMART goal strategy, and thinking about both short-term and long-term goals.
If you want to achieve these goals, the following strategies are also helpful.
And we want to share with you some empowering mental health tools from our therapist, Tiffany Lovins. We packed them in this lovely ebook 👉🏽 Strategies for Building a Life Worth Living. Download this free guide in PDF.
Write down your goal
Having your goal in writing increases your chances of success. A groundbreaking study conducted at the Dominican University of California and presented at the 87th Convention of the Western Psychological Association found that people who put their goals in writing were more likely to be successful when compared to those who didn't write about their goals.
Let other people know
The same study noted above found that people were also more successful when they informed a supportive friend of their goals. Telling people in your life about your personal goals holds you accountable because they'll probably check in on your progress, and psychologically, you won't want to let them down.
Monitor your progress
Numerous studies have shown that regular progress monitoring is linked to goal attainment. Furthermore, progress monitoring tends to be more effective when progress is physically recorded. When you're working on life goals, you're more likely to be successful if you frequently check in on your progress and document it. This means regularly evaluating what steps you've taken toward your goal and making a written note of your progress to ensure you stay on track.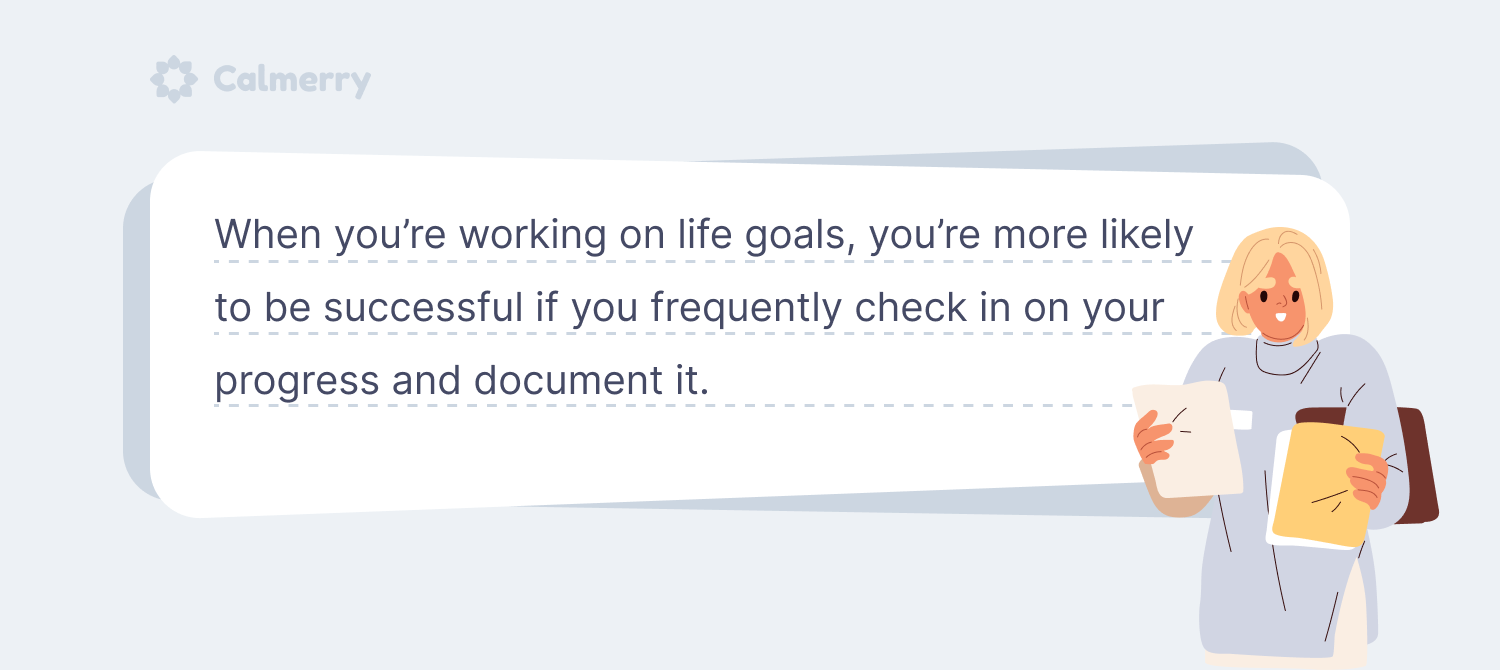 Plan for obstacles
Psychologically, achieving goals requires a certain degree of self-control, because you'll be faced with temptations and obstacles along the way. For instance, if you set a goal to run a marathon, there will be days when you're tempted to forego your training to sleep in, spend time with friends, or relax on the couch. To stay committed to your goal, it's important to plan for obstacles.
Think about what roadblocks you might encounter, and plan ahead for how you'll respond if you come face-to-face with them. If you already have a plan in place, you won't have to expend as much effort overcoming the temptation to "give in" to the obstacle.
Set reminders
Behavioral psychology research shows that setting reminders is associated with goal adherence. When you give yourself reminders, you activate areas of the brain associated with your goal intentions, making you more likely to act in a way that aligns with your personal goals.
You can mark reminders on your calendar, set phone reminders, or even write out reminders and display them in a place you'll see every day, such as on the refrigerator or the bathroom mirror. Reminders may be a simple cue related to your goal, or they could be a specific action you want to take daily to move you toward your goal.
Develop habits related to your life goals
According to neuroscience, it's true that habits become second nature over time. When you practice certain behaviors and make them a habit, areas of the brain communicate with each other to reinforce these habits.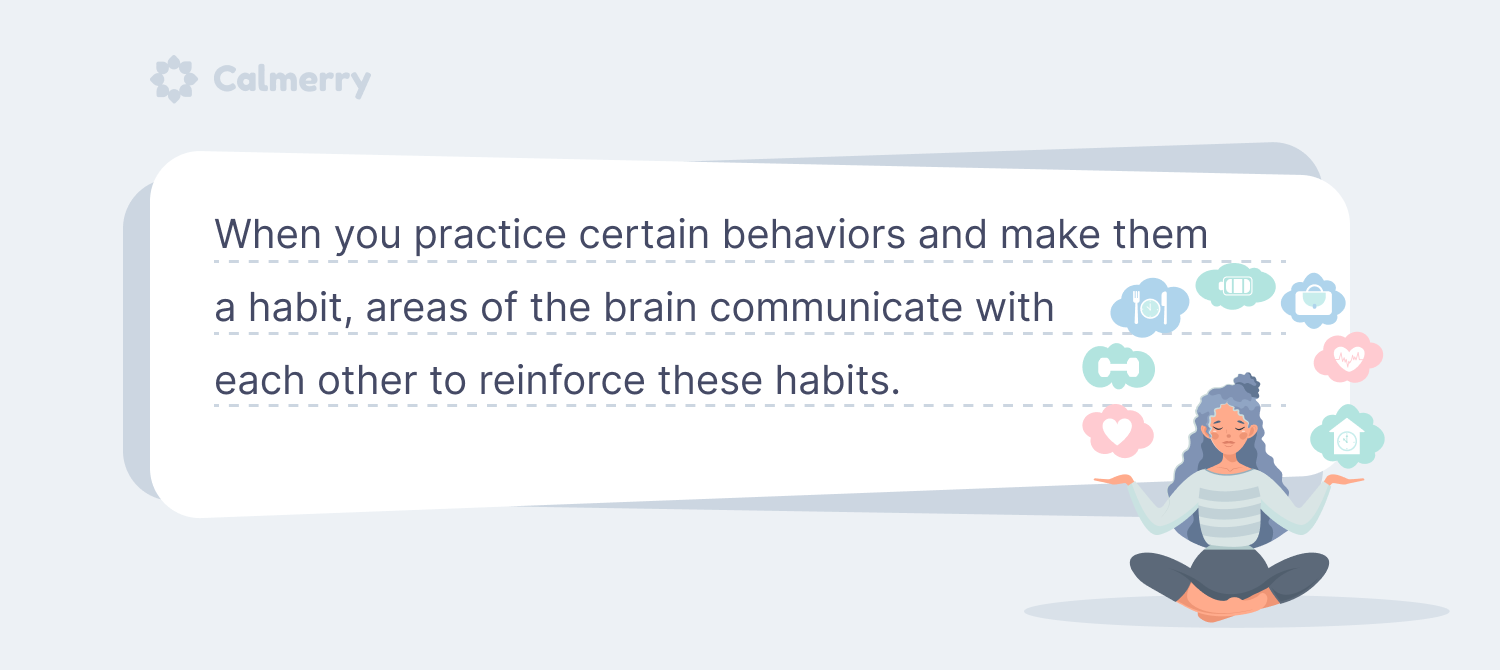 As time goes on, connections in the brain are strengthened, so engaging in behavior related to habits becomes less effortful. It may require some extra effort in the beginning, but over time, you'll notice that goal-related behaviors seem to occur on autopilot.
Think of behavior related to your goal, such as foregoing eating out in order to save money. Practice that behavior, and before long, it will become a habit.

Working with a counselor or therapist
You can learn how to achieve goals without any outside assistance, but some people may benefit from working with a counselor or therapist. Sometimes, personal struggles such as low self-esteem, depression, or lack of confidence can interfere with life goals.
If this is the case, a counselor or therapist can work with you to help you process your emotions and change your ways of thinking so that you're better equipped to set and accomplish your personal goals.
In therapy sessions, you can develop strategies for overcoming negative thinking patterns and learn skills, such as how to prioritize goal-related behaviors and ignore potential distractions. Ultimately, working with a therapist can help you to develop a more positive mindset, and give you a safe setting for working on personal development.
Your therapist will even provide you with a treatment plan, which will include several goals related to your time spent together and give you practice with setting and achieving personal goals.
If you're looking for a therapist, but you have a busy schedule, online therapy may be a suitable option for you. At Calmerry, we offer online therapy services, so you can connect with a licensed therapist from wherever you are. Without leaving your home or office, you can work with your therapist through messages and live video sessions.
With quality therapy through Calmerry, you'll be well on your way to achieving your personal goals.
Сheck your mental well-being for free: