Published March 14, 2022 / Updated March 23, 2023
What Are the Benefits of a Good Night's Sleep?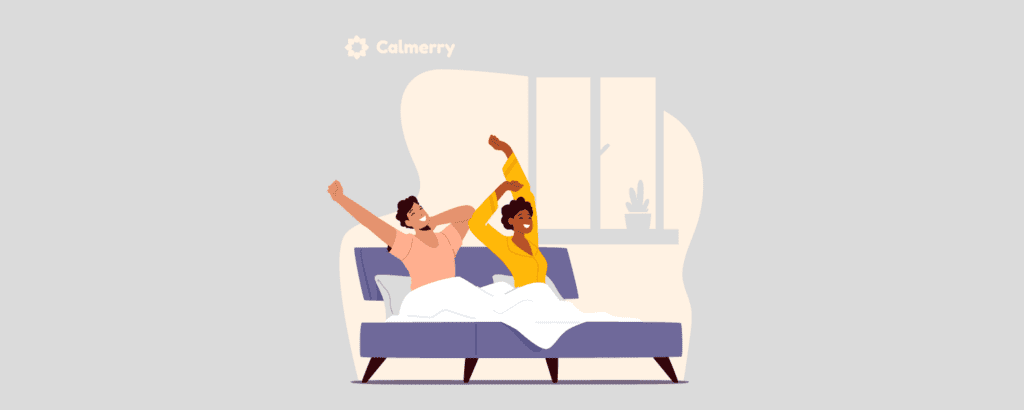 Reading Time:
5
minutes
Most people have heard that you need 8 hours of sleep per night to feel your best, but you may not be aware of just how critical sleep is for both mental and physical health. Sleep restores the body, and getting enough of it can improve your mental health and protect you from getting sick.
Here, learn about 7 health benefits of sleep, which will hopefully motivate you to get the shut eye you need.
Sleep and memory
If you find that you have a difficult time remembering the details of certain events, you might be skimping on sleep. Research shows that brain activity that occurs during REM sleep is responsible for consolidating memories. Getting the sleep you need can improve your memory and keep your brain sharp, so if you're feeling a little foggy, it may be time to re-evaluate your sleep schedule.
Reduce burnout with healthy sleep
Sleep deprivation can also have a negative impact on your career because it can lead to feelings of burnout. A recent study with physicians found that those who had sleep disorders were over 3 times more likely to experience burnout and feel professionally unfulfilled when compared to those without sleep disorders.
Based upon this finding, improving your sleep habits can have a positive influence on your work, as you'll be more prepared to tackle your responsibilities, and you'll probably find your job to be more meaningful when you aren't held back by sleep deprivation.
More sleep for a healthy body weight
Beyond improving your engagement at work, another one of the health benefits of sleep is that it can help you to maintain a healthy weight. Studies have shown that sleep regulates hormones involved in body weight, and getting too little sleep significantly increases the risk that someone will become overweight or obese. If you're having trouble keeping your weight within a healthy range, an earlier bedtime might help you to lose those last five pounds.
Sleep and mood improvements
Getting a little more sleep can also brighten your mood. A study in the journal Sleep Medicine found that when a group of young adults was permitted to sleep as long as they liked, resulting in increases in total sleep time, they were not only more alert, but their mood states improved as well. If you find yourself having difficulty managing mood swings, lack of sleep might be to blame. Prioritizing sleep can help you to regulate your emotions, so that mood swings aren't as intense and disruptive.

Adequate sleep linked to improved mental health
In addition to the other benefits of sleep, getting enough shut-eye can improve your mental health. Conversely, poor sleep is linked to mental health problems like depression. Research has consistently shown that people who suffer from insomnia are more likely to develop depression. In addition, individuals who have depression and also suffer from insomnia tend to have more severe cases of depression, and they do not respond as well to treatment.
So, why is sleep important for mental health? Studies have shown that sleep plays a critical role in the processing of emotional memories. Without adequate sleep, people have a difficult time retaining positive emotional memories, but they hold onto negative memories, which can set the stage for poor mental health. Prioritizing a healthy sleep schedule gives your brain an opportunity to process emotional information, which promotes optimal mental and emotional health.
Reduce inflammation with healthy sleep habits
It turns out that sleep is just as important for physical well-being as it is for mental health. One way that sleep can influence health is through inflammatory disease. When levels of inflammation are high, a person is at risk for numerous health problems, including heart disease, high blood pressure, and diabetes.
A large body of research shows that sleep disturbances increase markers of inflammation, whereas normal sleep duration (7 to 8 hours) is linked to lower levels of inflammation. Based upon these findings, getting the recommended amount of sleep each night can protect your health by reducing your risk of inflammatory diseases. Reduced inflammation can be added to the list of the numerous health benefits of sleep.
Sleep and immune system functioning
Just as sleep can influence inflammation, it impacts the functioning of the immune system. Studies have shown that when people do not get enough sleep, they are more likely to catch viruses like the common cold. Ensuring that you get enough sleep keeps your immune system functioning properly and can reduce your risk of becoming sick.
Ensuring you get the full health benefits of sleep
There is plenty of evidence that healthy sleep habits promote physical and mental well-being. To reap the health benefits of sleep, the Centers for Disease Control and Prevention (CDC) recommends that most adults get 7 or more hours of sleep per night. Unfortunately, busy schedules, chaotic routines, work-related stress, and environmental factors like noise can make it difficult to get the sleep you need.

If you're having difficulty getting enough sleep to promote optimal mental and physical health, some changes to your routine can be helpful. Try to go to bed and get up around the same time each day so your body develops a rhythm. Promote optimal sleep at night by keeping your bedroom cool and dark and eliminating noises. It may be necessary to run a white noise machine, especially if you live in a city where noise pollution can become problematic or if you live in an apartment complex where you can hear your neighbors' activities.
It is also important to have an appropriate routine in place to help you wind down at night. Spending time scrolling through your phone or working on your laptop just before bed can keep you awake at night. Allowing light to creep into the bedroom, whether it's from a TV left running all night or a phone left on the nightside stand, can also disrupt your sleep. Be intentional about powering down your devices, including cell phones, tablets, and laptops, an hour or so before bed and engaging in a relaxing routine, such as taking a bath, reading, or doing some stretching.
If you continue to have difficulty getting enough sleep, it may be time to reach out for professional intervention.
Subscribe
to our mental health digest
Let us support you on the way to better mental well-being. Get expert tips and insights on mental health delivered to your inbox monthly.
Getting help for sleep disorders
If changes to your routine do not alleviate sleep problems, you may need to see a professional to rule out a sleep disorder. A doctor can diagnose issues like sleep apnea or restless leg syndrome, which may be interfering with the quality of your sleep. You may also benefit from working with a mental health professional for the treatment of sleep disorders.
In fact, the most common sleep disorder, insomnia, can be treated by a mental health professional like a psychologist or therapist. A specific type of therapy called cognitive-behavioral therapy (CBT) has been found to be effective for treating chronic insomnia.
In this type of therapy, you can learn to overcome unhelpful thoughts, such as the belief that you're incapable of falling asleep, and replace them with more realistic ways of thinking. Over time, altering negative thought patterns can help you to change your behaviors to promote healthy sleep.
If you're struggling with sleep, there is no shame in reaching out to a mental health professional for help. These professionals can use therapy techniques to help you develop healthier sleep habits and help you to explore underlying issues like depression, anxiety, or trauma that may be interfering with healthy sleep.
Taking that first step to seek professional intervention may be intimidating, but getting the help you need can get you back on track so you can enjoy the numerous health benefits of sleep.
With some changes to your routine and perhaps the assistance of a professional, you can enjoy all the benefits of a good night's sleep, which include improved memory, reduced risk of mental health problems, lower levels of inflammation, better mood, and decreased risk of burnout. You may also find that healthy sleep habits help you to maintain healthy body weight, and they stop you from picking up pesky viruses at the office!
Try Calmerry therapy
Сheck your mental well-being for free: