Published October 5, 2022 / Updated June 2, 2023
5 Myths and Facts About Depression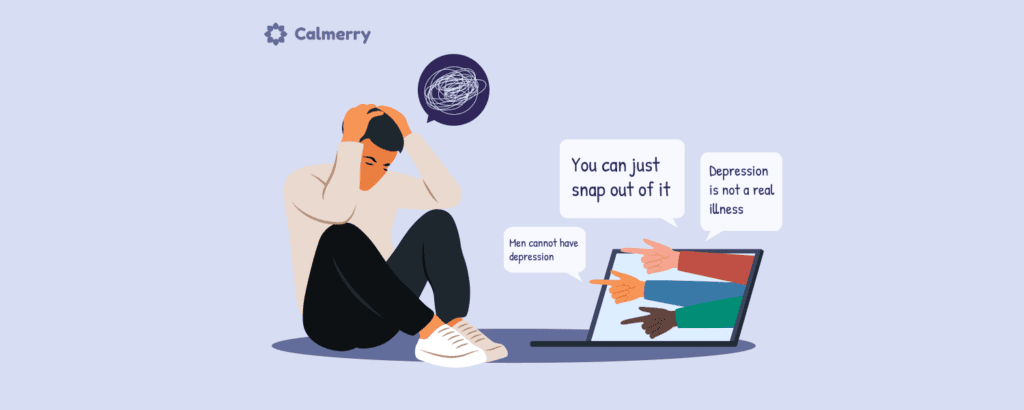 Reading Time:
6
minutes
Depression is a difficult mental health disorder to navigate. And it is surrounded by some unhelpful misconceptions and stigma that can prevent people from recognizing it and getting the help they need.
In this article, we will take a look at some of the most common myths you might have heard about depression. We also asked Diamond Thaxton, a Licensed Mental Health Counselor, to share some insights into this subject. We'll explain why these misconceptions are misleading and look at some research facts about depression.
Understanding these facts and myths about depression can give you a clearer idea of how to move forward.
Myths about depression
Although depression is one of the most common mental health disorders, many people don't recognize its symptoms or ignore the seriousness of this problem. As a result, many of those who have depression don't receive proper treatment, and their symptoms get worse.
Here are some of the most common misconceptions that often stop people from getting the so-needed help.
Myth 1: Depression is not a real illness
One of the most harmful yet persistent myths about depression is that it is not a real illness. Some people believe that if you are depressed, it's because you are overly emotional or not strong enough to handle the typical ups and downs of life. They may claim it is a choice you make or that it's all in your head. The stigma around this disorder often stops people from getting the so-needed help.
Here's what Diamond Thaxton, the counselor at Calmerry, has to say on the matter:
"There are so many misconceptions about depression, and these often are some of the reasons clients may be late to start treatment.
I had a client tell me that he was terrified to let others know he was going to see a therapist. As we continued in therapy for his depression, he learned that he had people in his life that weren't supportive and creating conditions that were making his depression worse. Others influenced this client to believe that his depression was something to be embarrassed about," notes Diamond.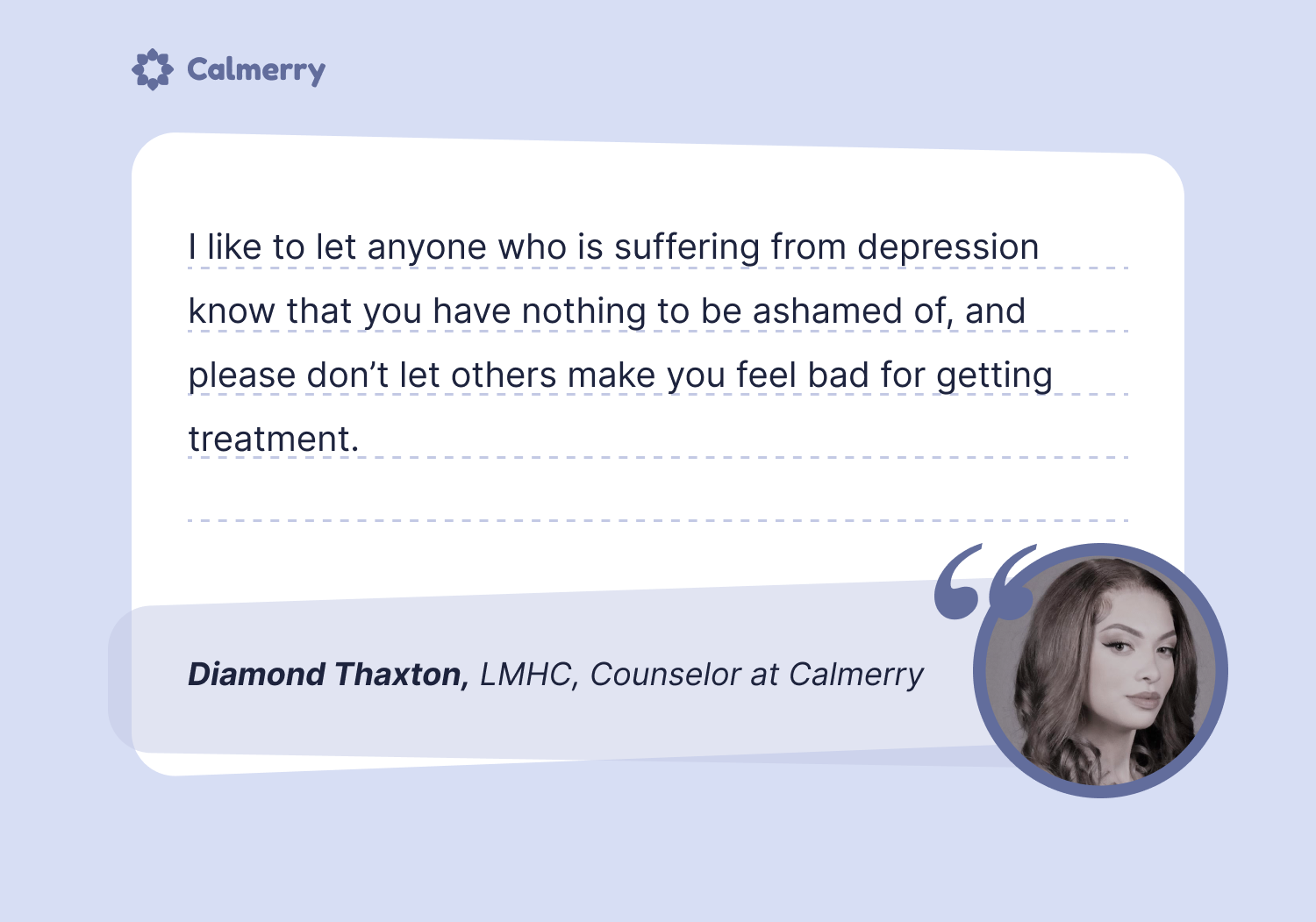 Fact: Depression is a complex mental health disorder that is officially listed in the Diagnostic and Statistical Manual used by psychologists to diagnose mental health disorders. And it has biological, social, and psychological causes.
Major depressive disorder is marked by a period of at least two weeks during which a person experiences a bad mood and a loss of pleasure or interest in their daily activities. These symptoms are accompanied by five or more other officially listed symptoms, including:
Sudden changes in appetite or weight
Lack of energy or unusual tiredness
Trouble concentrating, making decisions, or thinking
Feeling sad or irritable most of the time
Difficulty falling asleep or sleeping more than usual
Losing interest in activities you once enjoyed
Feelings of worthlessness or guilt, especially about things that don't normally spur these emotions
Thoughts of harming yourself or suicide
Feeling restless
Many experts believe that depression may occur when certain chemicals in the brain go out of balance. This can be caused by a combination of factors, including genetic predispositions, illnesses, medications, and stressful life events.

Subscribe
to our mental health digest
Let us support you on the way to better mental well-being. Get expert tips and insights on mental health delivered to your inbox monthly.
Myth 2: Depression occurs because of a traumatic event or sad situation
It is natural to feel sad when a loved one dies or a close relationship in your life ends. While it's true that these incidents can raise your risk of depression or trigger it, a negative incident is not normally the root cause of depression.
Fact: Depression is marked by unexplained periods of sadness and hopelessness, which may be accompanied by suicidal thoughts and self-harm. An episode of depression can arise even when things are going well in your life, and it can last for a long period of time.
Keep in mind that you are not alone. In 2020, 21 million American adults had at least one major depressive episode. This accounts for 8.4% of all U.S. adults. Moreover, 63.8% of all adults who have depressive episodes experience severe impairment.
Some non-emotional potential triggers for depression include hormone problems, alcohol and drug use, childbirth, and certain medications. Sometimes, there is no clear reason at all. Although some people may also be genetically predisposed to depression, this factor also doesn't always play a key role.
Diamond Thaxton explains: "Sometimes, I'll get clients who go through periods of sadness and believe they automatically have depression due to it being in their family. Depression does have genetic links, but that doesn't automatically mean you will have depression because it runs in your family.
This is important to know because some people can cause depression by not allowing themselves to feel sadness, by repressing those emotions due to the fear of genetically having depression."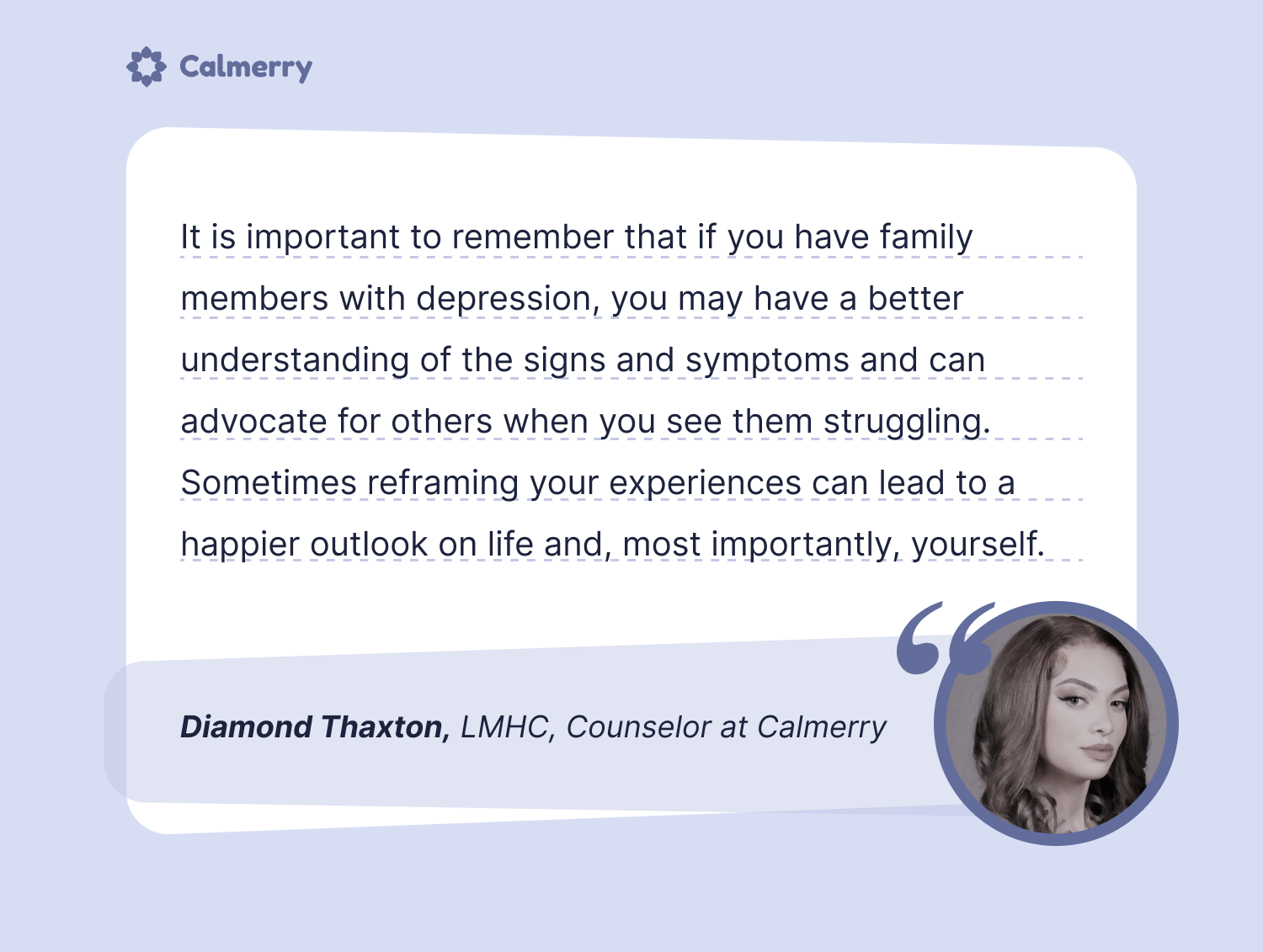 Myth 3: Men cannot develop depression
Some cultural stereotypes have perpetuated the myth that men cannot have depression. To fit a stereotypically masculine image, many men develop stoicism and think that acknowledging their emotional struggles makes them weak. As a result, men often come up with many excuses to avoid therapy.
Fact: Depression affects all genders, races, ethnicities, and ages. Depression in men may manifest itself differently than it does in women. For example, some men might display anger and aggressiveness instead of sadness. Unfortunately, anger may negatively impact not only relationships but also men's health.
Because men often tend to be less open when it comes to discussing their feelings, they are less likely to ask for help. Unfortunately, men have a greater likelihood of dying by suicide related to depression than women, so it is essential to seek help if you think that you are depressed.
Myth 4: You can just "snap out of it"
Some people believe that those who are suffering from depression are letting themselves wallow in their sadness and that a simple attitude change will be enough to shift their feelings.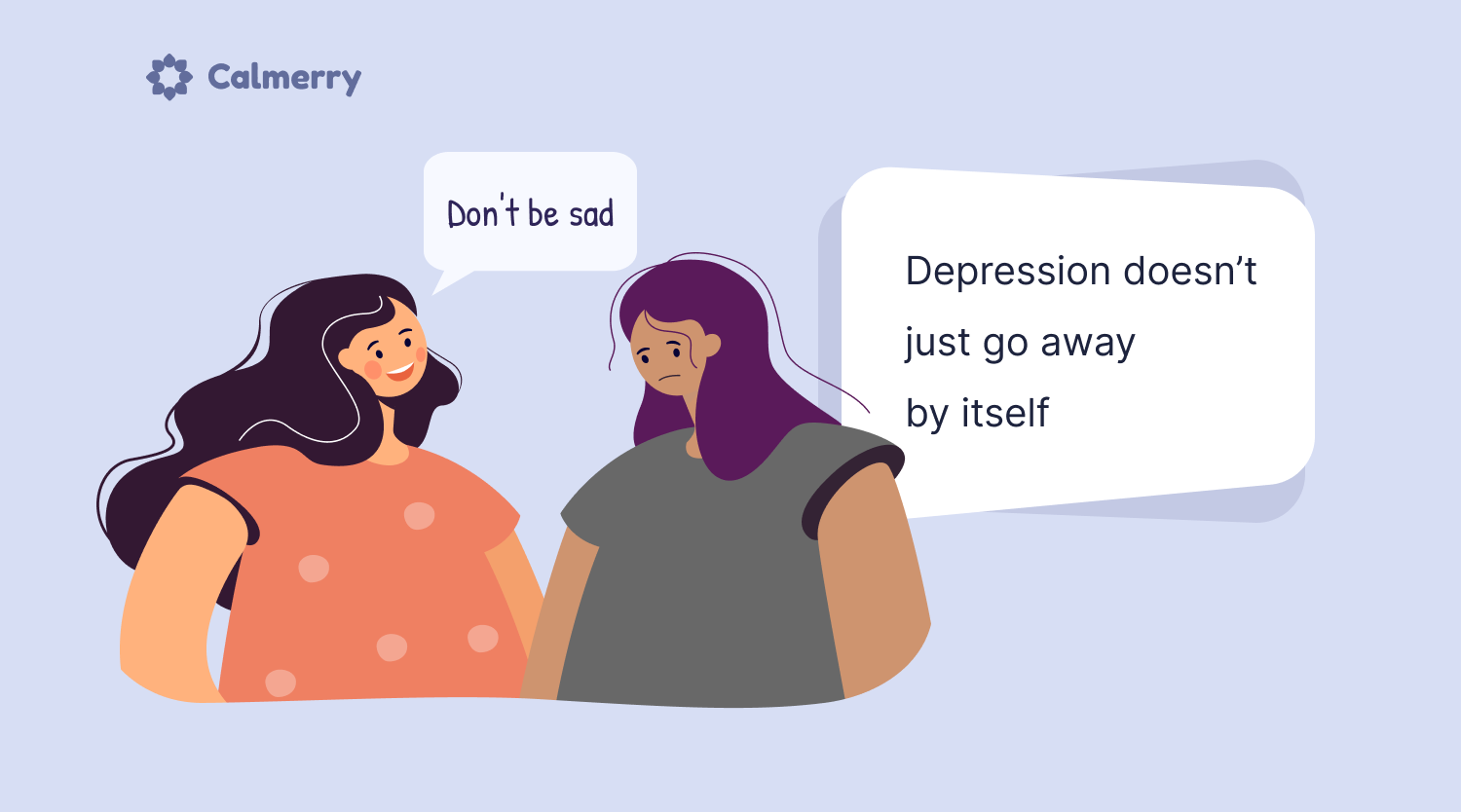 Fact: Depression is a mental health disorder, not a sign of emotional weakness or self-pity. It may be related to a person's brain chemistry, and it doesn't characterize them as a person. Like many other health problems, such as heart disease or epilepsy, you can't simply "will it away."
If you think you are experiencing depression, don't hesitate to ask for help. You won't even need to commute to a therapist's office if you opt for online depression counseling. Depression cannot just go away on its own, and it can get worse without proper treatment.
If you have suicidal thoughts or consider self-harm, please immediately contact the 988 Suicide & Crisis Lifeline.
Myth 5: Medication is the best way to treat depression
Many people believe that a person with depression can simply get a prescription for antidepressants and be cured. They think that they don't need to look for the root causes of their problem and that depression can be treated with the right pill.
Fact: Antidepressant use is on the rise as people increasingly seek a "quick fix" to their problems. Although antidepressants do help some patients, they do not work for everyone or in every situation and are not a cure-all for depression.
Medication might help you restore the hormonal balance if this is the case, but it won't magically fix other potential underlying causes. And the only person who can decide whether or not you require medication at all is a licensed therapist or psychiatrist.
Moreover, some people are unable or unwilling to take prescribed medications because of the potential side effects, which may include nausea, sleepiness, stomach upset, reduced sex drive, weight gain, and other issues.
The good news is that, in many cases, medication treatment isn't necessary. Talk therapy has proven to be effective in treating different kinds of depressive disorders. Therapy involves talking to a therapist online or in-person regularly about your problems and related issues. A therapist may also ask you to keep a journal or provide worksheets.
Here's how therapy can help:
It can help you replace negative beliefs and behaviors with healthier and positive ones
It can give you a better sense of control over your life
It can help you improve your self-esteem and relationships
You can find better ways to deal with the challenges and problems that arise in your life
Some lifestyle changes may also help ease the symptoms of depression. These include:
Eating a more nutritious diet: In particular, it can be helpful to focus on nutrients such as B vitamins, magnesium, and omega-3 fatty acids.
Getting plenty of regular exercises: Physical activity, particularly outdoors in sunlight, can give your mood a boost.
Getting enough sleep: This generally ranges from seven to nine hours for most adults.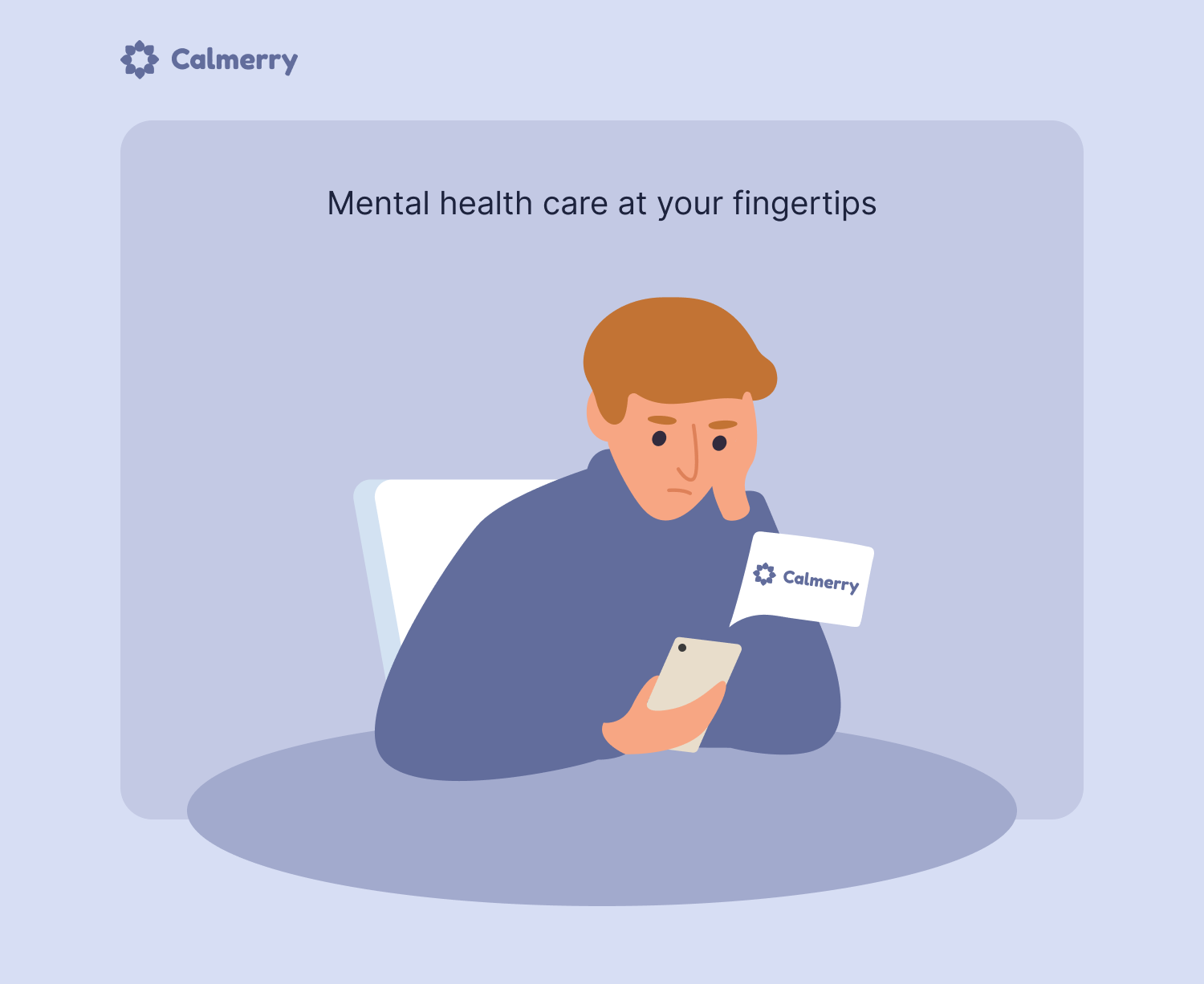 Getting help for depression
If you experience symptoms of depression, you can take this professional depression screening test. However, only a licensed therapist can come up with the right diagnosis. So, the best solution is to discuss the results of the test with a therapist who can help you address your feelings and develop a comprehensive treatment plan.

Online therapy allows you to get matched with a qualified mental health professional in just an hour and get help from the comfort of your home. With Calmerry, you can schedule sessions according to your busy schedule and send messages to your therapist whenever you need to share something.
Don't follow the misconceptions and take care of your mental health needs — you're one step away from a more fulfilling life.
Сheck your mental well-being for free: