Published October 21, 2022 / Updated June 2, 2023
What Is Sexuality, and How Is It Connected to Mental Health?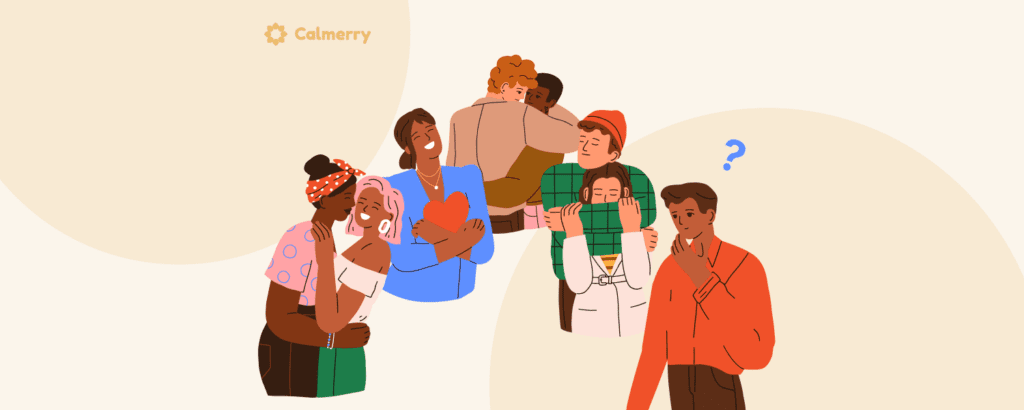 Reading Time:
6
minutes
Is it normal to question your sexuality? Absolutely! It's a natural part of being human. The road of discovering and accepting it can be a source of joy, resilience, and emotional wellness.
However, it often brings challenges too, and it's important to be aware of how it can impact your mental health.
Learn how to take care of yourself while exploring this part of your identity, support friends struggling with their sexuality, and where to reach out for help.
What is sexuality?
It seems like a pretty straightforward question, but it can be challenging to provide an answer. So, let's first understand what sexuality is and how it differs from gender identity and romantic orientation.
Subscribe
to our mental health digest
Let us support you on the way to better mental well-being. Get expert tips and insights on mental health delivered to your inbox monthly.
Sexual orientation and gender identity
Sexuality or sexual orientation indicates who you are physically and – usually – emotionally attracted to. All orientations are natural. There's no one "normal" or "correct" sexuality.
Meanwhile, gender identity is the inner sense of being a particular gender, for example, male, female, or nonbinary. It can be the same as the sex assigned at birth, but that's not always the case.
Sexual and romantic orientation
You can have different romantic and sexual orientations or be asexual but still attracted romantically to others.
For example, you may be bisexual or pansexual but be able to fall in love only with someone of the same gender (homoromantic) or not at all (aromantic).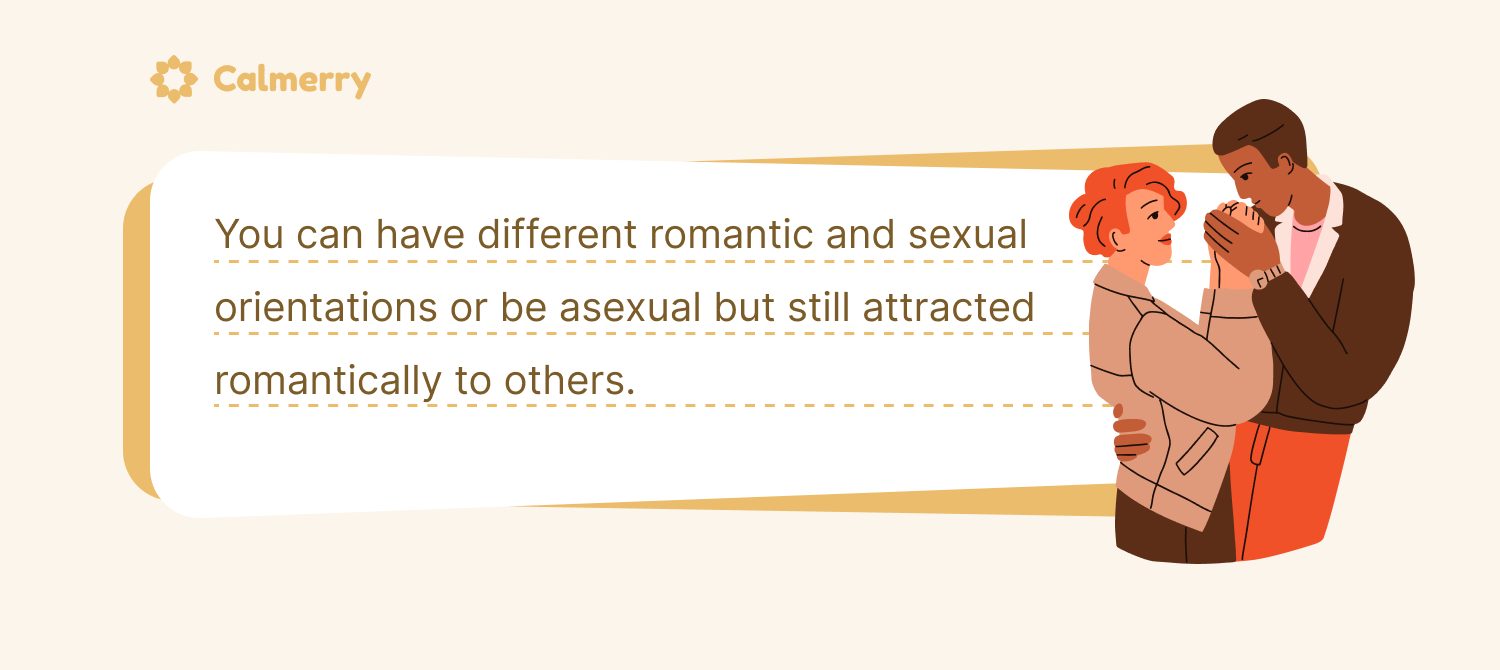 How many sexualities are there?
Sexuality is a spectrum, and it's completely normal to question it or feel it change during our lives.
We all perceive it differently, and there are dozens of ways to define it, but the most common labels are:
Heterosexuality – attraction towards a person of the opposite gender.
Homosexuality – attraction towards people of the same gender.
Bisexuality (Bi) – being attracted to people of more than one gender, sometimes used as an umbrella term including, for example, pansexuality.
Pansexuality – being attracted to people regardless of their gender.
Ace – an umbrella term for complete lack or varying levels of sexual attraction. Includes asexual, demisexual and grey-sexual people.
Queer – here, used in the context of sexual orientation, means not wanting to put a specific label on it.
Mental health and sexuality
Sexuality is a core part of being human and, thus, intimately connected to mental health.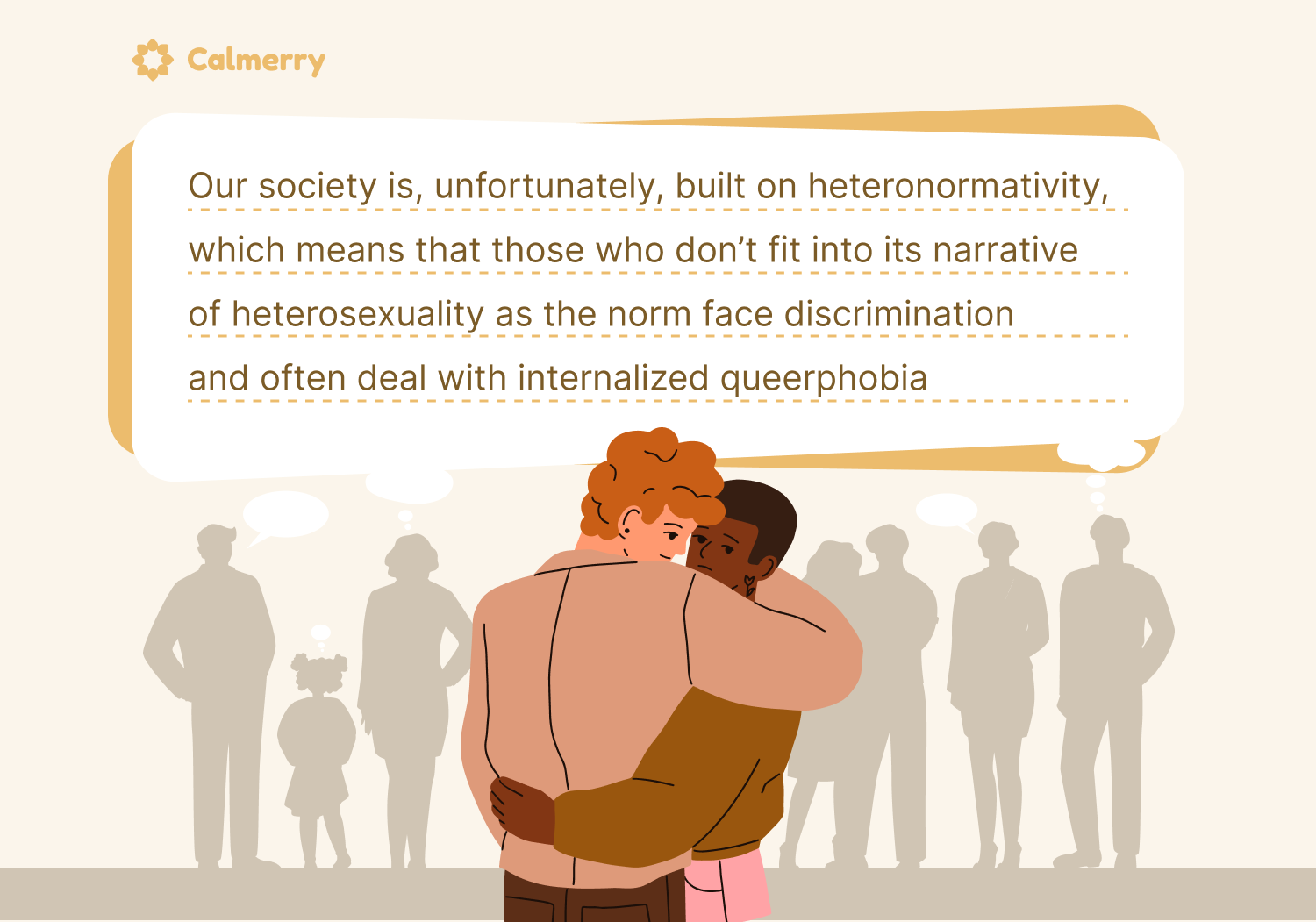 Coming out, for example, can result in isolation, bullying, and difficulties finding housing or a job.
This injustice has severe psychological consequences, such as:
Toxic stress
Addiction
Suicidal ideation
Intersectionality
Awareness of what can further affect our mental health and sexuality is essential.
In 1989, Kimberlé Crenshaw, a law professor at UCLA and Columbia Law School, coined the term "intersectionality" to indicate how different types of discrimination – based on, for example, race, class, or sexuality -– overlap and affect you.
For example, Black queer women often face prejudice based on race, gender, and sexual orientation.
Taking care of your mental health
Exploring your sexuality is a natural part of your life and should be a cherished and empowering experience. However, as we've mentioned, our society makes it difficult – or even dangerous – to find joy in it.
Take extra care of yourself during this process. Here are some tips to help you with that.
Set boundaries
Consent is critical during intimacy. However, it also plays a significant role outside your sex life. People may ask you uncomfortable questions, make inappropriate comments, and even try to out or attack you online or in real life.
Be assertive, set boundaries, and call these actions out, but remember: your safety comes first.
Put a label on it – or not
Some people want to define their sexual orientation, while others find it too confining. Don't feel pressured to choose a label. Don't be afraid to redefine it, too. Sexuality is fluid and may change as you grow older.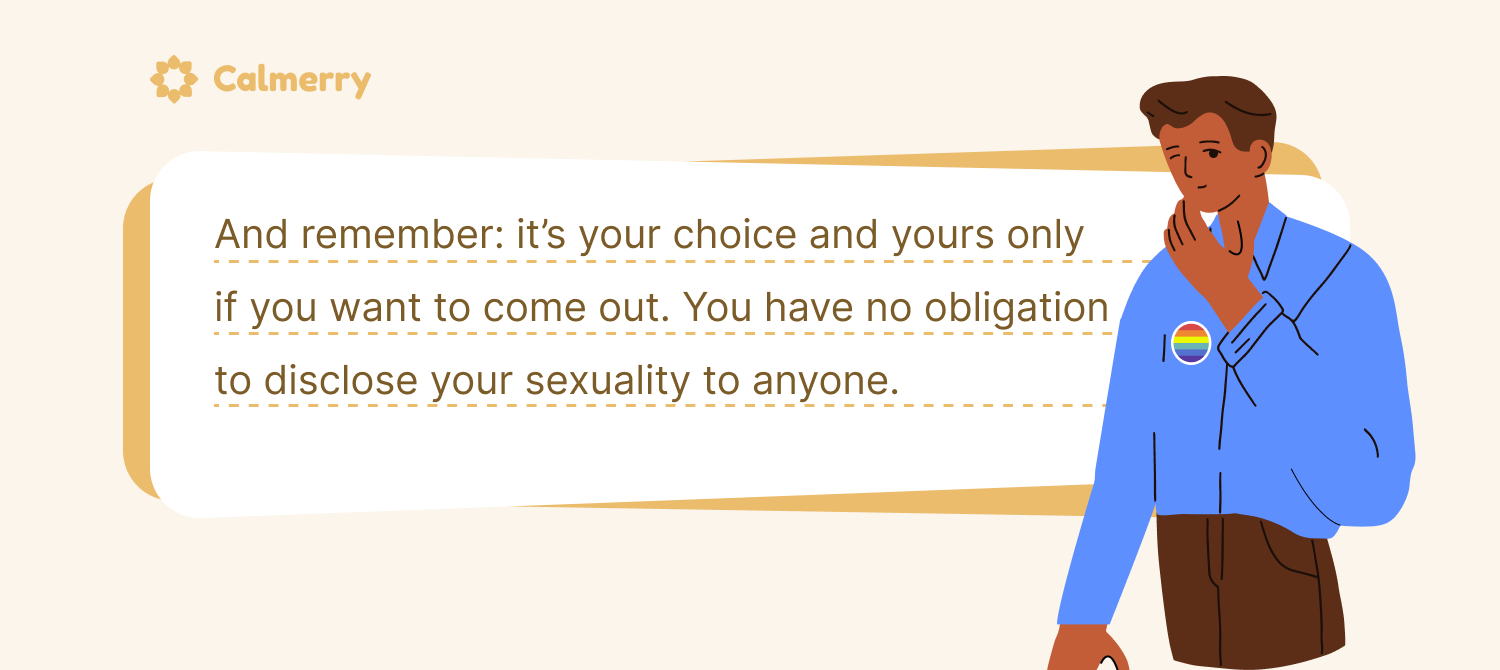 Build your support network
Humans are social beings, and healthy and supportive relationships are essential to our emotional well-being. LGBTQIA+ community, who often face discrimination, need people who love and support them even more.
Your biological family aren't always those people. Thankfully, you can form your chosen family – one that supports and accepts you and helps you navigate the world as a queer person. Connect to others by reaching out to local LGBTQIA+ centers or participating in online forums.
Find role models
Find people who make you feel seen and empowered. It can be your friend, historical figure, fictional character, celebrity, or social media influencer.
And speaking of social media, it may be a good idea to unfollow and unfriend people who do the exact opposite: make you feel small, unheard, and ashamed of who you are.
Create your safe place
Find spaces where you feel protected and comfortable. It can be a real place, like your room or an imaginary one, which you can visualize whenever you need to ground yourself. It may be solitary or populated with people who support you.
Relaxing and enjoyable activities, like hobbies, meditation, or yoga, can also act as your "safe space."
Put it into words
Talking or writing about your feelings and thoughts has many health benefits – from lower stress and an improved mood to better focus.
You can try a free-writing exercise like expressive writing or answering specific questions, like so:
"Who am I attracted to?"
"Who do I want to be in a relationship/build a family with?"
"What do I feel when I identify myself as [sexual orientation]?"
It's okay if you can't find the answers yet. These questions can be challenging and evoke strong emotional reactions, so take it slow and pause whenever you need.
Try therapy
A professional therapist can help you with accepting your sexuality and gaining self-awareness. Look for one that is inclusive and understands how sexual orientation and mental health are connected.
Don't be afraid to meet as many therapists as it takes for you to find the one you feel comfortable and safe with.
Where can you seek help and support?
It's easy to feel alone when you don't have support. Fortunately, plenty of organizations can provide you with educational resources or health and legal counsel and connect you with your peers and the queer community.
Many of them offer free hotlines as well -– some of them are available 24/7.
Organizations and useful resources
Hotlines
Free support lines offering phone, texting, or chatting services.
LGBTQIA+ hotlines
Abuse and rape survivors hotlines
AIDS/HIV & STD information
How to help someone struggling with their sexuality?
Maybe you don't need help understanding and accepting your sexuality, but your friend does. What are some of the things you can do to support them?
Be available (but take care of yourself too)
Let the person know you're willing to help, but don't forget to take care of yourself too. Tell them upfront what you're open to.
For example, you'll gladly listen, share your own experiences, or help look for a counselor, but you may not be comfortable with hugging or calling after 10 pm.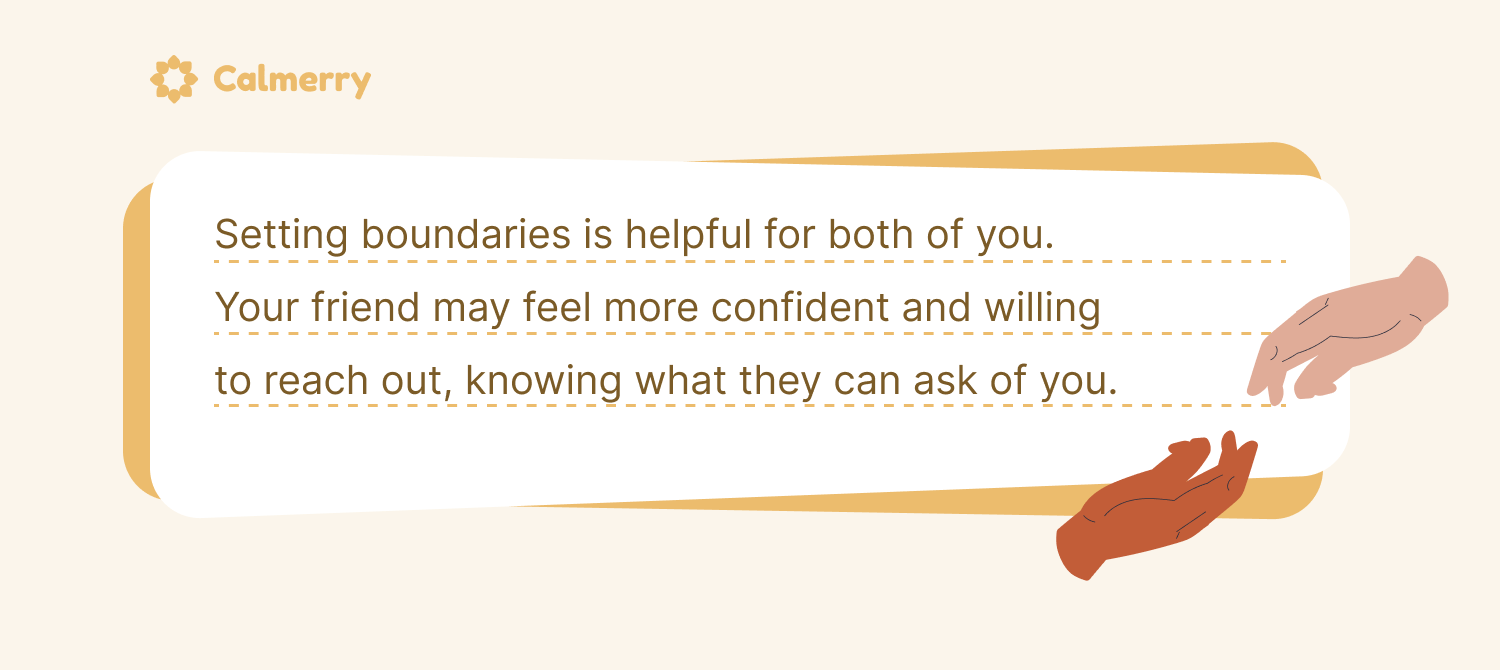 Ask what they need
Don't try to guess how you can help your friend. Ask them. Some people need you to listen, and others want advice or simply to have you by their side.
Become an ally
If you're heterosexual and/or cisgender, you can also become an ally and fight for the rights of the LGBTQIA+ community and, thus, your friend's better future. Learn about the critical issues, educate others, and – if it doesn't compromise your safety – call out discrimination and queerphobia.
Demand more queer representation in public space, pop culture, and more access to institutional support – all of which have a fundamental role in the mental and physical well-being of queer people.
​​
Encourage them to get professional support
If you notice that:
Your friend's mood is worsening
They have frequent mood swings
They're distancing themselves
Their behavior, appetite, and sleep patterns visibly change
It may mean they're struggling with mental health problems. Talk to them about getting professional help. Online therapy can be a good choice as it's flexible and accessible.
They can also reach out to organizations and hotlines.
Сheck your mental well-being for free: