Published July 21, 2022 / Updated January 24, 2023
The Right Fit: How to Find the Right Therapist for You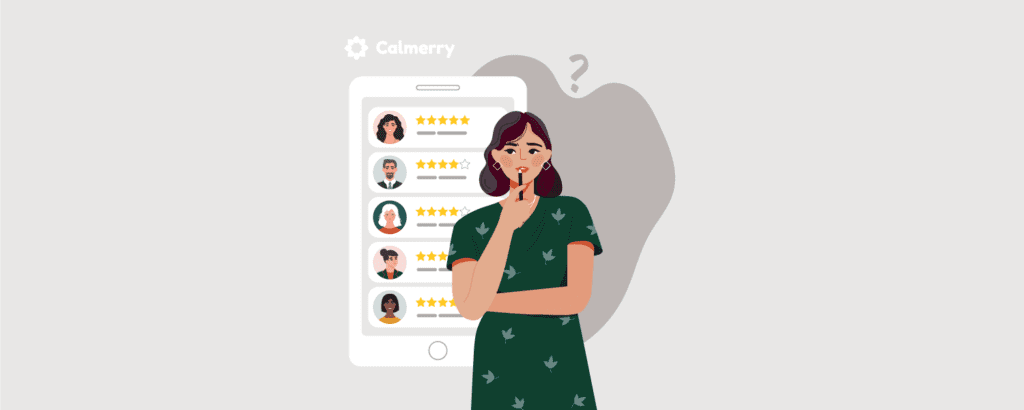 Reading Time:
8
minutes
You've decided to see a therapist. You've done a quick Google search and oh my! The sheer number and type of therapists out there is dizzying!
If you're feeling a bit overwhelmed, you're not alone. Most of us don't think about how to choose a therapist until we need one. Choosing a therapist can be hard, especially if seeing a therapist is something new to you.
Of course, you could just pick one and see what happens. The downside is that you might not be seeing the type of therapist that can best help you. Knowing how to find the right therapist for you can help you to find the right fit with the right expertise for your unique needs.
Where do I start?
What do all the letters and specialties mean?
How do I know what to look for in a therapist?
You've got questions. We've got the answers and tips you need to choose the right therapist for you.
Why are you seeking help?
Before you start your search, it's important to take a moment and think about why you're seeking help.
What are the issues that are most important to you?
What are you hoping to gain through counseling?
While you may not know exactly why you want to start therapy, you know that something needs attention and that's perfectly ok. Sometimes we just know something is off. Either way, having an idea about why you're seeking help and what you hope to accomplish can help you in the selection process. You want to choose a therapist who has training and experience treating the issues you're seeking help for. After all, you don't want to choose a therapist who works with children if you're wanting to work on relationships or stress management.

Who are the therapists?
In your search for therapists, you've probably gotten a laundry list of therapists with an alphabet of credentials from A-Z and an array of approaches and specialties. What does it all mean and what does it have to do with choosing a therapist?
Contrary to popular belief, there is no single type of "therapist". Mental health, like other professions, is not comprised of a single type of provider but a broad profession that encompasses all aspects of mental health. Mental health clinicians are trained in a variety of approaches and treatment modalities. In most places, a licensed clinician has a minimum of a master's degree in a behavioral health field (e.g., counseling, psychology, social work) although many therapists have doctoral degrees or even MDs. Here's a look at who "the therapist" might be:
Psychiatrists are medical doctors (MDs) with a specialty in treating psychiatric disorders. They are experts in psychotropic medication management. Some psychiatrists provide services such as TMS and other brain-based interventions. While not as common as it used to be, some psychiatrists also offer therapy, too.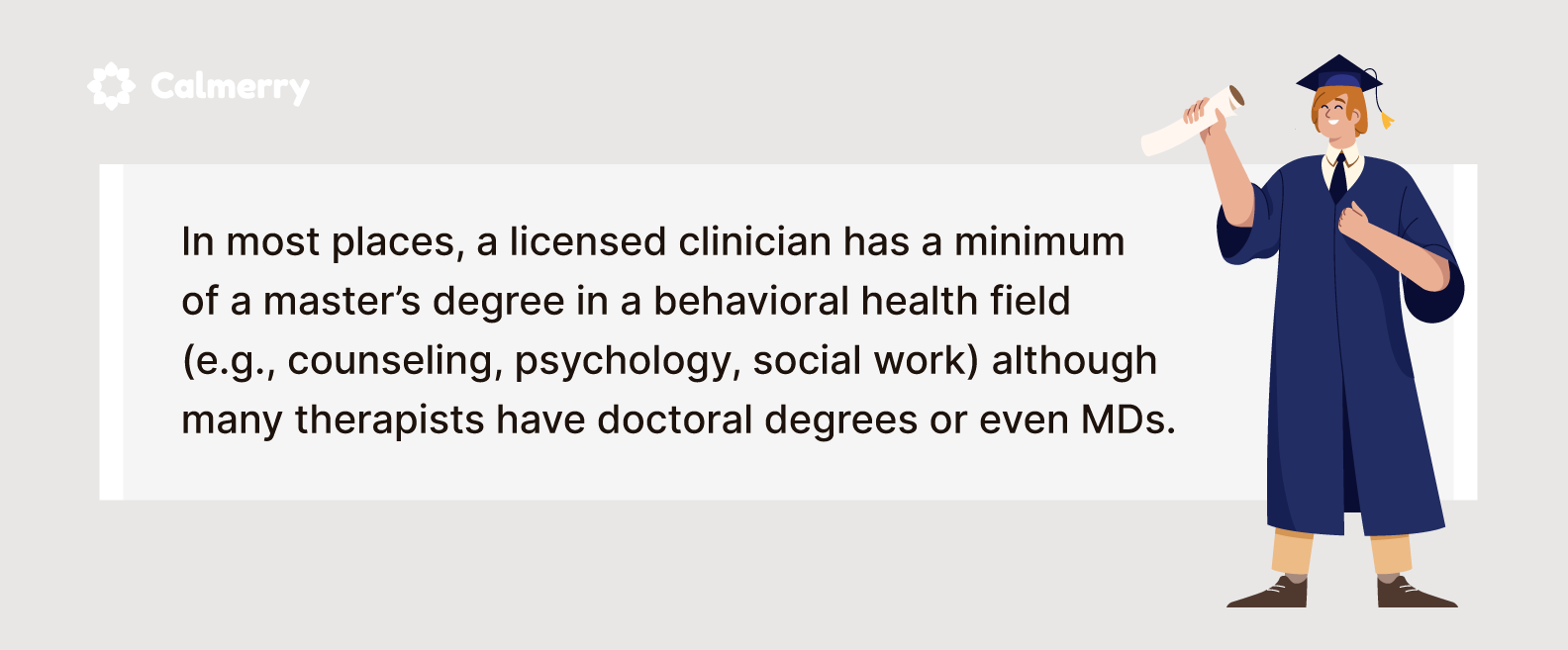 Psychologists are independently licensed clinicians with a doctorate in psychology. They are trained to assess and address the spectrum of psychological disorders. They may provide therapy, psychological testing, or other services. In some places, psychologists are able to complete additional training which allows them to also prescribe psychiatric medications. This type of psychologist is commonly referred to as a medical psychologist.
A clinical social worker is a licensed therapist who usually has at least a Master's degree in social work. They are trained to assess and treat mental health issues using therapeutic techniques based on specific training programs. They are also trained in case management and advocacy.
Counselors are licensed therapists with at least a Master's degree in counseling or a related field. Like other types of therapists, they are trained to evaluate and treat mental health issues using therapeutic techniques based on specific training programs.
Keep in mind that a therapist's specific credentials (e.g., LCSW, LPC, LPCC, LMFT) may vary by their state's licensing board. The most important consideration for you is to be sure that the therapist is licensed to practice in their discipline. If you're not sure, you can check with the board in your state responsible for licensing mental health clinicians.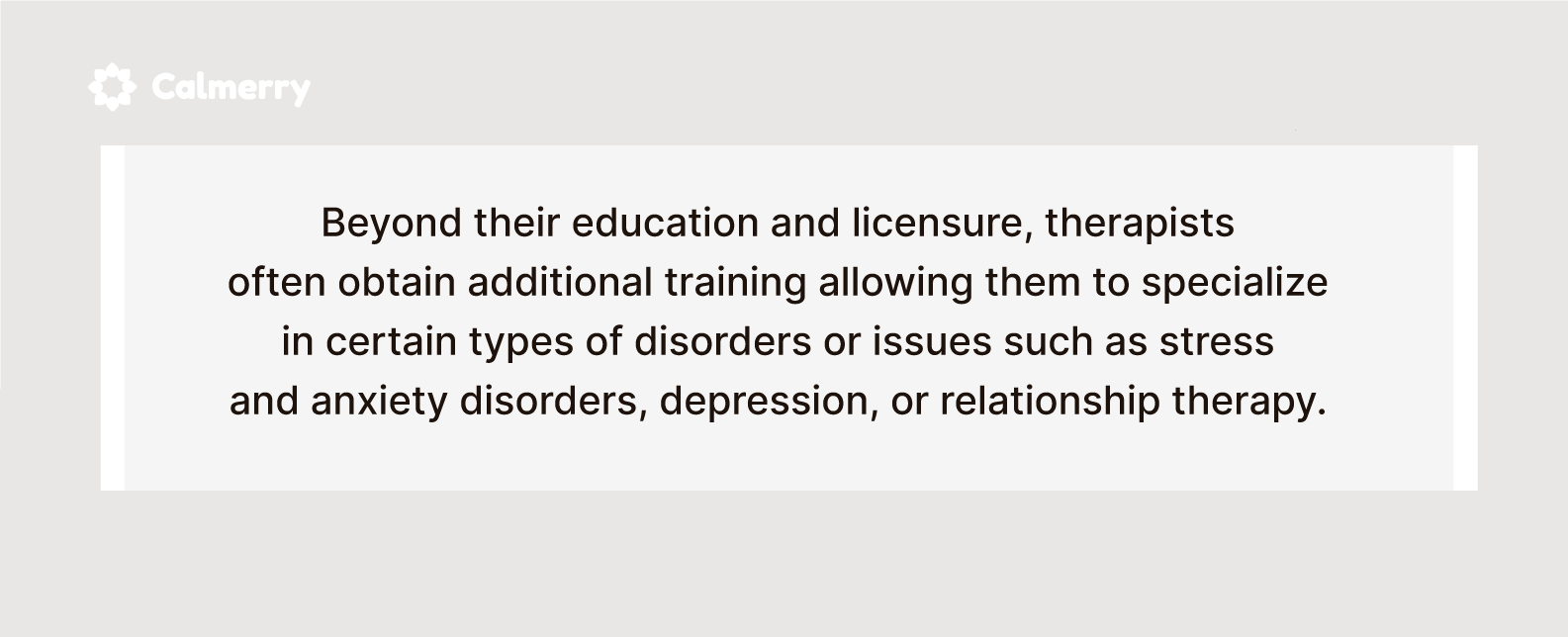 Each discipline has its unique strengths. One type of therapist is not "better" than another and the letters behind a therapist's name only tell part of the story. Beyond their education and licensure, therapists often obtain additional training allowing them to specialize in certain types of disorders or issues such as stress and anxiety disorders, depression, or relationship therapy. Still others are generalists and can see clients with a wide range of issues with clients of all ages.
A therapist's approach to therapy is based on their own training as well as the issue that the client brings to the session. Some are more behaviorally trained. Others are more psychodynamic in their approach. Still others are more eclectic using a variety of approaches. Therapy is not a one-size-fits-all and which type of therapist might best fit your needs depends on the issues that are bringing you to counseling.
So now you know who the therapists are, let's look at how to find the right therapist for you.

Find a therapist
It might surprise you to know that about 80% of people report that they have searched for mental health help online. Most therapists have an online presence either via their own websites or any number of provider directories. You can see their training and specialties as well as other information about their therapy practice.
There are also a number of online therapy platforms where you can access counseling when and where it works best for you. In fact, online counseling has become a widely accepted and effective way of accessing therapy. It's cost-effective, convenient, and as effective as in-person counseling.
Another way to find therapists is to ask trusted friends and family, or even your personal healthcare provider. A positive recommendation can go a long way towards easing the worry about seeing someone.
Make a short list of therapists who seem like a good fit. Along with their training and expertise, what else might be important for you? Age? Gender? Something else? Think about factors that might influence your choice.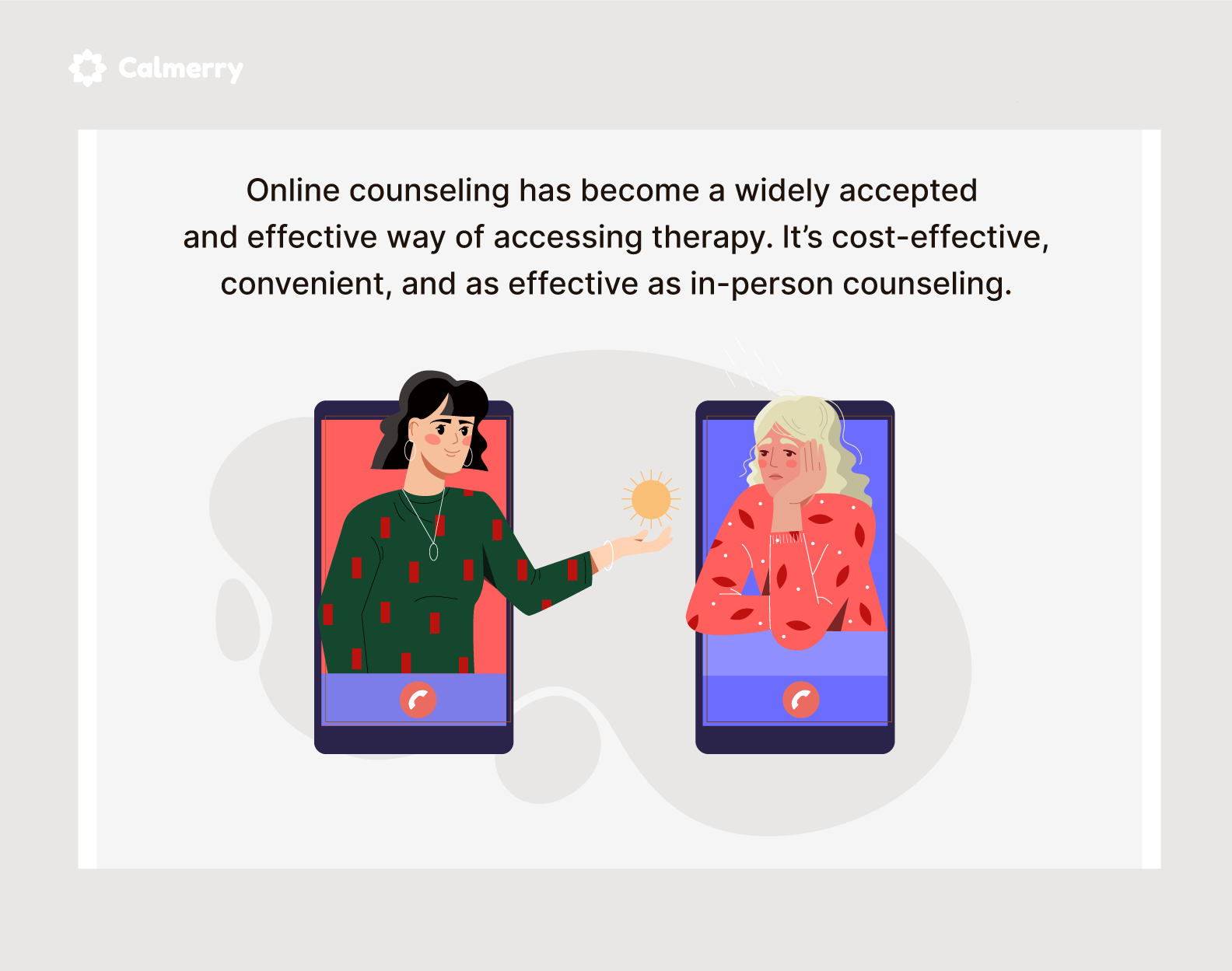 Ask questions
When you reach out to the therapist's office, be prepared with any questions you have. Some important ones to consider asking might be:
Do they treat the issue(s) you're seeking help with?
Is the location easily accessible for you? Do they offer online counseling?
Do their office hours work for you?
What's their availability? Is an appointment available when you need it?
What is their payment structure? If you're planning to use insurance benefits, do they take your insurance?
What is the process for scheduling an initial appointment?
You may speak with an office person who can answer many of your questions. Some therapists return their own calls which can be an opportunity to get a feel for the therapist at the same time.
Some therapists even offer brief consultations to get to know each other a bit and address questions you might have. While it doesn't guarantee a good fit, a brief consultation can help you in the decision-making process.
Your first session – getting to know you
Once you find the therapist that feels right, make your appointment – and keep it. You will probably be asked to complete paperwork prior to your session.
Whether it's an in-person session or an online therapy session, your first session is a time to get to know each other and understand how the process will work. Expect lots of questions as you delve a little deeper into the reasons you've chosen to start counseling and what you hope to achieve. If you've not interacted before, it's also a time for determining whether it's a good fit.

While it can be uncomfortable to open up to someone you've just met, it's also key to a successful experience. Honesty is important because your answers will help your therapist understand your experiences and work with you to set goals. It may help to know that your therapist is not there to judge you or tell you what to do. Your therapist is there as a guide to help you discover and work through the issues that matter most to you.
Subscribe
to our mental health digest
Let us support you on the way to better mental well-being. Get expert tips and insights on mental health delivered to your inbox monthly.
How to know if your therapist is a good fit
So you've seen the therapist. How can you know if the relationship is the right fit for you? The therapist-client relationship is subjective but there are some things you can consider:
Do you feel comfortable and safe with the therapist? Therapy requires a level of vulnerability in sharing things that can sometimes be painful. Feeling safe and comfortable is essential to the work you'll do.
Do you feel like the therapist "gets you"? Different personalities tend to vibe well and some don't. You each bring your own personality to the therapy room.
Does the therapist's approach to therapy feel right for you? For example, some therapists might use a cognitive behavioral approach. Others might use a more brain-based approach such as EMDR.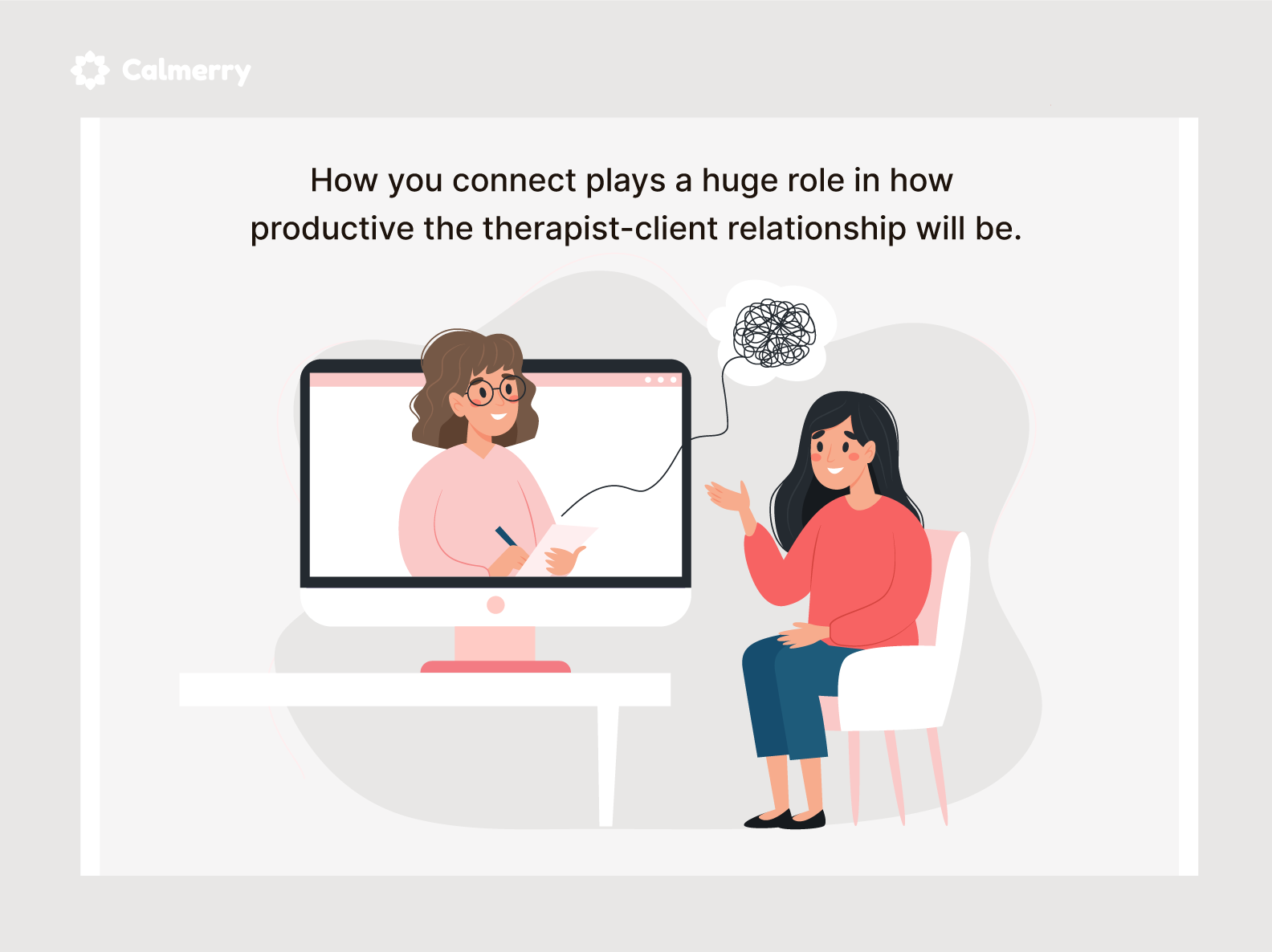 How you connect plays a huge role in how productive that relationship will be. The therapist-client relationship, often referred to as the therapeutic alliance is one of the strongest factors in a positive therapeutic outcome. A therapist's ability to show empathy and warmth is an important factor in forming a strong therapist-client alliance. That alliance is key to a positive therapy experience.
I just don't vibe with my therapist – now what?
Sometimes, no matter how hard you've tried, you and your therapist just don't vibe. Honestly, it happens. Not every person is going to be the other's cup of tea and that's ok. Personalities, preferences, and communication styles are very subjective. And, therapists know that fit is everything in the therapeutic alliance.
So if you're not feeling that connection, can you just break up with your therapist? Yes, you can. Whether you're just starting therapy or you've been working together for a while, if it's just not working for you, you can change therapists.

Now, with that said, before you chalk it up to "fit", it's important to be honest with yourself – have you been open and honest about your issues? Your therapist can only work with the information you share. Therapy is uncomfortable sometimes. Denial and avoidance are powerful and can make it easy to deflect and blame the discomfort on "fit". The problem is, until you deal with the avoidance, you'll keep repeating the patterns that brought you to counseling in the first place.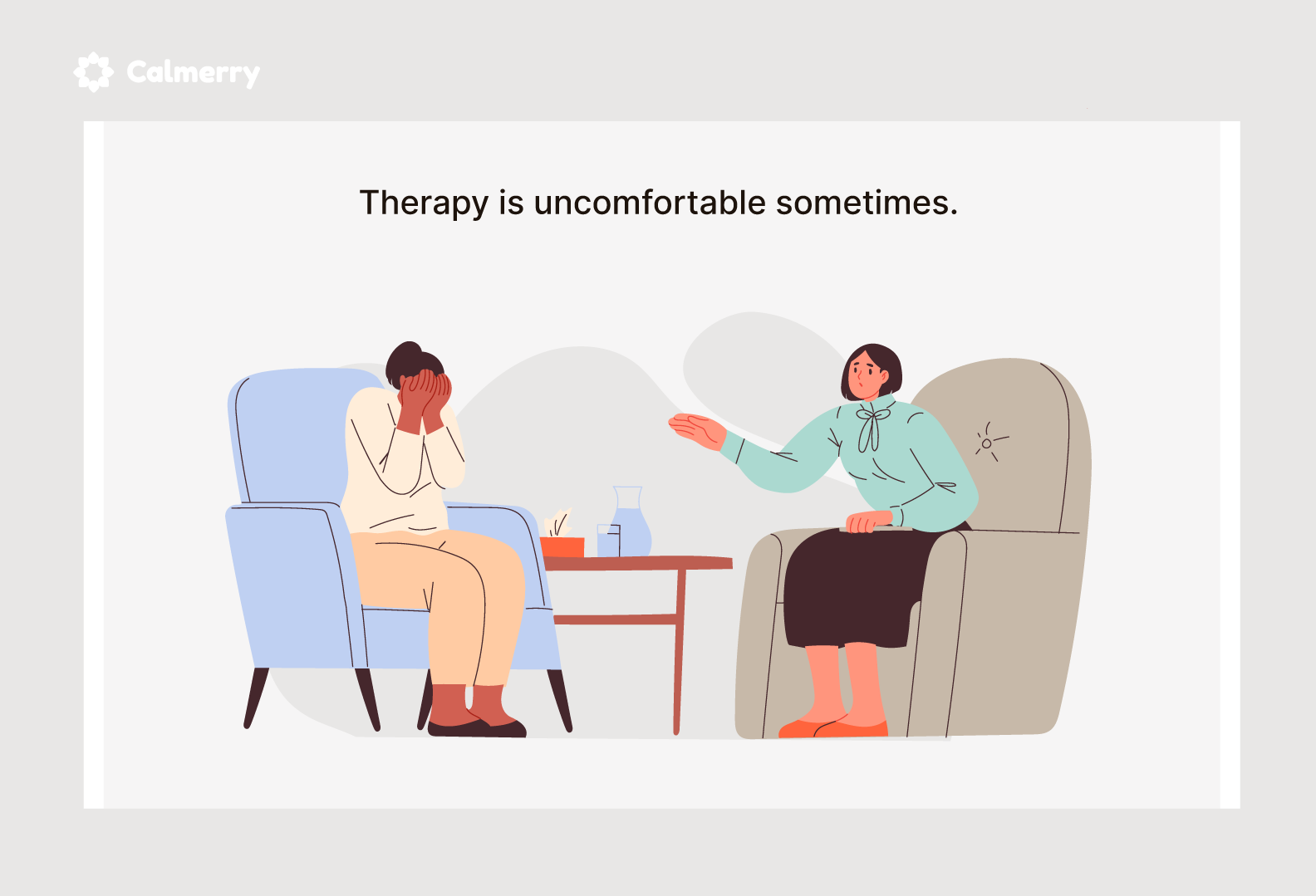 If you honestly feel the fit is off, it is perfectly ok to move on. Sometimes you have to try out a few therapists until you find the one that is the best fit for you. Kind of like finding the perfect pair of shoes. You might have to try on a few pairs but when you find them, you know.
The bottom line
With all the resources available today, choosing a therapist, whether in-person or online is easier than ever. Now that you know what to do, take your time, ask all the questions you need to, and allow yourself to say yes to improved mental health. Once you find that therapist that is your best fit, it's time to do the work to heal and grow. Your therapist will be there to guide and support you every step of the way.
Сheck your mental well-being for free: