Published November 23, 2022 / Updated February 8, 2023
6 Relaxation Techniques to Reduce Stress and Anxiety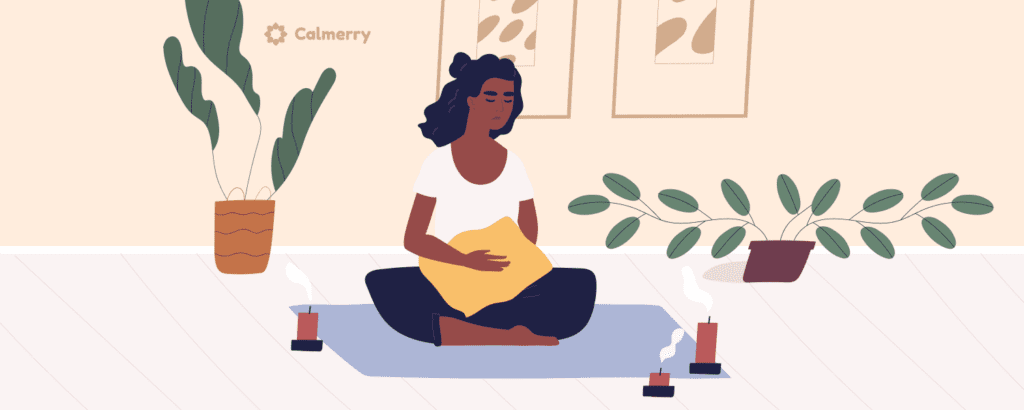 Reading Time:
10
minutes
Stress and anxiety are common for most people as they are a natural part of a fight, flight, or freeze response that prepares the body to deal with danger. It's a perfectly normal reaction to threatening situations, which helped humans in prehistoric times survive threats like natural disasters or animal attacks.
This reaction is also hard-wired and kicks on to help humans survive various forms of trauma where there is a threat or imminent danger to their life or the lives of those close to them.
Today, we rarely deal with physical dangers. But traumatic experiences in the past and challenges of our daily life can also evoke a stress response and make us feel anxious. Sometimes, stress and anxiety may become so overwhelming that they take a toll on our well-being and negatively affect our lifestyle. 
But while we can't completely avoid stressful situations, we can develop healthier ways of responding to the sources of stress. There are special stress management techniques that you can learn and practice regularly to quickly calm your mind and your body. 
You can use these relaxation techniques when you are stressed or worried because they address your body's stress response and invoke a relaxation response – a state of profound rest. If you regularly practice any of them for just a few minutes a day, you'll be able to reduce stress and relieve anxiety when a need arises. Combining these techniques with therapy for anxiety can provide a comprehensive approach to managing and overcoming anxiety, ensuring long-term emotional well-being.
It is key to practice any of these techniques consistently and when your emotions are not elevated in order to create easier connections between your mind and body. Then it will be easier to invoke a relaxation response in times of distress.
Here are effective relaxation techniques supported by research. They are simple but provide many health benefits.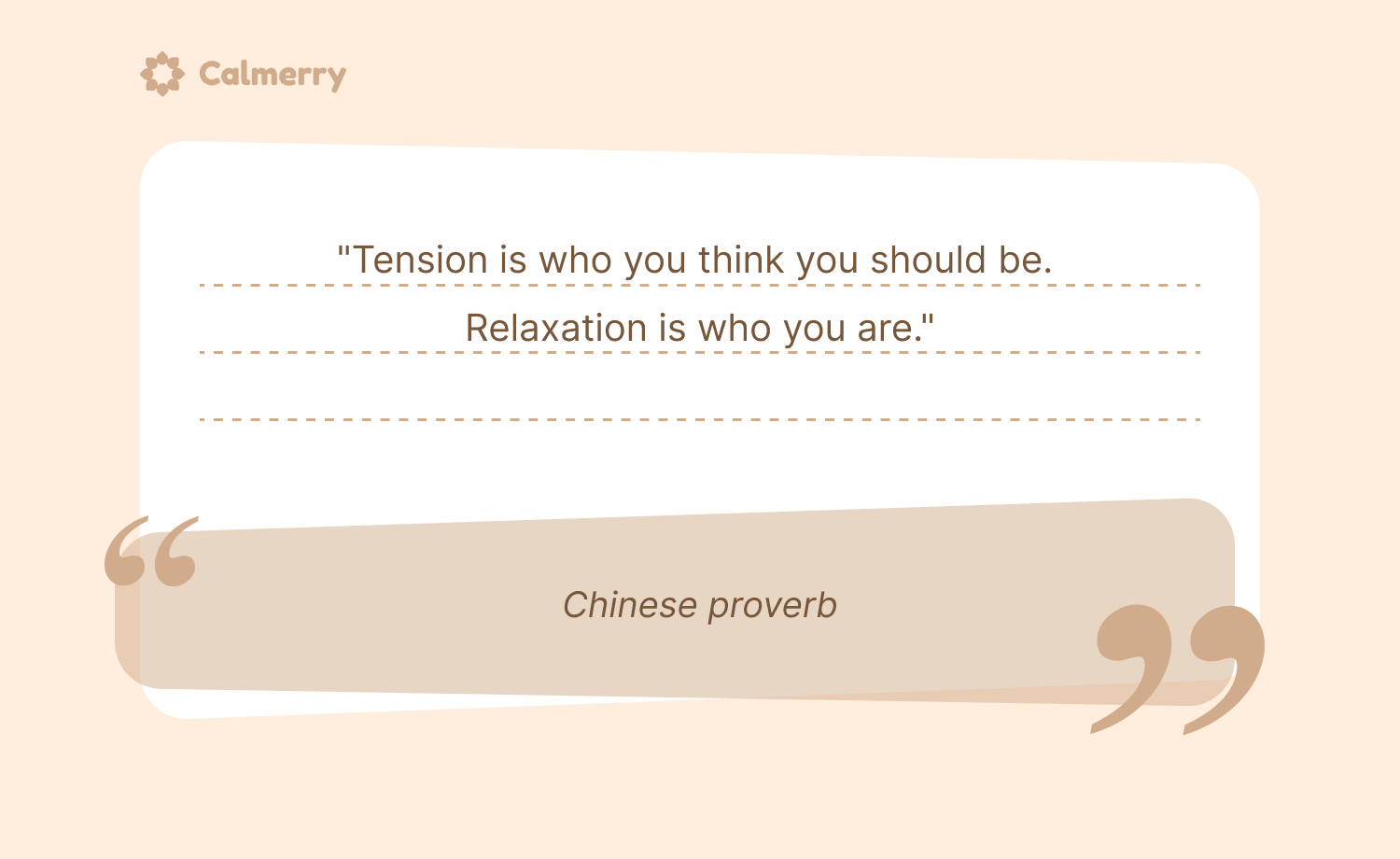 1. Deep breathing exercises
Deep breathing exercises can help calm stress, anxiety, and panic in just a few minutes. They are easy to learn because you simply focus on your breathing, and you can do them anywhere. You'll benefit a lot if you practice them regularly as a part of your daily routine. You may begin with just a few minutes a day, and when you get used to it, you can increase your time. 
There are many different breathing exercises that can help you relax, including belly breathing, the 4-7-8 approach, breath focus, lion's breath, and more. Deep breathing is also a part of many relaxation practices, and you can combine it with other relaxing techniques, for example, listening to soothing music and aromatherapy.
Belly breathing
This technique is also called diaphragmatic breathing, abdominal breathing, and paced respiration. Deep abdominal breathing encourages full oxygen exchange and helps strengthen your diaphragm, a large muscle that sits below the lungs. It also promotes relaxation, reducing levels of the stress hormone cortisol in the body.
Here's how to do it:
Sit in a comfortable position or lie on your back on the floor or your bed with your knees bent and your head on a pillow. You may also use a pillow under your knees for support.
Put one hand on your upper chest and the other on your stomach, just below your rib cage.
Start with observing your breath as you inhale and exhale.
Breathe in slowly through your nose. Let the air move in deeply so that you can feel your stomach rise, pressing into your hand.
The hand on your chest should remain still.
Purse your lips and exhale slowly. Tighten your abdominal muscles and let them fall inward.
Most people begin by repeating these steps several times and working up to 5 to 10 minutes. You can practice belly breathing several times a day.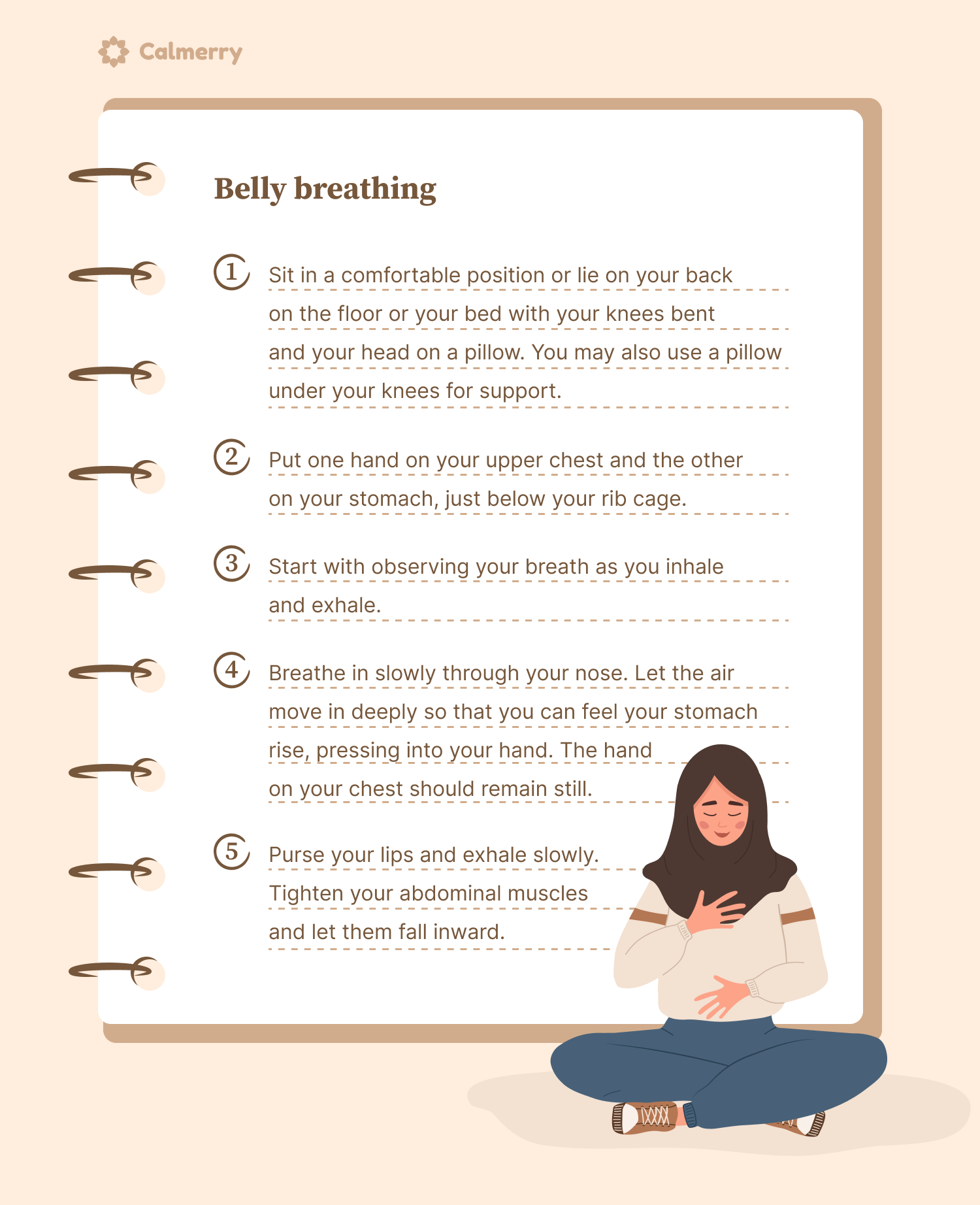 Breath focus
This exercise helps you concentrate on slow, deep breathing so you can disengage from distracting thoughts and sensations. While you practice this deep breathing technique, you should focus on words and phrases or use a picture in your mind that can help you feel more relaxed.
Find a quiet place to sit or lie down and close your eyes – it will be easier to maintain your focus.
Relax and first take a normal breath, and then try a deep, slow breath.
Alternate between normal and deep breaths several times. Pay attention to how you feel and notice any differences in sensations between normal breathing and deep breathing.
Now, start practicing breath focus by combining deep breathing with helpful imagery and a focus word or phrase that will support relaxation.
As you breathe in, you can imagine that the air is filled with a sense of peace and calm, and try to feel it throughout your body. And you can say in your mind, "I'm inhaling peace and calm."
As you breathe out, you can imagine that the air washes away your stress and tension. You can say to yourself, "I'm exhaling stress and tension."
4-7-8 approach
This exercise is also called a relaxing breath and involves taking a long, deep breath in and out. It forces the mind and body to focus on regulating the breath and not on worries. It's best to do this exercise when you sit in a comfortable position with your back straight. 
You need to place the tip of the tongue on the tissue right behind your top front teeth and keep it in place throughout the practice as you follow this breathing pattern:
Exhale through your mouth
Breathe in quietly through the nose for 4 second
Hold your breath for 7 seconds
Exhale forcefully through the mouth, making a whoosh sound, for 8 seconds.
You should repeat this cycle up to 4 times.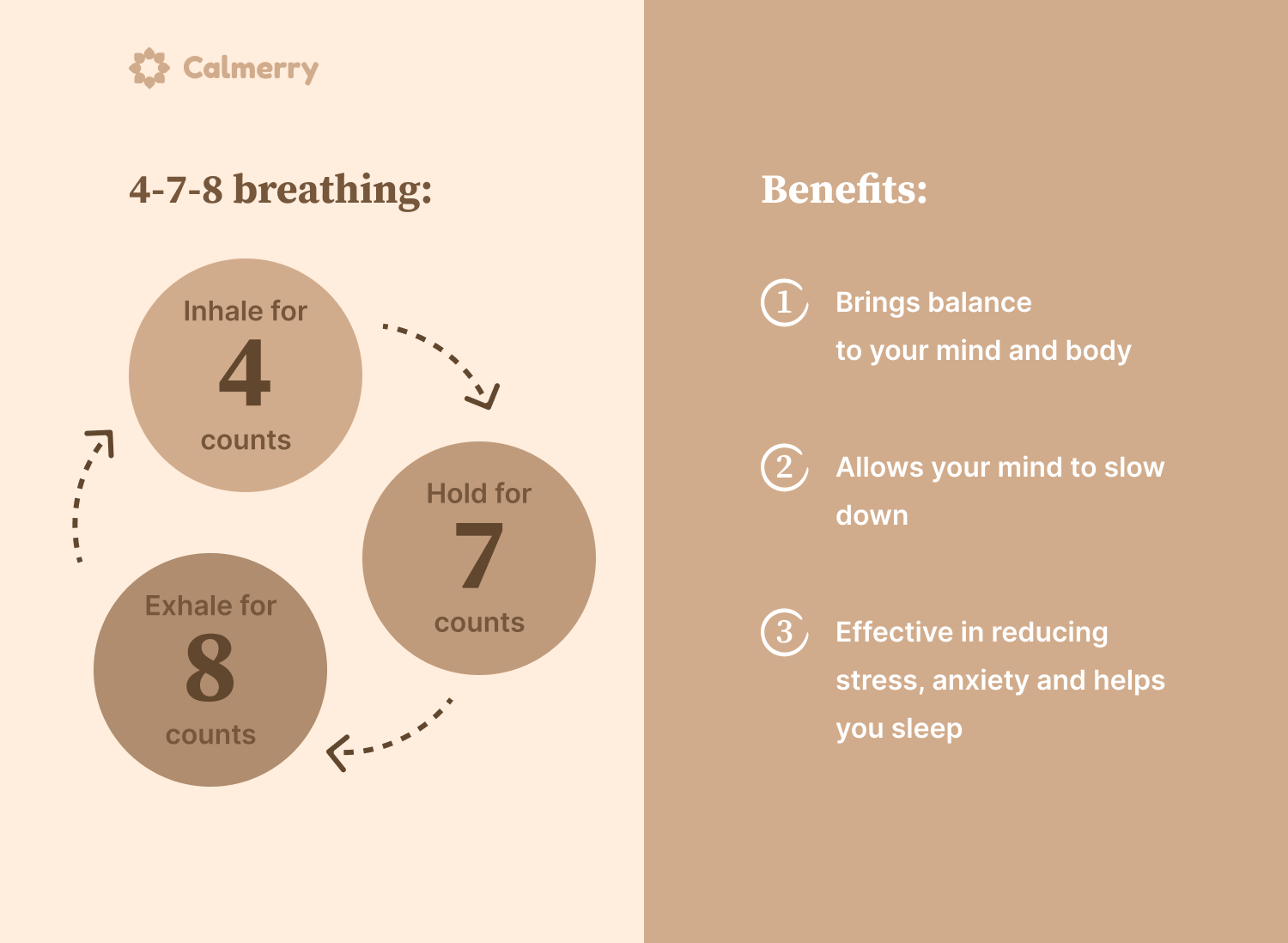 2. Visualization or guided imagery
This effective stress management technique is also known as guided meditation. It's easy to learn and pleasant to practice. Visualization involves forming mental images of peaceful, calming places or situations to help you relax and focus. The goal is to quickly calm your body and mind through relaxation and mindfulness.
Close your eyes and use diaphragmatic breathing to get into a relaxed state. Then create in your mind your ideal spot. You can choose any setting that you find soothing. This place can be real or imaginary, but it should be a place that has some personal significance and where you would want to return if you have the need to relax. For example, you may imagine your favorite childhood spot, a tropical beach, a beautiful waterfall, or a lush forest. 
You should imagine your happy place in as much detail as you can to make it real. Use all your senses to picture it as vividly as you can. As you explore your restful place, you should try to imagine what you can see, hear, touch, smell, and taste. Imagine yourself completely relaxing in this place. Try to focus on your sensations and think positive thoughts. When you are ready to return to reality, count to three and open your eyes.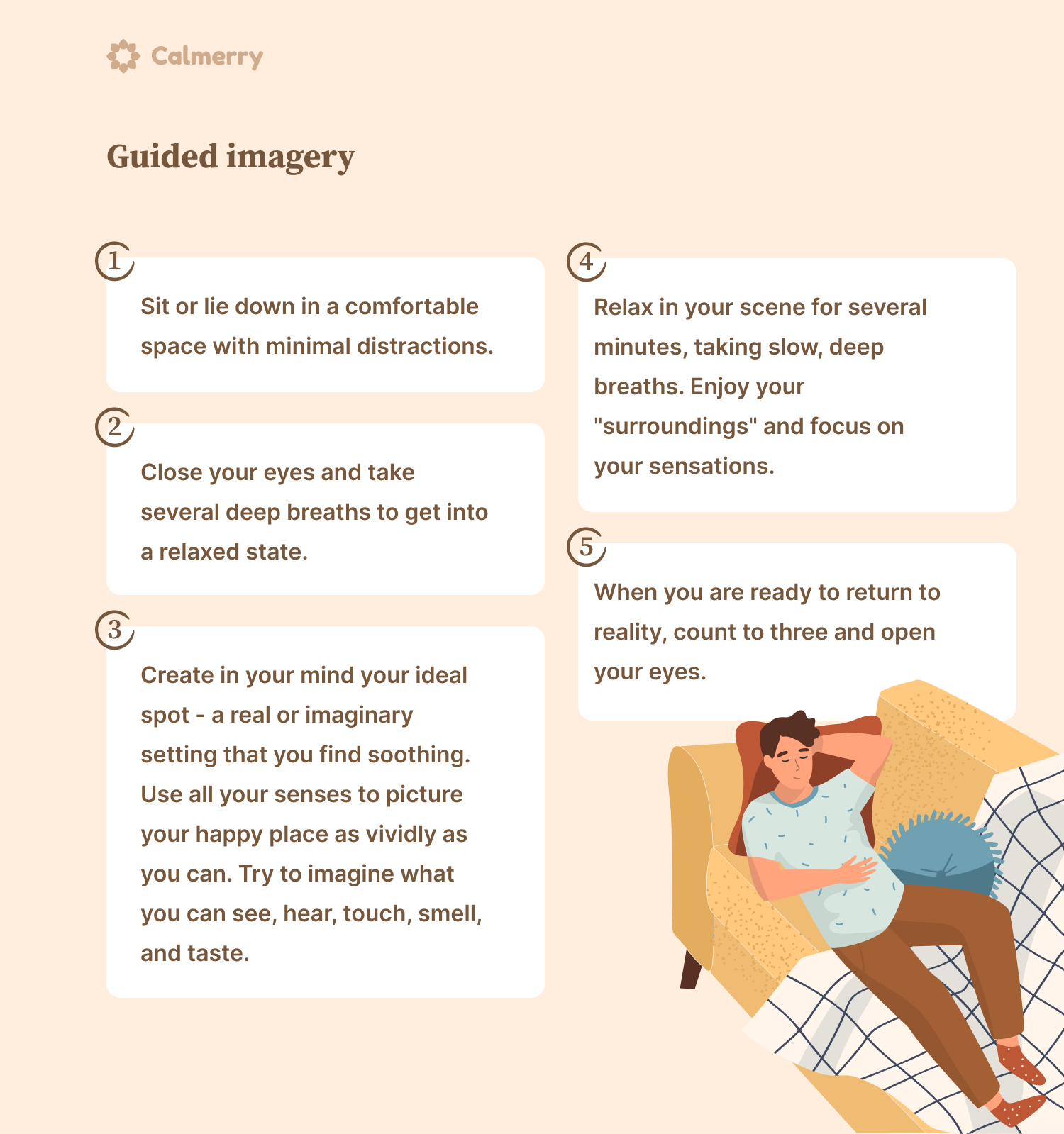 You can also use guided imagery or visualization to imagine situations in which you are coping effectively. Visualizing yourself using skills to navigate challenging situations increases mental rehearsal and recall while building confidence in your ability to apply these skills in the future.
You can practice guided imagery on your own or use an app or audio recording to guide you through a peaceful scene. You can also work with a professional therapist to master this practice.
3. Self-massage technique
Self-massage is also a great way to relax. You may already be aware that professional massage in the health club or spa has the ability to reduce stress and tension. However, it is also possible to enjoy the relaxing benefits of massage in the comfort of your home, thanks to self-massage.
Consider spending a few minutes massaging yourself, whether at your desk or on the couch. You could even use scented lotion or aromatic oil to enhance relaxation. It is also possible to combine self-massage with other techniques, including deep breathing and mindfulness.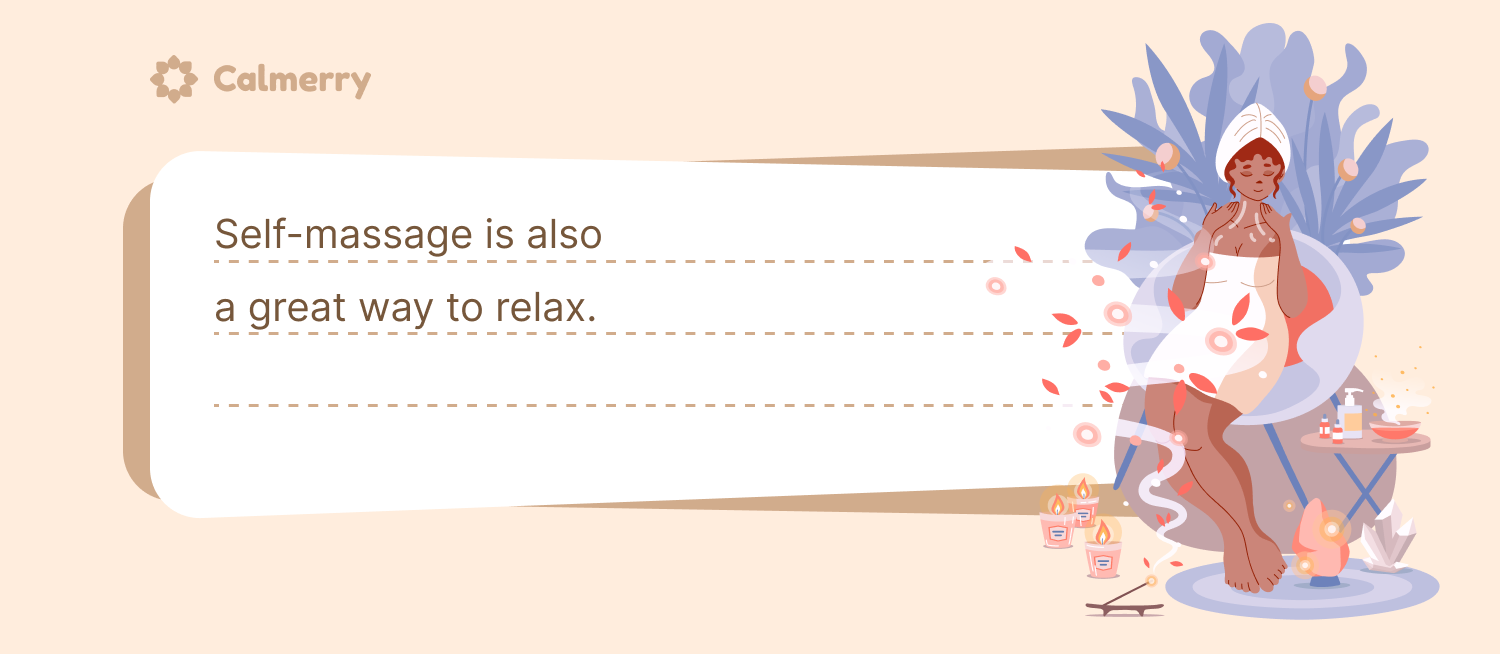 4. Progressive muscle relaxation
This stress management technique is based on the idea that mental calmness is a natural result of physical relaxation. It can be easily learned by nearly anyone. Progressive muscle relaxation (PMR) is generally used along with other CBT techniques, but you can also practice it alone. It will give you a greater sense of control over your body's fight, flight, or freeze response. This exercise can help you relax when you are feeling anxious, relieve insomnia, and reduce such physical problems as stomachaches and headaches. 
It involves tightening and relaxing all the muscle groups in your body, one by one. The goal is to release tension from your muscles. With regular practice, you can learn to recognize the difference between muscle tension and relaxation and become more aware of physical sensations. That will help you relax more easily. You can do this exercise together with deep breathing for additional stress relief.
Subscribe
to our mental health digest
Let us support you on the way to better mental well-being. Get expert tips and insights on mental health delivered to your inbox monthly.
You should find a comfortable place to sit or lie down and close your eyes. Start with taking a few deep, slow breaths. Inhale through your nose and exhale through your mouth. Then practice tightening and relaxing each muscle group. Tense your muscles for about 5 seconds, really focusing on exaggerating the muscle tension, and relax for 10-20 seconds. Note the difference between tension and relaxation. Then repeat. Continue to breathe slowly and evenly and enjoy how the feeling of relaxation is sweeping through your body.
Move in a sequence that works for you. You can start with your toes and progressively work your way up to your neck and head. Or you may start with your forehead and move down to your toes.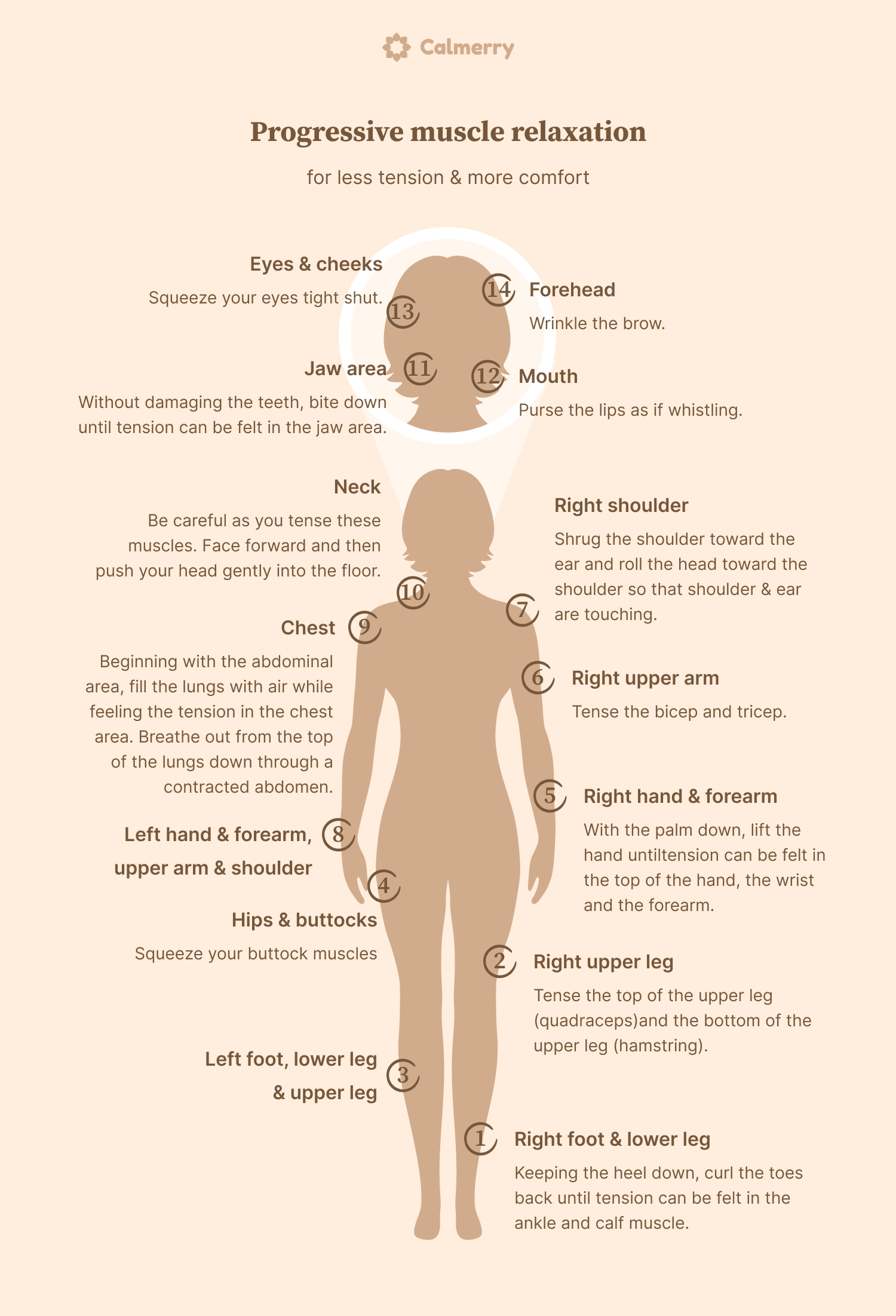 5. Body scan meditation
This relaxation technique is one of the most effective ways to begin a mindfulness meditation practice. It blends breath focus with progressive muscle relaxation and helps boost your awareness of the mind-body connection.
A body scan trains you to notice any sensations you are experiencing without judgment and be more accepting. This is especially helpful when you are experiencing unpleasant emotions or thoughts.
You can perform this practice while comfortably lying down, sitting, or in other postures.
Close your eyes and focus on your breathing for 1-2 minutes until you start to feel relaxed.
Then mindfully scan your body for sensations of tension, pain, or anything out of the ordinary. Where do you hold tension in your body? Where do you feel fatigued or loose in your muscles? Do you feel hot? Cold? Hungry? Knot in stomach? These can be some helpful questions to guide the scan.
Start from your head and slowly and deliberately move your attention downward to different parts of your body.
Focus on each body part for about 20-30 seconds. Breathe deeply and explore your sensations.
Spend some time noticing how your entire body feels and slowly open your eyes.
At first, it might feel as if you don't feel anything, but with regular practice, you'll begin to notice new sensations. They may be pleasant, neutral, and unpleasant. Whatever they are, just note them and don't try to react.
6. Yoga and tai chi
Tai chi and yoga have been around for thousands of years. They are ancient arts that blend rhythmic breathing with flowing movements or a series of postures. They also offer a mental focus that helps distract you from racing thoughts.
Yoga has roots in ancient Indian philosophy. It can be a perfect remedy to stress-related problems and improves flexibility, strength, balance, and overall physical and mental health. In fact, it works across multiple systems in your body at one time. Postures and movements are combined with focused breathing and meditation. 
You can learn yoga by hiring a private teacher, attending group classes, or following video instructions. If you incorporate yoga in your life in a consistent way, you are likely to receive long-term physical, psychological, and spiritual benefits.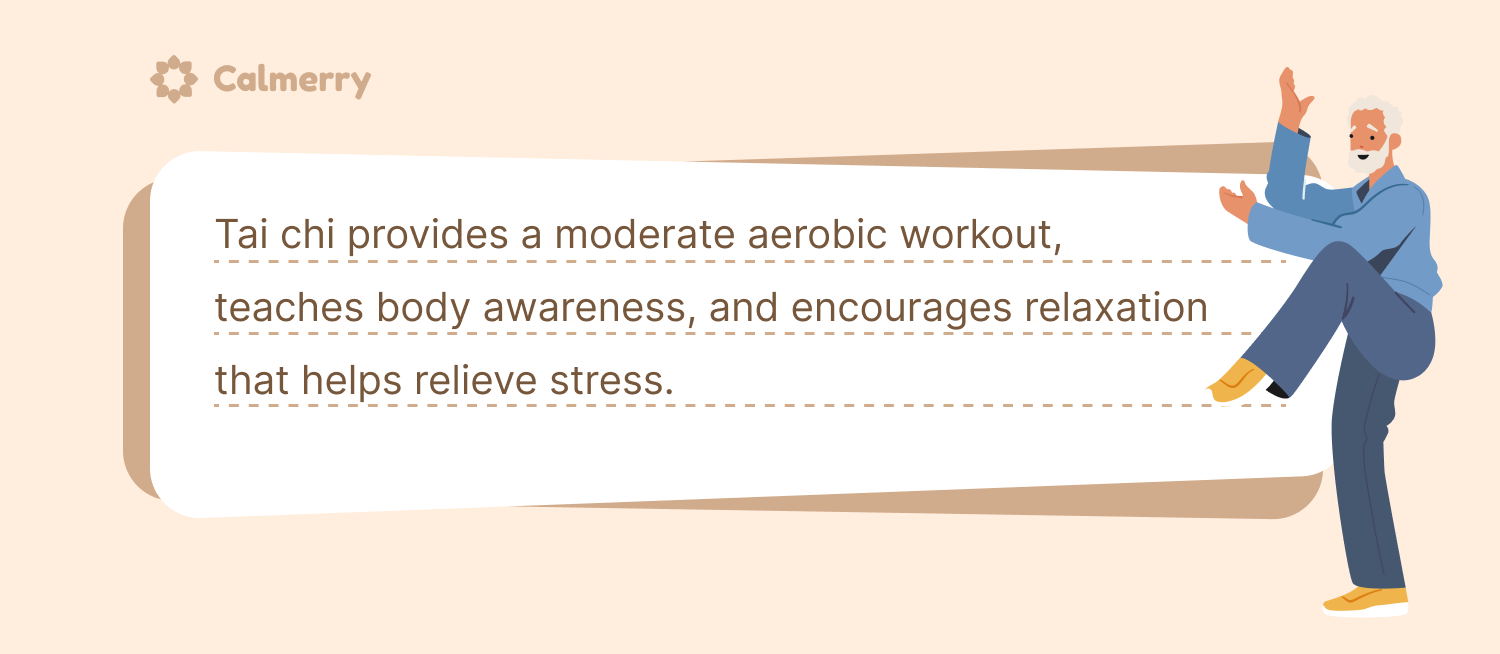 Tai chi is an ancient Chinese practice that is sometimes described as "meditation in motion." First, it was practiced for self-defense, but now, it's mainly used to improve overall health. It's a very accessible form of exercise that involves a series of slow, graceful movements that can be done even by people who are out of shape. But its meditative aspects that teach stress management are also important.
Tai chi is a holistic approach that addresses people's overall well-being and is safe for people of all ages. The practice provides a moderate aerobic workout, teaches body awareness, and encourages relaxation that helps relieve stress. 
Final word
In this article, we've provided you with easy tips on how to reduce stress and relieve anxiety using popular relaxation techniques. They are skills that require regular practice to perfect and feel the benefits, so you should set aside at least 15 minutes a day for them and be patient with yourself. Try to always practice at the same time to establish a habit. 
If you are applying these techniques when in a higher level of emotional distress, it is recommended to try for at least 20 minutes or until your level of distress is reduced by at least half. Research shows that this is all that is needed to start shifting neural pathways and building new associations! Even if we can't always physically see the outcome right away. Even if we can't always physically see the outcome right away, platforms like Calmerry can connect you with licensed therapists who can guide you through this process and provide ongoing support in managing stress and anxiety.
You should choose a special quiet place where you can sit (or lie down) comfortably and won't be disturbed. It's better to make a note of how relaxed you were before and after the exercises to see if it's helped. You may share this information with your therapist.
Remember that stress management is not all-size-fits-all. You may experiment with different relaxation techniques to see which of them works best for you. Also, keep in mind that relaxation techniques tend to be more effective when incorporated into general self-care and wellness strategies.
You shouldn't rely on relaxation techniques alone to treat chronic mental health conditions such as anxiety or panic disorder. Consider getting therapy on Calmerry. Our therapists can help you learn to identify and manage the factors that contribute to your mental health issues and teach you effective coping skills.
Сheck your mental well-being for free: