Published April 9, 2021 / Updated September 26, 2023
Self-Care 101: What It Is, Types, Benefits, and How to Start Practicing It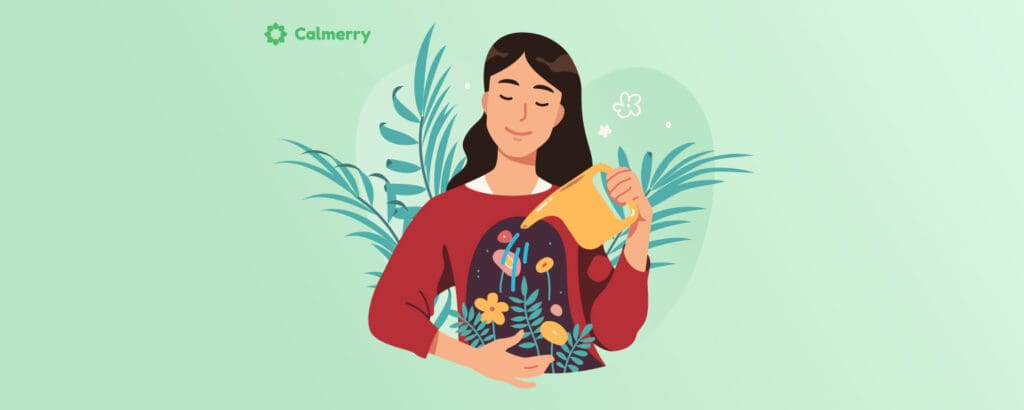 Reading Time:
7
minutes
Life can get busy with work, family, hobbies, and all the things on our to-do lists. In the rush, we can forget to take care of ourselves, or it may seem selfish and unnecessary.
But self-care isn't just a treat we give ourselves – it's a key part of staying happy and healthy. When we look after ourselves, we can achieve more, be there for others, support ourselves long-term, and enjoy life to the fullest.
This guide will show you why self-care is so important and give you some self-care tips to start from.
What is self-care?
At its core, self-care is taking an analytical look at your needs and working towards meeting each one of them.
Various authorities, including the World Health Organization, provided multiple definitions of self-care over the years. Here's one of them by the WHO:
Self-care is the ability of individuals, families, and communities to promote health, prevent disease, maintain health, and cope with illness and disability with or without the support of a health worker. [1] World Health Organization: WHO. (2022). Self-care interventions for health. www.who.int. https://www.who.int/news-room/fact-sheets/detail/self-care-health-interventions
So, it's a holistic practice that entails taking proactive measures to cultivate and maintain your physical, emotional, mental, and spiritual well-being. It encompasses many activities and practices that prioritize your health, happiness, and overall well-being. 
Contrary to popular belief, self-care is not just about luxurious spa days and pampering yourself every chance you get. It's more about reviewing all aspects of your life and finding ways to achieve a healthy, balanced life.
Types of self-care
While some try to sort self-care into neat categories, these groups are just a starting point. For example, the International Self-Care Foundation (ISF), for instance, proposes a comprehensive framework for self-care around seven foundational "pillars" or "domains." 
However, any part of your life you think is important for happiness and health is worth looking after. Each person's journey to well-being is unique, with their experiences, beliefs, and values.
So, your version of self-care is as distinct as your fingerprint. It's all about finding what works best for you!
Let's have a look at some of the categories and different types of self-care (all of them are equally important):
Mental health self-care – activities and practices to reduce stress, anxiety, and other mental health challenges while promoting mental well-being and resilience.
Physical self-care – engaging in activities that improve and support physical health, such as exercising, getting adequate sleep, and attending regular check-ups.
Emotional self-care – involves being in touch with your emotions and identifying, expressing, and processing them in healthy ways.
Spiritual self-care – engaging in activities or practices that nurture your spirit and help you feel connected to a higher purpose and life.
Financial self-care – responsible management of finances, ensuring a balance between expenditure, savings, and future planning. It also involves understanding your financial needs and limits.
Intellectual self-care – pursuing activities that stimulate the mind and expand your horizons, knowledge, and creativity.
Social self-care – building and nurturing meaningful relationships and ensuring a sense of belonging and connection.
Professional self-care – practices that help you manage work stress, maintain work-life balance, and continue personal development in your career.
Knowledge and health literacy – acquiring, understanding, and using information to make informed health decisions. [2] International Self Care Foundation. (2020, November 20). What is Self-Care? – ISF. https://isfglobal.org/what-is-self-care/
Healthy eating – prioritizing nutrition by consuming balanced meals that fuel and nourish your body.
Good hygiene – practicing regular personal cleanliness to prevent illness and enhance well-being.
Why is self-care important in life?
Think of self-care like a car: if you don't fill up the gas, change the oil, or check the tires, it won't run well. The same goes for us. We need regular "maintenance" to feel good and function at our best.
This can be different for everyone. Whatever it is, it's essential to make time for it – and here are some reasons why:
Fosters healthy relationships
Taking care of yourself helps you realize what a positive relationship feels like. It's like setting a standard for how you want to be treated.

If you show love and respect for yourself, you naturally attract people who do the same. And, over time, you'll prefer to be around folks who bring positivity into your life.
On the contrary, not taking care of yourself may sometimes pull you towards draining or negative relationships.
Builds resilience
Life can sometimes feel like a roller-coaster with its ups and downs. Like you'd wear a seatbelt on a bumpy ride, self-care is a safety measure for life's challenges. It equips you with a stronger mindset, helping you bounce back from tough times quicker. 
Regularly looking after yourself builds an inner strength that makes you better prepared to face and overcome hurdles.
Self-care is like charging your emotional battery. When it's full, you're more ready to handle whatever comes your way.
Supports physical health
When you prioritize self-care, you're doing essential "maintenance" for your body. This means eating nutritious foods, getting proper sleep, and engaging in physical activities that keep you active and fit.
As a result, your body runs smoother, feels better, and is less prone to breakdowns or illnesses. One of the benefits of self-care is preventiveness – it can save you a lot of health troubles in the future. [3] American Psychological Association. (2020, March 4). Working out boosts brain health. https://www.apa.org/topics/exercise-fitness/stress
Provides a break from stress
We all need a little escape sometimes. Think of self-care like a mini-vacation from the hustle and bustle. Whether it's diving into a good book, soaking your feet, or just listening to your favorite song – these moments recharge you. [4] Clay, R. A. (2020, July 1). Self-care has never been more important. Monitor on Psychology 51(5). https://www.apa.org/monitor/2020/07/self-care
When you return to your daily tasks, they seem a bit easier and less overwhelming.
Boosts productivity
Ever noticed how things get blurry when you're tired? Short breaks or treating yourself can be like cleaning your glasses. With a clearer view, you get things done faster and better.
Often, it's not about working hard all the time, but working smart – and with care to yourself.
Improves confidence
Every time you prioritize self-care, it's like giving yourself a thumbs up. It reinforces the belief that you're important and deserve good things. Over time, these little acts build your confidence. You start believing more in yourself and your abilities. [5] Vagaro – Vagaro survey finds Three-Quarters of Americans believe Self-Care activities provide stress relief. (n.d.). Vagaro. https://www.vagaro.com/survey-finds-three-quarters-of-americans-believe-self-care-activities-provide-stress-relief
Why is self-care not selfish?
This misconception has been around for ages: "Taking time for yourself is selfish." But in reality, the exact opposite is true – self-care is the act of self-love.
A right, not a luxury – we all have the right to take care of our well-being. It's not a luxury or an indulgence but a fundamental right.
Prevention over cure – By focusing on our well-being consistently, we avoid larger problems in the future.
Increases capacity to help others – it's hard to pour from an empty cup (or, vice versa, an overwhelmed cup). By filling your own cup first, you ensure you have more to give to others, whether it's energy, time, or emotional support.
Boosts longevity and quality of life – regular self-care practices can increase life expectancy by reducing risks associated with chronic diseases and mental health issues. For example, in a study of 315,059 people, those who stayed active from their teen years into older had a 29% to 36% lower chance of dying from any cause. Also, people who started to get active in middle age had a 32% to 35% lower chance of dying. [6] Saint-Maurice PF, Coughlan D, Kelly SP, et al. Association of Leisure-Time Physical Activity Across the Adult Life Course With All-Cause and Cause-Specific Mortality. JAMA Netw Open. 2019;2(3):e190355. doi:10.1001/jamanetworkopen.2019.0355
How to take care of yourself – practical steps to start with
Incorporating self-care into daily life can sometimes feel like adding one more task to an already overloaded schedule. However, the key is to weave these practices seamlessly into your routine until they become habitual.
Here's a step-by-step guide to making self-care a priority: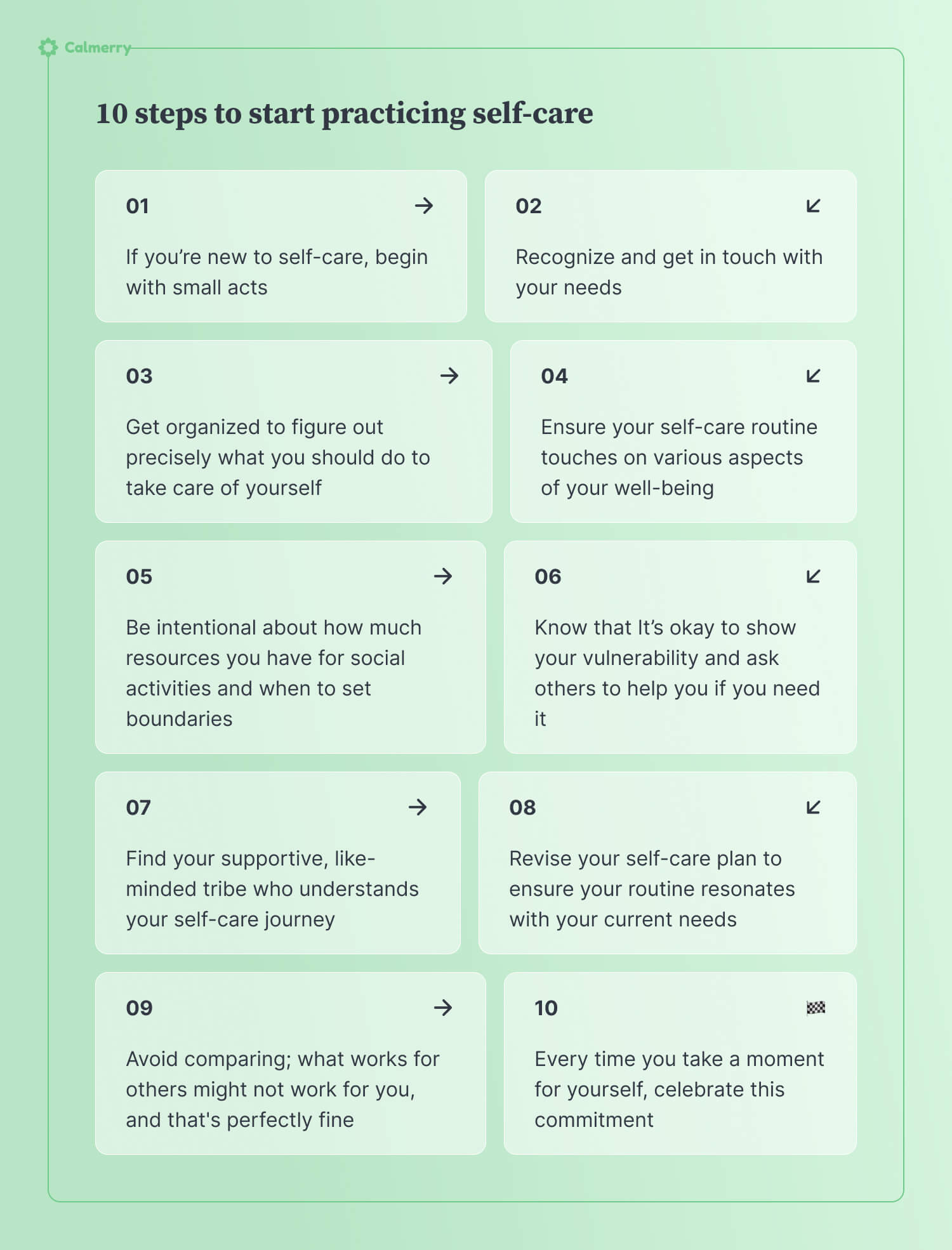 1. Start small
If you're new to the idea of self-care, begin with small acts. It could be as simple as taking a five-minute break from your desk every hour or drinking an extra glass of water each day.
2. Recognize and get in touch with your needs
Self-care requires checking in with yourself, asking yourself how you are doing, and discovering what your body is asking for. You might have formed a habit of suppressing your needs because of preoccupation with work, school, or others' needs.
Asking yourself some of these questions might help you recognize what you need and how to achieve it:
Am I comfortable?
Does this choice bring me a sense of peace and joy?
Does this action make me feel accomplished?
Is this the best thing possible for me? If not, what is it?
What other choices, goals, or actions could I make to feel better about myself?
What makes me feel a sense of purpose lately, and how can I do more of it?
Who provides me with a sense of connection, and how can I make more time for them?
3. Get organized
Getting organized helps you figure out precisely what you should do to take care of yourself. A small change like keeping a planner, setting reminders, or preparing a work schedule can make a huge difference.
This ensures you prioritize and actually take the time for yourself.
4. Diversify your activities
Ensure your self-care routine touches on various aspects, from mental and emotional to physical and spiritual. This way, you're nurturing every part of yourself.
5. Set boundaries with social activities
Maintaining social connections is a big part of self-care. Spending time with friends and family gives a sense of belonging. However, it's beneficial to be intentional about when and how you spend time with others – and how much resources you have for this.
Know that quiet time is as important as socializing. Spending time alone, engaging in a calming activity, or examining your thoughts is helpful. It's a moment for you to get in touch with your inner self.
6. Ask for help
Of all self-care tips, asking for help might be the most difficult. You might worry about burdening others with your problems. You might feel embarrassed or scared to say you're struggling.
Asking for help is a courageous and praiseworthy act. It is okay to show your vulnerability and ask others to support you.
7. Find your supportive, like-minded tribe
Surround yourself with supportive individuals who understand and respect your self-care journey. Share tips, encourage each other, and even set self-care dates together.
8. Reassess regularly
What worked for you a few months ago might not resonate now. Revisit and revise your self-care plan when you need it.
9. Avoid comparing
Your self-care journey is personal. What works for someone else might not work for you, and that's perfectly fine.
10. Celebrate small wins
Every time you take a moment for yourself, celebrate it. Recognizing these moments will reinforce your commitment to self-care.
Therapy as a powerful act of self-care
Therapy isn't merely a reactive approach to issues but a proactive commitment to your overall well-being. At its core, therapy serves as a space for introspection, understanding, and growth.
By delving into our thoughts, emotions, and experiences, we gain a deeper insight into ourselves, laying a foundation for sustained mental and emotional health.
Moreover, engaging in traditional or online therapy aligns perfectly with the self-care concept of the WHO: 
Self-care is a lifelong habit and culture. It is the action individuals take for themselves and their families to stay healthy and take care of minor and long term conditions, based on their knowledge and the information available, and working in collaboration with health and social care professionals where necessary. [7] Nomura, K., Kitagawa, Y., Yuda, Y., & Takano‐Ohmuro, H. (2016). Medicine reclassification processes and regulations for proper use of over-the-counter self-care medicines in Japan. Risk Management and Healthcare Policy, Volume 9, 173–183. https://doi.org/10.2147/rmhp.s98099
Therefore, choosing therapy or counseling is about valuing oneself enough to invest in long-term well-being. It's about recognizing that our minds, just like our bodies, require consistent attention and care. 
If you're ready to start, our licensed mental health professionals at Calmerry are here to provide support exactly for your needs.
We curate our articles with warmth and care, drawing from reputable sources and expert knowledge. Explore our editorial process to understand how we prioritize your trust and keep accuracy in every word we share.
Сheck your mental well-being for free: