Published March 30, 2022 / Updated March 11, 2023
8 Self-care Tips to Live Better with Bipolar Disorder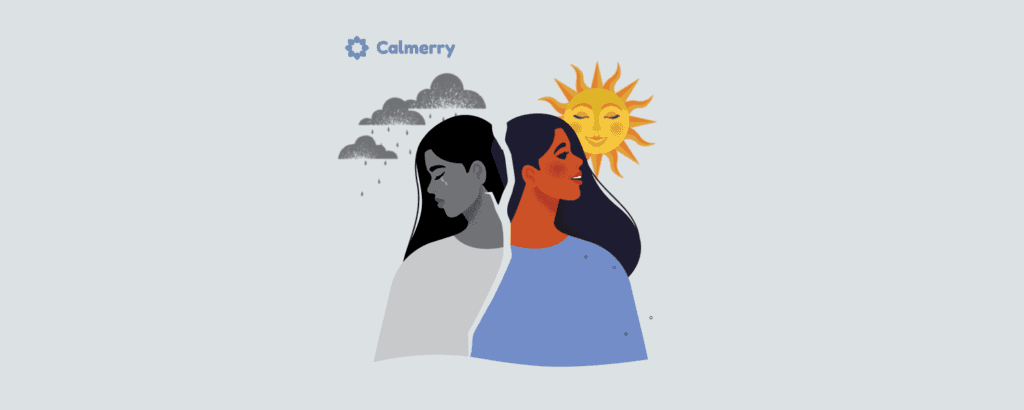 Reading Time:
5
minutes
Living with bipolar disorder, which is characterized by extreme mood swings from mania to depression, can feel very challenging at times. But although bipolar disorder is a long-term condition, coping with its symptoms is possible.
The first step is getting support from a mental health professional that can help you learn effective strategies that work for you. Therapy can help you learn how to deal with your disorder and teach you skills you can use in all areas of your life.
There are also many things you can do for yourself to manage your symptoms and improve your quality of life. In this article, we'll talk about self-help techniques that can limit the impact of bipolar disorder on your everyday life, keeping depression and mania at bay.
Self-care tips for living with bipolar disorder
If you find your symptoms hard to control, there are a lot of different strategies you can try to reduce the frequency and intensity of mood swings and start living a better life with bipolar disorder.
Monitor how you feel
You may find it helpful to keep track of your moods daily. It will allow you to acknowledge any changes and measure your progress. You can try noting down mood patterns in a journal or on your phone. Calmerry clients can use Coa, a free mood-tracking app and a tool for journaling. With Coa, you'll never forget to journal because it will send you reminders to do so.
The goal of monitoring your mood and track activities is learning to recognize your triggers, which are different for different people. Over time, you'll be able to see emerging patterns. Then you can take action to avoid the situation that may affect you or minimize its impact by preparing for times when you might be most vulnerable to mood swings. That can help prevent a crisis or major episode.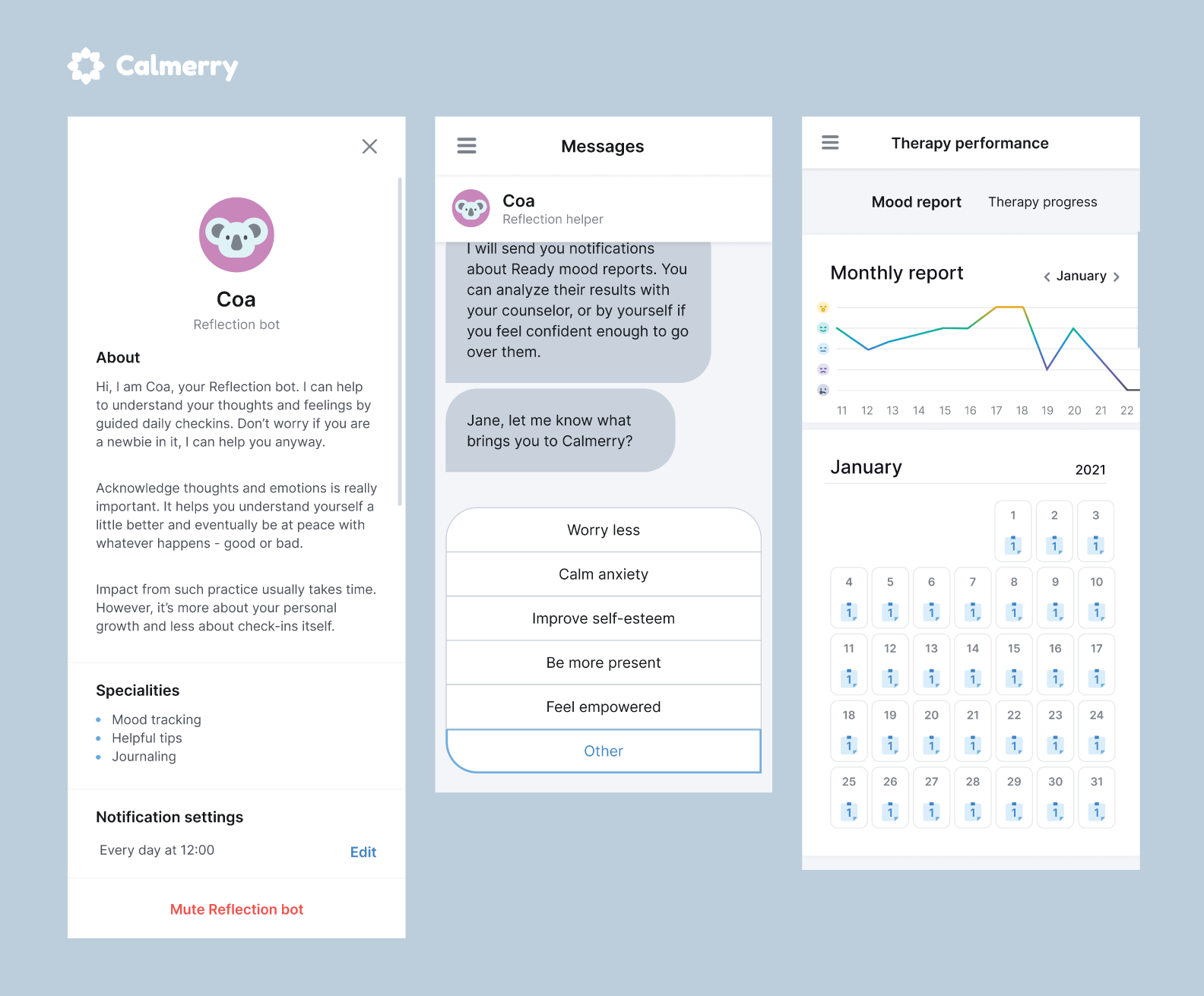 Develop a schedule
Developing and sticking to an active daily routine will help you build structure in your life and stabilize mood swings. Write it down and set a specific time for having meals, taking medication, going to bed, doing errands, socializing, and exercising. Try to stick to your schedule every day regardless of your mood.
Control stress
Stress is a major trigger for bipolar disorder, so it's extremely important to keep it under control. You should do what you can to simplify your life. Limit stressors and don't take on too many commitments. Maybe your family members can help you with household responsibilities. You may also want to switch to a less stressful job or consider working shorter hours.
Take time for yourself and learn how to relax. You may do something you find relaxing, for example, cooking or going for a walk. Practice deep breathing every day and try guided imagery or progressive muscle relaxation. These relaxation techniques are very effective at reducing stress and keeping your depression at bay.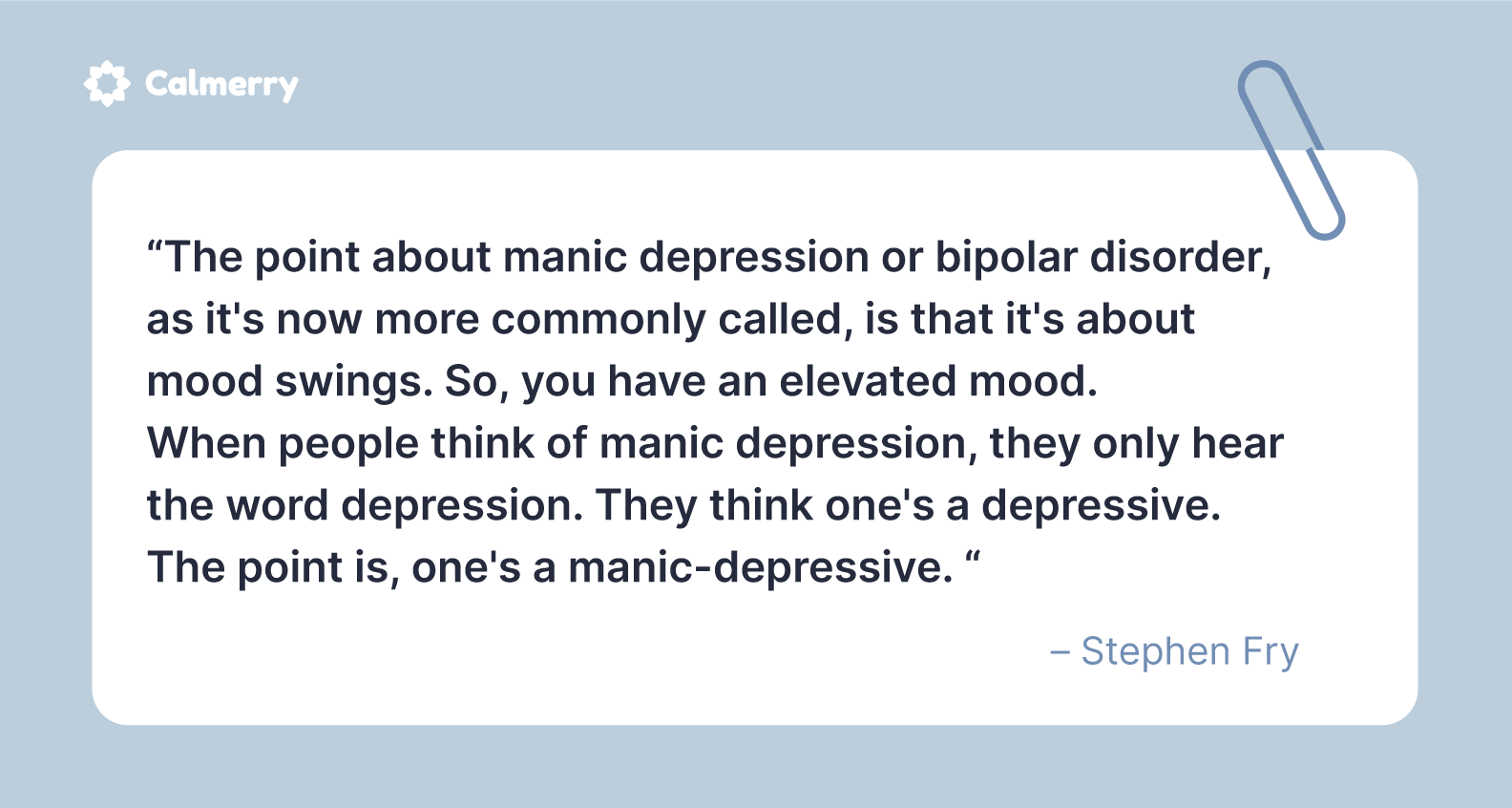 Try to get enough sleep
Sleep is essential for mental well-being. Disruptions in sleep cycles can have a negative impact on moods, for example, sleep deprivation can trigger mania. So it's important to establish a good sleeping routine and ensure you get 7 to 9 hours of sleep every day.
Try to wake up and go to bed at the same time every day if you can. Make your bedroom a calming space and keep light and noise to a minimum. Relax for an hour before bed – listen to soothing music, read, or take a warm bath. You should also minimize napping and avoid it if it interferes with your sleep at night.
Exercise regularly
Get moving whenever you can find the time. Regular exercise is good for your body as it improves your physical health. But studies show that staying active can also help relieve stress, boost your mood, and give you an enormous sense of well-being. As a result, it may reduce the number of bipolar episodes you experience.
The good news is that you don't need to be a fitness fanatic and devote hours out of your busy day to train at the gym or run many miles every day to reap the mental health benefits of exercise. It's enough to incorporate at least 30 minutes of activity into your routine 5 times a week. You can even break this time into two 15-minute sessions.
Find activities that you enjoy. That could include walking in a park, cycling to the grocery store, doing yoga, or gardening. You can also try aerobic exercises, for example, running, dancing, swimming, or climbing. These activities keep both legs and arms active and are especially effective at treating symptoms of depression.
Avoid caffeine, alcohol, and drugs
Some people with bipolar disorder try to ease their distress by using alcohol or illegal drugs. These substances have well-known harmful physical and social effects, and they can't substitute evidence-based treatment approaches and good healthcare.
Remember that drugs and alcohol can make our mood worse. Alcohol and tranquilizers can trigger depression, and such drugs as amphetamines and cocaine can trigger mania. Substance use is especially dangerous when you're on medication.
You should also avoid caffeine because it's a stimulant that can keep you up at night and exacerbate manic episodes. That's why you should cut back on coffee, especially at night.
Eat a healthy diet
The foods we eat can have a big influence on our physical and mental well-being, so you should try to keep healthy eating habits. That means you should eat plenty of vegetables, fruits, and whole grains and limit your sugar and fat intake. Eating a balanced and nutritious diet will help you calm your mood and feel well.
It's also important to have your meals at regular times each day. Then your blood sugar will never dip too low. Avoid high-carbohydrate diets because they can cause mood crashes. Other foods that may damage your mood include chocolate and processed foods.

Build a support network
Educate your family and friends about bipolar disorder to help them learn what it is and how they can best support you when you're having a hard time. This can give you an outsider's perspective on your mood and help you manage your symptoms. They can also be there when you need to talk about how you feel and what you're going through. Having someone to listen to can help relieve stress and make it easier to cope.
Join a support group. It'll help you realize you're not alone in feeling the way you do. Other people who live with bipolar disorder can be a great source of support because they understand what you're going through. They can offer valuable advice and comfort. You'll have a safe space to speak freely and learn from others' experiences.
Subscribe
to our mental health digest
Let us support you on the way to better mental well-being. Get expert tips and insights on mental health delivered to your inbox monthly.
Bottom line
Living with bipolar disorder requires making healthy choices for yourself. With consistent self-care, you can improve your mental well-being and minimize your chances of relapse.
Although self-care strategies won't make bipolar disorder magically disappear, they can help you increase your ability to resist extremes of emotions and prevent minor mood swings from becoming serious problems. Try to incorporate these healthy lifestyle habits into your daily routine to feel better and get more out of life.
Сheck your mental well-being for free: