Published June 5, 2022 / Updated March 13, 2023
How to Use Positive Affirmations to Relieve Anxiety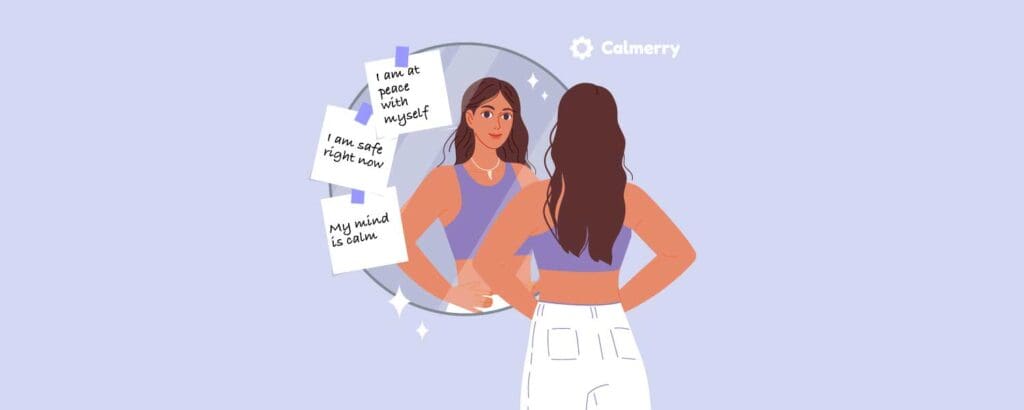 Reading Time:
6
minutes
There are many ways to manage and relieve anxiety, one of which is by using positive affirmations. Additionally, for those seeking professional guidance, anxiety therapy online offers a convenient and effective means of addressing anxiety from the comfort of one's home. However, as with other forms of anxiety relief, affirmations do not work for everyone, and some people may benefit more than others.
Nonetheless, if you have trouble managing anxiety, it's worth giving positive affirmations a try, as they're safe, accessible, and easy to use. You may even find they bring about other benefits like a greater sense of calm, positivity, or balance.
Before we start, it's also important to note that we all experience anxiety. It's a normal part of life. Therefore, you shouldn't expect affirmations or anything else to be a "cure" for anxiety. Likewise, if you have an anxiety disorder (severe or persistent anxiety), it's best first to see a medical professional.
What are positive affirmations?
If you've never used affirmations, you may wonder what they are. Simply put, they're positive statements you repeat to yourself regularly. Usually, it's a list of between 10 and 50 affirmations that you read, say out loud, or listen to an audio recording each day.
We'll explain exactly how to use affirmations for anxiety relief later in this guide, along with lots of affirmation examples you can use.
Here are a few examples of positive affirmations to give you an idea: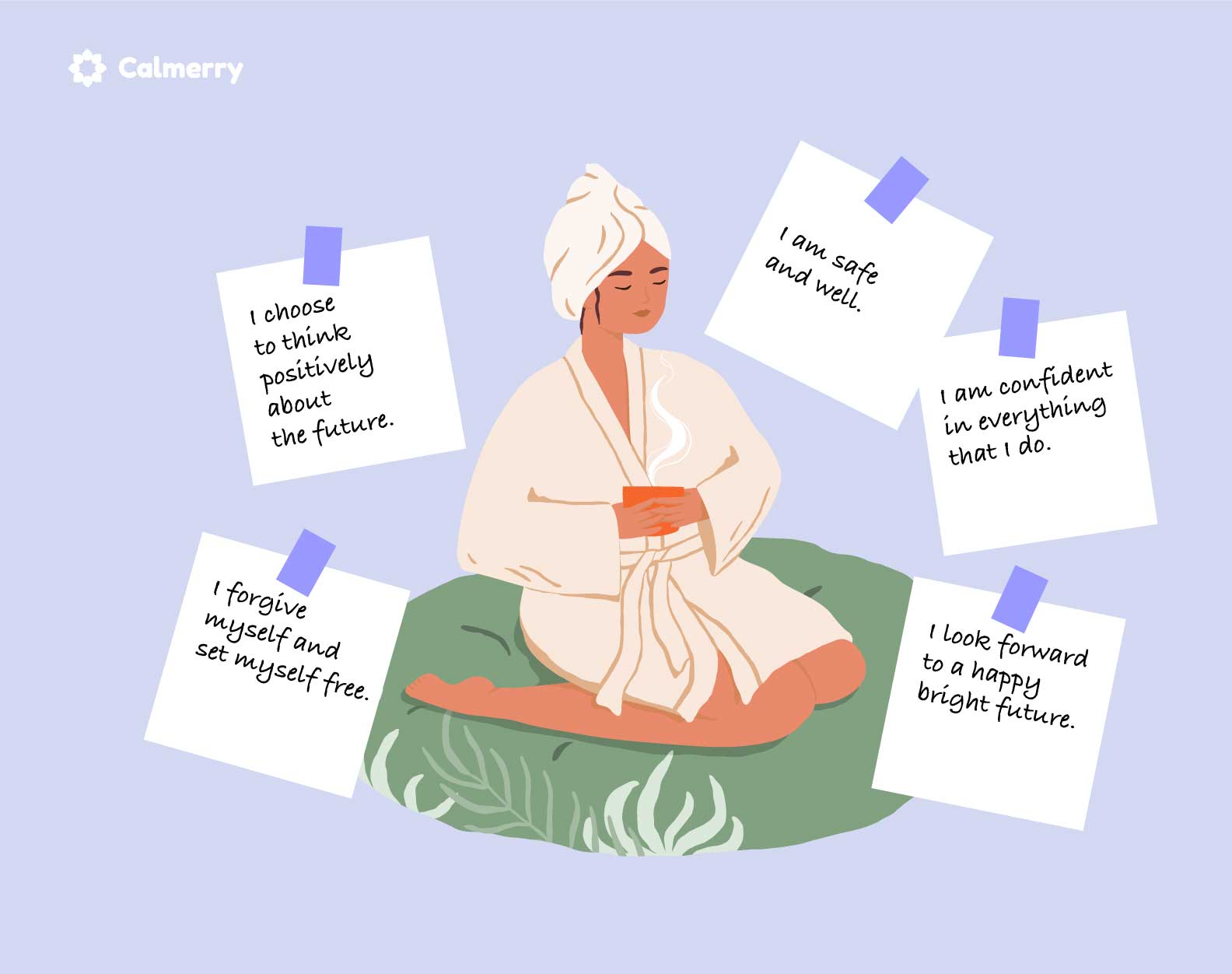 Can affirmations help with anxiety?
As mentioned earlier, some people find using affirmations effective for relieving and managing anxiety. Here are some of the main reasons why they can help:
Develop positive self-talk
Being aware of how we talk to ourselves is important. When we are unkind, harsh, or overwhelmingly negative towards ourselves, it can affect our self-esteem and confidence and contribute to mental health issues like anxiety.
Unfortunately, it's easy to slip into the habit of negative self-talk, but affirmations can help correct it. By practicing positive affirmations daily, you learn to be kinder to yourself and become more aware of unhelpful thought patterns.
Boost motivation
Anxiety can have a significant effect on motivation. For example, you may feel unmotivated to seek new friendships or work opportunities due to irrational fears or beliefs. Positive affirmations can help you counter any negative thoughts and develop a more constructive, optimistic state of mind.
When you become your own cheerleader, it naturally leads to greater motivation and helps alleviate anxiety.
Practice self-love
Practicing self-love and self-compassion has been shown to improve mental well-being and help people better manage their emotions and anxiety. However, it can be easy to neglect or overlook self-love as we become distracted and busy with other areas of life.

Greater resilience
According to one study, self-affirmation can activate the brain's reward system, making you more resilient to stress and improving well-being. Likewise, cultivating a more positive mindset and improving self-talk through affirmations can lead to greater resilience and, therefore, more manageable anxiety levels.
How to use positive affirmations for anxiety
There are various ways to practice positive affirmations for anxiety relief. It's best to try a few methods out to see which works best for you.
Here are some of the most popular ways to practice affirmations:
Read them: Create a list of affirmations and read them aloud or in your mind once or twice daily. Some people like to read their list of affirmations while looking at themselves in front of the mirror. Others write them on sticky notes and place them where they will see them often. You can continually modify and update your list of affirmations as you see fit.
Listen to them: Record yourself reading your list of affirmations aloud once, and then listen to the recording daily. Or, you can find other people's recordings that you enjoy online, such as on YouTube, and listen to them.
Memorize them: By memorizing some of your affirmations, you can then call upon them in real-time scenarios. For example, if you know you tend to get anxious in certain situations, it can help to memorize a few affirmations you can recite to help calm your nerves.
When should you use affirmations?
You can use affirmations anytime that suits you. Ideally, you want to try and practice affirmations at least once daily. However, you can also practice them multiple times per day if you wish.
For example, many people like to practice in the morning when they wake up and just before bed. If you have audio affirmations, you can also listen to them while at the gym or commuting to work.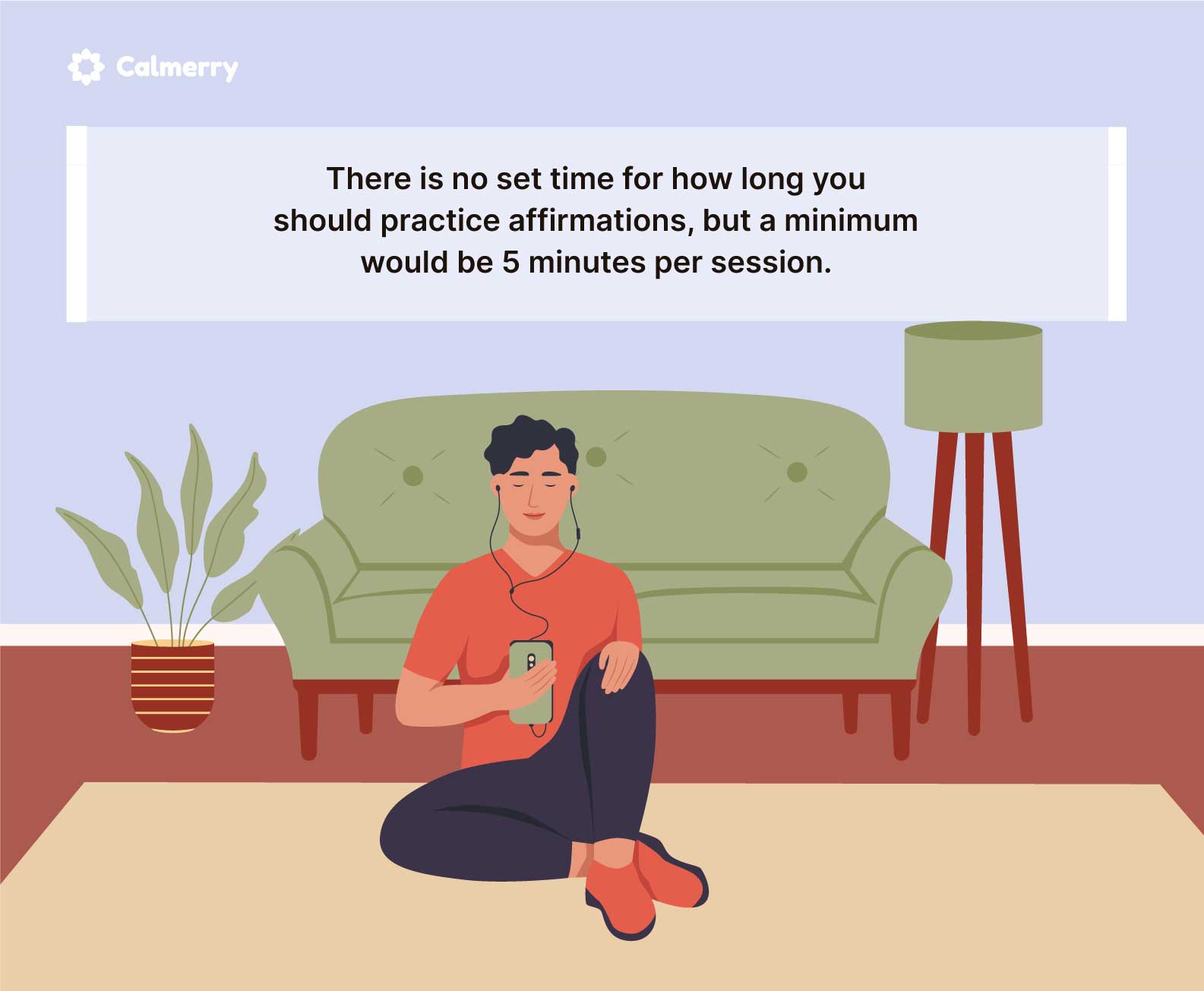 Additional tips on using affirmations
Here are some additional tips to help you get the most out of your affirmations:
Focus: When practicing affirmations, try to focus as much as you can on the words and mental images they inspire. Affirmations will not be as effective if your mind has wandered and you're thinking about unrelated things. Practicing affirmations well requires concentration.
Be realistic: Remember, affirmations are not a miracle cure. They're just a tool for managing our thoughts and self-talk. It takes a little time and practice for them to work, so be patient and try to enjoy taking some time out each day for self-love and positive thinking.
Examples of affirmations for anxiety
Okay, now you know what positive affirmations are, how they can help with anxiety, and how to use them. This section will provide some examples you can use or take inspiration from when writing your own.
Calming affirmations for anxiety
When anxiety becomes overwhelming, it can be hard to think of anything else and stay relaxed. However, you can use positive affirmations to help distract your mind and bring about a sense of calm and control:
I am in control of my thoughts and know how to relax.
Everything is ok, and I am safe right now.
My muscles are relaxed, and my mind is calm.
I am at peace with myself and accept my feelings.
Affirmations for social anxiety
Meeting new people, giving presentations at work, and other social interactions can often cause some anxiety. Here are some affirmations to help calm your nerves and ease social anxiety:
I enjoy meeting people and making new friends.
I can see the benefits of socializing and talking to others.
I feel relaxed while speaking in a group.
Building new social connections is fun and brings new opportunities.
Subscribe
to our mental health digest
Let us support you on the way to better mental well-being. Get expert tips and insights on mental health delivered to your inbox monthly.
Affirmations for positive thinking and self-talk
Affirmations are all about cultivating a more optimistic mindset and replacing negative self-talk with positive self-talk. Thankfully, both of these things are also great for managing and relieving anxiety.
So here are some affirmations for positive thinking and self-talk:
I show myself compassion and treat myself like a friend.
I talk to myself and others with kindness and respect.
I am optimistic about the future and have a positive attitude.
I choose to think in empowering ways that help me.
Positive affirmations for self-love
We all know that self-love trumps self-hate, but remembering to practice self-love can be tricky when we're busy. Thankfully, affirmations are a great way to practice self-love daily and conveniently.
Here are some affirmations for self-love you can try:
I love myself for who I am and respect my achievements.
I set goals that inspire and motivate me.
I take responsibility for my behavior and have the confidence to make decisions.
I appreciate my body and everything it does.
Summary
So there's everything you need to start using affirmations for anxiety relief. Positive affirmations are definitely a coping strategy worth trying. But remember, they may not work for everyone, and they're not a cure for anxiety.

While affirmations are very much a form of self-care, it's also important to know that you don't have to deal with anxiety alone. Talking to close friends and family can help, but it's best to see a therapist if you are struggling to cope or think you might have an anxiety disorder.
Here at Calmerry, our online counselors are trained and experienced in working with all types of anxiety. In addition, they use evidence-based techniques like CBT to help empower people to manage anxiety effectively.
Сheck your mental well-being for free: