Feel calm with text therapy
Text Message Therapy your therapist 24/7 Via Text, Video Or Voice. Effective, Convenient and Affordable. Confidential & Convenient With Calmerry
Human-centered therapist matching process
Affordable way to achieve a balanced life
Licensed therapists you can trust
What is Online Text Therapy?
Not everyone has time and money to attend face-to-face meetings with a licensed professional counselor. With a text therapy service, there is no need to commute to a mental health professional's office as you can have sessions wherever you are, whether you are staying at home, in the office, or even on the go.
You can text a therapist to solve plenty of emotional problems and challenges while having a reliable Internet connection. Use your favorite device and get in touch with the most qualified and experienced therapist to make your life better. Getting started has never been easier. Down below, we will tell you more about how everything works.
How Does Text Therapy Work at Calmerry?
More and more clients choose text therapy and are extremely satisfied with the services. We are always here to improve your quality of life and help you solve problems that disrupt your daily routine. Modern technologies are called to make everything more convenient, so you should take advantage of our online services.
Text your therapist at any time, no matter where you are, to discuss your feelings, troubles, and other things that are important to you via the Internet.
Due to the COVID-19 pandemic, it's extremely important to keep social distance, and online therapy gives you a chance to get quality treatment from the fully-licensed therapists.
Answer a short survey to get started. Be confident when sharing your thoughts and worries.

Choose a suitable subscription plan
Get a quote based on your answers, compare the offered plans and pick the one that's best for you.
Talk to a therapist online
Сommunicate with your online therapist through messages, worksheets, and live video sessions.
Make the most of online therapy
Follow your long-term therapy objectives and short-term goals, use guidelines, and track progress.
Text counseling can be a perfect choice for those who are uncomfortable talking to a counselor face-to-face. Besides, it will be a good option to try out if you cannot find time to be physically present in a counselor's office, want more flexible session hours, and there is a limited number of licensed counselors in your city. With online text therapy, you can access fully-licensed counselors from a state of your residence and exchange messages to get professional support.
Brief Q&A About Therapy by Text
Our clients have so many questions about therapy text sessions, so we have prepared answers to the most common ones.
Our experienced team will connect you with the best online therapist suited to your unique needs.
All therapists are background-checked, verified, trained and hold valid licenses from their state.
Get access to a unique therapy space where you can set up goals and track your progress in real time.
Our friendly support agents are available 24/7 to help you and give accurate answers to your questions.
Select the subscription plan that best suits your needs and budget. Plans start at just $53.
If a new issue arises during therapy, we'll match you with another therapist without charging you anything.
Our clients have so many questions about therapy text sessions, so we have prepared answers to the most common of them.
Is It Possible to Text a Therapist?
We live in a hectic world, so it's not always possible to attend face-to-face therapy or even make phone or video calls to talk with a professional. If there are people around you or you simply cannot have an online call, the best solution is to use text messages. Therefore, we offer our clients the most convenient way to get in touch with a therapist.
Therapy by text is very popular because it allows you to communicate with a therapist even if you are busy at work or taking care of your family. All you have to do is to write everything that's on your mind and bothers you. A therapist will text you back as soon as possible, depending on their schedule. You will get a detailed answer with advice and guidance you might need at the moment.
Is Therapy by Text Free?
Many people never tried in-person therapy as it's quite costly. Online counseling is equally effective, and most importantly, it's an affordable alternative that allows people to get mental help from qualified specialists no matter where they are.
Online text therapy is not free. Depending on the service plan you choose, you will have to pay a monthly subscription fee. Keep in mind that costs for text therapy online are significantly lower than for face-to-face meetings with therapists, so why not give it a try right now?
What Are the Main Therapy Types?
At Calmerry, there are two main ways you can communicate with a therapist: therapy through text and video sessions. You can choose a pricing plan that includes the options you prefer, combine various types of therapy if needed, and schedule them to reach out to a specialist right on time.
Is It Possible to Chat with a Therapist Online?
It's not possible to have an instant chat with a therapist. But you can always exchange messages with your specialist and get a quick response within a few hours. Our therapists answer clients' questions very fast, so it won't take that long to get the support you need.
No matter what life challenges you are facing, it's possible to always rely on us. Get matched with a therapist that fits your needs and improve your mental well-being.
For more information, please visit our FAQ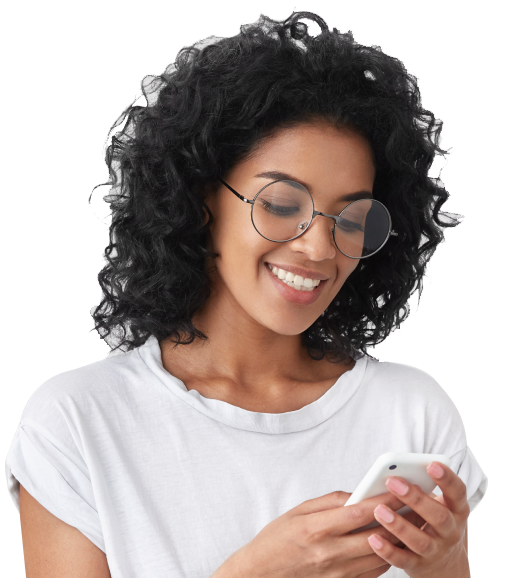 "
I hesitated about using virtual therapy services before I found Calmerry. It took me just three visits to find a therapist who I feel comfortable with. I really appreciate the Calmerry platform for an individual approach and great customer support.
Michelle
September, 2020
"
I like Calmerry because of the pricing and conditions! It's much cheaper than other therapy platforms and apps.
David
August, 2020
"
It was a great challenge for me to find a therapist who is right for my needs, but I succeeded. Our first session was more like Q&A but maybe such a path helped me find my counselor.
Allison
September, 2020
Start your therapy journey today
88% found Calmerry to be as effective or more effective than traditional therapy.
95% found it to be more convenient than traditional therapy.
Advice For Good Mental Health
Find advice and support from mental health professionals for common problems. Learn about self-help strategies that can help improve your mental well-being. Tips for good mental health from Calmerry.
Even when we clearly understand that we need to see a counselor, we might postpone this decision simply because we don't know what's going to happen during the session. Moreover, prior to coming to the session, we need to find a therapist that would fit our...