Published July 13, 2023 / Updated July 14, 2023
20 Effective and Simple Grounding Techniques for Anxiety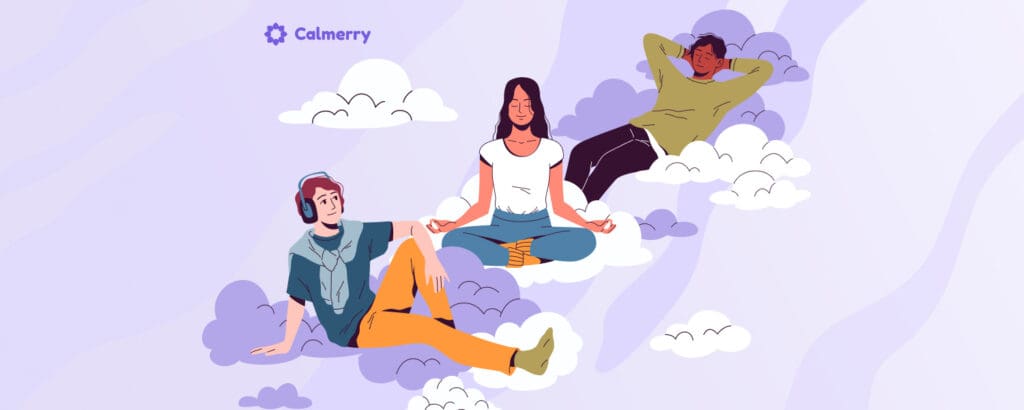 Reading Time:
6
minutes
Mastering various grounding techniques for anxiety is crucial for managing anxiety, unwanted memories, panic episodes, or intense emotions.
Besides, these tools also may help manage the symptoms of post-traumatic stress disorder (PTSD). After a traumatic experience, you may often have flashbacks and anxiety attacks. You may also be overwhelmed with feelings of worry and find yourself spiraling into negative thoughts.
When this happens, it's vital to regain a sense of control of your emotions, thoughts, reactions, and focus on the present. Grounding techniques may help you do this.
In this article, we explore some simple grounding techniques that can be beneficial for stress reduction, anxiety management, and alleviating the intensity of panic attacks.
What are grounding techniques?
Grounding techniques are tools in your toolbox to help you during moments of anxiety and stress. They have the power to shift your focus from the things that are causing worry or panic to the present moment. They can even "quiet" that part of your brain that responds with "flight, fright, and freeze."
When you use grounding techniques, you can experience a sense of calmness and control. These techniques are not only effective for anxiety and panic attacks, but they can also be helpful in dealing with everyday stressors.
Yet, it's important to note that everyone's experience with anxiety is unique, and what works for one person may not work for another. That's why it's worth trying out different grounding techniques to find the ones that resonate with you.
We hope you'll discover the ones that work best for your own journey from the ones below.
Physical grounding techniques
When you're amidst a panic or anxiety attack, it's important to bring yourself back to a place of control. Starting with your body can make it easier to manage your symptoms and regain a sense of calm.
There are several physical grounding techniques for panic attacks and anxiety. Here are a few you can try:
1. Breathe deeply
Taking slow, controlled breaths is a powerful grounding technique. It allows you to direct your focus to your body and regain control over your thoughts and emotions.
One technique you can use is called the "Box Breathing Technique":
Breathe in slowly for 4 seconds
Hold your breath for 4 seconds
Exhale slowly for 4 seconds
Hold again for 4 seconds, and then repeat the process.
This method can bring a sense of relaxation and stability to your body and mind.
2. Pick or touch items near you
Another excellent grounding technique that works wonders is using your sense of touch. Something as simple as running your hand through water helps. Pay attention to how it feels, and you'll notice your mind slowly shifting to the present.
3. Engage all of your senses
To get yourself in the present, it's also helpful to activate your senses. These grounding techniques should involve your 5 senses – taste, feel, touch, see, and taste.
For instance, you can hold a piece of ice, smell an essential oil, savor food or drink, or watch your favorite TV show.
The 5-4-3-2-1 technique
One of the best strategies to use is the 5-4-3-2-1 technique. Here, you're supposed to focus on the moment, using the five senses.
For example, you may list:
5 things you can see around you
4 things you can hear
3 things you can touch
2 things you can smell
And 1 thing you can taste.
By doing so, you're slowly getting your mind back to the present.
The 3-3-3 rule
The 3-3-3 rule is a simple and also effective method for managing anxiety at the moment. It involves focusing on your immediate surroundings and engaging your senses to ground yourself and reduce anxiety.
Here's how it works:
Look around and identify three things you can see. It can be objects, colors, or anything in your environment. Take a moment to observe them closely and describe them in your mind.
Next, listen to three things you can hear. It could be the sound of traffic, birds chirping, or a clock ticking. Pay attention to these sounds and let them anchor you to the present moment.
Finally, move three parts of your body. It can be as simple as wiggling your toes, stretching your arms, or rolling your shoulders. This physical movement helps redirect your focus away from anxious thoughts and into your body.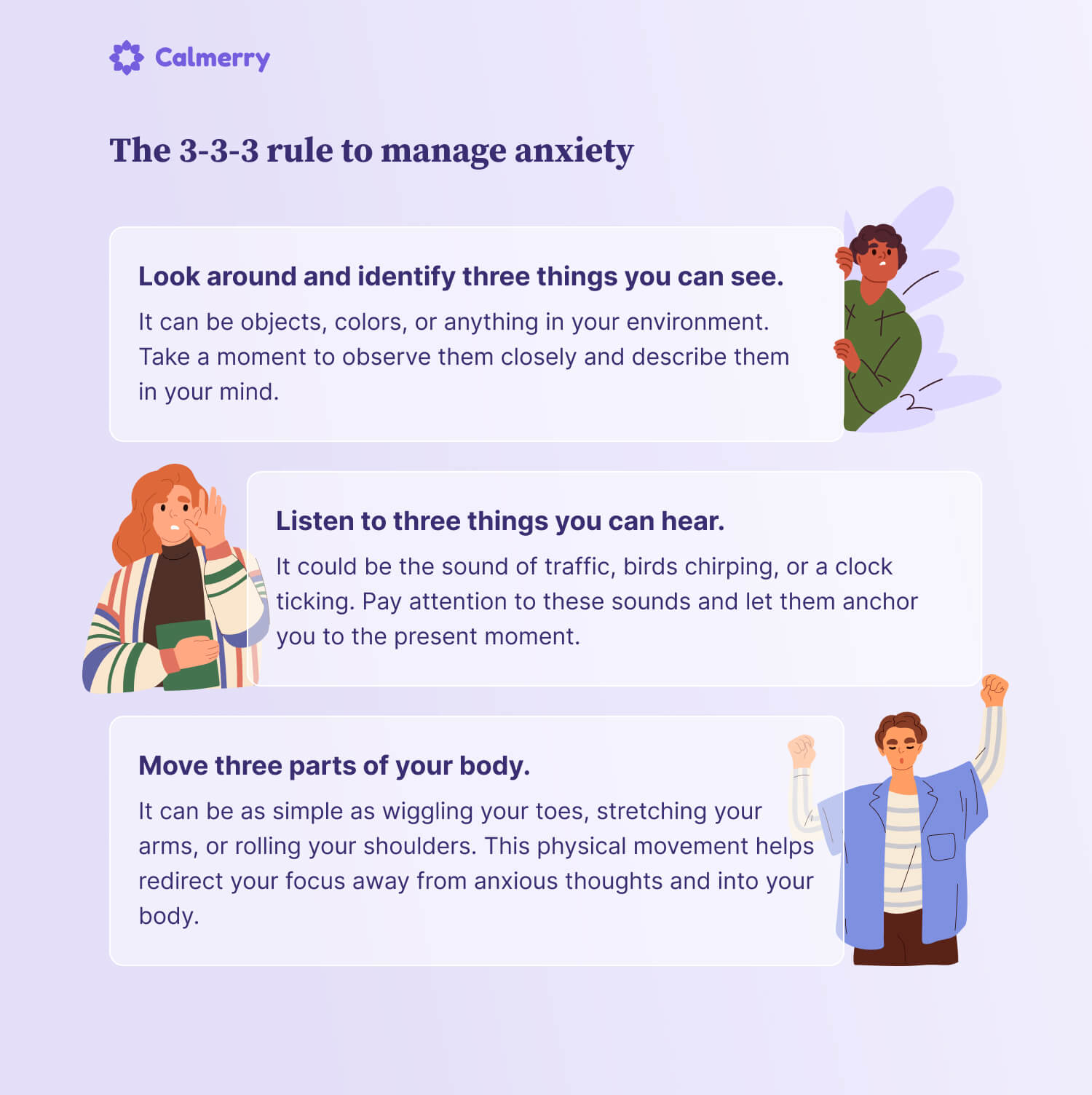 4. Move your body
You can also connect with your body through movements. Simple exercises shift your focus from the anxiety to the sensations in your body arising from the exercise.
You can also try simple stretches or yoga because they have the same effect.
5. Feel your body
One of the simplest grounding techniques for anxiety is feeling your body. You have different options here. For example, you can:
Rub your hands together
Massage your temples
Clench your fists to release tension
Stamp your feet on the ground, paying attention to the sensations
Place your feet flat on the ground and wiggle your toes while paying attention to the sensation.
6. Try muscle relaxation exercises
Muscle relaxation exercises are also effective grounding techniques. Here, the idea is to tighten your muscles and slowly release them.
You can start with your toes and work up to your thighs and hands or focus on one body part. Pay attention to the sensations and relaxation that comes from doing so.
Mental grounding techniques
Mental exercises are a wonderful way to divert your attention from worry and anxiety and find some relaxation. The key is to discover an exercise that shifts your focus and brings you a sense of calmness.
There are numerous exercises you can explore. Here are a few examples to get you started:
Engage in a memory game
Challenge yourself with math problems or number puzzles
Take a moment to describe the details of your surroundings
Try reading something backward for a change of perspective
Test your memory by naming all your family members
Have fun spelling your name backward
Pick an object and describe it in intricate detail
Please note: these exercises are not about perfection or performance. They're about finding an activity that helps you redirect your thoughts and find a moment of peace.
Soothing grounding techniques
Soothing grounding techniques for anxiety and panic attacks will also go a long way. When you're feeling worried, scared, anxious, or depressed, diverting your focus is crucial.
You need to try different things that make you feel good. And a favorite activity always does the trick. Consider the following options as well:
1. Practice self-kindness
When you're going through a rough time, it's inevitable to have accompanying negative thoughts. However, you can stop these thoughts in their tracks.
Use statements of affirmations like, "It's only a rough day, you've got this." Repeat these positive affirmations until you feel better.
2. Listen to music
Music helps you relax by affecting the amount of stress your body releases. When you find yourself spiraling into negative thoughts, turn on your favorite music and dance to the tune. Before you know it, you'll be feeling so much better.
3. List positive things
Anxiety and panic episodes can make you focus only on the negatives. Divert your focus by listing all the positive things happening in your life.
4. Play with your pet
Stroking your pet also goes a long way in soothing you and redirecting your focus. Pay attention to how your hand feels moving on their fur. Also, look at the intricate details in their features to focus on something different and cute.
5. Visualize something positive in your life
When facing life's challenges, finding those positive things happening is so much about your strengths. Take a moment to reflect and dig deep to identify those moments of positivity.
Think about something that brings you joy, happiness, or a sense of peace. It could be a cherished memory, a loved one's smile, or a small personal accomplishment.
Subscribe
to our mental health digest
Let us support you on the way to better mental well-being. Get expert tips and insights on mental health delivered to your inbox monthly.
Why it's important to talk to a licensed professional
While grounding techniques can be valuable tools for managing anxiety, they should be complemented by the support and guidance of a licensed provider because:
Therapy or counseling for anxiety provides a comprehensive and personalized approach to understanding and managing the symptoms. It offers a broader range of evidence-based tools and techniques targeting different anxiety aspects.
Anxiety can be overwhelming. And it's important to have a safe and non-judgmental space to process and express emotions. Therapists provide a supportive environment where you can openly discuss your fears, worries, and anxieties.
Anxiety can sometimes be a symptom of underlying unresolved mental health concerns. Therapy can help you explore and work through these underlying factors to reduce anxiety symptoms. By addressing these root causes, therapy aims to create lasting changes in your overall well-being.
Anxiety management is not just about immediate relief – it's also about developing long-term strategies for sustainable well-being. Therapists provide ongoing support and guidance, helping you navigate the challenges that may arise during your anxiety management journey. They assist in identifying potential triggers, maintaining progress, and making adjustments to the treatment plan.
It's important to note that therapy is not a one-size-fits-all approach, and finding the right provider is crucial. Besides, different therapeutic approaches work for different people.
And if you're looking for a caring place where you can find your best-suited online therapist, we're always here for you. At Calmerry, we can match you with an expert in your particular issue within 1 hour. And if you don't feel the connection, you can switch for free – whenever you need it.
Сheck your mental well-being for free: