Published June 15, 2023 / Updated June 9, 2023
Post-Traumatic Stress Disorder (PTSD): Symptoms & Treatment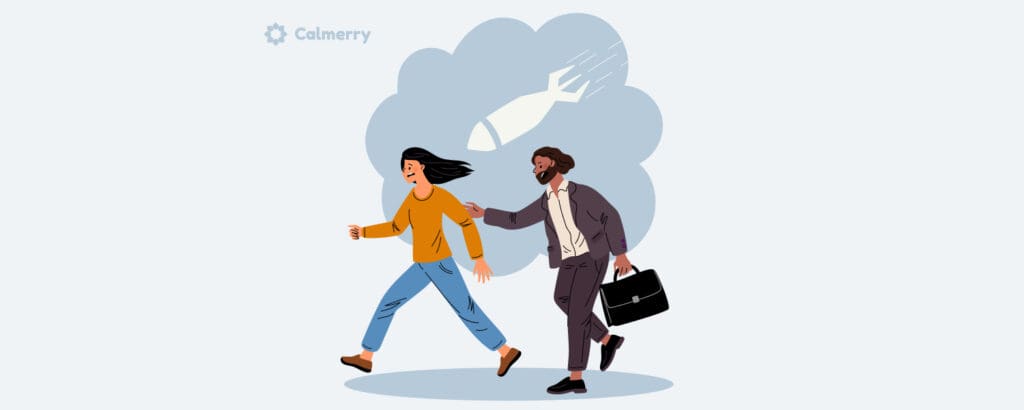 Reading Time:
7
minutes
Post-traumatic stress disorder (PTSD) is a mental health condition that can cause significant interference with daily life. If you live with PTSD symptoms, quality treatment is available to help you overcome the effects of trauma.
Below, learn all about PTSD, including effective treatment options.
What is post-traumatic stress disorder?
Post-traumatic stress disorder is a mental health condition that arises after a person experiences a traumatic event.
To be diagnosed with PTSD, a person must experience an event in which threatened or actual death occurs. This can involve directly experiencing a threatening event or observing another person exposed to real or threatened death.
PTSD criteria also state that a person may develop the condition after learning about a traumatic event happening to someone else, such as a relative or a close friend.
First responders, such as police or firefighters regularly exposed to situations like child abuse or death from gunshot wounds, may also develop PTSD symptoms.
Trauma vs. PTSD
One important thing to understand is the difference between trauma and PTSD.
The key distinction is that:
Trauma can involve a single distressing event or numerous, or ongoing stressful experiences. They may or may not cause lasting effects.
And PTSD is a chronic condition that can arise after experiencing a trauma.
While some people who have a trauma history will develop PTSD symptoms, not all of them will. So it's important not to assume that everyone who has a trauma history also has PTSD.
PTSD vs. ASD
It's also helpful to understand the difference between PTSD and acute stress disorder. Some people who experience a traumatic event may develop this condition but never develop PTSD.
The symptoms of acute stress disorder are similar to those of PTSD, but they resolve within a month.
A person with a trauma history may experience a brief period of psychological distress, lasting long enough to meet the criteria for acute stress disorder but not PTSD.
PTSD vs. CPTSD
Recently, researchers and mental health experts have taken an interest in a unique PTSD presentation called CPTSD, which stands for complex post-traumatic stress disorder.
People living with complex PTSD display core PTSD symptoms, as well as symptoms related to problems with self-organization.
Individuals who experience CPTSD display difficulty regulating emotions, relationship problems, and a negative self-concept. Exposure to repeated or prolonged traumas, such as ongoing child abuse, is believed to contribute to the development of CPTSD.
PTSD symptoms
The core symptoms of PTSD are what define the disorder. A PTSD diagnosis requires that a person meet the diagnostic criteria for the disorder, but a person does not need to demonstrate every possible PTSD symptom to be diagnosed.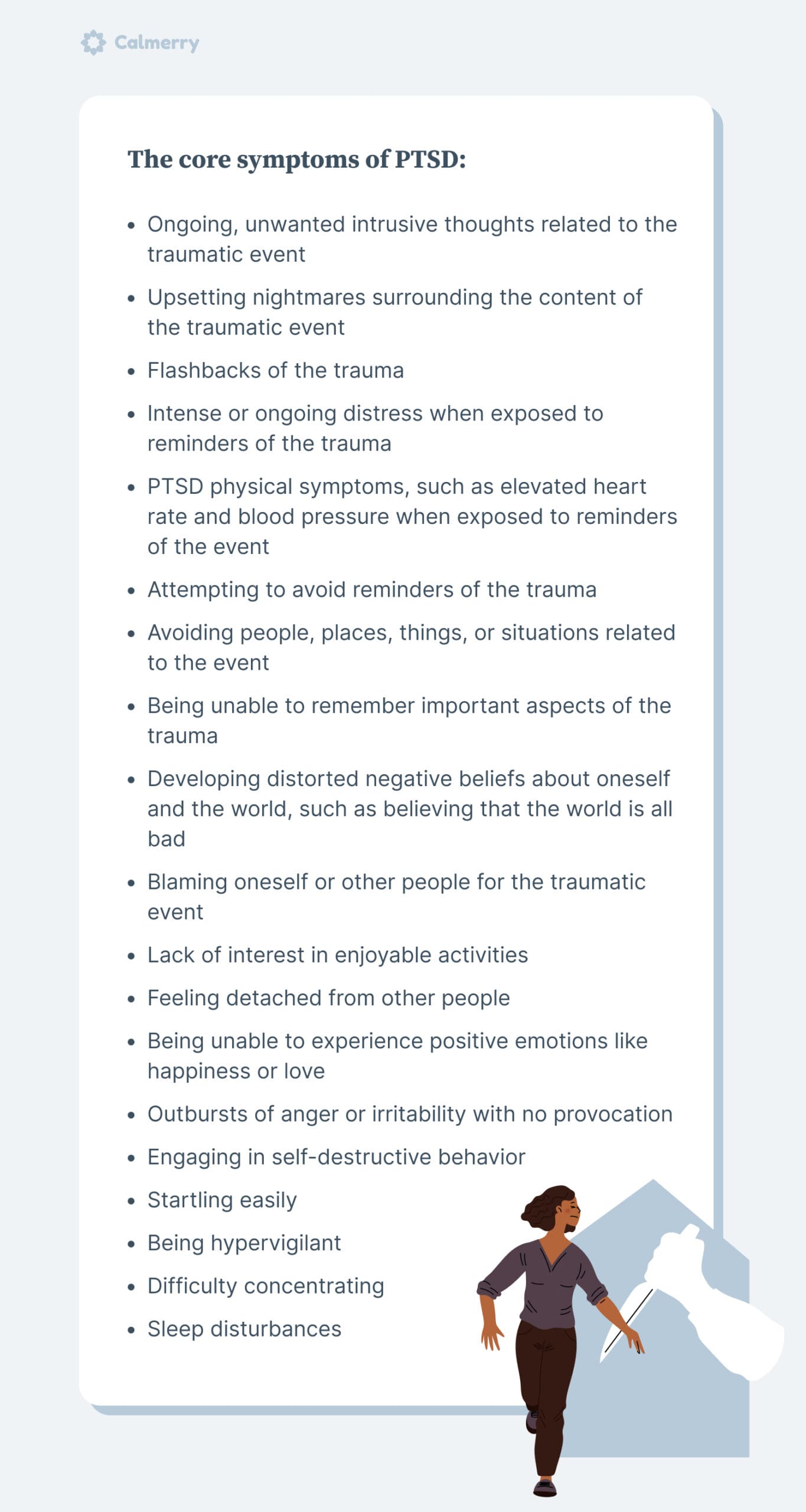 The core symptoms of PTSD are as follows:
Ongoing, unwanted intrusive thoughts related to the traumatic event
Upsetting nightmares surrounding the content of the traumatic event
Flashbacks of the trauma
Intense or ongoing distress when exposed to reminders of the trauma
PTSD physical symptoms, such as elevated heart rate and blood pressure when exposed to reminders of the event
Attempting to avoid reminders of the trauma
Avoiding people, places, things, or situations related to the event
Being unable to remember important aspects of the trauma
Developing distorted negative beliefs about oneself and the world, such as believing that the world is all bad
Blaming oneself or other people for the traumatic event
Lack of interest in enjoyable activities
Feeling detached from other people
Being unable to experience positive emotions like happiness or love
Outbursts of anger or irritability with no provocation
Engaging in self-destructive behavior
Startling easily
Being hypervigilant
Difficulty concentrating
Sleep disturbances
To be diagnosed with PTSD, a person must experience these symptoms in response to a traumatic event. And PTSD symptoms must last more than one month and cause significant distress or impairment in important areas of life.
What causes PTSD?
People often wonder how PTSD develops, but there is no single cause of this disorder. After all, some people can experience a traumatic event and never develop PTSD symptoms.
While exposure to trauma is a requirement for being diagnosed with PTSD, experiencing such an event is not the only cause of the disorder. Some people will not show PTSD symptoms after trauma exposure.
There are several risk factors that can increase the chances that someone will develop a PTSD diagnosis after a traumatic event. Based on known risk factors, some potential causes of PTSD include: 
Being female – women are more likely to develop PTSD compared to men
Experiencing childhood adversity
Having a pre-existing mental health condition (for example, PTSD and anxiety may occur together)
Having low educational attainment
Living in poverty
Lacking social support
How to get diagnosed with PTSD
If you think you may be experiencing post-traumatic stress disorder, you can find plenty of information about this mental health condition online. While this information can be helpful, it should not take the place of a formal diagnosis from a mental health professional.
To be diagnosed with PTSD, you need to see a mental health professional, such as a psychologist, psychiatrist, clinical social worker, or mental health counselor. This professional will complete a full diagnostic assessment, during which they will gather information about your symptoms and your history of trauma and use diagnostic guidelines to determine if you meet PTSD criteria.
As a part of the assessment process, a mental health professional may conduct a standardized PTSD test to determine whether you show symptoms of this disorder. This may involve filling out a form in which you rate the severity of various symptoms or answering questions from a form while the mental health clinician records your responses.
During this process, they are likely to rule out other conditions, such as anxiety, depression, adjustment disorder, or acute stress disorder, which can appear similar to PTSD.
If you are given a diagnosis of PTSD, the mental health clinician will then develop a treatment plan to help you address symptoms.
PTSD tests
When you see a mental health professional to determine if you meet the criteria for PTSD, they will likely use a PTSD test to help them make a proper diagnosis.
There are numerous standardized tests or assessments developed for diagnosing PTSD. The specific test your clinician chooses will depend upon their level of expertise with specific tests.
Some of the most common PTSD tests are described in more detail below. While there are more PTSD tests, these three are commonly used in clinical practice and have been researched extensively to determine their effectiveness.
PTSD Checklist for DSM-5 (PCL-5)
Please note that online screening tools are not diagnostic instruments. Talk to a licensed professional who can provide a full assessment and more insights into your symptoms and experiences. 

The PCL-5 aligns with the diagnostic criteria for PTSD, as listed in the Diagnostic and Statistical Manual of Mental Disorders, 5th Edition.
Studies have found that the PCL-5 is reliable and it is helpful for making a PTSD diagnosis. This is a self-report checklist, meaning patients report their symptoms directly.
Treatment-Outcome Post Traumatic Stress Disorder Scale (TOP-8)
The TOP-8 is a brief, 8-item PTSD scale that includes items that assess the different symptom clusters of PTSD.
It was developed from a larger scale that evaluated PTSD symptoms. And it includes the symptoms most frequently present in those diagnosed with PTSD.
CAPS-5
The CAPS-5 is a lengthier PTSD test, with the acronym standing for Clinician-Administered PTSD Scale for DSM-5.
It must be administered by a clinician or researcher knowledgeable about PTSD, and it takes 45-60 minutes to complete. The CAPS-5 is a structured interview with 30 questions, and it can be used to make a diagnosis and identify PTSD symptoms experienced during the week before the assessment.
How to deal with PTSD? Practical next steps
People often wonder what they can do to cope with PTSD since symptoms and triggers can be quite distressing. Coping with PTSD often requires self-care strategies combined with professional treatment and intervention.
Self-help coping strategies
You can learn how to deal with PTSD triggers using self-help strategies. These include:
Talking to supportive people
Learning about PTSD symptoms
Practicing relaxation strategies, such as muscle relaxation, breathing exercises, meditation, physical exercise, and yoga.
You may also find that listening to music, spending time outdoors, or praying bring peace when feeling anxious or distressed.
Subscribe
to our mental health digest
Let us support you on the way to better mental well-being. Get expert tips and insights on mental health delivered to your inbox monthly.
Medication
PTSD treatment may involve taking medications to help with managing symptoms:
The first choices of medication for treating PTSD are two classes of antidepressant drugs: selective serotonin reuptake inhibitors (SSRI) and serotonin-norepinephrine reuptake inhibitors (SNRI).
The antidepressants sertraline and paroxetine are FDA-approved for adults with PTSD but may not work for children.
Patients may also benefit from taking the antipsychotic medication risperidone to control symptoms.
Furthermore, medications, including trazodone, can be prescribed to treat insomnia.
PTSD therapy
PTSD is often treated with psychotherapy or "talk therapy" to help people process their emotions, strengthen their coping skills, and overcome triggers or negative thinking patterns contributing to distress.
Various different types of PTSD therapy are available to treat the condition. The best type of therapy for you will depend on your unique needs and preferences. 
Several therapies commonly used to treat PTSD include:
Cognitive behavioral therapy (CBT)
CBT can help individuals with PTSD alter their thinking patterns to replace unhealthy or distorted ways of thinking with more positive thinking processes.
Eye movement desensitization and reprocessing (EMDR)
EMDR is commonly used in trauma treatment to help a person reintegrate traumatic memories with other memories within the brain. This is achieved through bilateral eye movement.
Only a therapist with training in EMDR should use this modality.
Cognitive processing therapy
Cognitive processing therapy (CPT) provides a person with education about PTSD symptoms and helps them to identify the automatic thoughts associated with PTSD.
During CPT, the patient also writes an impact statement about the effect that trauma has had in their life, as well as how it has affected their beliefs about the world.
Next, the patient begins to process the trauma and correct unhelpful ways of thinking about it.
Exposure therapy
This modality exposes individuals to reminders or triggers for their trauma and helps them to practice relaxation techniques during exposure. A person is often gradually exposed to distressing stimuli, with support and guidance from the therapist.
Exposure may involve exposing oneself to triggers in real life or engaging in imaginal exposure by talking about traumatic events in therapy.
The therapeutic modalities noted above may be combined with medication to ensure the best outcomes from PTSD treatment.
Can PTSD go away?
People seeking help for PTSD symptoms often wonder if the condition can go away. The good news is that remission is possible. 
Research with individuals with PTSD has found that 55% of people achieve remission in about three years. With quality treatment, you can learn to manage symptoms, and you may experience remission sooner.
Treatment can help you build resilience to move toward post-traumatic growth.
Recover from PTSD with Calmerry
If you're looking for PTSD treatment resources, Calmerry is here to help. We offer online therapy for PTSD, provided by licensed mental health clinicians, so you can begin recovering from home.
We have experts specializing in PTSD and trauma treatment, so you know you're in good hands. Visit the Calmerry website today to learn more or get started.
Сheck your mental well-being for free: