How to Help Someone Having a Panic or Anxiety Attack – What to Do (and Not)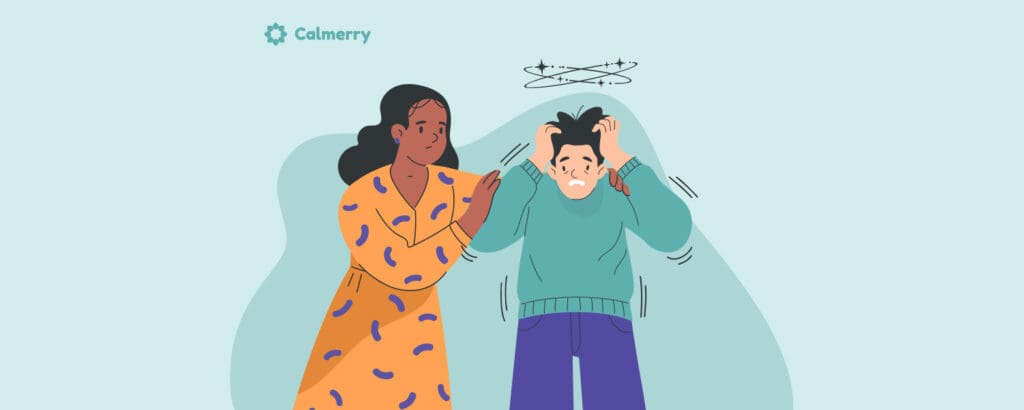 Reading Time:
10
minutes
Seeing someone struggling with anxiety and panic attacks can be really tough. It's normal to feel unsure about what to do in those moments. And it can be even more challenging when it happens in public. But here's the good news: there are many things you can do to help someone who is dealing with an attack.
Unfortunately, many people often don't fully understand what it's like to have anxiety. Since the symptoms of anxiety disorders aren't always visible, it's easy for others to assume that the person is exaggerating or making it up.
But it's important to recognize that these experiences are quite common. And knowing how to support someone during these episodes can make a significant difference in their well-being.
Whether it happens at home or in public, knowing what to do (and what not to do) can help you provide the compassionate care they need.
Panic attack vs. anxiety attack
Some people use the terms "panic attack" and "anxiety attack" interchangeably, but they are not the same thing. They have similar symptoms, such as dizziness, shortness of breath, and a rapid heartbeat.
But anxiety and panic have different features, and mental health professionals use these terms for specific disorders and symptoms. The term "anxiety attack" is not defined in the DSM-5, and "anxiety" is often used to describe the main feature of several conditions identified under the headings of anxiety disorders. It's also important to know the difference between a panic attack and a heart attack.
So, what's the difference between an anxiety attack and a panic attack? We can best describe it in terms of the intensity of the symptoms and the length of time the main symptoms occur.
A panic attack and anxiety are different emotional conditions:
Panic attacks are characterized by short bursts of intense fear or terror that occur suddenly and are accompanied by some emotional and physical symptoms. They don't last long and typically subside after a few minutes.
On the other hand, anxiety is a typical human emotion. It usually intensifies over a period of time and is associated with excessive worry about a potential real or perceived danger. The symptoms are less intense but may be persistent and last for weeks and even months.
If anxiety starts interfering with your everyday life, it may be a sign of anxiety disorder.
So, what to do when someone is having a panic/anxiety attack?
When someone is caught in the grip of a panic or anxiety attack, it's natural to want to provide immediate support. But knowing the right steps to take can make all the difference.
Here are the practical and compassionate ways to help someone during these overwhelming moments.
1. Try to stay calm, even though you feel overwhelmed
When you support someone during a panic or anxiety attack, it's normal to feel scared or overwhelmed. However, your ability to remain calm is essential in providing the support they need. By staying calm, you provide a stable anchor amidst the storm of emotions they may be experiencing.
Here are some simple ways to help yourself stay composed while helping someone with panic attacks:
Take deep breaths and focus on your own breathing to center yourself
Keep in mind that these attacks are temporary and not life-threatening
Remind yourself that you are there to offer support, and your presence is valuable
Be kind and patient with yourself, acknowledging that it's natural to feel a mix of emotions during these challenging moments
If your loved one is experiencing these episodes regularly, practice self-care to ensure you have the emotional and mental strength to be there for them
Educate yourself about anxiety and panic attacks to better understand what your loved one is going through
Seek support from others, such as friends, family, or support groups, to share your own feelings and experiences
By taking care of your own well-being and maintaining a sense of calm, you can create a safe and supportive environment for someone as you navigate their anxiety or panic attack together.
2. Ask appropriate questions, at the right pace
When someone is experiencing anxiety or a panic attack, it's natural to feel compelled to ask if they're okay. But it's important to be mindful of the impact of our words and the pace at which we ask questions.
Constantly bombarding them with are-you-okays can add pressure and make them feel obligated to quickly alleviate their distress. Instead, let empathy guide your interactions, ensuring that your words and actions stem from a place of understanding and compassion.
Here are some questions to consider asking:
"Is there anything specific I can do to support you right now?"
"Do you prefer me to give you some space?"
"Are there any grounding techniques that have helped you in the past?"
"Do you have any preferences for how I can assist you in calming down?"
"Would you like me to help you focus on your breathing or guide you through a relaxation exercise?"
"Is there a particular place that makes you feel more at ease?"
"Would you like to find a quieter place?"
"Are there any specific triggers or situations we should be aware of to prevent future episodes?"
These questions offer support, options, and opportunities for the person to express their needs and preferences.
But you should also be prepared that their ability to interpret and respond may be compromised due to the overwhelming emotions they're experiencing. And that's okay! Adapt the pace of your questions to match their emotional state, allowing them to respond when they are ready.
3. Watch out for nonverbal cues to know which of your actions help
When supporting someone during an anxiety or panic attack, paying attention to nonverbal cues is important – they can provide valuable insights into what actions are comforting for them.
Here are some nonverbal cues to look out for:
Body language
Observe their posture and movements. Are they tensed and rigid or more relaxed? Do they appear restless or fidgety?
Adjust your actions based on their body language. For example, offering a gentle touch or a comforting hug may provide reassurance if they seem open to physical contact.
But should you touch someone having a panic attack?
Touching someone during a panic attack should be approached with caution and respect for their personal boundaries. While physical touch can be comforting for some, it may be distressing or triggering for others, especially during heightened anxiety.
If you are unsure whether touching would be helpful or appropriate, it's best to ask the person directly if they would like a comforting touch or if they would prefer space.
Facial expressions
Pay attention to their facial expressions. Are they showing signs of fear, distress, or discomfort? Or do you notice a slight relaxation in their facial muscles?
If their expression indicates tension, consider using calming and soothing techniques, such as speaking softly or using gentle, reassuring gestures.
Breathing patterns
Notice their breathing rate and depth. Rapid and shallow breathing is common during anxiety or panic attacks. Encourage them to take slow, deep breaths and consider joining them in breathing exercises to help regulate their breathing.
Eye contact
Take note of their eye contact or lack thereof. Some people may prefer to avoid eye contact during moments of distress. Respect their preference and offer support without imposing direct eye contact, allowing them to feel more at ease.
Verbal cues
Although this tip focuses on nonverbal cues, be attentive to any verbal cues they may provide. Listen to their words, tone of voice, and the overall message they are conveying. Acknowledge their feelings and experiences, providing validation and understanding.
Surely, everyone's nonverbal cues may vary, so it's crucial to stay attuned to the individual's unique responses. Thus, you can adjust your actions and support them in the ways they need it.
4. Validate their feelings
Validating someone's feelings is a powerful way to provide support and understanding during a panic or anxiety attack. It's not about solving their problems or offering immediate solutions. It's about empathizing with their emotional experience and accepting their emotions as real and important, without judgment or dismissiveness.
This normalization can help alleviate the self-blame or shame they might be experiencing.
Here's what to say to someone having a panic attack validating their feelings:
"I can see that you're really struggling right now, and it's completely understandable."
"Your feelings are valid, and it's okay to feel this way."
"I'm here for you, and I want you to know that I believe in your strength to get through this."
"It's not easy, but I admire your courage in facing these challenges."
"I can't fully understand what you're going through, but I want you to know that I'm here to support you."
What to say to someone having a panic attack over text
"Take your time. I'm here for you."
"I want you to know that you're not alone in this. I'm right here with you. 🤗"
"Breathe. Inhale deeply and exhale slowly. You've got this. 🌬️💨"
"You're safe, even though it might not feel that way right now."
"I understand that this is overwhelming for you. Remember, it will pass soon."
"Focus on your breath. Inhale peace, exhale tension."
"You're incredibly brave for enduring this. I admire your strength. ❤️"
"I believe in your ability to overcome this episode. You've done it before, and you can do it again. 🙌"
"You are stronger than your anxiety. It doesn't define you. 💪"
"Sending you calming thoughts and positive energy. You're not alone in this battle. 🌈✨"
5. Help bring their focus back to the present
During an intense anxiety or panic attack, the experience can feel surreal, as if the person is disconnected from their body or the present moment. The overwhelming fear and irrational thoughts can make them forget where they are and what is happening around them.
But there are effective grounding techniques that can help bring their focus back to the present.
Grounding techniques work by engaging the senses and redirecting attention to the immediate surroundings. They help create a bridge between the distressing thoughts and the reality of the present moment.
For example, one simple grounding technique involves physical touch. Encouraging the person to touch a physical item, such as a chair or a wall, can help trigger their senses and anchor them back to the present reality.
What not to do when someone is having a panic attack
Understanding what not to do when someone is having a panic/anxiety attack is just as important as knowing how to help. 
Despite our best intentions, certain actions or responses can actually worsen the situation or make the person feel more distressed. By avoiding these common actions, you can create a safer and more supportive environment for the person in need and yourself.
1. Don't minimize their experience
When someone is having a panic attack, it's important not to downplay or minimize the intensity of their emotions. Comments like "Just relax" or "It's not a big deal" can invalidate their feelings and make them feel misunderstood or dismissed.
Instead, let them know you take their feelings seriously and you're there to support them through this challenging time.
2. Don't try to make sense of the moment
Anxiety and panic attacks defy logic and reasoning. Trying to understand why they occur will only lead to frustration for you and your loved one.
The person experiencing the attack may not understand its cause at that moment. So, instead of dwelling on finding an explanation, focus on providing support to help them overcome the episode.
Once they have regained a sense of calm, you can explore potential causes and triggers more effectively.
3. Don't take anything personally
It's important to remember that during a panic attack, a person you're trying to support may not be in the best emotional or mental state to respond in a "typical" manner. Despite your best intentions, they may respond in harsh or hurtful ways.
Try not to take their response personally and know that it results from their heightened anxiety rather than a reflection of your efforts to assist them. You're doing great! Just allow them the space they need to navigate through the episode.
4. Don't enable
During moments of distress, it's natural to have the instinct to protect and alleviate the discomfort for your loved one. However, it's important not to enable their anxiety by helping them avoid challenging situations.
While it may seem like a way to provide immediate relief, consistently avoiding triggers can ultimately exacerbate their anxiety in the long run.
Enabling behavior can hinder their progress in overcoming their fears and limit their personal growth. So, instead of shielding them from difficult situations, focus on helping them develop coping mechanisms and face their fears directly.
5. Don't force them to confront their fears
While it's important not to enable avoidance, it's equally crucial not to force someone to face their fears before they are ready. Pressuring them to confront anxiety-inducing situations can strain your relationship and potentially worsen their distress.
Instead, prioritize calming them down during the intense moments of a panic attack rather than trying to immediately address the underlying cause of their anxiety.
By respecting their boundaries and allowing them to determine when they're ready to confront their fears, you can foster a sense of trust and provide them with the support they need during their journey of managing anxiety.
How to help someone after a panic attack
Supporting someone after a panic attack is crucial in helping them recover and regain a sense of stability. While the immediate symptoms may have subsided, it's essential to provide ongoing care and understanding.
Provide a calm and reassuring presence
After a panic attack, it's crucial to create a supportive environment. Begin by offering reassurance and letting a person know they're safe.
Avoid overwhelming them with questions or advice right away. Instead, prioritize providing a calm presence, offering comfort, and validating their experience. Allow them the space and time they need to recover at their own pace.
Talk about the attack after they have calmed down
Anxiety and panic attacks don't last long – some last for only 5 minutes, others for 30 minutes. When a person has calmed down, it's time to find a long-lasting solution to their attacks. And engaging in a discussion about the episodes can be beneficial in finding it.
Creating a safe and supportive environment where they feel comfortable sharing their experience is important. Encourage open communication by asking gentle and empathetic questions, allowing them to express their thoughts and feelings about the attack.
For example, ask them how long they have experienced anxiety or panic attacks. Find out whether they have identified their triggers. And ask what works for them and what doesn't.
Encourage them to seek professional help
If anxiety and panic attacks have a big negative impact on the quality of your loved one's life, it's important to seek professional help.
Gently encourage your loved one to reach out to a therapist or counselor who can provide specialized guidance and assistance in managing their anxiety. Professional help can offer valuable tools, techniques, and strategies, facilitating long-term recovery and improved mental well-being.
At Calmerry, we have a team of over 600 licensed mental health professionals ready to provide the support they need. Connecting with an online therapist through Calmerry can offer tailored strategies to their specific needs and a convenient, safe space to help them effectively manage their anxiety.
Take care of yourself too
Knowing how to help someone with anxiety and being there for them at all times can be emotionally and mentally taxing. It's vital to prioritize your well-being to ensure you can help your loved one effectively.
Here are some self-care tips for yourself:
Set realistic boundaries – recognize your limits and avoid taking on more responsibility than you can handle. Establish boundaries that protect your own mental and emotional energy.
Engage in the things that bring you joy and relaxation – this can include hobbies, exercise, meditation, spending time in nature, or engaging in creative outlets. Taking time for yourself not only helps you recharge but also enables you to show up with renewed energy and presence for your loved one.
Reach out for support – don't hesitate to ask for help from others when needed. Enlist the support of family members, friends, or professionals to assist your loved one, especially when you feel overwhelmed or fatigued.
Share your concerns – Expressing your own fears and concerns with trusted people can be beneficial. Opening up about your experiences and emotions can help alleviate stress and provide relief.
Consider therapy – seeking professional guidance can provide you with valuable insights and coping strategies to better support your loved one while also addressing your own needs.
Final thoughts
Helping someone with anxiety or panic attacks requires compassion, understanding, and a commitment to self-care. By being present for them and learning effective strategies to help them through their challenges, you can make a positive difference.
But it's crucial to prioritize your own well-being as well. Setting boundaries, seeking therapy for anxiety, expressing concerns, and practicing self-care are vital components of maintaining your own mental and emotional health.
You're doing great, both of you!
Subscribe
to our mental health digest
Let us support you on the way to better mental well-being. Get expert tips and insights on mental health delivered to your inbox monthly.
Сheck your mental well-being for free: