Published December 19, 2022 / Updated December 20, 2022
Is It Shame or Guilt? What's the Difference Anyway?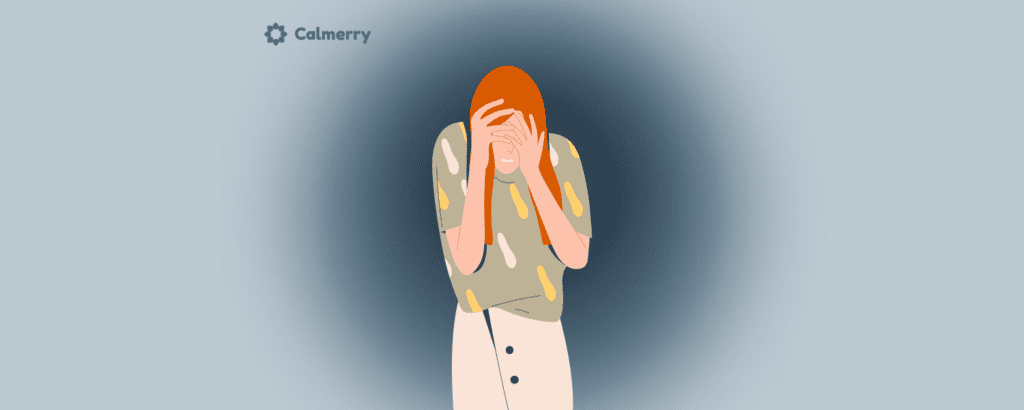 Reading Time:
6
minutes
If you're like most people, you've probably experienced feelings of what you'd call shame or guilt at some point in your life. It's not a pleasant experience for sure. You might even think they're basically the same thing and you wouldn't be alone – it's a common misconception.
In everyday conversation, it might be ok to use guilt and shame interchangeably, but understanding the difference matters too. It is a difference in focus and function. One helps us move forward, and the other can keep us stuck.
When it comes to guilt vs. shame, the details matter.
Understanding guilt and shame
Guilt is generally defined as that painful, uncomfortable feeling you get when you realize that you've done something wrong or hurt someone. You acknowledge that your actions have been hurtful and there is a sense of remorse. Guilt is often accompanied by a desire to undo or lessen the impact.
Guilt plays an important role in accountability and responsibility. While it can feel like shame, and you might feel ashamed of your actions, guilt is related to how your actions affect others. Acknowledging guilt can help you to be aware and move you forward. When left unresolved, guilt can give way to shame.
Shame, on the other hand, is an inwardly-focused emotion. It's an intense, self-conscious emotion that arises from negative beliefs and perceptions of self. It comes from feeling inadequate or having the perception of not living up to your standards or those of society.
Shame can arise even when you haven't done anything inappropriate. These negative beliefs can make you doubt yourself and your self-worth or feel like you're just a "bad person."
Shame is often shrouded in secrecy. After all, we want social acceptance and don't want people to see our shortcomings, whether they are real or imagined.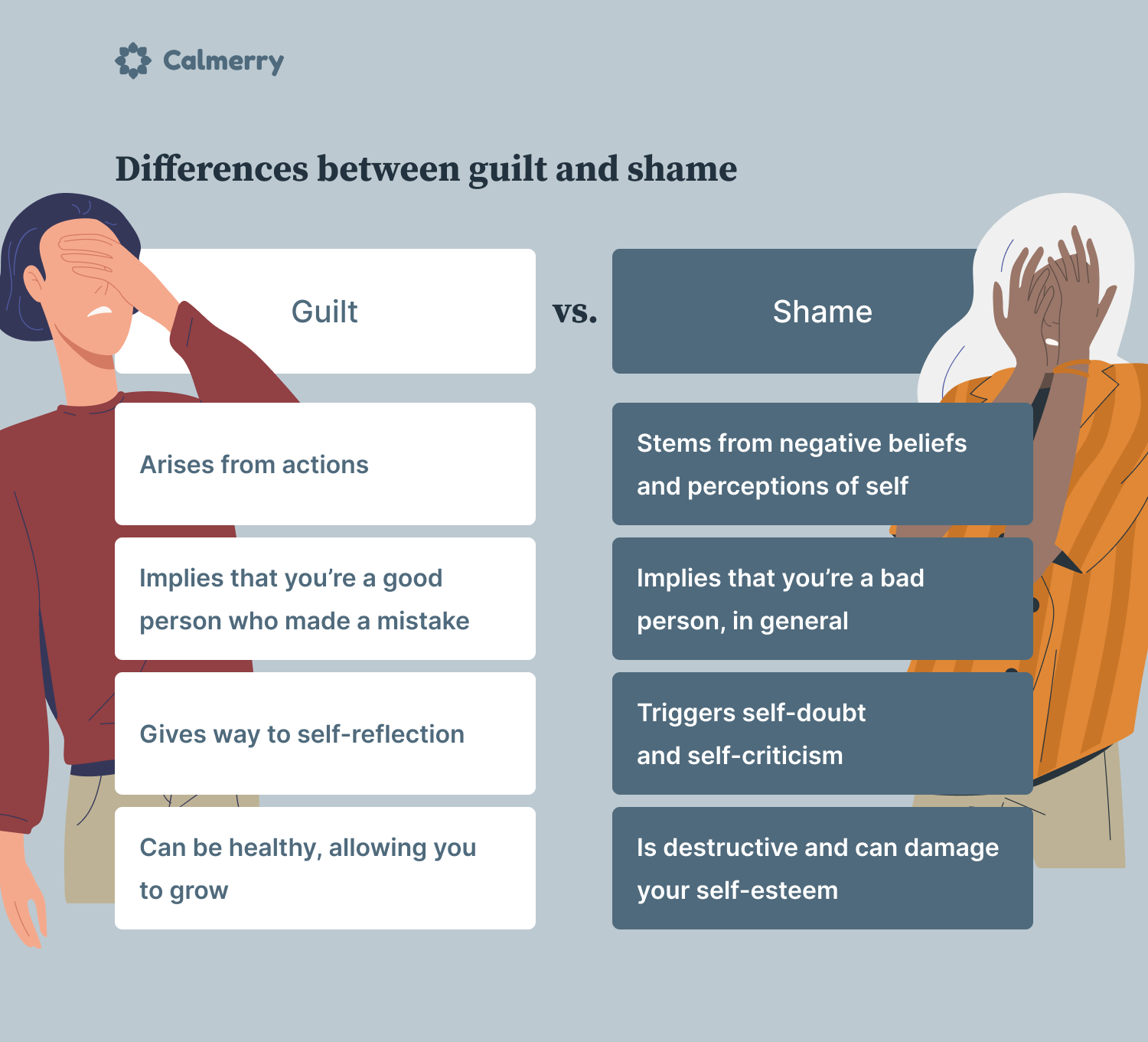 When it comes to shame vs. guilt, there are distinct differences:
Guilt arises from actions
Shame arises out of negative beliefs and perceptions of self
Guilt implies that you are a good person who made a mistake. It's more about morals and correcting behavior
Shame makes you see yourself as the problem, not a behavior. It is more of a judgment of self-worth
Guilt gives way to self-reflection
Shame triggers self-criticism and doubt
Guilt can be healthy when you recognize a mistake and grow from that behavior
Shame is a destructive emotion that, left unresolved, can erode your sense of self-esteem and self-worth
We all struggle with guilt vs. shame, but it might surprise you to know that people don't all experience guilt and shame in the same ways.
Research data shows that individual differences play a key role:
Some people are more guilt-prone. They are able to see their actions as separate from themselves: "I made a mistake."
Others tend to be more prone to shame. They perceive actions as a negative reflection of self: "I must be a bad person to do that."
Why do some people tend to feel more shame? The answer might lie in your past.
Where does shame come from?
Shame is rooted in our insecurities, and we all have them. When something triggers or pokes at that painful spot, you can become overly focused on that perceived mistake or flaw, and the feelings of shame rise. You can become so focused on the negatives that you lose sight of all of your strengths and positive qualities.
For some people, their shame is specific to certain insecurities. It is uncomfortable and unpleasant, but it is normal and generally related to some mistake, real or imagined. It tends to subside over time. It is similar to guilt and in fact, guilt has sometimes been referred to as "healthy shame."
Others struggle with more pervasive and intense feelings of shame that are often accompanied by self-doubt and feelings of worthlessness or inadequacy. This toxic shame is particularly damaging and is thought to have its roots in early child development.
Shaming is sometimes used to correct behavior. It isn't meant to be hurtful, but those messages can cut deep.
Adverse childhood experiences (ACES) can influence the predisposition to guilt or shame too. Experiences like witnessing or experiencing abuse, neglect or violence, emotionally absent parents or caregivers, mental health issues, or bullying – just to name a few – can foster feelings of being insecure, unlovable, or undeserving, forming the foundation for shame.
Toxic shame can result from traumatic adult experiences too. For example, combat experience or causing a serious accident can trigger feelings of intense shame.
Abusive relationships often involve shaming or behaviors like gaslighting, guilt-tripping, or harsh criticism. These tactics degrade self-worth and confidence, create self-doubt, and set you up for feeling shame.
The effects of shame
Toxic shame can wreak havoc on your personal life and relationships. Besides, research data shows that shame can cause significant damage to your mental health, in general.
Emotional impacts
Shame is associated with feelings of low self-esteem and negative beliefs about oneself. These feelings are also associated with many mental health issues. People who deal with shame experience higher rates of anger, trauma, anxiety, and depression, as well as PTSD and eating disorders.
Impaired coping
When something causes distress, your goal is to alleviate the distress. People dealing with shame often engage in high-risk behaviors, such as substance abuse, disordered eating, or self-harm in an effort to reduce their emotional pain.
Unfortunately, the relief is temporary and the shame that results from the behavior only serves to perpetuate the cycle.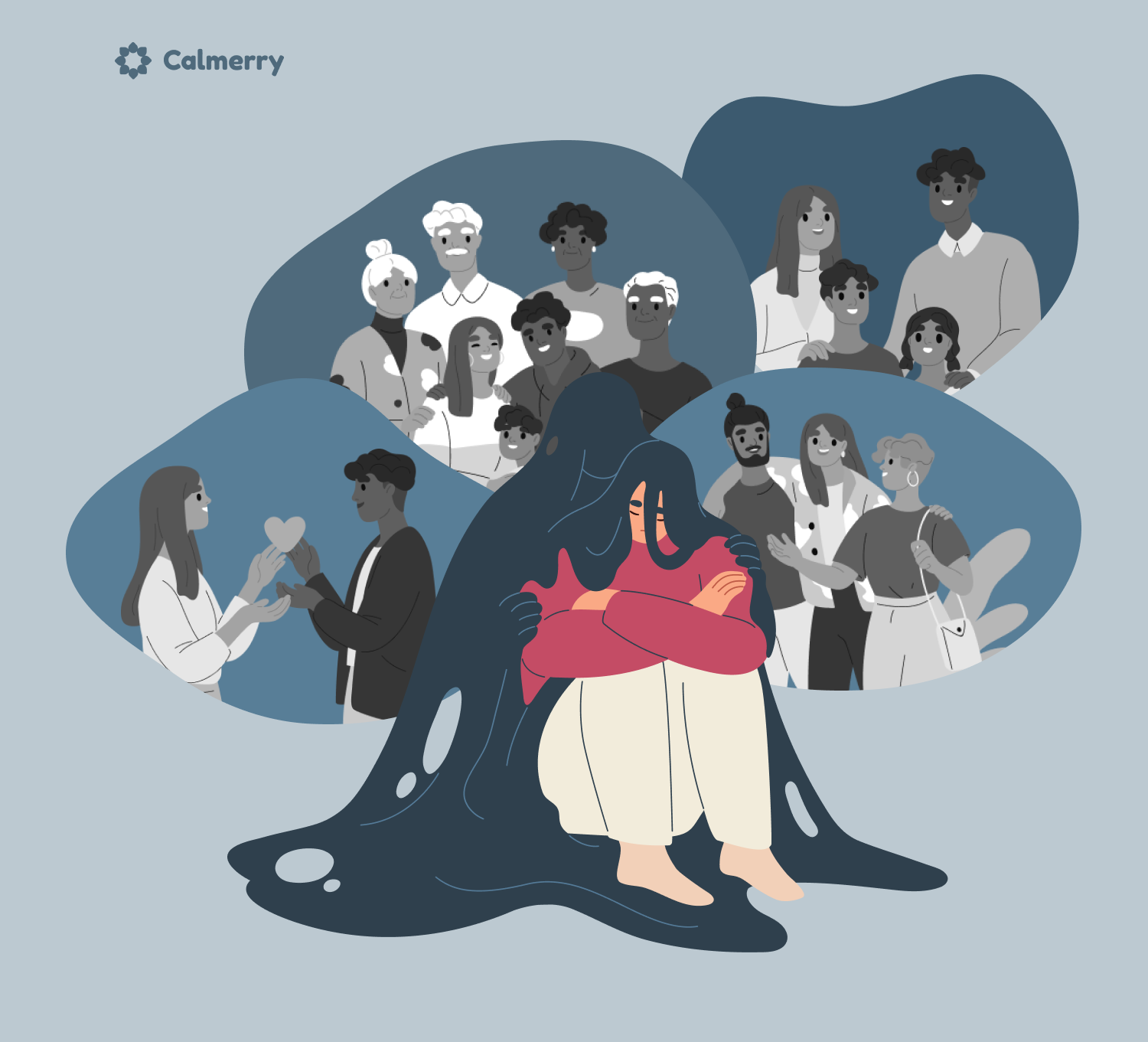 Social isolation
We instinctively avoid what hurts us like avoiding the sharp edge of a knife because you know it will cut you. The same happens with shame. With shame, there is a fear of being judged, criticized, or rejected.
After all, the roots of shame often involve past hurtful experiences that leave us feeling vulnerable. Intense shame causes us to retreat inward. This emotional withdrawal is an attempt to soothe those wounds and protect ourselves from further injury.
Impaired relationships
Feelings of not being worthy or "good enough" can make it hard to let yourself trust and be emotionally vulnerable with others.
Partners may tell you that you are aloof or emotionally distant. Communication can break down. You may find yourself in relationships with partners who are unkind to you or expect you to put their needs above yours, fearing rejection or criticism.
Early experiences have a strong influence on our adult relationships so you may notice that some patterns in your relationships are repeating.
Can you overcome shame?
Yes. No matter how intense your shame is, you can overcome it by addressing the root causes and practicing self-care. Here are a few things you can do to overcome shame and learn to value yourself.
Build emotional intelligence
It's not always easy to recognize exactly what we're feeling. We sometimes just impulsively react to a feeling only to regret it later. Emotionally intelligent people are really good at noticing and identifying their emotions, thereby being able to respond rather than just reacting. By the way, emotional intelligence has zero to do with intellect.
Better emotional intelligence helps you manage your emotions by letting your brain and not your feelings drive the response. A simple example of this is the old saying, "think with your head and not your heart."
In other words, let your brain and not your emotions guide your decisions. And, guess what? It's a skill you can learn!
Subscribe
to our mental health digest
Let us support you on the way to better mental well-being. Get expert tips and insights on mental health delivered to your inbox monthly.
Practice self-compassion
Shame has convinced you that you are unworthy of compassion. Self-compassion helps you to be kinder and develop empathy for yourself. Self-compassion lets you prioritize your own needs instead of always putting others first.
Constantly caring for others while neglecting your own needs is a heavy burden. It can result in a phenomenon known as compassion fatigue and feelings of apathy, isolation, and exhaustion.
Practice mindfulness
Shame sneaks into your thoughts when you least expect it. Mindfulness is a powerful way to gently move your focus to the present and out of destructive thinking patterns that fuel shame.
Mindfulness strategies like breathwork or focusing on your senses can help you focus on the positives and bring your full attention to whatever you're doing.
Build resilience
Author and researcher Dr. Brene Brown suggests that the key to dealing with shame is building resilience. You can't change your past experiences and you can't avoid shame completely, but you can build skills to move through it.
Talk to a therapist
While talking to friends and doing self-help can be helpful, shame is a complex emotion and its roots run deep. Therapy can help you understand your feelings and work through the root causes of your shame while also learning healthy ways of coping.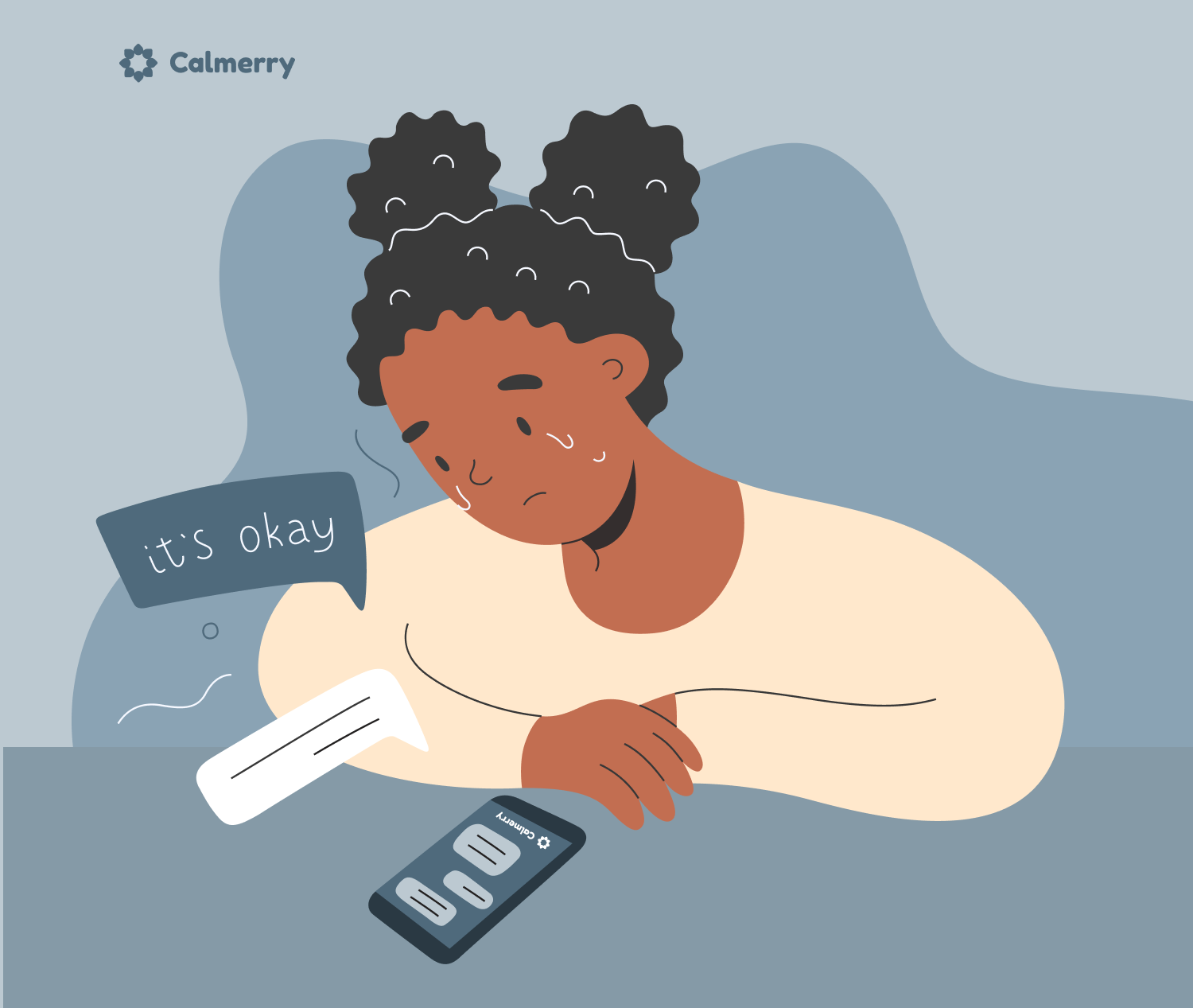 Healing starts with you
Living with shame is not inevitable and healing is more than possible. You can become confident and secure, learn to manage your emotions, and ask for what you need without apologizing for it.
With the rise in access to therapy via online resources, help is more accessible than ever before. Online therapy allows you to access care when and how you like it. And, online therapy has been shown to be as effective as traditional in-person counseling. When you're ready, there is help and there is healing.
Сheck your mental well-being for free: