Published December 16, 2022 / Updated December 22, 2022
Pets and Mental Health: What Are the Benefits?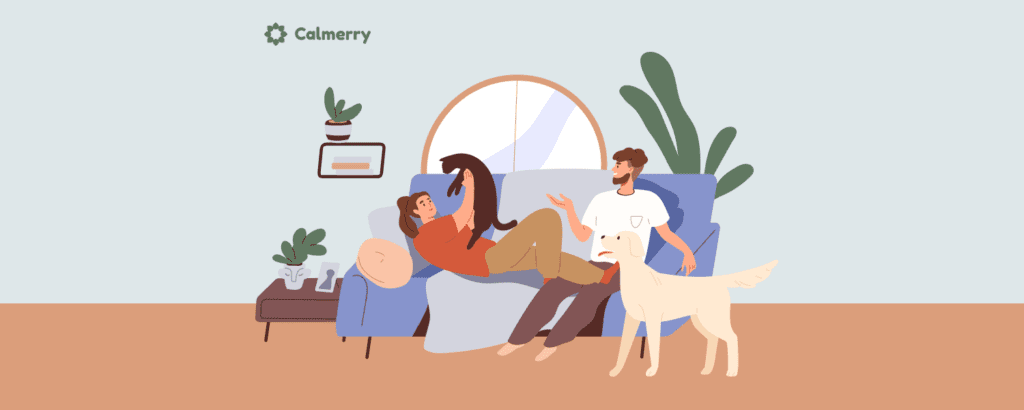 Reading Time:
4
minutes
Millions of people around the world find joy in their pets and often describe their dog or cat as part of their family. Pets make perfect companions that give us unconditional love and are a great source of comfort, emotional support, and motivation.
Moreover, many scientific studies have shown that there is a positive correlation between pets and the mental health of their owners. Pets have evolved to become attuned to our behavior and emotions. And their intuition makes them great support and therapy animals.
As a result, animal-assisted therapy programs have become an important part of mental health treatment for anxiety, depression, and PTSD. But we can experience the benefits of pet therapy every day in our own homes.
Here we'll take a closer look at how caring for a cat, dog, or other animals can help improve your mental health.
10 Mental health benefits of pets
Pets can provide a sense of calm, comfort, and safety, making us feel better emotionally.
A survey conducted by The Human Animal Bond Research Institute (HABRI) in 2021 showed that 87% of pet owners reported mental health improvements from pet ownership.
So what are the mental health benefits of owning pets?
1. They lower stress
Interacting with a friendly dog or a cat helps normalize blood pressure, lower heart rate, and reduce the level of the stress hormone cortisol. At the same time, playing with a pet, hugging, or stroking it can help elevate the levels of feel-good hormones – serotonin and dopamine – that make you feel calm.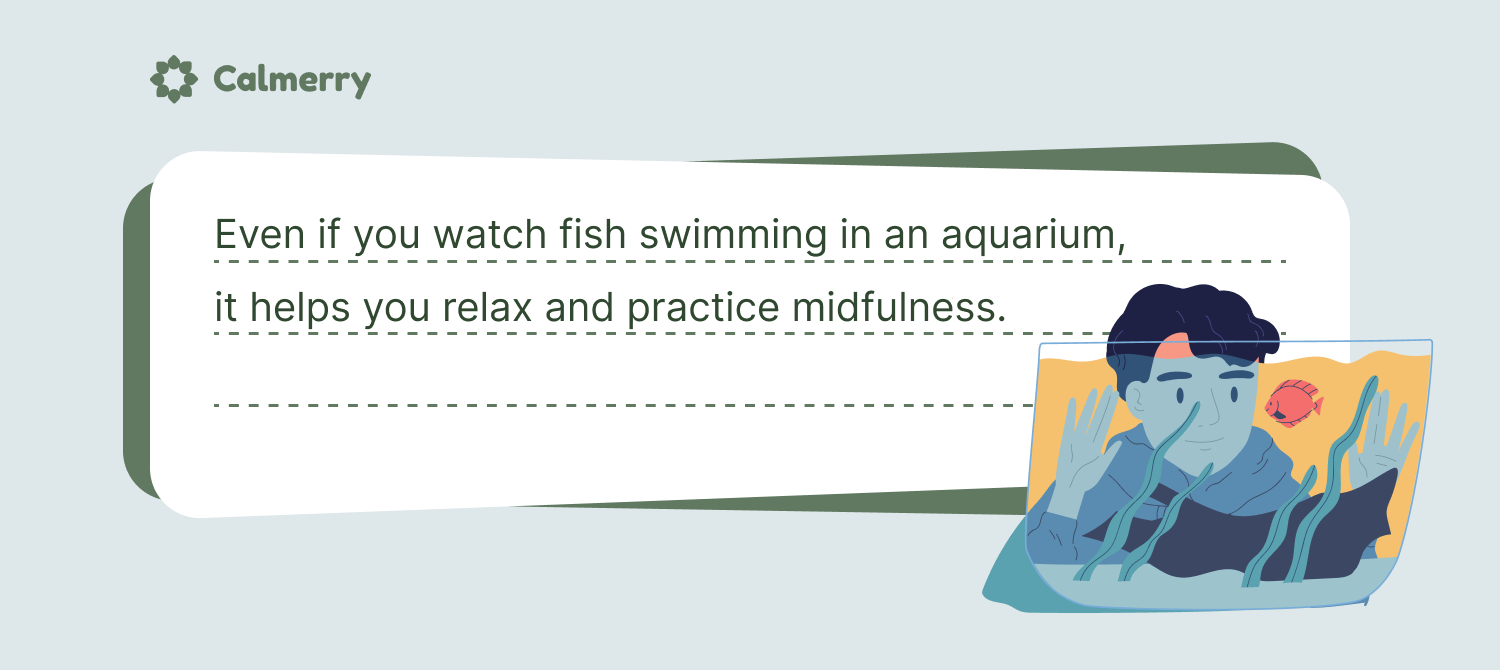 Even if you watch fish swimming in an aquarium, it helps you relax and practice mindfulness.
2. Pets help with anxiety
Pets provide companionship, and they can be affectionate, loyal, and accepting, which gives us a sense of security. You know you have someone to share a day with, so you feel less lonely and less anxious.
Pets also fulfill the basic human need for touch. So when you hug or stroke them, it helps you calm and soothe.
3. They can help us become more mindful
Cats and dogs are great examples of living in the present moment. They don't worry or ruminate about past events, and they aren't worried about things that might happen in the future.
Spending time with a pet helps us remember how to be playful and carefree and teaches us to enjoy and appreciate the present moment.
4. Pets can help reduce the effects of depression
Studies showed that pet owners are less likely to struggle with depression than people without pets.
Cats and dogs can sense your emotional state and are great at interpreting your gestures, body language, and tone of voice. They understand when you are feeling down or depressed and try to offer comfort and support, reminding you that you're not alone.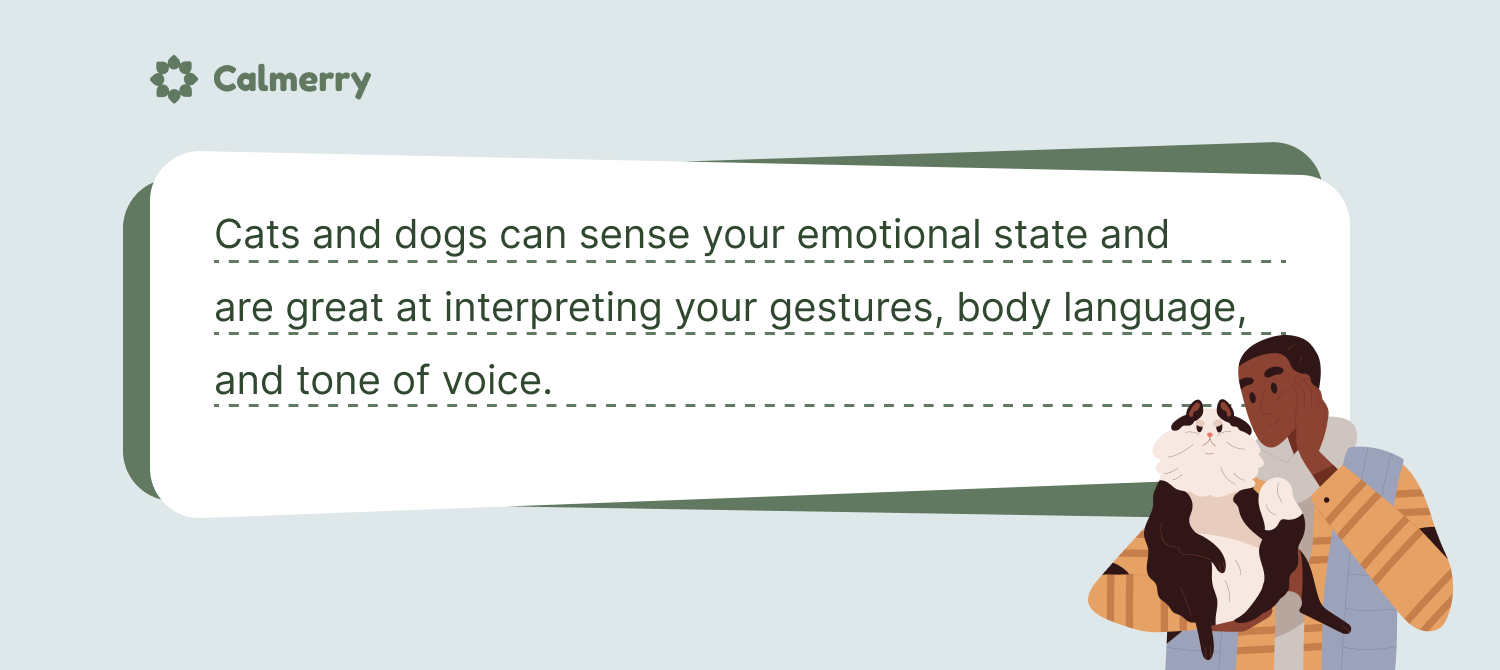 5. Our pets make us feel needed
When you have a pet to care for, you feel needed and wanted, and you also understand that you're responsible for looking after them.
Caring for another living thing gives you a sense of purpose and makes your life more meaningful. That's especially important if you live alone.
6. Pets are great listeners
Pets are always there for us, and they don't care how much money we have, where we live, or what we do. Your pet just loves you and is always thrilled when you come home from work. So you know that you have someone to talk to about your day without the fear of being judged.
Your pet won't criticize you, and you'll never feel misunderstood. That makes you feel loved and accepted and can help improve your self-confidence and self-esteem.
7. Pet owners have more opportunities to socialize
Pets not only give us companionship, but they also help us build social skills, connect with other people, and start new friendships because they provide a common topic to talk about.
For example, dog owners often stop and chat with each other when they take their dogs for a walk. You could also make new friends when you're waiting at the vet just because of the shared interests in your pets.
Pet owners also have an opportunity to meet new people in pet shops and puppy training classes or when they join online groups.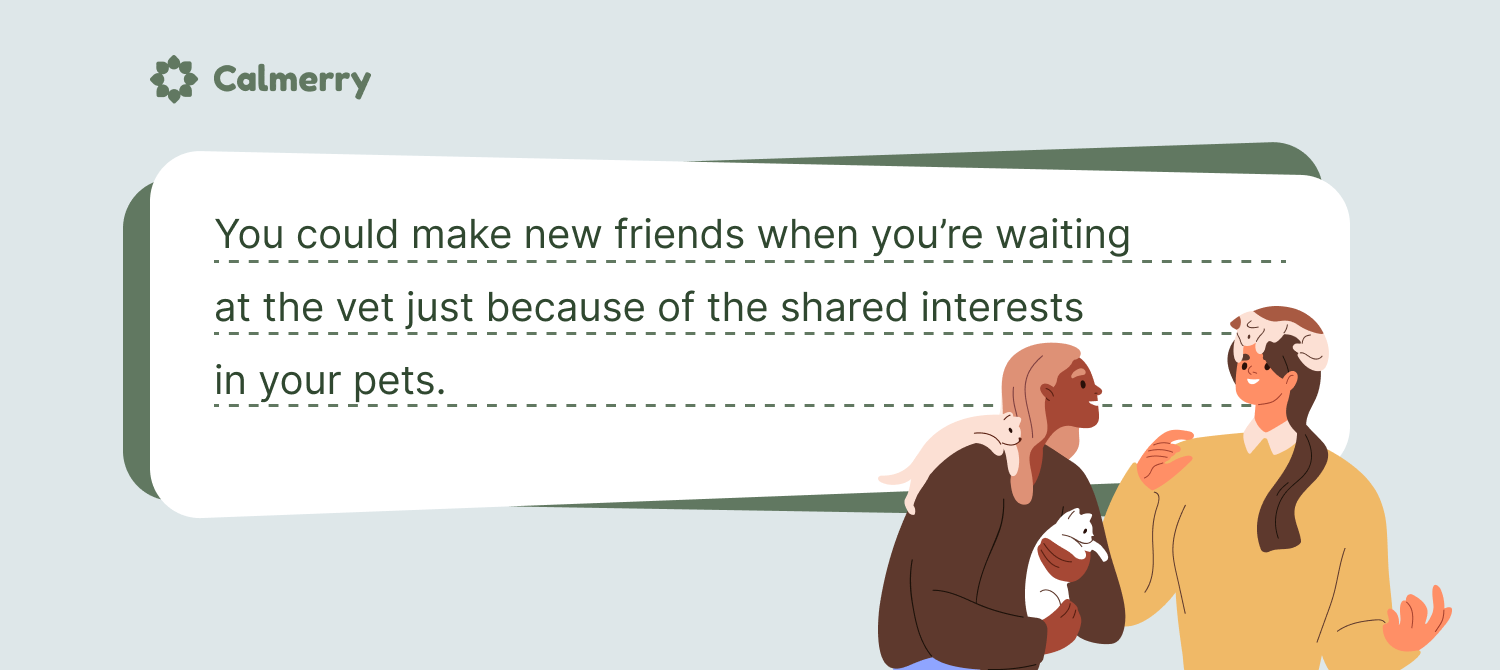 8. Pets add structure to your day
Having a pet to care for involves many responsibilities. Most pets require regular feeding, cleaning, and exercise – so you always have something to do.
Having a consistent daily routine keeps your pet balanced and calm, and it works for you, too. It gives your day purpose and helps you feel focused and grounded, providing a distraction from distressing symptoms, if you have any.
9. Pets get us exercise more
Pets help us stay active. For example, dogs require regular exercise, so they give you a reason to go outside each day to move and get some fresh air. That makes your pet healthy and happy, and as a result, you, too, might get more exercise that is beneficial for both your physical and mental health.
Taking your dog for a walk or run every day is a fun way to stay physically fit, boost your mood, reduce stress, and improve your sleep quality.
10. Pets help us feel happy
Just looking at the friendly furry face of your cat or dog might make you happier.
Some studies show that eye contact with your dog can make your brain release the hormone oxytocin, which is sometimes called the love hormone. Oxytocin immediately boosts your mood and makes you feel happy.
Subscribe
to our mental health digest
Let us support you on the way to better mental well-being. Get expert tips and insights on mental health delivered to your inbox monthly.
Final thought
Having a pet can be one of the most rewarding relationships in your life. But it's also a major commitment that involves time, money, and careful thought.
Pets can bring immense enjoyment and fulfillment to your life only if you love domestic animals and have the time and money to keep your furry or feathered friend happy and healthy.
You should also remember that despite the many benefits to your overall well-being, a pet is not a miracle cure for mental health problems. And although pets are good listeners, they aren't a substitute for therapy.
Сheck your mental well-being for free: