Published June 19, 2023 / Updated July 27, 2023
8 Benefits of Yoga for Mental Health, According to Science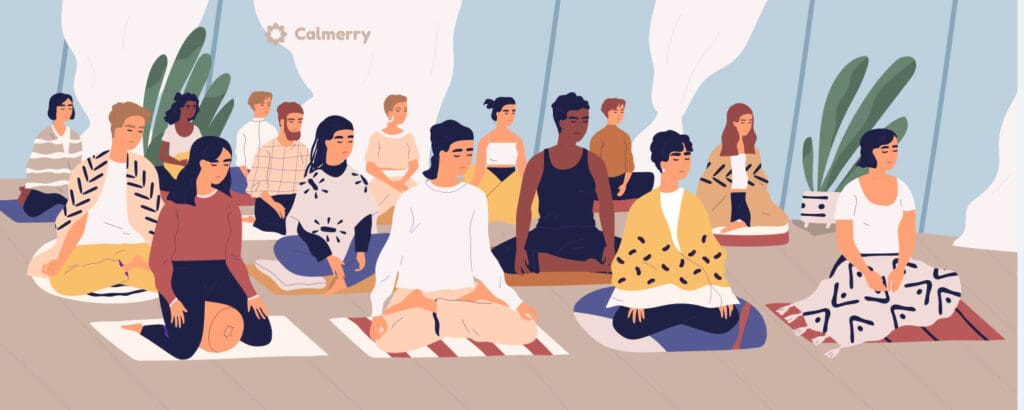 Reading Time:
6
minutes
Inhale: 1-2-3-4-5. Exhale: 1-2-3-4-5. If you've been doing breathing exercises to feel calmer, happier, and more focused, you know how soothing yoga is.
Despite being an ancient practice, yoga has become increasingly popular, and for good reason. It is suitable for people of all ages and effective for treating chronic conditions.
Interestingly, scientists have discovered that this practice has several mental health benefits. Let's explore the relationship between yoga and well-being, as well as the evidence-based benefits of yoga.
What is the relationship between yoga and mental health?
"How can the simple act of holding poses and stretching improve your mental health?" You may have this question in mind.
Yoga goes beyond being a mere exercise form. It encompasses a rich tapestry of life and well-being principles that reach far deeper, including:
Moral code (Yama)
Self-discipline (Niyama)
Postures or poses (Asanas)
Mindfulness of breathing (Pranayama)
Detachment from senses (Pratyahara)
Concentration (Dharana)
Meditation (Dhyanna)
State of rest (Savasana)
Ecstasy (Samadhi)
While some of these principles focus on the physical experience, most are centered on mental, emotional, and spiritual well-being.
So, the connection between yoga and mental health is simple – both are centered on connecting a person with their thoughts, feelings, beliefs, and core values.
Mental health benefits of yoga
Yoga combines breathing techniques, physical postures, meditation, and relaxation. Practicing authentic yoga requires introspection, deep reflection, and earnest contemplation of your inner self, much like what you do in therapy. And unsurprisingly, many therapists are incorporating yoga into their practice for better outcomes.
Let's look at some of the mental health benefits of yoga that are backed with scientific evidence.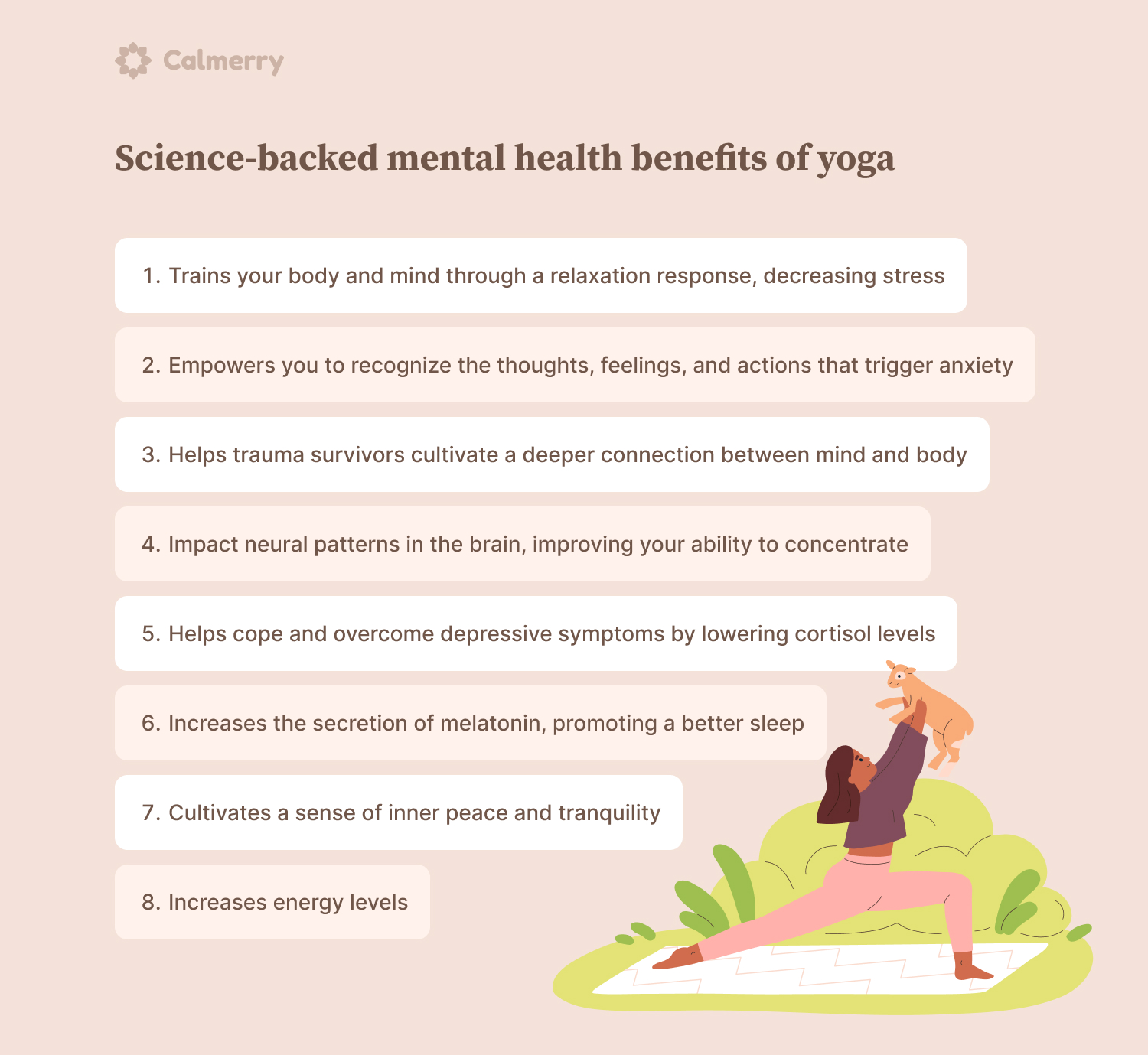 1. Decreases stress
Multiple studies have shown that yoga decreases the secretion of cortisol – the primary stress response hormone. This happens after regular practice that trains your parasympathetic nervous system.
Exercise is a helpful way to relieve stress, but yoga can do more to train your body and mind through a relaxation response. It combines physical fitness with the philosophy of self-compassion and mind-body awareness that also enhances resilience.
To cope with challenging situations, yoga encourages you to:
Recognize what is happening
Allow life to be just as it is
Introspect your inner experience with kindness
Realize that you're not defined or limited by your emotions and experiences.
Some stress comes from being self-critical and judgmental, and this practice fosters self-kindness, which results in stress relief.
2. Relieves anxiety
Does yoga help with anxiety? Definitely, yes.
From mild nerves to full-blown panic, anxiety manifests as a natural response to stressful situations. It can be a disruptive emotion, and yoga sessions can help calm down your nervous system.
Various studies prove this practice can be part of an effective anxiety treatment plan. In one study, a 12-week yoga intervention resulted in more significant improvements in anxiety regulation than a walking exercise program.
In another study, the anxiety scores of women who described themselves as "emotionally distressed" improved by 30% after 3 months of yoga classes.
Yoga for anxiety can:
Empower you to recognize the thoughts, feelings, and actions that trigger anxiety
Increase mind-body awareness
Teach how to effectively self-soothe
Replace unhealthy coping mechanisms
3. Helps manage PTSD symptoms
Post-traumatic stress disorder (PTSD) can have a powerful grip on the lives of those it affects. It stems from a disturbance in the autonomic nervous system, which plays a crucial role in regulating our body's responses.
However, several studies have proven that yoga relieves PTSD symptoms. When combined with medication and psychotherapy, incorporating yoga into treatment plans can offer significant mental health benefits.
PTSD impacts people on multiple levels – physically, mentally, and emotionally. People living with PTSD often struggle with managing their body's survival response. Even when they recognize they are safe, they may still experience hypervigilance and panic.
However, yoga goes beyond these boundaries, serving as a catalyst for recovery. Through yoga, you can find stability for your autonomic nervous system (ANS), enabling you to better engage with counseling and psychotherapy. Regularly practicing yoga trains your ANS to become more adaptable, fostering a healthier response to stress.
Moreover, yoga as an exercise helps trauma survivors cultivate a deeper connection between their mind and body, developing a heightened sense of self-awareness.
It's essential to recognize that while yoga can be incredibly beneficial, it's best used as a complementary practice alongside professional mental health support.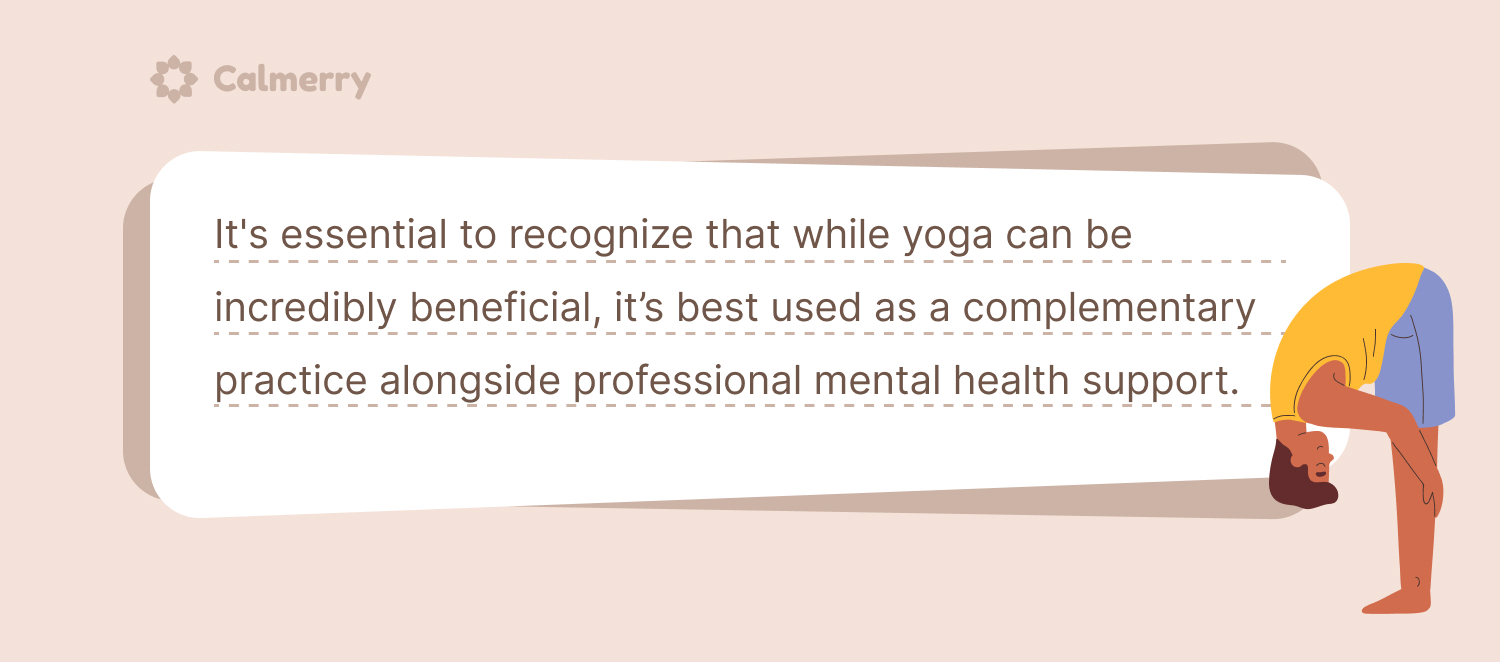 4. Fights depression
Depression is a widespread and serious medical illness. People with depression have high levels of cortisol caused by brain changes. The condition is also linked to reduced levels of GABA neurotransmitters. They play a crucial role in regulating brain activity and sleep, help reduce anxiety, and promote relaxation.
Yoga provides a personalized response that takes into account both mind and body. This practice helps cope and overcome depressive symptoms because it:
Lowers cortisol levels
Increases thalamic GABA levels
Encourages participation in exercise
Provides a sense of community
The findings of multiple studies prove that yoga may be an effective alternative for many people with depression who can't access psychotherapy or antidepressants due to side effects, unmet needs, lack of resources, and personal choice.
[depression-test]
5. Improves concentration
Researchers have found that yoga can directly impact neural patterns in the brain, improving your ability to concentrate.
One study by the University of Illinois established that 8 weeks of yoga significantly improved the cognitive function in the brains of elderly individuals who had previously been leading sedentary lifestyles.
Another study by the University of Waterloo found that practicing yoga and mindfulness meditation can increase energy levels, allowing participants to focus on present tasks. It helps release endorphins and increase blood flow essential for improved brain function.
6. Promotes better sleep
Poor sleep can contribute to obesity, high blood pressure, and depression, among other conditions. According to one study, practicing yoga can help increase the secretion of melatonin – a hormone that regulates sleep and wakefulness.
Several studies have proven the efficacy of yoga in improving the quality of sleep. In one study, patients with lymphoma experienced fewer sleep disturbances and reduced need for sleep medications after practicing yoga.
Additionally, this practice has a significant and positive effect on many conditions that cause insomnia and other sleep problems. It alleviates anxiety, depression, stress, and chronic pain and helps prepare your body to fall asleep.
7. Boosts your mood
Do you ever wake up feeling down in the dumps? Maybe you've had a tough day at work, or you're grappling with family problems that seem to overshadow any chance of a smile. We've all been there.
But here's some good news: regularly practicing yoga can empower you to handle those negative emotions better and experience brighter and more joyful moments.
The beauty of yoga lies in its ability to elevate your mood and foster emotional resilience. By consistently engaging in yoga, you can boost the levels of GABA neurotransmitters in your brain.
Besides, as we mentioned, yoga is more than just a physical exercise. It's a holistic practice that nurtures your mind, body, and spirit.
Through the combination of mindful movements, deep breathing, and focused awareness, yoga cultivates a sense of inner peace and tranquility. It helps you to:
Release tension
Clear your mind
And tap into a wellspring of positivity even during the toughest times
Subscribe
to our mental health digest
Let us support you on the way to better mental well-being. Get expert tips and insights on mental health delivered to your inbox monthly.
8. Improves physical health and overall quality of life
Many people use yoga alongside conventional medical treatment to reduce their symptoms and improve their lives. There is evidence that shows a positive effect of yoga for people with the following health conditions:
Yoga as a complement to psychotherapy
Yoga is an ancient practice that offers a wealth of physical and mental health benefits, making it a valuable tool for the various challenges we face in life.
However, it's essential to recognize that while yoga can be incredibly beneficial, it's not a standalone solution for mental health conditions. It's best used as a complementary practice alongside professional therapy and support.
When yoga is integrated with offline or online therapy, it can augment the therapeutic process by promoting self-awareness, mindfulness, and emotional regulation. Yoga's emphasis on breathwork, meditation, and mind-body connection can enhance the therapeutic journey, allowing you to develop a deeper understanding of yourself and your experiences.
Therapy on Calmerry provides a safe and supportive environment for people to explore their emotions, thoughts, and experiences. It offers specialized guidance from trained professionals who can help navigate the complexities of mental health.
Seeking therapy is a courageous step towards self-improvement and mental wellness. It provides a dedicated space for healing, growth, and self-discovery.
Сheck your mental well-being for free: