Published August 19, 2021 / Updated August 4, 2023
Meet Coa – Your Online Mood-Tracking and Journaling Tool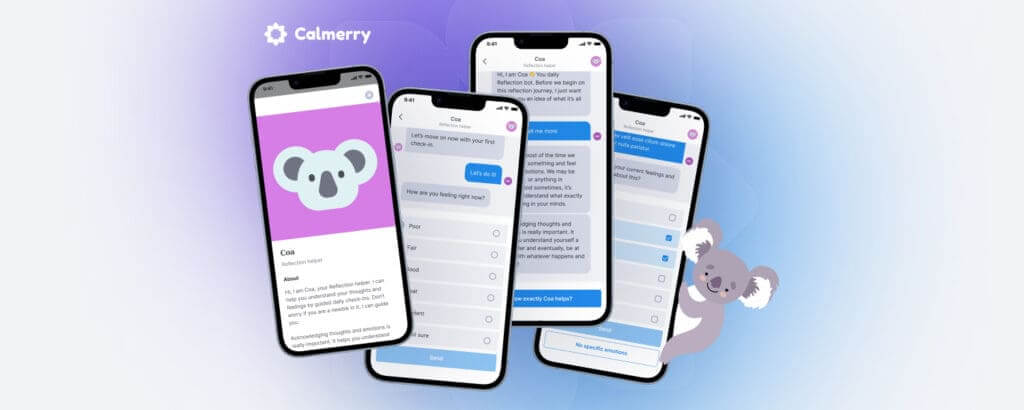 Reading Time:
5
minutes
Self-reflection is a tried-and-true way to practice self-care. Understanding our thoughts, behaviors, and emotions from a distance allows us to gain valuable insights into ourselves, promoting acceptance and empathy.
And the biggest value of self-reflection is that we can change how we see ourselves, feel about certain situations, and, ultimately, act.
There are many tools you can use for self-reflection, and among the most effective ones are mood tracking and keeping a daily journal. 
It can be as simple as jotting down your notes in a notepad!
But traditional pen-and-paper journaling may not be the most convenient thing to keep track of your thoughts, feelings, emotions, and behaviors. Besides, it's also challenging to remember to write in your journal daily.
Recognizing these challenges, Calmerry introduced Coa 🐨, the Reflection Bot. This tool is designed to make self-care, self-reflection, and mood tracking more regular and exciting for all Calmerry users – for free.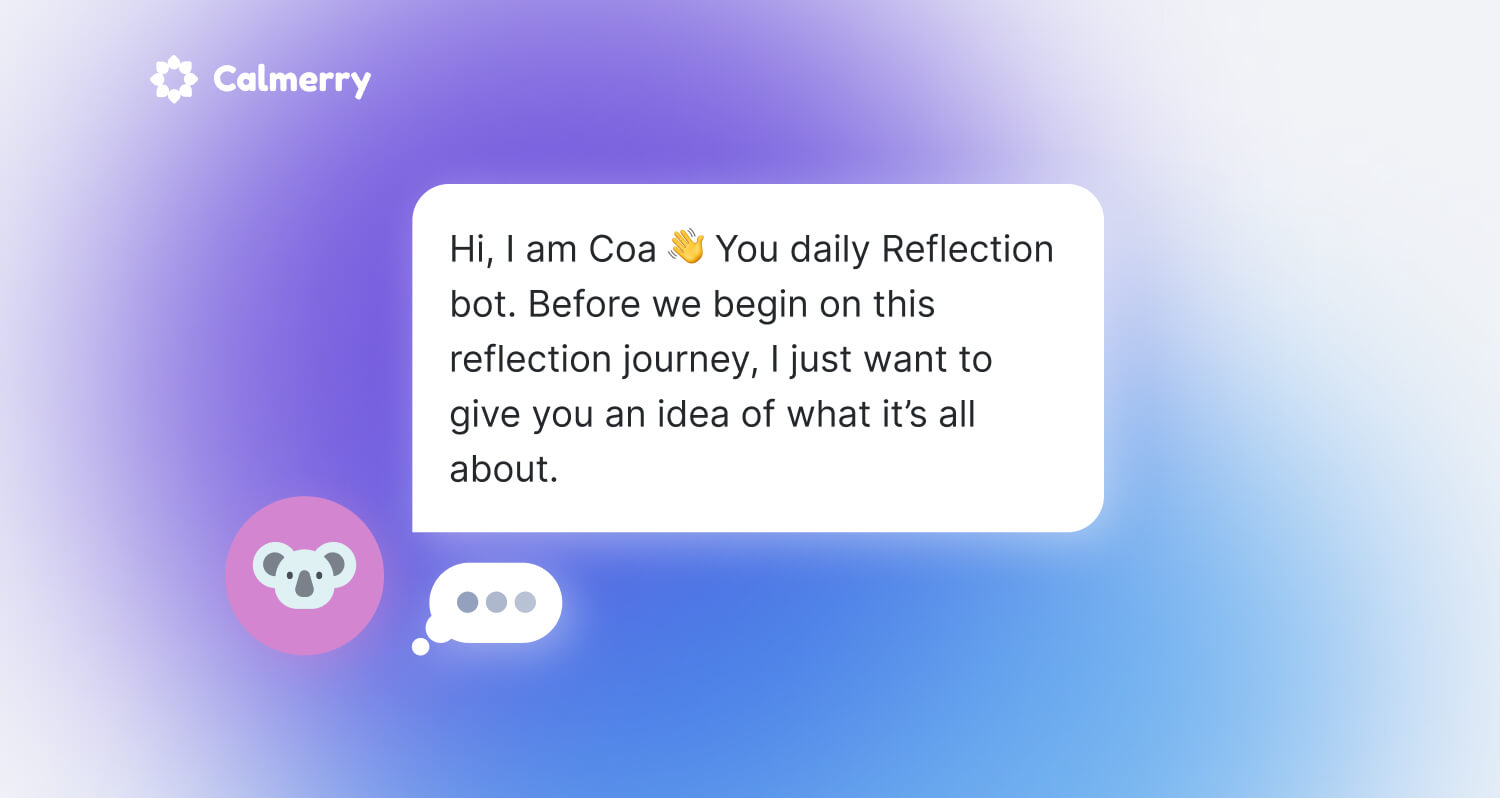 Here's how it all works
With Coa, you can track your moods and write everything online using your phone or laptop from your Calmerry account. You can use the Reflection Helper without an active therapy subscription – so all you need is to register on the platform to start:
Share your mental health goals with Coa – the bot is here to help you on your journey to mental well-being.
Record your daily mood, symptoms, and activities with just a few taps
Write daily journal entries to record your mood notes and your reflections – feel free to write just about anything
Set daily reminders, choosing the most convenient time for this practice. The reflection bot will notify you to write down how you feel
Get accurate charts to see how your mood has been changing over time. That will help you notice patterns and trends in your emotional state.
Share your mood charts and journal entries with your counselor if you want. They can help you discover triggers for mood changes and behavioral patterns
Get insights into what you need to do to best take care of yourself
Besides, the reflection tool can help you observe how therapy impacts your daily mood and thought patterns. For example, our internal anonymized Calmerry research showed that active users of Coa, who consistently monitored their moods, reported a 2x increase in happiness, a 30% decrease in anxiety, and a 3x decrease in sadness.
1. Checking in your moods, emotions, and symptoms
With the help of the Reflection Bot, you can track your:
Moods
Emotions
Feelings
Physical and emotional symptoms
And daily activities
With daily mood check-ins, you'll get a better understanding of how and when mood shifts happen. That may help you identify internal and external triggers that cause mood changes, mood swings, anxiety, stress, or depression.
Armed with this information, you'll be able to get a better idea of why those triggers resonate with you so strongly – and be prepared to deal with them more effectively.
Moreover, mood tracking makes it easier to monitor your progress in therapy and manage triggers between therapy sessions.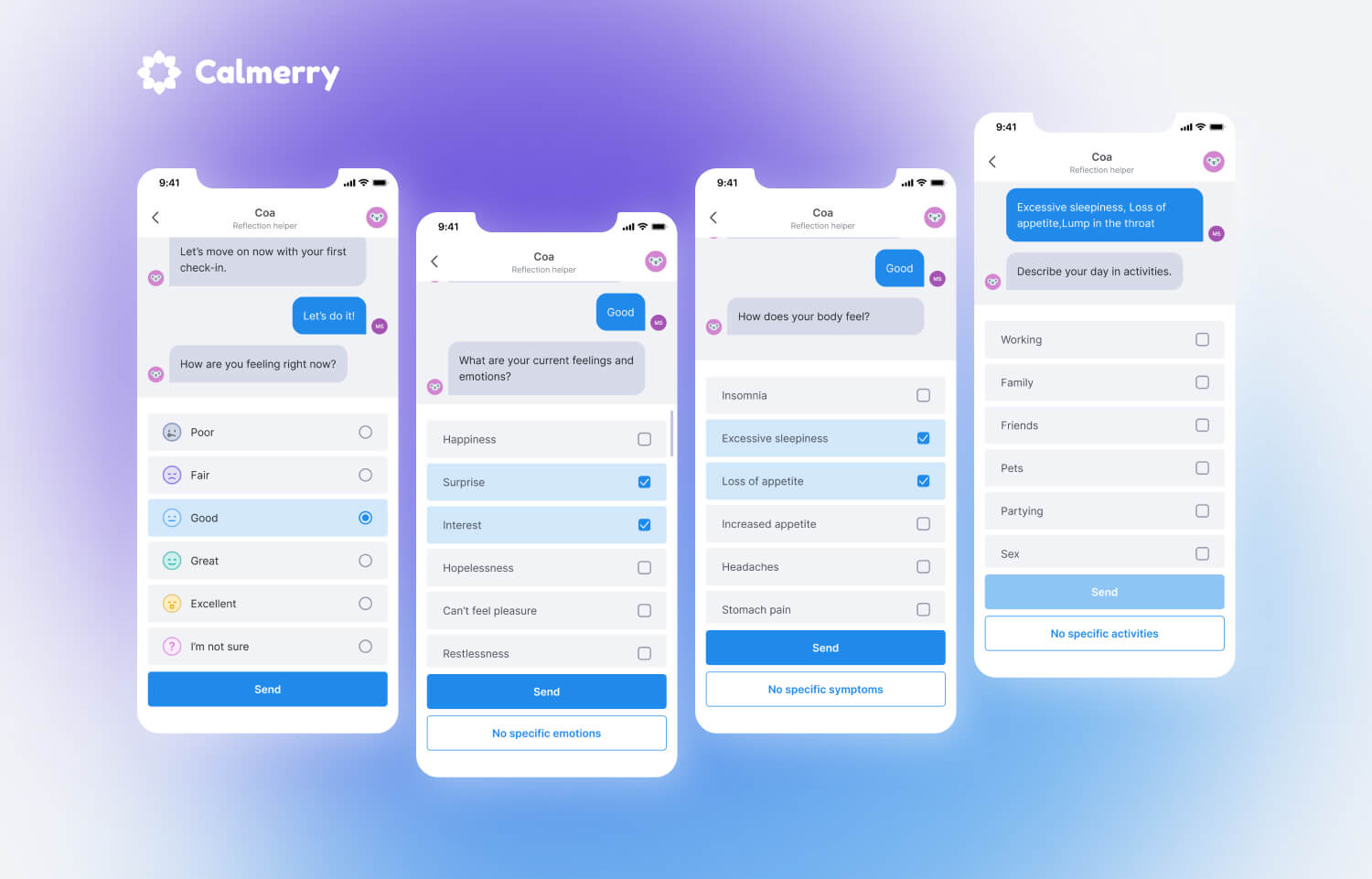 2. Making reflection notes
Creating reflection notes as journaling with Coa is a powerful practice that allows you to learn to articulate your feelings and emotions effectively.
By jotting down your thoughts, experiences, and reflections, you gain a deeper understanding of yourself and your emotional state. Through regular journaling, you can uncover valuable insights that contribute to emotional healing and resilience.
Also, it's a liberating experience – you're free to write anything that comes to your mind. Express your thoughts, feelings, and experiences without any judgment or restrictions.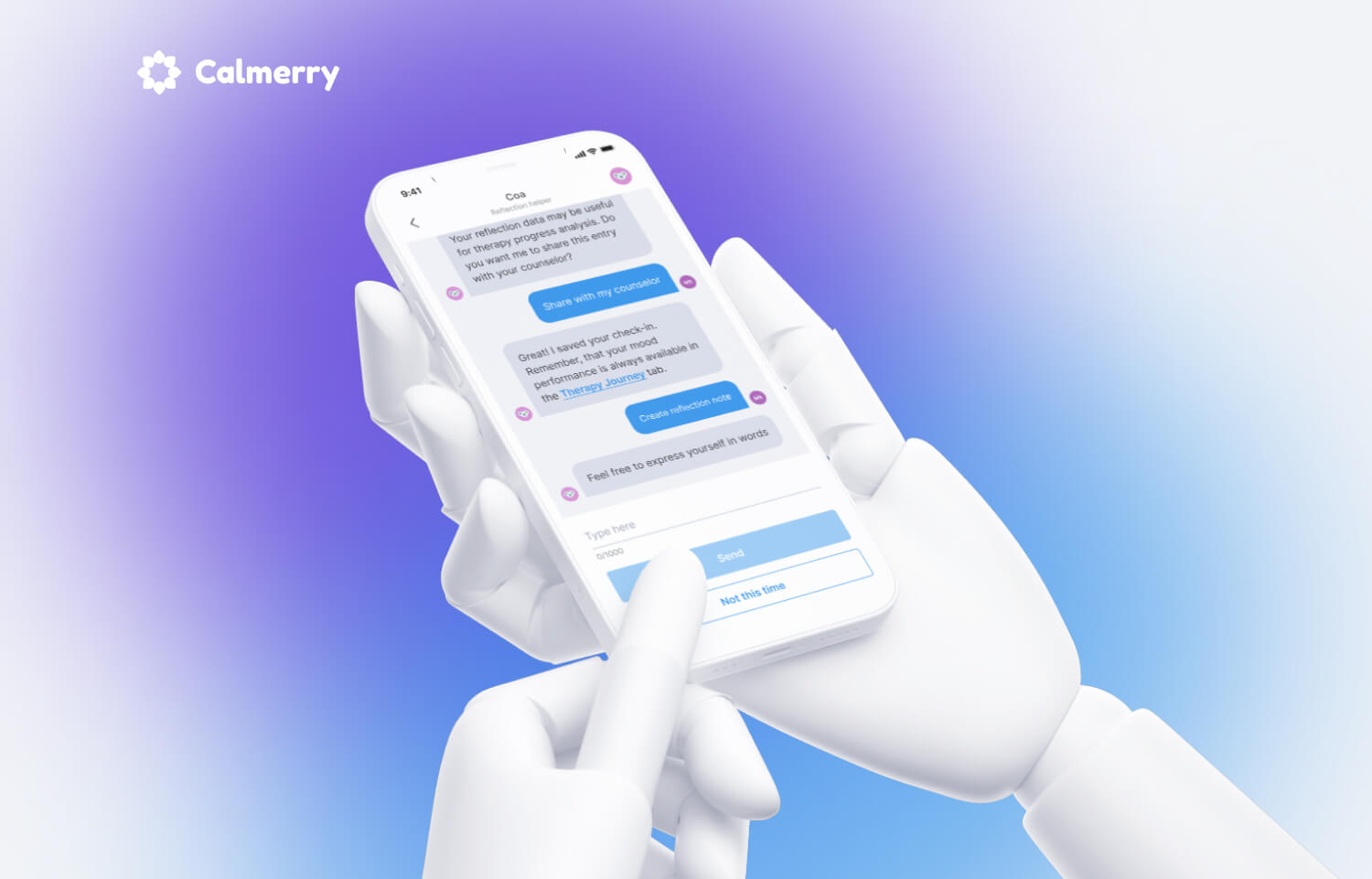 3. Tracking your patterns in mood charts and journal entries
You access your mood and journal history online in the Therapy kit section.
This feature lets you track and visualize patterns in your moods and thoughts over time. Identifying recurring patterns and triggers empowers you to make informed decisions, manage stressors effectively, and nurture positive habits.
Besides, it equips you with a holistic view of your progress, enhancing your therapeutic journey.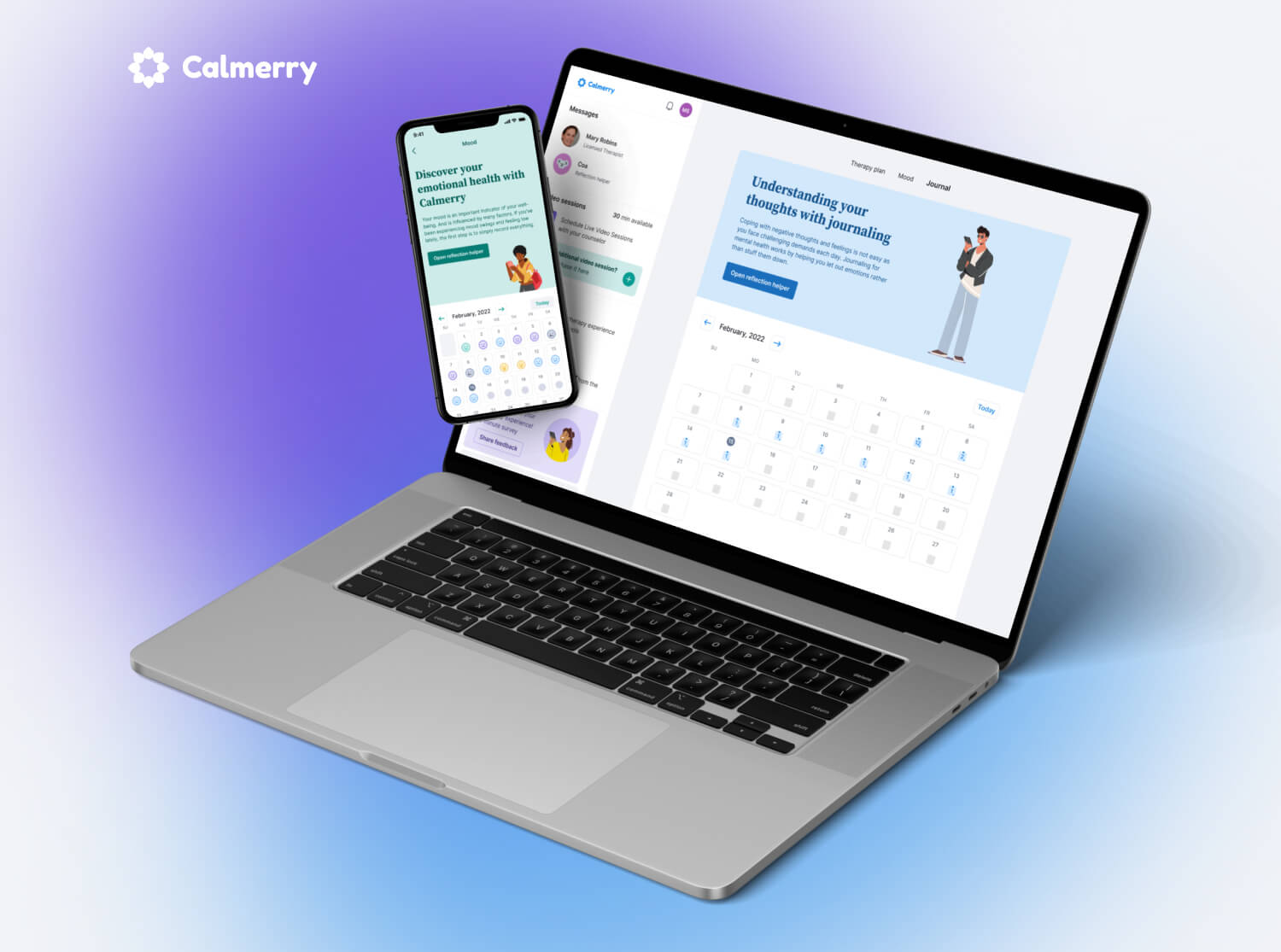 4. Sharing your reflections with your counselor
Using the reflection tool on your own provides valuable insights. But it will be more beneficial to work with a counselor who can help you deal with triggers for your bad moods more effectively and gain control over your emotions.
Your counselor can help you develop a strategy to keep your mental and emotional health in shape.
If you work with a professional on Calmerry, you can share your notes and mood check-ins with them in one tap (if you want to). This information will help them gather more data about your symptoms and develop a more effective treatment plan for addressing your mental health issues.
They will be able to connect your moods to specific interventions. And that can help them better understand what's working and what isn't.
So why use a mood-tracking and journaling tool?
The Reflection Bot can be useful for people with mental health conditions (such as depression and anxiety) and everyone who wants to improve their mental well-being:
When you're tired, stressed, anxious, or overwhelmed, keeping a mood journal will help direct your thoughts and get to the root of the problem. You'll be able to spot patterns and better understand shifts in mood.
Keeping a regular record of your emotions, feelings, symptoms, and thoughts can help you increase your emotional intelligence, evoke mindfulness, uncover issues, and even start healing from difficult experiences.
This safe space for self-expression allows you to delve into your emotions, untangle complex thoughts, and gain clarity in your daily life.
Sharing the charts and entries with your counselor fosters an open and enriching dialogue during therapy sessions. It allows them to gain deeper insights into your experiences and tailor personalized strategies for your mental well-being.
Consistency is key
It's important to be consistent and make a conscious effort to record your mood at regular intervals.
A simple daily check-in at a specific time may be enough. You should also be honest and record both negative and positive experiences to get an overall look at your mood patterns.
Start tracking your mood in a simple yet effective way and reap the benefits with Calmerry! Make journaling a habit, and that will empower you to manage your moods and make better decisions.
And remember that our online therapists are here to provide you with emotional support and guidance when you need it.
Сheck your mental well-being for free: