Published October 19, 2022 / Updated November 15, 2022
Meet Self-Help Tips Library: The New Calmerry Tool to Grow Your Mental Skills
Reading Time:
2
minutes
We are happy to announce the launch of the Self-help tips section on our platform. It's designed to help Calmerry clients practice self-care and emotional regulation and become more confident during their therapy journey.
If you already are a Calmerry client, you can find the Self-help tips section in your Therapy Room. If you're not, let this news be a sign for you to start your therapy journey with us.

The library offers self-guided therapy courses that will give you an opportunity to explore and experiment with different coping skills and strategies that can help achieve your mental health goals. You can work on these self-help courses at your own pace and focus on the things that work best for you.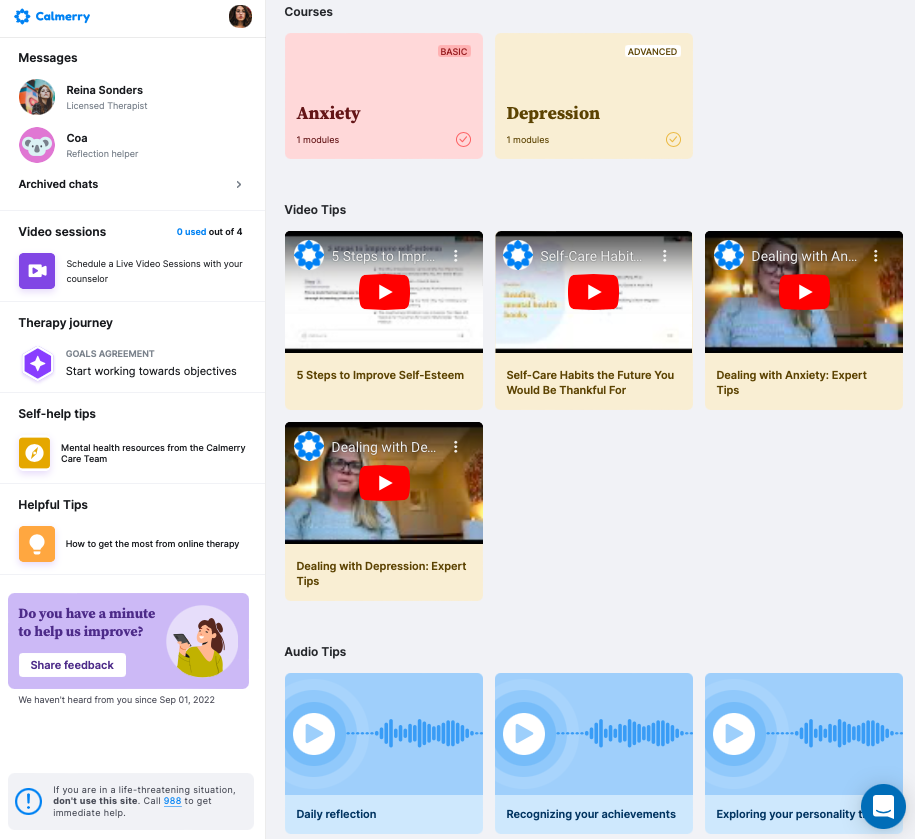 The library also includes audio clips with guided journaling prompts for self-discovery and self-reflection that can help you get in better touch with your thoughts and feelings and achieve greater peace of mind. Daily journaling questions can serve as a guide for what to write about, encouraging you to examine parts of your experience that you may not have looked at before and uncover new insights that you were previously unaware of.
There is also a section with video tips from Calmerry therapists to support clients with specific mental health issues. Here, you can find advice on how to cope with depression, manage anxiety, and improve self-esteem.
For now, the Self-help tips will be available for all Calmerry users with an active therapy subscription. It's a perfect way to take control of your mental health and start a journey of self-improvement to live a healthier and happier life.
Сheck your mental well-being for free: