Calmerry Attends HIMSS to Learn for a Better Future of Mental Health, with Insights from Albina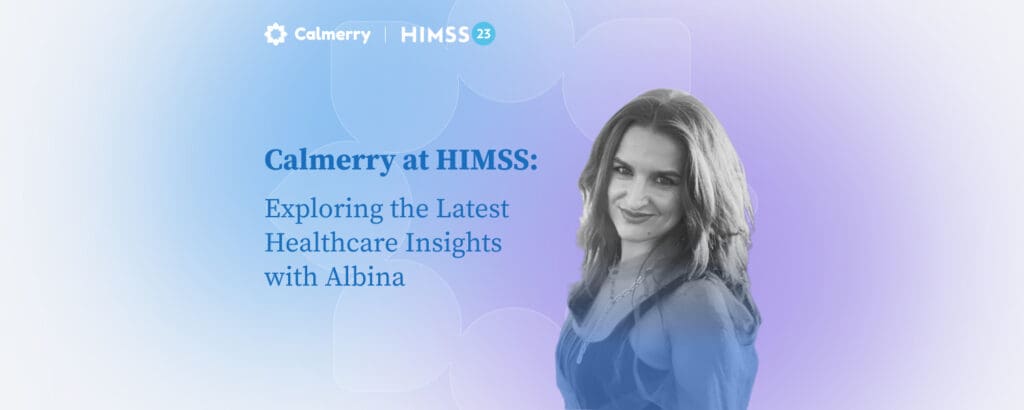 Reading Time:
4
minutes
We at Calmerry are excited to have attended the Healthcare Information and Management Systems Society (HIMSS) conference in Chicago during April 17-21. HIMSS plays an important role in shaping the future of healthcare by fostering collaboration, promoting innovation, and driving improvements in patient care and outcomes.
And there, we had the opportunity to connect with the most influential thought leaders and healthcare professionals to learn about the latest technologies, trends, and needs in the healthcare industry.
Our Partnership Manager, Albina Galiza, represented Calmerry at the conference and was thrilled to be a part of the discussions focused on advancing mental health care. During the conference, she had the opportunity to engage in meaningful conversations with other attendees and presenters, exchanging ideas and discussing the latest developments in the field.
In the following questions, Albina shares her thoughts on the conference. We hope her perspectives and experiences will provide valuable insights and inspire others to join our mission to revolutionize mental health care.
So, without further ado, let's hear from Albina!
1. What was the most interesting thing you learned at the conference?
I can't pick one! There were more than 200 education sessions, 1200 exhibitors, and 20K+ attendees. I was excited to dig deeper into the healthcare ecosystem, hear more about the obstacles healthcare providers are facing, and see how the tech industry helps overcome those.
The name of the conference – "Health that Connects + Tech that Cares" – speaks for itself.
2. Were there any specific sessions or talks that stood out to you?
I was empowered by the comprehensive approach toward mental health for the healthcare workforce outlined by Barbara Van Dahlen during her speech at the Behavioral Health Forum.
Abnormally high levels of burnout among healthcare workers have been reported starting from the COVID pandemic. And it's crucial for the government and public policy professionals, as well as health management teams, to address the challenges, define gaps in the system, and take the needed actions.
3. Did you notice any trends or themes throughout the conference?
The hottest topics were:
Digital Health Transformation
High-Performance Low-Code Solutions
Generative AI for Healthcare
Cybersecurity
Payer Provider Collaboration
And Health Equity
It's amazing that we, as providers of access to healthcare services, prioritize patient safety and privacy and, at the same time, work hard to provide personalized care. It's not an easy task, but it's definitely worth it.
4. Did any new healthcare technologies or innovations catch your attention?
Plenty. I was surprised by the number of AI and Data Science, Data Analytics, and Data Engineering services. The screening programs and tools were definitely of my interest. I think self-monitoring is really important. Not all health metrics can be measured at home, but I wanna believe we should develop this habit of checking on ourselves more, both physically and emotionally.
5. What do you think healthcare professionals should take away from the conference?
I would say their primary task, as of any other human being, is to take good care of themselves.
At the same time, I'm happy that enormous attention was focused on health equity. It's a fundamental metric. Underserved communities still exist. And eliminating biases is a must in every sphere, but now we are talking about human life. I see no other value higher than this.
6. What were some of the biggest challenges discussed at the conference?
I think the biggest opportunity and challenge at the same time is the use of AI in healthcare. 
We, as healthcare services, lack guidelines and explanations. And healthcare professionals should understand when and why it's applicable, taking into account ethical considerations.
7. Did you have any inspiring conversations with other attendees at the conference?
We all agree that the virtual-first approach is important to take the pressure off the healthcare workers and avoid additional costs.
For example, I met the President and Chief Executive Officer of Waianae Coast Comprehensive Health Center, who shared that their center bought tablets for all of their patients to ensure they can have access to telehealth services.
8. What do you think the future of healthcare technology looks like based on what you saw at HIMSS?
I don't remember who said that, but I can totally relate: "Data-driven healthcare is the future."
Although I personally am scared of the fast pace. We are biased toward the unknown. So we need time to educate people and ensure we're using the knowledge and workflow effectively.
9. Do you and the Calmerry team plan to take any specific steps based on what you learned at the conference?
I'm eager to help healthcare workers and would like to conduct research on mental health support programs for medical personnel. And if we, as the online therapy platform, can fill in the gaps and provide people who save lives every day with the support they need, I think it's the best goal to achieve.
A word from Calmerry
Our team is passionate about making mental healthcare accessible and convenient for everyone. The conferences like HIMSS allow us to connect with other enthusiasts and learn about the current needs, latest technologies, and the industry's future – and, eventually, grow as the platform.
We believe everyone deserves access to quality mental health care, and we're committed to making that a reality through our work at Calmerry. Our team is happy to shape the future of healthcare and improve people's lives together with such a powerful healthcare community!
Let's connect
Book a 30-min demo call with us to learn more about our B2B offering and how Calmerry can help take the pressure off your team through flexible, customizable, and holistic therapy.
See a live demonstration of how platform works
Have an overview of our flexible payment models
Get a tailored offer based on your company needs and number of employees
Сheck your mental well-being for free: