Published March 31, 2023 / Updated May 14, 2023
Rejection Sensitive Dysphoria: Causes, Symptoms, and More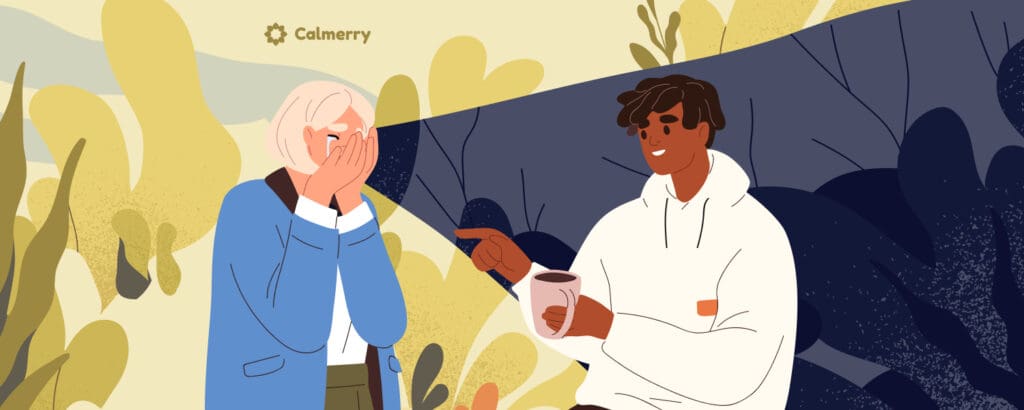 Reading Time:
6
minutes
Being rejected is a distressing experience for most of us. Rejection can make us feel unwelcome, undesired, or unappreciated, but these are natural emotional reactions, and many people have the resilience to easily cope with these feelings. But for some people, rejection may trigger an overwhelming and persistent emotional response, which is sometimes called rejection sensitive dysphoria (RSD).
What is RSD?
Rejection sensitive dysphoria is the term that is used to describe extreme emotional sensitivity and pain triggered by criticism, disapproval, teasing, or rejection, whether real or perceived. This intense feeling of unhappiness or emotional pain goes far beyond the common discomfort that most of us experience.
For example, people with RSD may react intensely to someone saying "no" to them. But they could also interpret general comments from others or certain behaviors as rejection, even when these comments or behaviors aren't meant this way. Someone with RSD may also feel rejected by innocent comments that most people would consider mild.
Rejection sensitive dysphoria isn't a formal diagnosis included in the American Psychiatric Association's Diagnostic and Statistical Manual of Mental Disorders, 5th edition (DSM-5). But it doesn't mean that RSD isn't real or that the emotional pain you're experiencing isn't authentic or valid.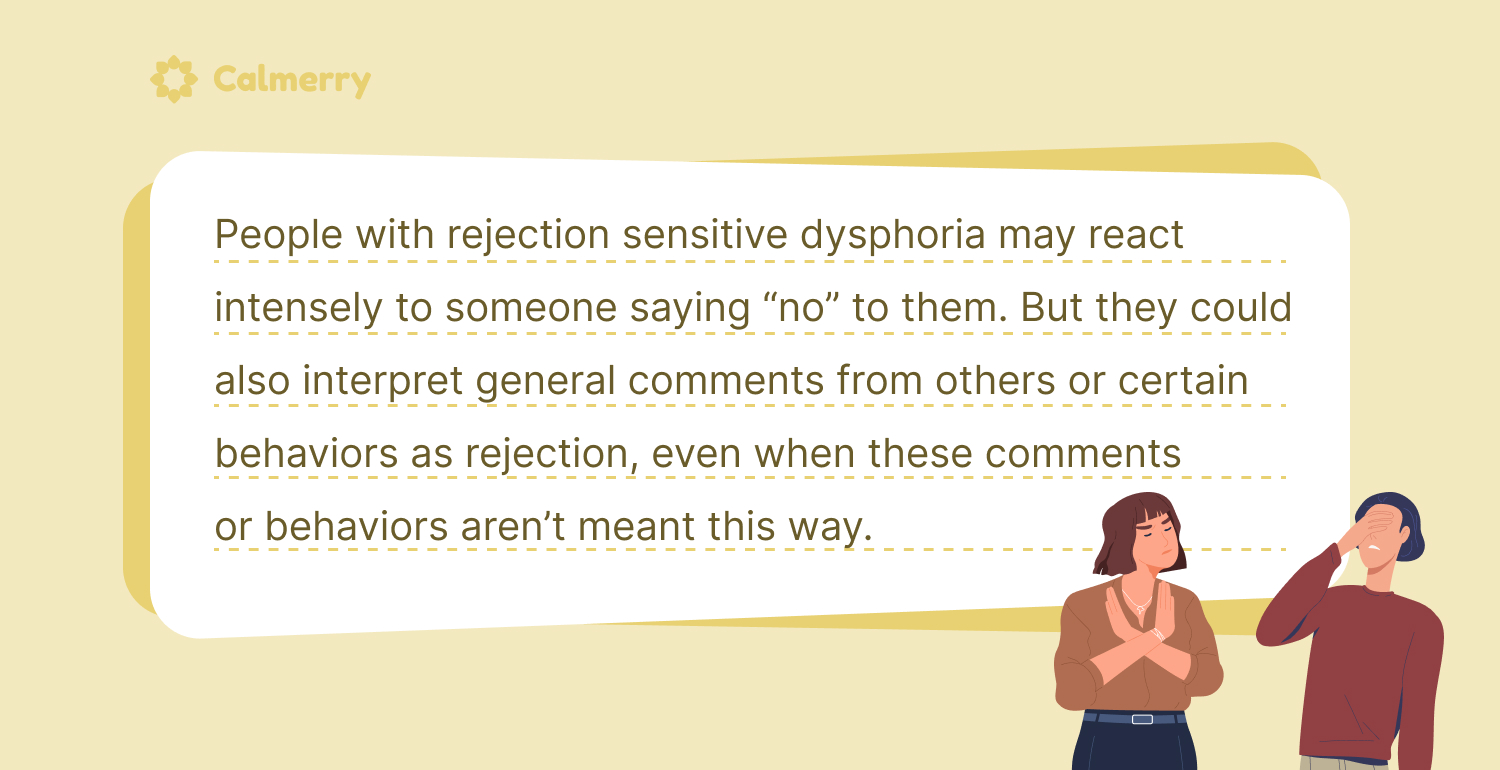 The DSM-5 tends to focus on conditions that are backed by numerous empirical studies and extensive research. But there are many understudied conditions that aren't yet included in this clinical reference tool, and such conditions, like rejection sensitive dysphoria (that is only now starting to be researched in depth), are acknowledged and treated by mental health professionals.
Rejection sensitive dysphoria and ADHD
Rejection sensitive dysphoria can affect anyone, although it's often considered a type of emotional dysregulation (ED) that is commonly seen among people living with ADHD. Although emotional dysregulation isn't recognized as a formal symptom of ADHD in the US, it's one of the 6 fundamental features that are used to diagnose ADHD in the European Union.
Many people living with ADHD struggle to regulate their emotions and may feel emotions more intensely. Emotional dysregulation can be described as the inability to manage emotional responses to stimuli and keep them within the usual range of reactions.
The symptoms of emotional dysregulation often include:
Irritability,
Low frustration tolerance
Emotional impulsivity
Mood fluctuations
These symptoms are often associated with RSD, too, and some experts believe that ED and RSD are closely related.
People with ADHD may also have more experiences of rejection, which may then promote hypersensitivity to it. They often have trouble with behaviors that come normally to others and may sometimes have behaviors that put them outside of the typical social norms.
As a result, people with ADHD often hear more criticism and correction than people who don't have this condition. They may see frequent criticism as rejection and may feel shame and embarrassment, and these feelings may trigger rejection sensitivity.
But emotional dysregulation isn't unique to ADHD, and there are studies that suggest there may be moderate links between RSD and other mental health conditions, including depression, anxiety, and bipolar disorder. There is also thought to be a link between rejection sensitive dysphoria and autism.
Rejection sensitive dysphoria symptoms
Most people may experience disappointment, sadness, or frustration after experiencing rejection. But people with RSD have a very strong emotional reaction to negative judgments, exclusion, or criticism from others. Although how people experience RSD may be specific to their current situation, potential signs may include:
Persistent emotional or physical distress when facing real or perceived criticism or rejection
Perceiving rejection when it isn't actually occurring
Viewing small rejections as disastrous
Anger and aggression in uncomfortable situations
Frequent and intense ruminating after an interaction about how you said or did something wrong
A chronic fear of rejection
Feelings of despair and hopelessness
Emotional outbursts
A need for approval and validation
Fear of failure
Perfectionism or people-pleasing tendencies
Social withdrawal
Low self-esteem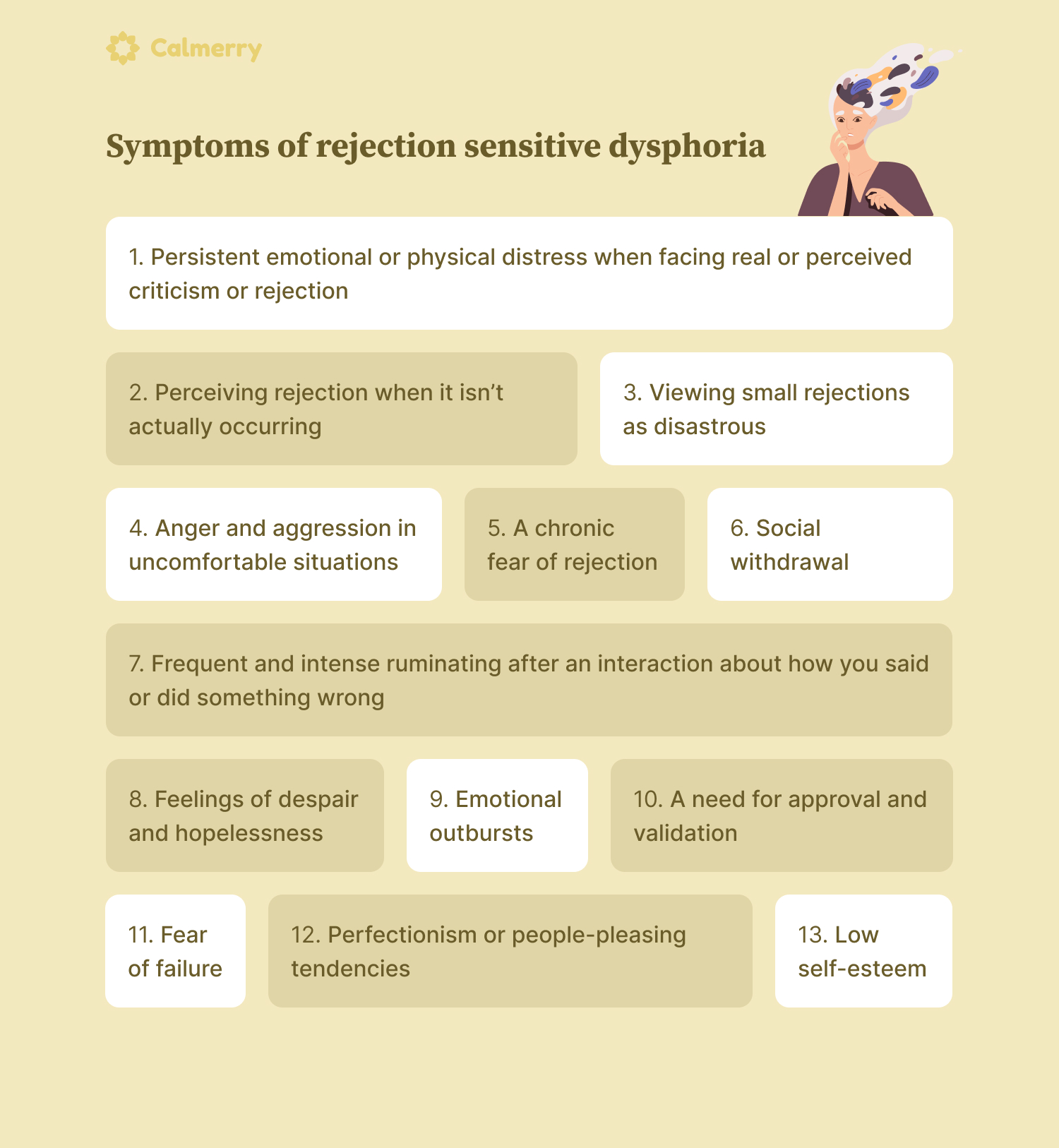 What causes rejection sensitive dysphoria?
Experts aren't sure what causes RSD, and it is believed to be caused by multiple factors. One possible explanation is a history of neglect or rejection in early childhood, such as having an overly critical or neglectful parent. That may increase rejection sensitivity later in life and also impacts how a person with RSD views themselves.
Because of this insecure attachment with their parents or primary caregivers, some people may have lower self-esteem and suffer from an intense fear of rejection and abandonment that affects their own relationships. It's also believed that RSD has a genetic component and can run in families. So you may develop rejection sensitivity if your parent or another close relative has RSD.
Rejection sensitive dysphoria in relationships
Living with RSD isn't easy because it can cause intense, overwhelming distress that is difficult to control. Moreover, rejection sensitive dysphoria can significantly affect the quality of life because people who fear rejection may avoid all situations where it could occur. They may not try to connect with other people, even if they want to develop romantic relationships and friendships.
People with RSD may misinterpret any behavior to be a rejection of them and disregard other, more logical explanations. As a result, dating can be extremely hard for someone with RSD – they may think they are being rejected when that is far from the case and ruminate on what they did or said "wrong". They may even isolate themselves and actually act in ways that push their partner away from them.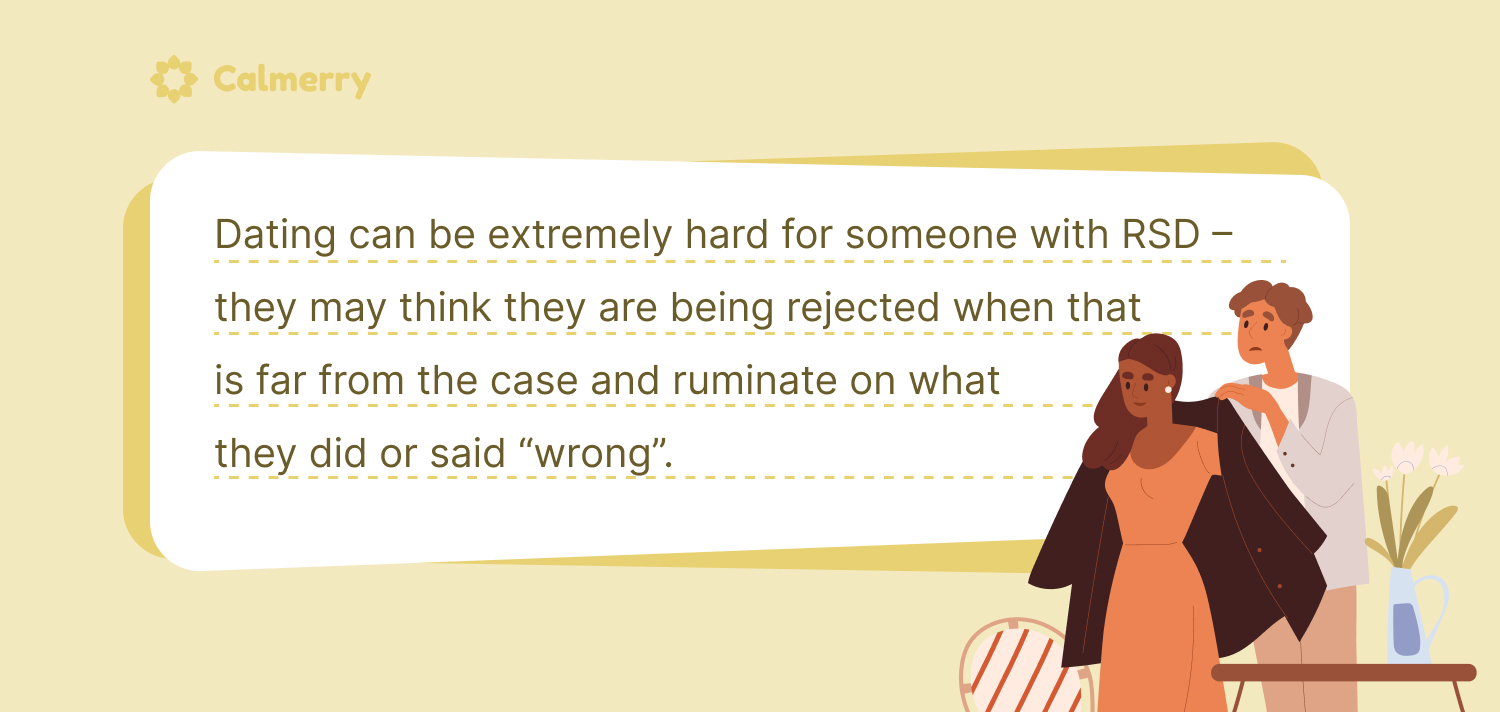 Within relationships, people with RSD may take things too personally, continually second-guess their actions, and want frequent reassurance from their partner that everything is OK. They may be afraid to open up and share their real feelings because of the fear that their partner won't consider those feelings valid and acceptable. They may escalate conflicts, feeling anger that is out of proportion to the situation.
Rejection sensitive dysphoria treatment
Although there's much that is not known about RSD, there are still ways to treat this condition. And while there isn't a specific cure, there are different treatment options, and it's common to use multiple treatment approaches at the same time. A successful treatment focuses on managing symptoms and may include a combination of therapy, medication, and lifestyle changes.
Psychotherapy can't stop RSD from happening, but it can help improve your understanding of your emotional reactions at the moment and learn how to process and manage feelings so they're less overwhelming.
Specifically, a form of talk therapy known as cognitive behavioral therapy (CBT) can be effective in addressing symptoms of RSD. It can help you identify negative beliefs about rejection and change them into healthier, realistic thoughts. You can learn how to deal with stressful situations and manage relationship conflicts.
Dialectical behavior therapy (DBT) that focuses on improving emotional regulation and interpersonal skills can also be helpful. You can learn how to build your resilience and reduce reactivity to adverse events.
If you are too busy to attend traditional face-to-face therapy sessions, you can benefit from online therapy. On Calmerry, we can match you with an experienced licensed therapist who understands the emotional struggles associated with rejection. A therapist can help you create a plan that addresses the cause of your symptoms and how you experience them.
How to deal with rejection sensitive dysphoria
While there's no universal treatment that can take your RSD away, you can learn to manage it. Don't be afraid to seek help from a mental health professional who can help you learn how to control your emotions and deal with rejection in a more positive way.
Be open-minded when trying different self-help strategies and take care of your physical and emotional well-being – exercise regularly, prioritize eating a healthy diet, follow a consistent sleep schedule, and practice stress-management techniques, such as mindfulness, deep breathing exercises, and yoga.
Subscribe
to our mental health digest
Let us support you on the way to better mental well-being. Get expert tips and insights on mental health delivered to your inbox monthly.
Rejection sensitive dysphoria can be frustrating, but it's possible to cope with it. Acknowledge that your emotional pain is real and you are strong enough to experience it and keep going. Seeking treatment and making lifestyle changes can help you live a happier, more fulfilling life.
Сheck your mental well-being for free: