Published April 18, 2023 / Updated April 20, 2023
What Kind of Therapist Do I Need? Different Titles and Types of Therapists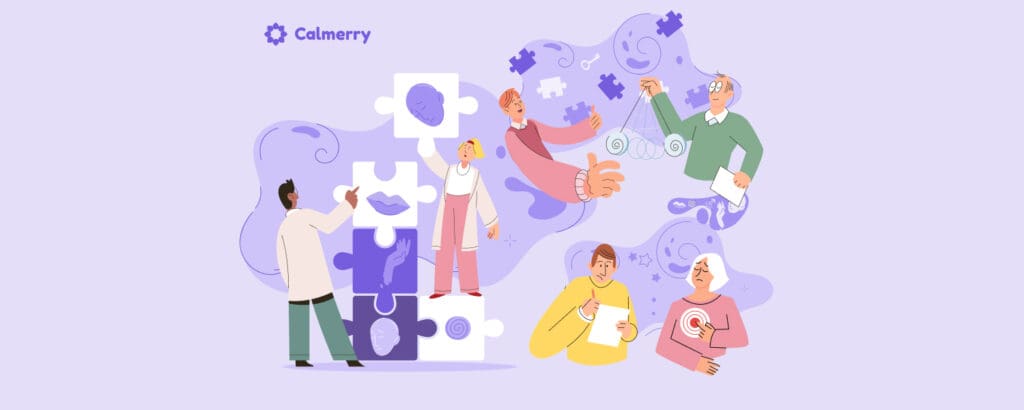 Reading Time:
7
minutes
If you have never been to therapy before, you probably know it can be very challenging to decide who to see about your mental health. So you might be thinking, "What kind of therapist do I need?"
There are different types of mental health professionals. Their job titles and specialties can vary by state, and it all can seem so confusing to figure out who does what.
So if you are struggling to cope with your emotions and understand your thoughts and behaviors, what type of mental health provider is right for you? Should you see a counselor, a therapist, or a social worker? Can a therapist diagnose you? And what mental health professionals can prescribe medication?
In this article, we'll talk about different types of mental health care professionals to help you understand the differences in their education, training, licensure, areas of expertise, and services they offer.
What is psychotherapy, and who is in it?
Psychotherapy or talk therapy is a general term for treating mental health disorders and emotional difficulties using verbal and psychological techniques.
Psychotherapy can help you understand root causes, eliminate or control troubling symptoms, and learn to respond to challenging situations using healthy coping skills. It may not cure your condition on its own, but it can give you the power to cope and feel better.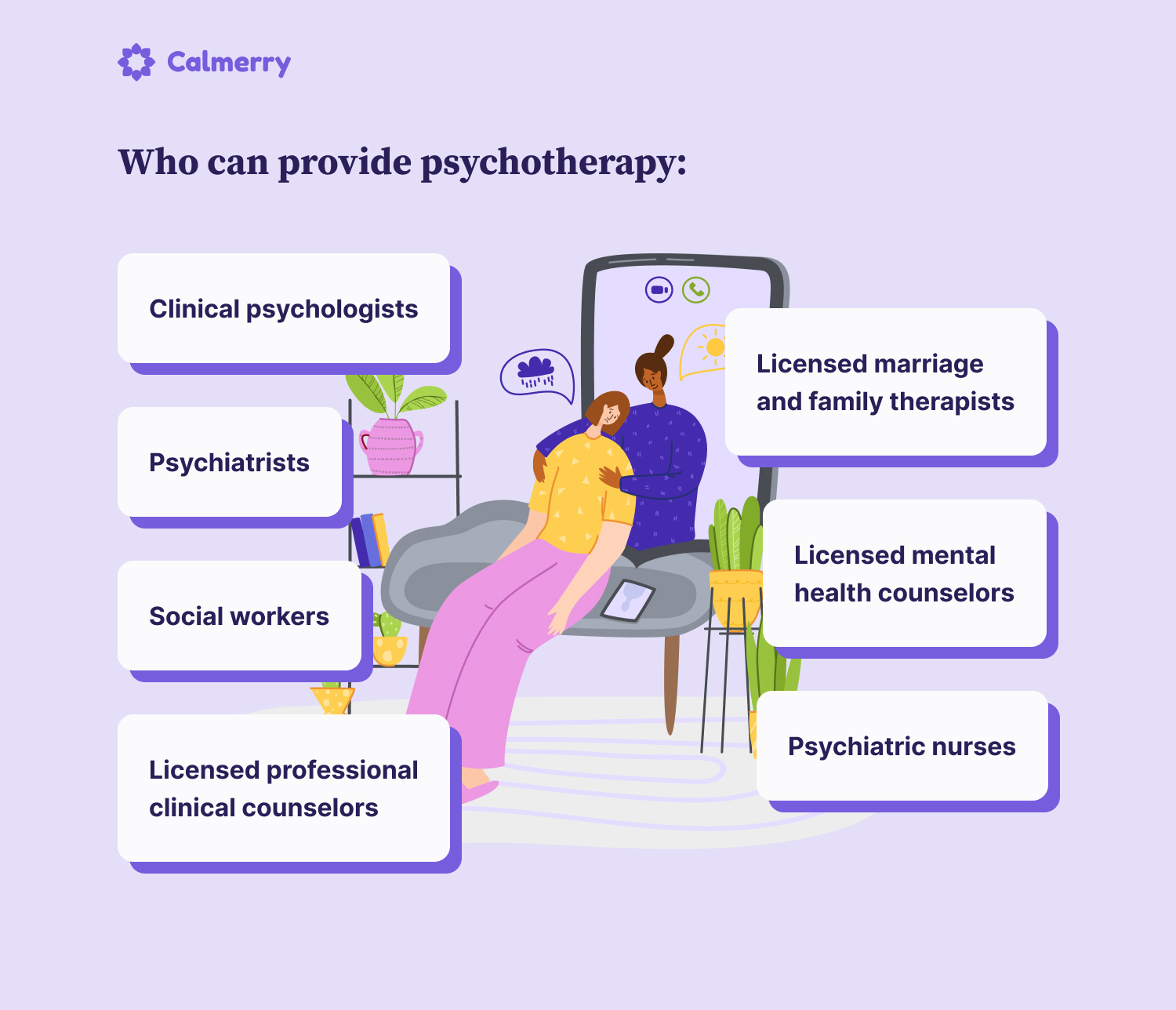 Psychotherapy vs. counseling
Psychotherapy is also known as therapy or counseling. These terms are often used interchangeably, although some people make a small distinction between them:
Counseling typically refers to a short-term treatment that targets a specific symptom or situation.
And therapy is a longer-term treatment that helps gain more insight into a person's problem.
And what is a psychotherapist?
Psychotherapist (or just therapist) is a general term rather than a job title or indication of education, training, or licensure. Different types of mental health professionals can provide psychotherapy, including:
Clinical psychologists
Psychiatrists
Social workers
Licensed professional clinical counselors
Licensed marriage and family therapists
Licensed mental health counselors
And psychiatric nurses
Different types of therapists
As you see, there are several types of mental health professionals who can help you make a positive change and find tactics to achieve your life goals. All of them are competent to offer psychotherapy, but there are some differences in their education and training.
Let's go through a list of mental health specialists and focus on their areas of expertise.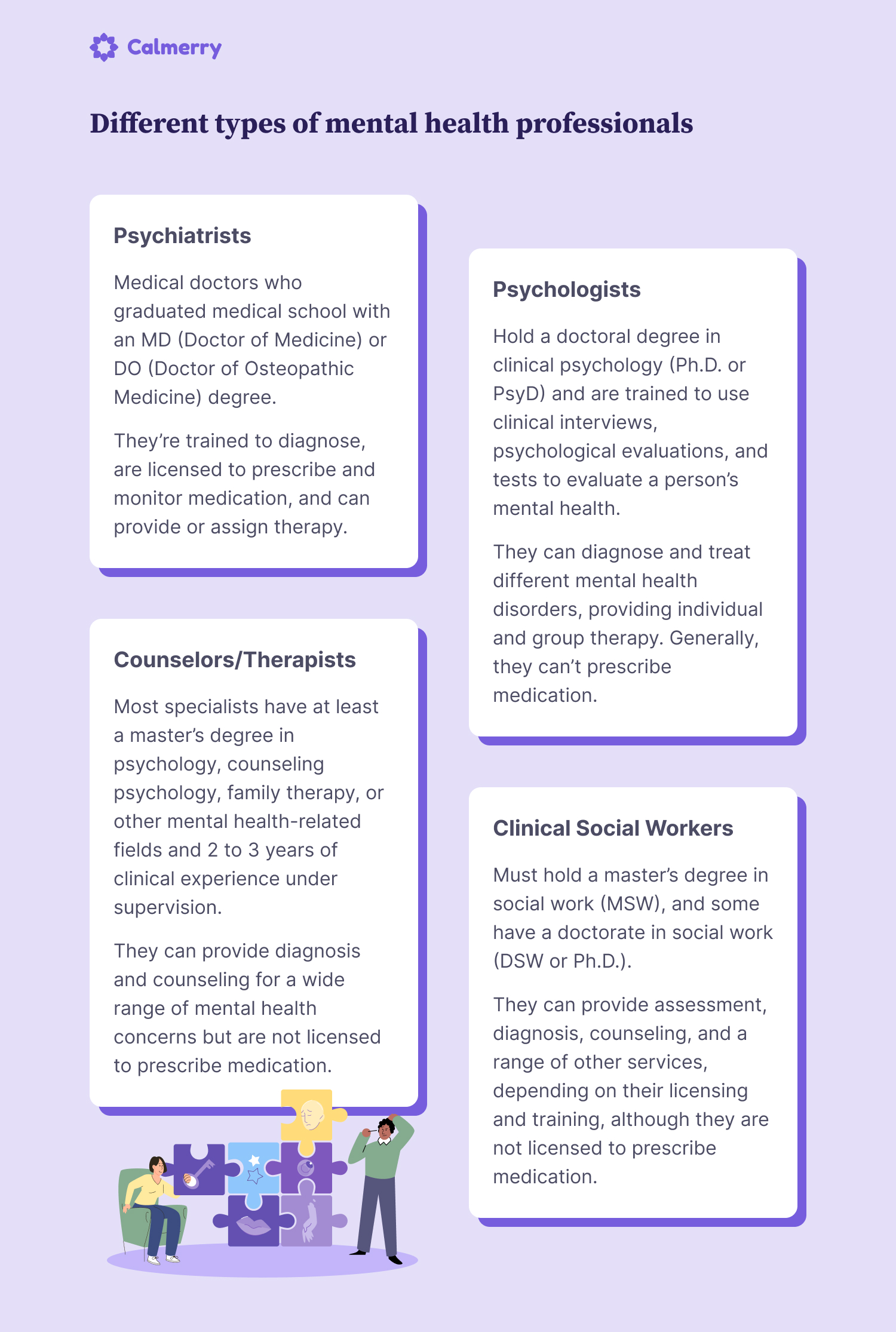 Psychiatrists
Psychiatrists are medical doctors who graduated medical school with an MD (Doctor of Medicine) or DO (Doctor of Osteopathic Medicine) degree and were trained to diagnose and treat psychiatric disorders during a four-year residency.
They have the expertise in differentiating mental health problems from other underlying medical conditions that can have psychiatric symptoms. Psychiatrists are licensed to prescribe and monitor medication and provide or assign therapy.
Psychologists
Psychologists hold a doctoral degree in clinical psychology (Ph.D. or PsyD) and are trained to use clinical interviews, psychological evaluations, and tests to evaluate a person's mental health. They can diagnose and treat different mental health disorders, providing individual and group therapy.
Their training typically includes four to six years of academic preparation, which is followed by one to two years of full-time work with patients under supervision and licensing examinations.
Psychologists are licensed in the state where they practice. Since they are not medical doctors, generally, they can't prescribe medication. Those who are licensed to do so (in some states) are required to get additional training in psychopharmacology.
Clinical Social Workers
Licensed clinical social workers (LCSW) must hold a master's degree in social work (MSW), and some have a doctorate in social work (DSW or Ph.D.). They are trained to evaluate a person's mental health and provide therapeutic techniques to treat mental illnesses and promote emotional well-being.
They also get training in advocacy services and case management in the hospital setting. Clinical social workers typically put in 3,000 hours of work experience before attaining a professional license.
They can provide assessment, diagnosis, counseling, and a range of other services, depending on their licensing and training, although they are not licensed to prescribe medication.
Counselors/Therapists
Licensed counselors and therapists use different titles depending on their area of expertise, for example:
LCPC (Licensed Clinical Professional Counselor)
LMHC (Licensed Mental Health Counselor)
LMFT (Licensed Marriage and Family Therapist)
Licensing requirements vary from state to state, but most specialists have at least a master's degree in psychology, counseling psychology, family therapy, or other mental health-related fields and two to three years of clinical experience under supervision.
They can provide diagnosis and counseling for a wide range of mental health concerns but are not licensed to prescribe medication.
Subscribe
to our mental health digest
Let us support you on the way to better mental well-being. Get expert tips and insights on mental health delivered to your inbox monthly.
Can therapists diagnose mental health issues?
Yes, they can, but only if they are licensed. Although therapists can't prescribe medication, they are licensed to assess, diagnose, and treat a variety of mental health issues.
"Therapists are trained to assess, evaluate, and provide diagnostic impressions and/or diagnosis. State licensing guidelines, however, determine which licenses under the umbrella of the title therapist can officially provide a diagnosis", explains Tiffany Lovins, LMHC at Calmerry.
Licensed providers such as licensed psychologists, licensed clinical social workers, licensed mental health counselors, and licensed marriage and family therapists that have a valid license in your state can give you a mental health diagnosis.
So, how do therapists diagnose?
Tiffany comments, "Tools that are used to determine a diagnosis often include clinical observation and evaluation in the form of an interview, use of psychological symptom questionnaires, and collaboration with medical professionals (including lab work) to rule out any medical conditions."
Is diagnosis important?
You might be wondering whether getting a mental health diagnosis is really necessary since there are no lab tests, measurements, and scans that work as evidence for a specific mental disorder. And some people may fear getting a diagnosis for fear of the stigma attached to a mental health diagnosis.
Tiffany compares this to getting a diagnosis for other physiological problems. For example, when you physically felt unwell and went to see your primary care doctor.
"Chances are your doctor asked you about symptoms you have been experiencing, reviewed your medical history, obtained baseline data (blood pressure, height, weight, oxygen), possibly did some further testing (urine, culture swab), or sent you to get blood work done, and possibly referred you to another specialist. This is all done to reach a valid diagnosis from which a treatment plan can be developed to reduce your symptoms and treat the condition," explains Tiffany.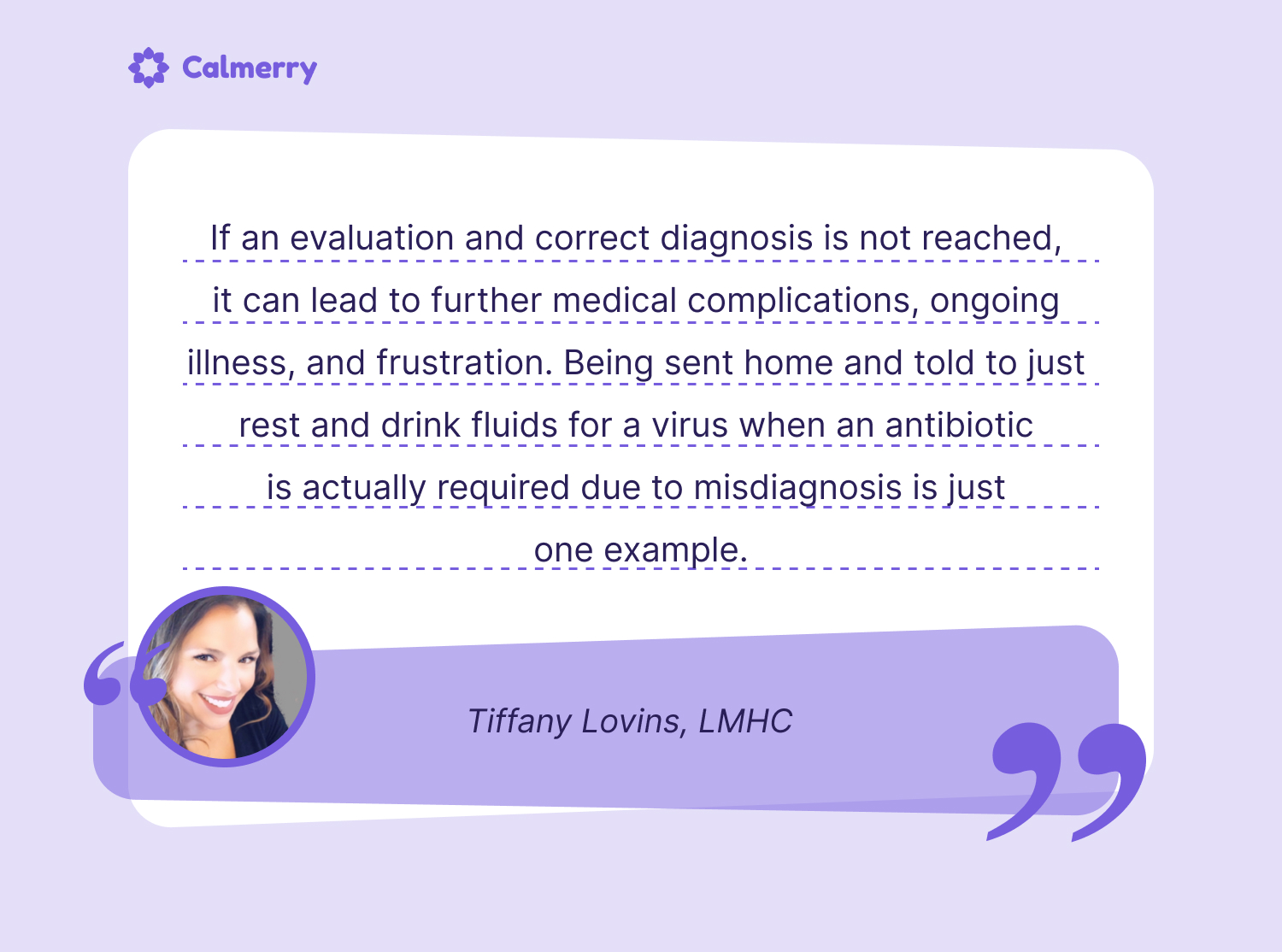 She also notes, "If an evaluation and correct diagnosis is not reached, it can lead to further medical complications, ongoing illness, and frustration. Being sent home and told to just rest and drink fluids for a virus when an antibiotic is actually required due to misdiagnosis is just one example."
Tiffany emphasizes that the same is true for a diagnosis when it comes to developing an effective treatment plan for mental health symptoms: "A diagnosis is the guiding star to developing a plan that includes evidence-based therapy interventions to target the specific area of need, guide any additional supports or referrals that need to be put in place, refer for psychiatric medication needs if indicated, and start to build insight and education around what is happening and why!"
Should I see a therapist or a psychiatrist?
Therapists and psychiatrists are professionals trained to help people improve their mental health. They have the knowledge necessary to help you make an informed decision about the direction of your treatment, and they often refer patients to each other.
But there's a difference between a therapist vs. psychiatrist:
Therapists are mental health care professionals that are trained to help people recognize and navigate the issues with their thoughts, emotions, behavior, and relationships.
Psychiatrists are medical doctors that specialize in mental health. They are qualified to assess both the mental and physical aspects of psychological problems. They deal mostly with complicated mental health problems like syndromes and disorders.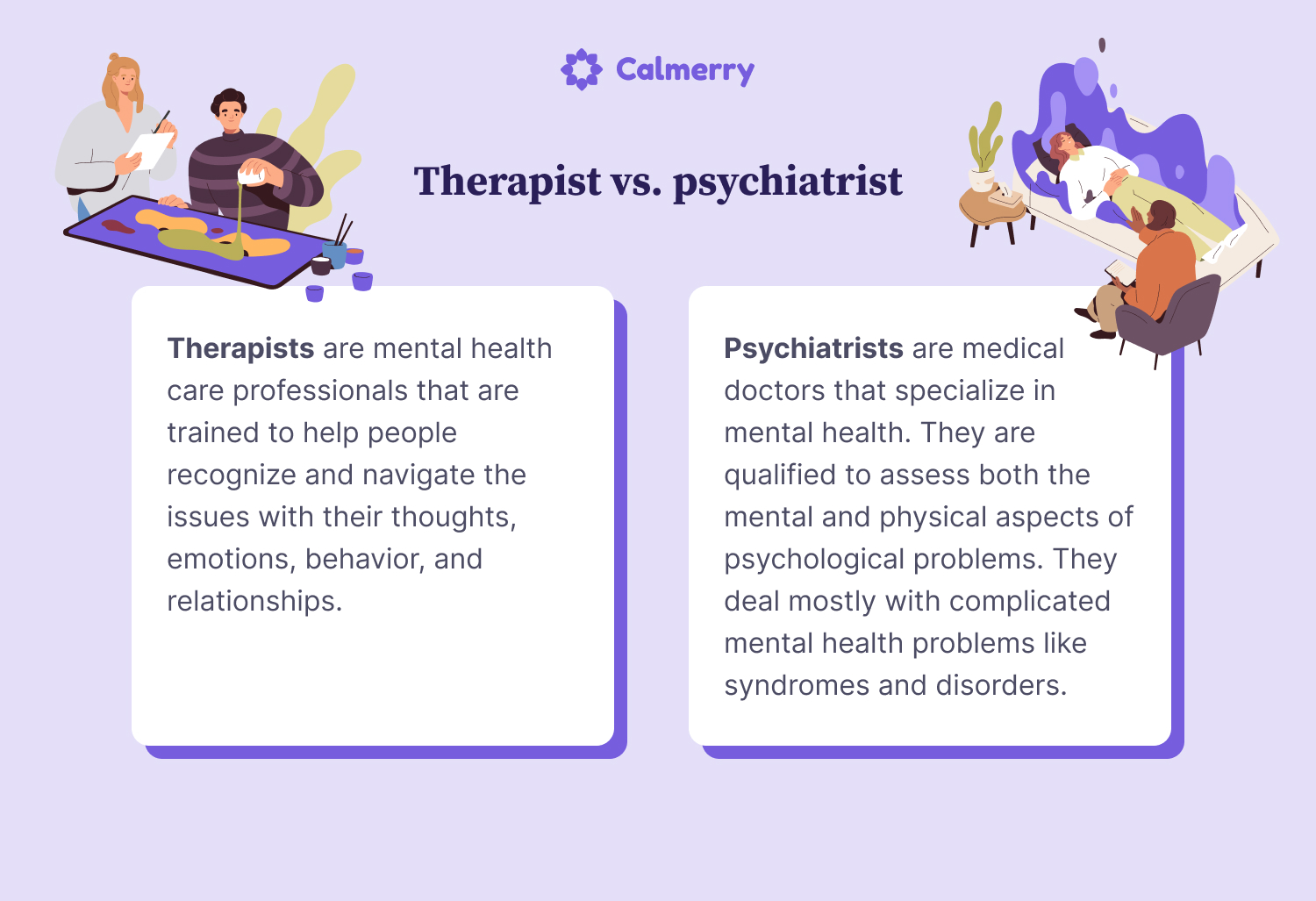 So who you should see depends on your mental health problems and goals. For example, seeing a therapist can be helpful if you have trouble dealing with:
Stress
Anxiety
Depression
Problems at work
Or social situations
But if you're experiencing more severe or disturbing symptoms that are interfering with your daily life, you may consider seeing a psychiatrist.
If you are still unsure, consulting with your primary care physician can be a great first step to gathering recommendations. Any of the professionals discussed in this article can provide assessment and educated guidance as to who you may need on your team to help alleviate symptoms.
Final thoughts
Psychologists, licensed clinical social workers, and licensed professional counselors can all help evaluate and diagnose mental health conditions, develop treatment plans, and offer offline or online psychotherapy. There is no wrong door to start with, no matter what you decide!
Most mental health providers treat a range of conditions. But they can also specialize in working with people of certain age groups (e.g., children, adolescents, older adults) or address certain issues (e.g., depression, eating disorders, or trauma).
Their credentials (e.g., Ph.D. or MSW) tell you that the therapist has completed a basic course of study and has a degree granted by an academic institution. And a license tells you that the mental health professional has passed an examination administered by their state and can practice.
But this info can't tell you whether a therapist will be a good fit for you, and finding the right match is crucial to establishing a good relationship and getting the most out of therapy.
That's why at Calmerry, we do our best to help you connect with the mental health professional who suits your specific needs and can help you achieve your goals.
Сheck your mental well-being for free: