Published November 15, 2022 / Updated March 23, 2023
8 Benefits of Online Therapy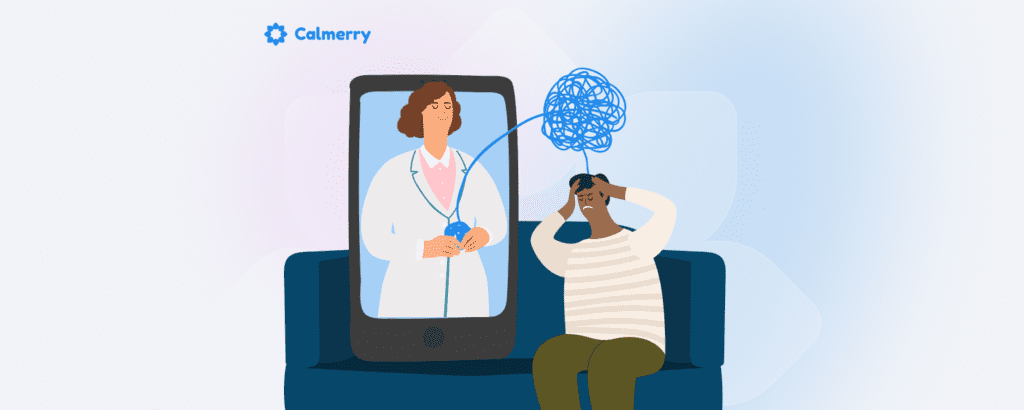 Reading Time:
7
minutes
Therapy can be a rewarding and valuable experience for those who need help to overcome the challenges they encounter in life. However, seeking help is still something that some people find difficult. Stigma, physical limitations, and busy schedules often get in the way of accessing therapy.
Online counseling reduces the barriers to access to mental health services. It is yet another area of health that has been positively impacted by the digital transformation. But, what are the benefits of teletherapy? Is it effective? Here is proof that your peace of mind might be a phone call away.
What is online therapy?
Online therapy is done remotely via devices such as the phone, tablet, or laptop. It is similar to in-person therapy because a licensed counselor will teach you effective coping skills to manage your symptoms and be better prepared to face challenges of life. However, the process differs because it's done remotely — you don't have to be in your counselor's office for your session to take place.
Teletherapy is not a new concept; it has been around for a while. However, if you're having doubts about its benefits and efficacy, here is what you need to know.
What are the benefits of online therapy?
There are several benefits of online therapy that you might find relevant to your specific situation. Let's discuss the most important ones.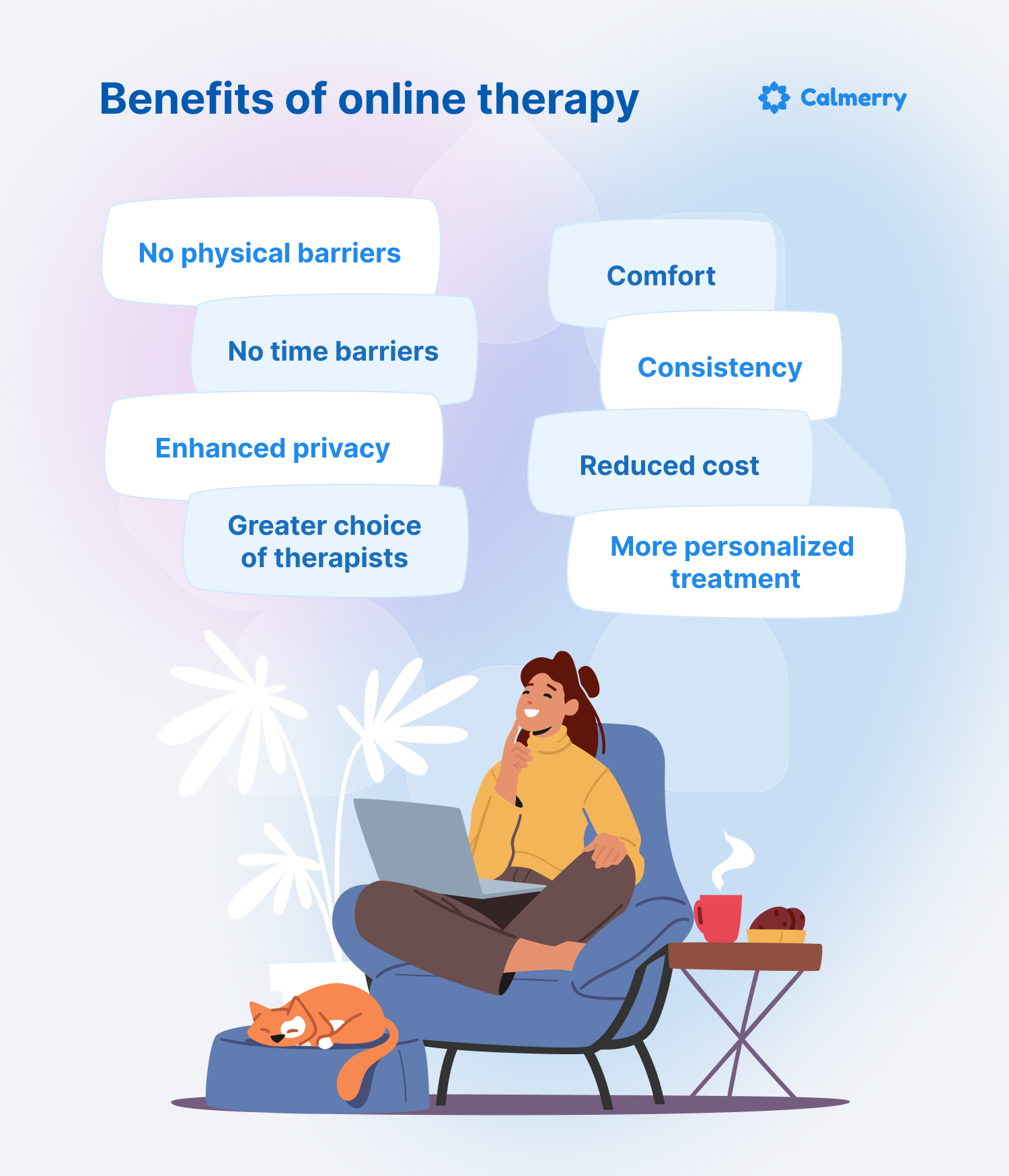 No physical barriers
There are several physical barriers to therapy:
Physical disability that makes unassisted movement difficult
Extreme anxiety or depression that prevents you from leaving the house
Living in a rural area with no therapists nearby or a small local network where providers are not accepting new individuals to their practice.
Online therapy is the solution to physical barriers to accessing therapy. It allows you to get help from wherever you are. Provided you have a device and an internet connection, you'll be able to attend your sessions without leaving your house.
No time barriers
A busy schedule can make you neglect your mental health. When you have work, school, and family responsibilities, you might not get time to go to a therapist's office.
Online therapy is flexible enough to fit into your schedule. Getting help can be as simple as sending your counselor a text in the middle of a frustrating day. You can schedule video sessions at your convenience. Or, you can squeeze in a phone call just before your next shift.
Wait times at the therapist's office to get in for an appointment are an inconvenience, especially when you could barely muster the courage to ask for help in the first place. It might seem like a small benefit, but knowing that you won't have to wait to contact your therapist to share important information or seek immediate feedback is a great consolation.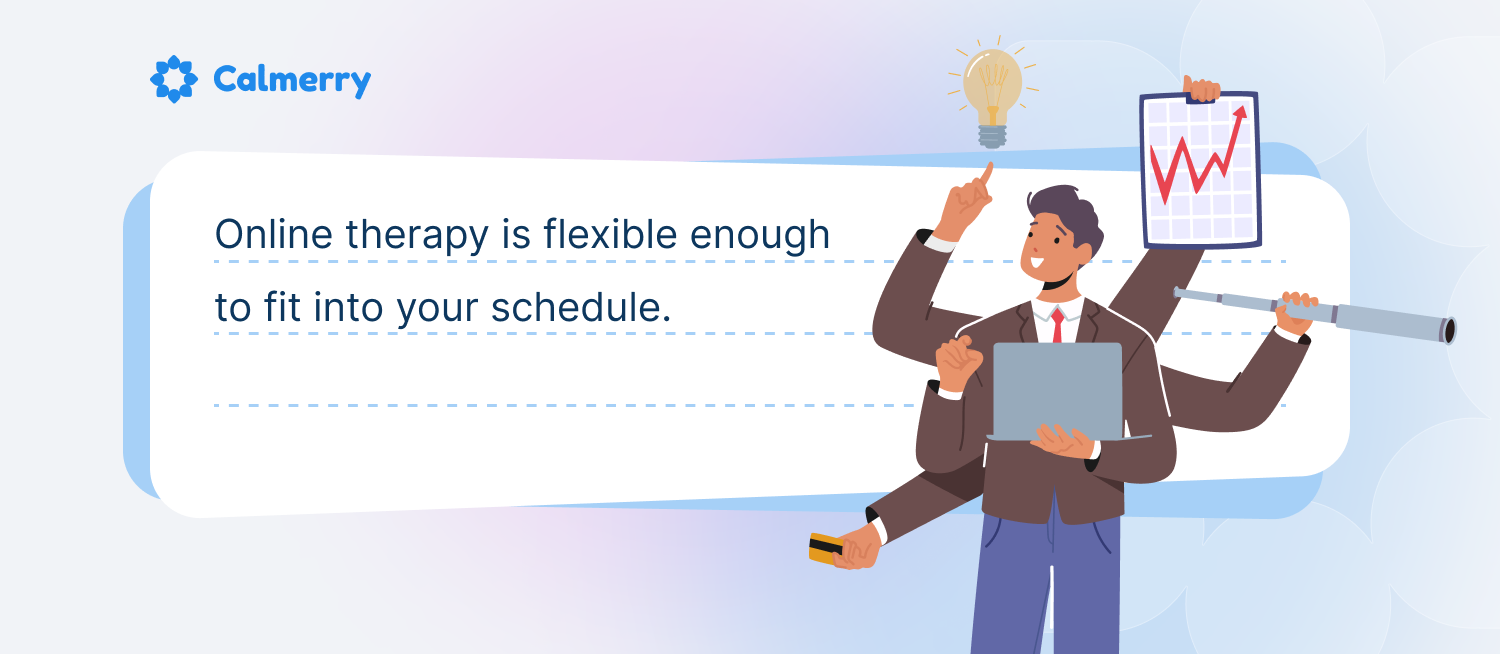 Enhanced privacy
Therapists are ethically and legally required not to share details of your sessions with third parties. The same rules apply to online therapy. Your therapist ensures that sessions are in a private chat room and your details are not accessible by third parties.
There is one aspect of privacy that in-person therapy can't take care of. You have to be physically present at the therapist's office. What if you bump into someone you know in the therapist's waiting room? Many people still feel a stigma about getting help for mental health issues.
Connecting with your therapist online, you don't have to worry about privacy. You choose where to be for your sessions. From the comfort of your home, no one will know you're getting therapy. Plus, online therapy platforms take security measures (for example, high-grade encryption) to effectively protect your privacy online.
Reduced cost
Some people can't access therapy because they are strapped for cash. In-person therapy can be pricey, especially if you don't have insurance to cover it. Factor in the daily commute, and you're looking at a bill that's too high.
Online therapy is more affordable. There are different subscription plans and you can choose the option that fits your lifestyle and budget. You can choose the session length and frequency to fit into your budget. Plus, you don't have to spend cash commuting to and from the therapist's office.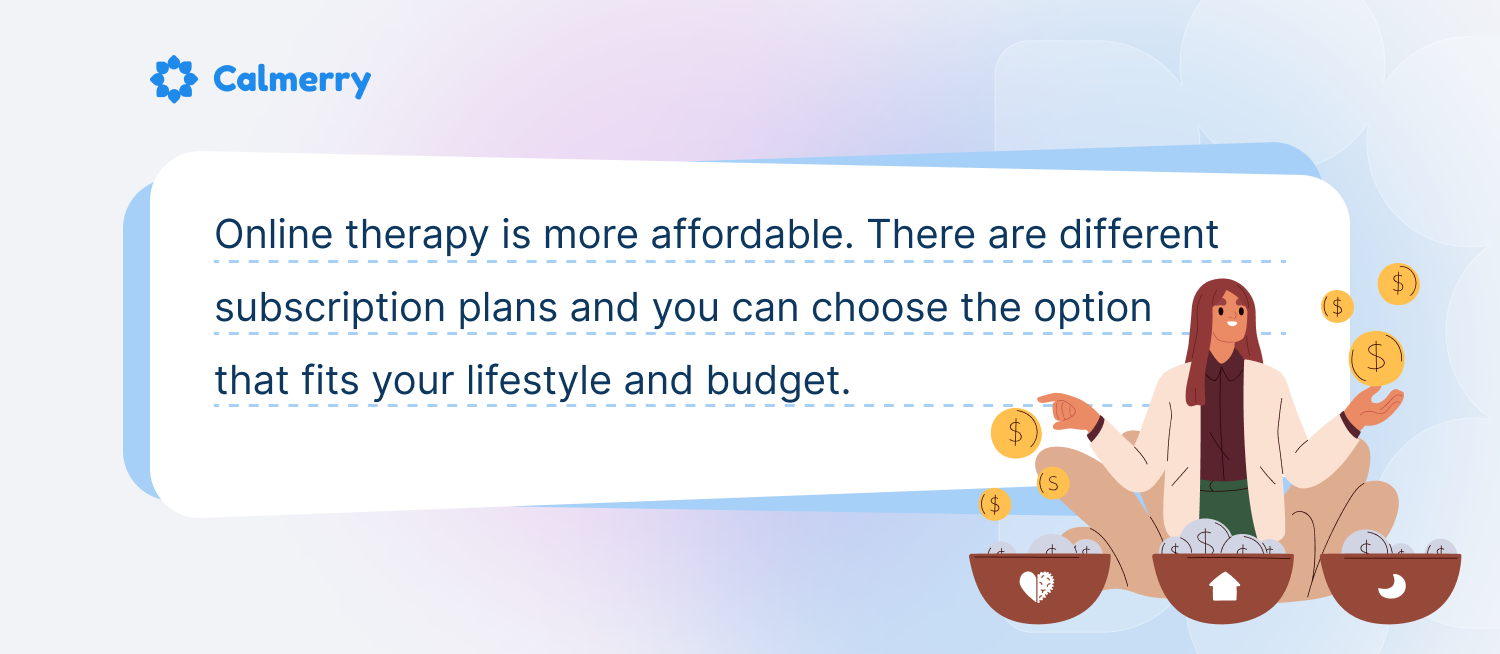 Comfort
It's tough to open up and talk about how you feel. You might feel anxious sitting in the waiting room at the therapist's office. Going to a new environment to meet a therapist can also be stressful, but during online sessions, you're in control of your environment and can set it up in a way that feels good for you. Then you can focus better on the work you need to do.
Being home, where you feel comfortable and safe, can often help you open up, be more vulnerable, and better manage disturbing or painful emotions that may arise during sessions. Being completely open and honest is a sure way of getting the most out of therapy.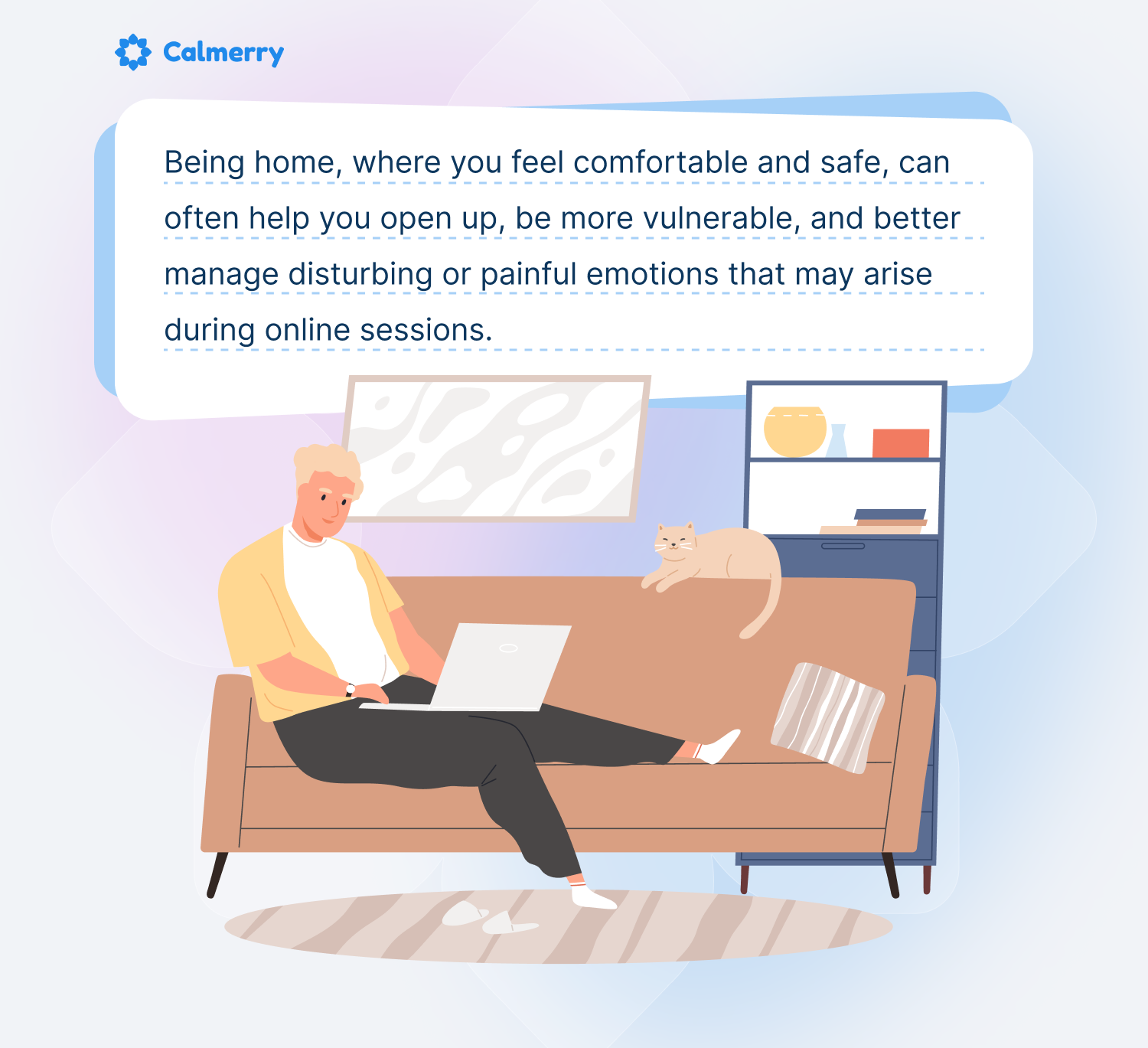 Consistency
Traffic, bad weather, illness are some of the reasons why you might miss in-person therapy sessions. With online therapy, you can stay consistent and communicate with your therapist anytime and anywhere you have an internet connection.
Online counseling allows you to continue with sessions despite any challenges. It is flexible, so you can move around your sessions as necessary. Consistent care often results in better outcomes for all mental health issues.
Greater choice of therapists
Online counseling doesn't restrict you to therapists in your geographical area and can expand your options. You can choose from hundreds of therapists from different areas in your state.
Furthermore, you can find a counselor who fits your specific needs and has expertise on your particular issues. Because no counselor is an expert on every disorder, it is essential to find one who is conversant with yours.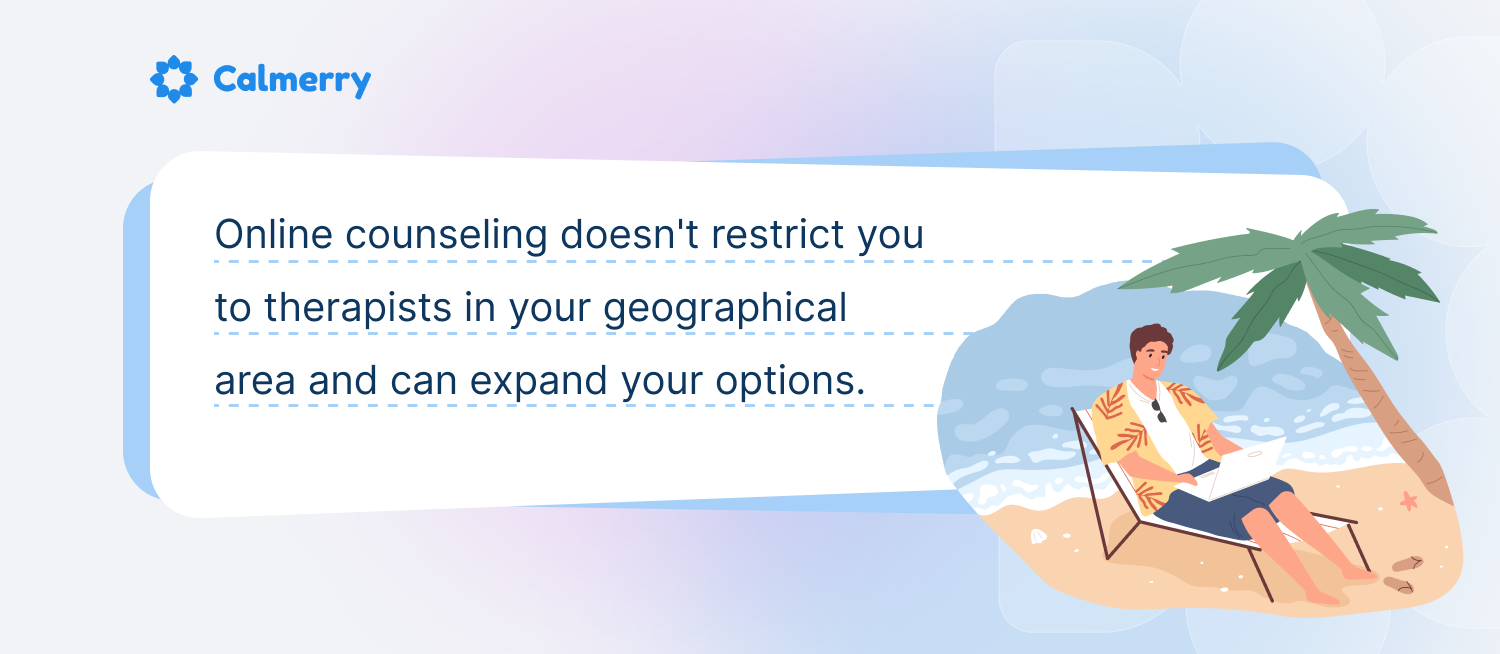 When you sign up for online counseling, you are matched with the most suitable therapist based on the information you provide. In this regard, it is better than in-person counseling, where you'll consider distance, cost, and other factors that are not related to experience when choosing a therapist.
Online counselors are chosen solely on their experience with your specific problem.
Switching your therapist is easier on an online platform. If the one you're matched with does not fit your needs, you can quickly request to change your therapist. That is done free of charge, and you can keep changing therapists until you find the right match for you.
More personalized treatment
Telehealth is a tool that can be used to personalize treatment for various mental health concerns. Online therapy platforms allow clients to select helpful tools based on each individual's needs. Clinical questionnaires on smartphones, electronic self-assessment, mood tracker apps, journaling prompts, guided meditations, self-care videos are examples of helpful tools that one may not access in traditional therapy.
Access to psychoeducation online helps you understand your condition and may improve treatment outcomes. It empowers you to make better day-to-day decisions for your mental health. Most importantly, it motivates you to stay committed to treatment because you understand why you need help.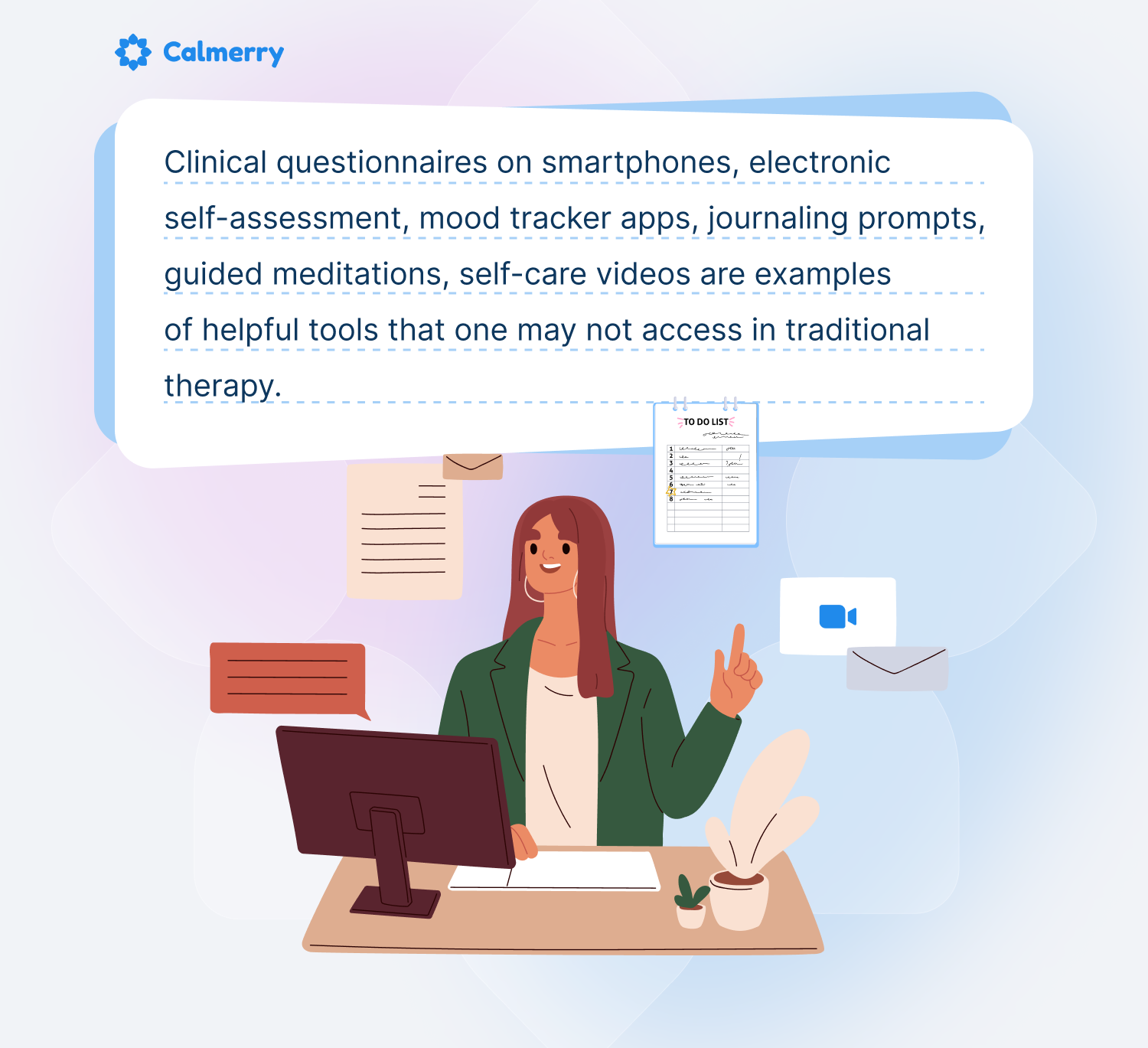 Is online therapy effective?
Being a relatively new field of treatment, many people wonder whether teletherapy is effective. Multiple studies have looked into this and found positive results.
The findings of a 2018 study that compared online therapy to in-person therapy for psychiatric and somatic disorders prove that teletherapy is just as effective as the traditional form. The meta-analysis covered 20 studies that included over 1,400 patients. Specifically, it reviewed the efficacy of Cognitive Behavioral Therapy (CBT) done remotely versus in person.
A second 2018 study reviewed the efficacy of online therapy for treating post-traumatic stress disorder (PTSD). By reviewing over 40 studies, the researchers found that online therapy was just as effective as in-person therapy for reducing PTSD symptoms.
A 2019 study reviewed the outcomes of CBT with a licensed online counselor versus self-guided CBT. The findings prove that seeking help online is beneficial and has better outcomes than practicing self-guided CBT. Further, people who sought help were more likely to stay in therapy longer.
A more recent study, carried out in 2020, randomly assigned college students with anxiety to receive either in-person or online therapy. They all underwent Solution-Focused Brief Therapy that focuses on problem-solving and goal setting. Both methods were equally effective at reducing anxiety levels among the students.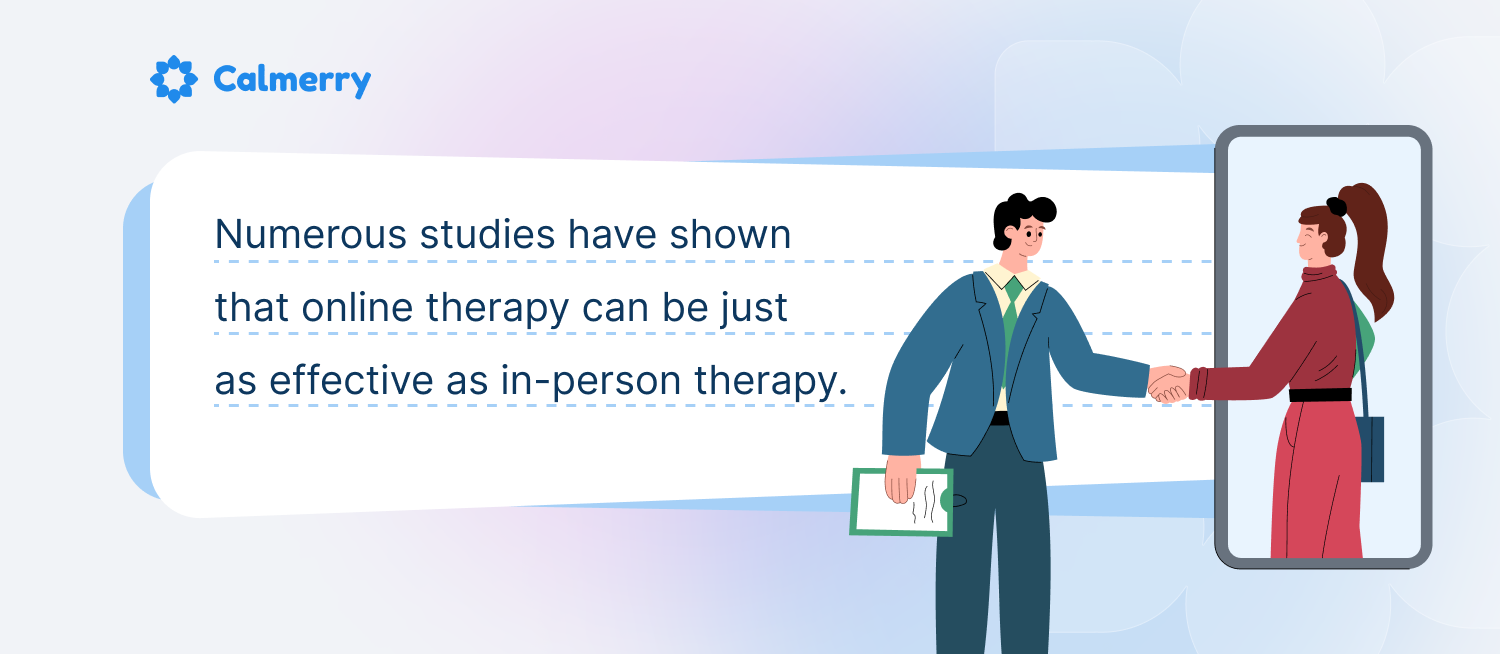 Most of the research into the efficacy of online therapy is focused on CBT for trauma, stress, anxiety, and depression. More research is needed on the effectiveness of online therapy for other illnesses using other methods.
Of particular interest to researchers are the serious mental illness populations (SMI). These are individuals with severe symptoms and low levels of functionality and motivation.
SMI populations present engagement challenges in traditional in-person therapy, so a recent study looked into whether teletherapy would have positive outcomes. The findings were surprising – online therapy might work for SMI populations. More research is needed, but there is hope.

Subscribe
to our mental health digest
Let us support you on the way to better mental well-being. Get expert tips and insights on mental health delivered to your inbox monthly.
Seek help from a therapist online
If you are experiencing stress or living with a mental health condition and are struggling to access mental health services for any reason, online therapy can be a good option for you. You can work with experienced and licensed therapists to reach your therapy goals from the privacy of your home.
At Calmerry, we can connect you with licensed counselors ready to help you make a positive change. We'll match you with a trained mental health professional who'll provide you with support and guidance on your way to becoming a healthier, happier you.
It is important to note that online therapy is not appropriate for emergencies. If you or someone close to you is in immediate danger, contact your local emergency services.
Сheck your mental well-being for free: