Published December 26, 2022 / Updated May 4, 2023
How to Respond to Gaslighting and Stay Mentally Strong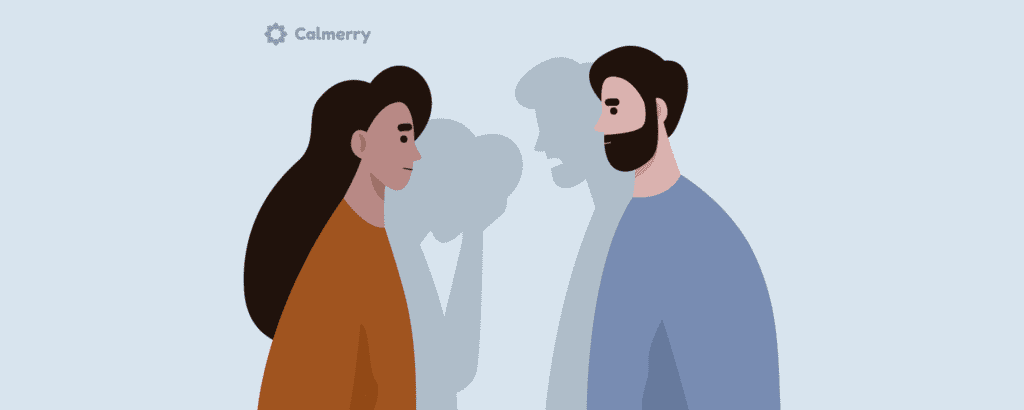 Reading Time:
5
minutes
The word "gaslighting" has been receiving a lot of attention in recent years, and everyone seems to be talking about it. Merriam-Webster, one of the most prominent dictionary publishers, has even chosen "gaslighting" as its word of the year for 2022.
Gaslighting can occur in all types of relationships where there is an unequal power dynamic, and most of us have been gaslighted at some point in our lives. But despite the awareness and understanding of this term, it may be difficult for many to navigate relationships with someone who's gaslighting them.
Gaslighting distorts reality and can leave the targeted person isolated and sapped of confidence and self-esteem. So how can we spot this form of emotional abuse and minimize its psychological impact on our daily lives?
It's important to know how to respond to gaslighting to protect your mental well-being. In this blog, we'll talk about how to stay mentally strong when someone is gaslighting you and what to say to a gaslighter.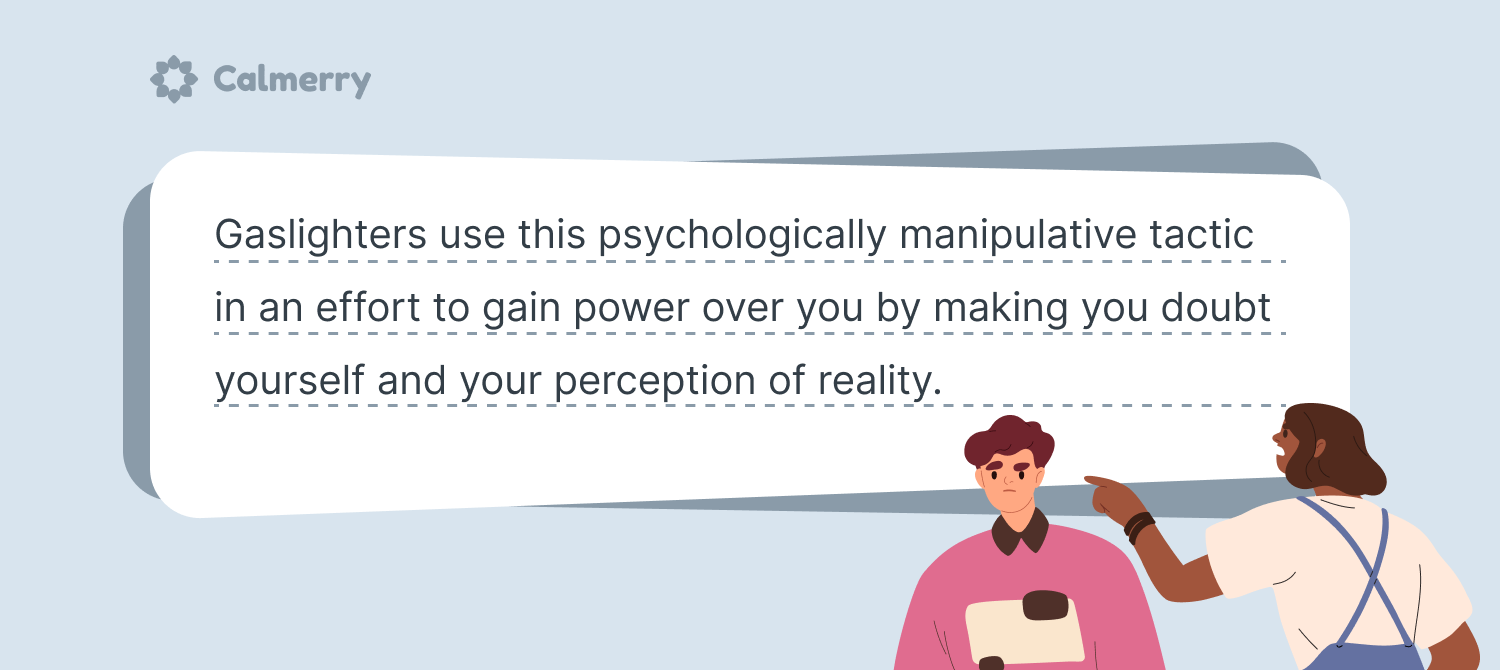 How to respond to gaslighting and stay firm in your truth
Gaslighters use this psychologically manipulative tactic in an effort to gain power over you by making you doubt yourself and your perception of reality.
Yet, gaslighters will never admit they are doing it, and if you try to argue with them to defend yourself, it only makes their strategies more effective.
So what is the right way to react to gaslighting? Here are some tips on how to overcome gaslighting and take back control of your life.
Take some space from the situation
When someone is gaslighting you, you may experience a range of strong emotions – from confusion and anger to fear and frustration. All your feelings are completely valid, and you have the right to feel and express them, but you shouldn't let them guide your immediate reaction.
Don't show the gaslighter that you're distressed because it will only encourage them to continue gaslighting you. Instead, try to keep yourself calm. That can help you handle the situation more effectively. Tell the manipulator that you hear them, but what they're saying isn't your experience.
You may suggest taking a break from a conversation and revisiting the topic later. Then you'll have some time to clear your mind. But if you can't physically leave, you may try some coping strategies to relax and calm down, such as grounding techniques, breathing exercises, or repeating positive affirmations.
Hold on to what you know is true
We all remember things a little differently than how they happened, so you might even wonder, "What if everything really was the way they said?" That's just what gaslighters want you to do – doubt the reality. That's why you shouldn't argue on their terms and give in to the urge to question yourself.
You can combat this if you remain confident in your version of events. Determine what you believe to be the truth and trust yourself and your memory. Repeat your version of what has happened calmly and with confidence, but don't argue to avoid conflict and maintain control over the situation.
Don't tell the gaslighter that they're lying. Just say that you have a different perspective. For example, you may say something like, "It seems that we remember things differently, but I don't want to argue about it." You may try to change the subject to avoid further discussion or just leave the room.
Here are some things you can say when you're being gaslighted:
"I hear you, and that isn't my experience."
"I'm finding it difficult to keep discussing this."
"I am not interested in debating what happened with you."
"I realize you disagree with me, and this is how I see it."
"I'm making this decision for myself."
"I feel like I'm not being heard, and I want some space."
"I know my truth. I'm not debating it with you."
"If you continue to speak to me like this, I'm not engaging."
"I want to figure things out for myself."
"I see that your perspective is different from mine, I'm not imagining things."
"My truth is different regardless of what you say."
Be assertive and keep your emotions in check. Remember, it's safer to walk away before gaslighting gets severe. This can help you maintain your perception of events.
Write things down
You may find it helpful to jot down notes or keep a journal to document your interactions with someone who is trying to gaslight you. Then you'll be able to take an objective look at your conversations and get back into the practice of defining your own reality.
Write about your experiences and regularly review your writings. That will allow you to keep track of what's really happening and decipher reality from distortions. As a result, you'll feel confident about things you know are true.
Speak up about the gaslighter's behavior
Gaslighting works because it confuses you and affects your self-trust, making you doubt your own memory and perception. But if you show that the manipulative behavior doesn't bother you, the person who is trying to gaslight you may decide it isn't worth it.
Gaslighting often involves blaming, criticizing, and insulting the targeted person. You should show the gaslighter that you won't accept such behavior, and do it calmly and assertively. Don't be afraid to speak up and set boundaries.
Approach the gaslighter with your concern directly, and keep the conversation simple, focusing on your purpose. If they try to blatantly lie, making a defensive attack about you, or try to change the subject, say that you can discuss their concern later, but now you need them to stay with your topic. State that you know you're not to blame and won't take responsibility.
And if you see that they're not willing to discuss your concern, end the conversation. You can just say, "I'm walking away from this conversation," making it clear that you've decided not to engage in unfair communication when your reality is being denied and minimized.
Practice self-care
Good self-care can't do anything directly to address gaslighting, but it will improve your state of mind as well as physical health, so you'll feel stronger and more capable of facing the challenges of life.
These strategies can be helpful in improving your mental well-being:
The bottom line
Gaslighting can knock you off balance, making you feel out of control over your own thoughts and decisions. But that doesn't mean that things can't be remedied. Consistently using the strategies we've discussed above, you'll show the gaslighter that you can't be influenced, and that will feel empowering.
Still, emotional abuse is never acceptable or something that you should try to cope with. It's not your fault but the choice of the abuser. Often the best response is ending the emotionally abusive relationship or quitting the job to get away from a gaslighter.

Subscribe
to our mental health digest
Let us support you on the way to better mental well-being. Get expert tips and insights on mental health delivered to your inbox monthly.
And remember that you don't need to handle gaslighting alone. Get support from the people you trust – your friends, family, and
colleagues
who will validate your point of view and offer an unbiased perspective.
Talk with a therapist who can offer guidance based on your specific situation and teach you how to resist psychological manipulation. A trained mental health professional can give you an objective, qualified opinion to help you reinforce your sense of reality and provide you with safety planning tips and resources. With Calmerry, you can access the support and tools you need for your mental well-being journey.
Сheck your mental well-being for free: