Published October 10, 2023
Assertive Communication: Expressing Yourself Respectfully and Effectively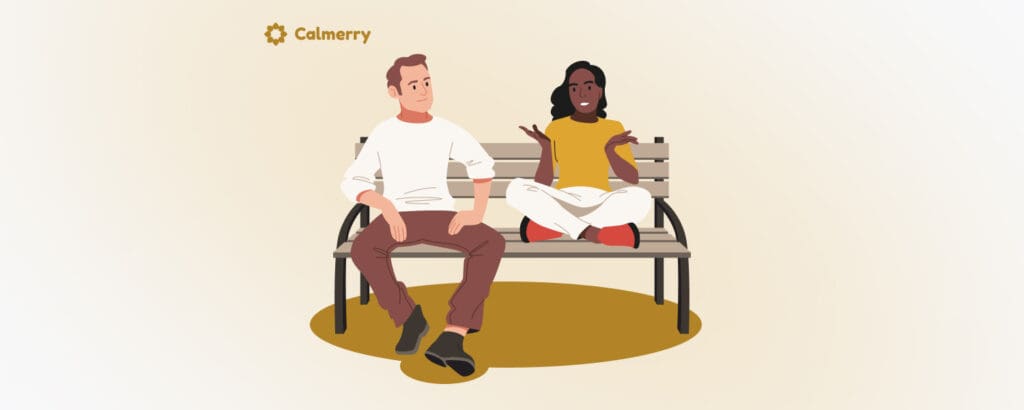 Reading Time:
8
minutes
Do you ever feel drowned out in conversations or find it hard to share what you're thinking? We all want to express ourselves without rubbing people the wrong way. How can we share our perspectives while still being respectful?
Developing assertive speaking skills is incredibly valuable in life. It lets you express your needs and set boundaries while respecting others' opinions.
Research shows that individuals who communicate assertively tend to have higher self-esteem, experience less stress, and enjoy more fulfilling relationships, as well as greater success in academic and professional pursuits. [1] Oana, J., & Ona, A. I. (2019). Assertiveness in Self-Fulfillment and professional success. Interpersonal dynamics in the didactic relation. Psychology, 10(08), 1235–1247. https://doi.org/10.4236/psych.2019.108079
In this article, you'll discover proven strategies to express yourself confidently in your personal and professional life. You'll also learn exercises to become more confident and composed when articulating your thoughts and needs.
What is assertive communication?
Assertive communication is a straightforward, respectful way to express thoughts and feelings. With this approach, you confidently convey your message while considering others' viewpoints.
It's about standing firm for your own needs and boundaries without infringing on those of others, promoting open dialogue and mutual understanding.
An assertive communication style combines passive and aggressive styles. It requires fairness, power, and balance between your and others' wants. The basis for this type of healthy communication is having an open attitude towards yourself and others, hearing different perspectives, and respecting others.
Studies show assertive communicators reach emotional well-being by arguing opinions without aggression or humiliation. [2] Pipaş, M. D., & Jaradat, M. A. (2010). Assertive communication skills. Annales Universitatis Apulensis, 2(12), 649–656. https://doi.org/10.29302/oeconomica.2010.12.2.17
An assertive communication style allows diverse opinions, needs, and choices to be acknowledged and respected. It creates an environment for constructive interactions and healthy relationships by reducing conflict stress through collaborative problem-solving.
Why is assertive communication an effective strategy?
There are many psychological and interpersonal benefits of assertive communication:
It builds trust and rapport when you are clear about your thoughts and feelings. Others know where you stand.
It boosts self-confidence and self-esteem that comes from appropriately standing up for your needs.
Assertive behavior allows you to set healthy boundaries and stick to them. Studies show this reduces emotional exhaustion. [3] Le Texier, T. (2019). Debunking the Stanford Prison Experiment. American Psychologist, 74(7), 823–839. https://doi.org/10.1037/amp0000401
It leads to better conflict resolution by adequately expressing feelings, thoughts, and interests while respecting those of others. This facilitates finding mutually agreeable solutions without hurting anyone.
Assertive communication reduces miscommunications. It allows for better mutual understanding during interactions.
It creates an open and honest dialogue so that all parties have an equal chance to express themselves appropriately. This builds a culture of empowerment.
Overall, relationships become healthier through mutual understanding facilitated by assertive communication.
Assertive vs. aggressive communication
While assertiveness is about respectfully expressing your needs, aggressive communication violates the rights of others. Aggressive speakers attempt to dominate conversations, ignoring others' boundaries.
Aggressive communication often involves:
Direct demands rather than requests
Threats or ultimatums
Hostile language, including insults, yelling, or hurtful sarcasm
Talking over people and interrupting frequently
Rigidly refusing to compromise
Punishing people who disagree through emotional attacks
This confrontational approach harms relationships. Others feel devalued and disrespected when aggressively communicated with, leading to resentment and resistance. Open communication breaks down.
Assertive communication avoids aggression through:
Using "I"-statements about your own needs
Remaining calm and thoughtful in tone
Listening to perspectives that differ from your own
Clearly proposing solutions or compromises
Validating emotions and showing empathy
The assertive communicator aims to reach mutual understanding, not "win" the argument. This facilitates cooperation.
You can learn to assert your needs with practice while avoiding aggressive statements that provoke unhelpful reactions.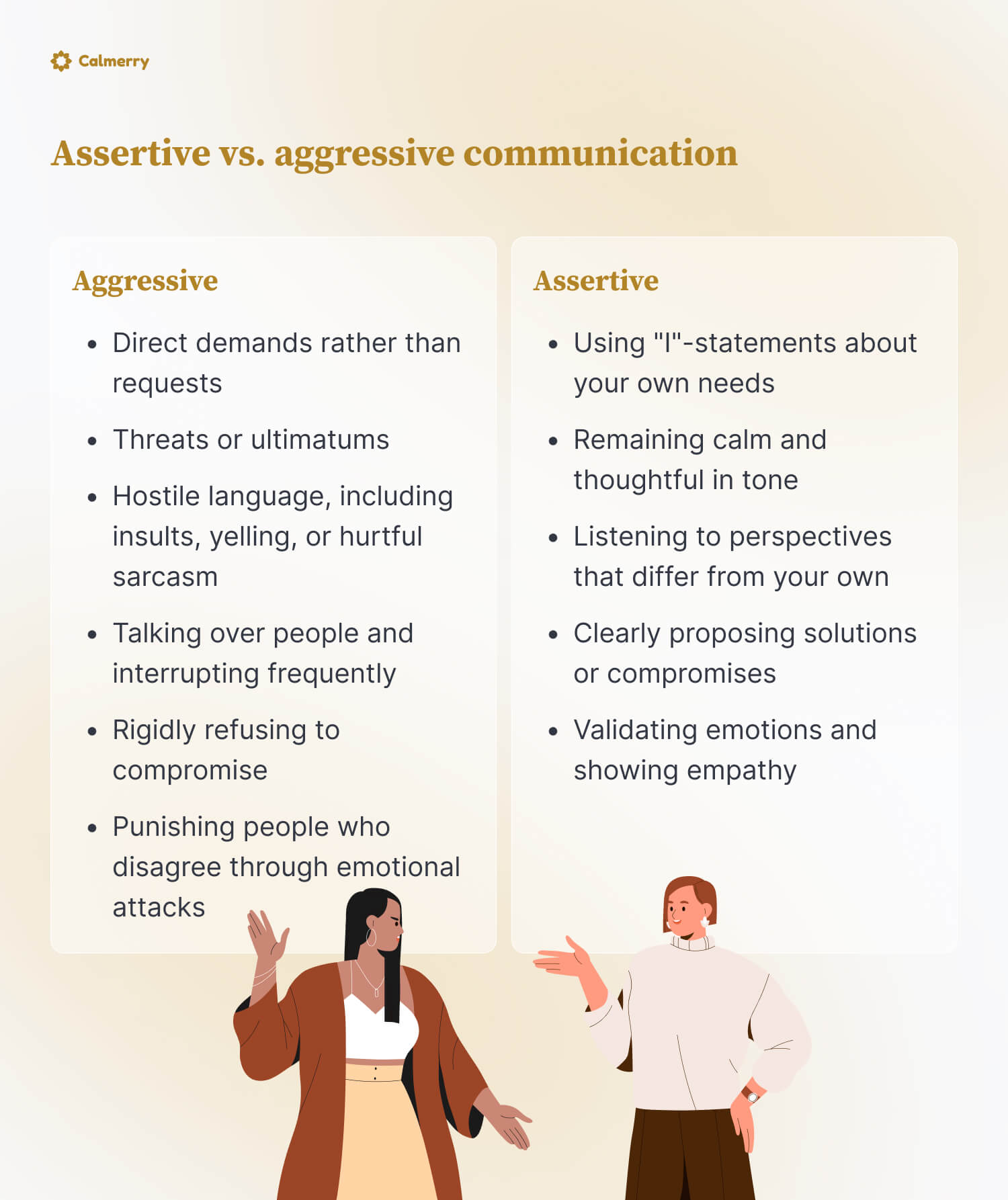 Assertive communication in relationships
Assertive communication nurtures healthy relationships by enabling clear articulation of feelings and boundaries to a partner. Your partner understands your needs better when you communicate them assertively. Intimacy and trust flourish.
Passivity and aggression often damage relationships. Unmet needs from passive communication breed resentment. Aggression provokes defensiveness and stonewalling in response.
Assertiveness, in contrast, promotes mature conflict resolution through empathy, compromise, and consideration of each other's perspectives.

– Dr. Mona Kirstein, Certified holistic coach and consultant
With assertiveness, couples can thoughtfully find mutually agreeable solutions during arguments. Their discussions become structured conversations rather than heated clashes. Each partner feels empowered to honestly express themselves without judgment or retaliation.
Over time, the deep understanding enabled by assertive communication strengthens relational bonds. Both people feel respected and valued, fueling greater commitment and satisfaction. Intimacy thrives in this nurturing environment.
Developing assertiveness takes work but pays dividends in relationships. Therapists can help you practice clear needs communication and have difficult conversations constructively.
With mutual assertiveness, couples build profoundly fulfilling bonds.
What are the 3 C's of assertive communication?
Psychologists break down assertive communication into three critical components:
Content
The words themselves are what matters most. Assertive statements clearly express thoughts, feelings, and needs using "I" language.
Passive voice or vague, impersonal phrasing often obscures the message.
Clarity
Precise, unambiguous communication is vital. Assertive speakers directly verbalize their boundaries and ideas without hinting or rambling. If requests have clarity, others can adequately meet expectations.
Studies show assertive communicators using exact language are correctly understood 85% of the time.
Calm tone
An even, confident, yet respectful tone facilitates productive conversations. Passive or aggressive tones often provoke unhelpful reactions from others.
Research confirms maintaining a calm but firm tone signals assertiveness. [4] Lebow, H. I. (2022, August 24). How to be assertive without being aggressive. Psych Central. https://psychcentral.com/health/how-to-be-assertive-without-being-aggressive#how-to-be-assertive
Examples of assertive communication
Mastering the 3 C's takes practice but allows you to get your point across while respecting others' perspectives.
Let's see examples of the 3 C's in action:
In a work meeting, you might firmly yet calmly state: "I appreciate the need to reach an agreement today. However, I worry we're rushing ahead without considering all options fully. Could we take 10 minutes to brainstorm alternative solutions?" This expresses your opinion while proposing a path forward.
With a pushy friend, you could say: "I know you're excited about this plan. But I'm not comfortable committing to it right now. I need some time to think it over on my own." This establishes your boundary without aggression.
In a romantic relationship, you may explain: "I feel very hurt when you cancel our plans last minute. I would really appreciate a heads up next time so I can make other arrangements." This uses an "I" statement to share your feelings and specific needs.
With a child, you might say: "I understand you want to stay up late. But your bedtime is 8 pm on school nights – that's for your own well-being. Let's wind down by reading an extra book together before lights out." This shows empathy while maintaining the boundary.
In customer service, assertive communication could sound like: "I'm quite disappointed my order still hasn't arrived. I paid extra for 2-day shipping, and I expect to be refunded. Could you please provide a status update?" You are direct about the issue and desired resolution.
As we can see, assertive communication is flexible enough to be used effectively across diverse situations and relationships when applying the core principles properly.
How to practice assertive communication
Assertiveness is a skill requiring continual practice and refinement. Here are some assertive communication tips:
Observe your current communication patterns
Start by noticing your default communication style. Do you regularly prioritize others' needs over your own? Or get overly emotional trying to be heard? Greater self-awareness helps identify areas for improvement.
Learn to say "no"
It's okay to turn down requests that violate your values or boundaries. Start small, saying no to low-stakes asks from friends or coworkers. Build up to saying no in tougher situations. Studies confirm an improved ability to decline requests leads to greater self-efficacy.
Focus on facts, not exaggerations
When expressing your perspective, be precise about objective details. Exaggerating or making assumptions about motivations can seem aggressive. Stick to calm, rational statements. Research shows assertive communication focuses on observable specifics.
Consider counseling
Speaking with a therapist provides a safe space to practice assertive communication techniques. They can help you rehearse phrasing, regulate emotions, read body language, and gain confidence. Online therapy offers an affordable counseling option.
Start applying assertiveness
Begin using assertive communication in low-risk situations to build skills. Then, have tougher expressive conversations with colleagues, friends, or partners. Expect occasional stumbles as you learn. With practice, it becomes more natural.
Developing assertive communication skills takes time but allows you to stand up for your needs while respecting others. Therapists can guide you on this delicate balancing act. With commitment, these tips help assertive communication become second nature.
As you further evolve in your assertive communication journey, you may find value in exploring holistic healing practices. For instance, somatic therapy exercises are known to enhance self-awareness and emotional intelligence, which are crucial for effective assertive communication
7 tips for developing an assertive communication style
Implementing the following assertive communication tips can make everyday interactions easier:
Establish direct eye contact. Maintaining steady eye contact shows confidence in your message and helps ensure it is received. Studies confirm consistent eye contact improves assertiveness. [5] Psychology Press. (n.d.). Indirectly measured self-esteem predicts gaze avoidance. Taylor & Francis. https://www.tandfonline.com/doi/abs/10.1080/15298860903512149

Use a level, firm tone of voice. Your volume and cadence should command attention. Do not phrase statements as questions. Speak with conviction.

Claim your physical space. Stand tall with your head high. Avoid slouching or minimizing your presence. Non-verbal displays of confidence reinforce assertive messages.

Do not ramble. Stay concise and composed. Do not feel the need to over-explain or justify your assertions. Rambling makes you appear uncertain.

Allow silence after making your point. Give the other party time to process before responding. Don't nervously fill silence. Let them sit with your perspective.

Ask clarifying questions. Seek any details needed to understand others' perspectives fully. Listen actively. Do not make assumptions.

Show empathy for different viewpoints. Even when disagreeing, demonstrate you hear where others are coming from. This builds rapport.
Mastering these delivery methods takes time but lends authenticity and gravitas to your communication. With practice, it becomes second nature.
As I've seen with many clients, maintaining steady eye contact and standing tall are simple yet powerful ways to reinforce assertive communication. One client shared how diligently applying these techniques made her feel more confident and composed.

– Dr. Mona Kirstein, Certified holistic coach and consultant
Daily assertive communication training exercises
Dedicate time to practice assertive communication skills through these training exercises:
Rehearse and roleplay assertive statements and exchanges with friends or in low-stakes settings to build habits. Working with a therapist on acting out scenarios provides guided practice. This assertive communication training through rehearsal develops muscle memory.
Journal after real-world assertive interactions to note successes and areas for improvement. Set specific goals around skills to refine through further practice. Use self-reflection to strengthen your assertive communication abilities.
Seek out everyday opportunities to practice small acts of assertiveness, like declining social invitations, making requests, or expressing opinions. Applying assertive communication across minor interactions builds confidence.
Over time, increase the stakes by having assertive dialogues about more challenging topics with colleagues, loved ones, and others. Expect occasional stumbles as you progress your training. Keep going.
Utilizing feedback
Actively using feedback is key to improving your assertive communication abilities. Asking trusted mentors to observe your interactions and provide tips can help you grow. Consider working with a therapist or coach to get more objective insights on areas needing improvement.
Make time for self-reflection, analyzing reactions to your assertiveness to figure out what strategies work versus what needs adjustment. It's crucial you stay open to constructive critiques – even critical feedback can help identify blind spots and refine your approach when delivered with good intent.
Why work with a therapist to improve assertive communication?
Many find actively working with a therapist enables greater success in developing assertive communication skills. There are several key reasons for this:
A therapist provides a completely judgment-free environment to practice vulnerable interpersonal skills. You can make mistakes without real-world consequences.

They offer objective insights into your default communication tendencies based on psychological training. For example, a therapist can point out subtle aggressive or passive language patterns you may not be aware of.
Through roleplaying, therapists simulate real-world scenarios and relationships so you gain experience being assertive in context. These exercises build muscle memory for assertive responses.

Psychologists assign tailored homework between sessions to reinforce new healthy habits. Frequent practice outside of therapy embeds skills.

Ongoing feedback and adjustment ensures you fully integrate communicative techniques over time. Therapists continually refine your approach based on observations.

A safe therapeutic space builds confidence in using your voice effectively. The non-judgmental support provides encouragement to keep developing assertiveness.
Talking to a therapist on Calmerry can substantially accelerate the learning curve for people struggling with assertiveness. Consider online therapy for quick and flexible access to a therapist.
Developing assertive communication
Being assertive empowers you to stand up for your rights while respecting others. With practice, assertive communication can become integral to your interpersonal skill set, leading to more rewarding relationships. Start small, focusing on facts over feelings.
Consider working with a therapist if assertiveness does not come naturally. You have a right to express yourself!
The path to assertiveness begins with self-awareness. Pay attention to your current communication style and note areas for improvement. Seek knowledge through books, courses, and counseling.
With time, practice speaking up about your feelings and needs while maintaining respect. Know that stumbles will happen, but the skill will develop. You've got this!
We curate our articles with warmth and care, drawing from reputable sources and expert knowledge. Explore our editorial process to understand how we prioritize your trust and keep accuracy in every word we share.
Сheck your mental well-being for free: