Published March 13, 2023 / Updated April 21, 2023
Conflicts Happen: Be Ready with These 10 Conflict Resolution Strategies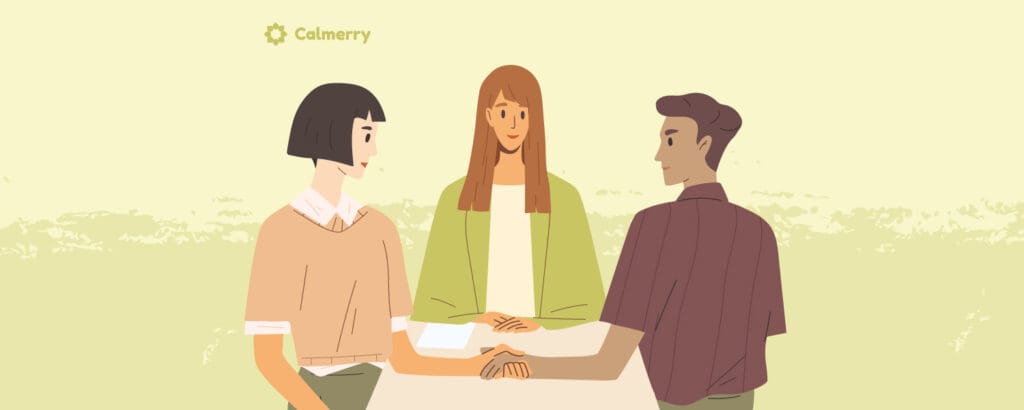 Reading Time:
10
minutes
Let's be honest, no one really likes conflict. In fact, most people actively try to avoid it. After all, conflict tends to be messy and difficult and, sometimes, even hurtful. It causes stress and can wreak havoc on a relationship.
Why would anyone want it in their lives, and why does conflict occur between even the closest of people?
The truth is, conflicts happen, even between people who otherwise get along well. After all, differences are what make the world go 'round just sometimes not as smooth as we'd like. Not everyone will always agree and not everyone has the same point of view. To complicate things, conflicts don't just happen at home. They can happen at school or even at work between coworkers or even with a boss.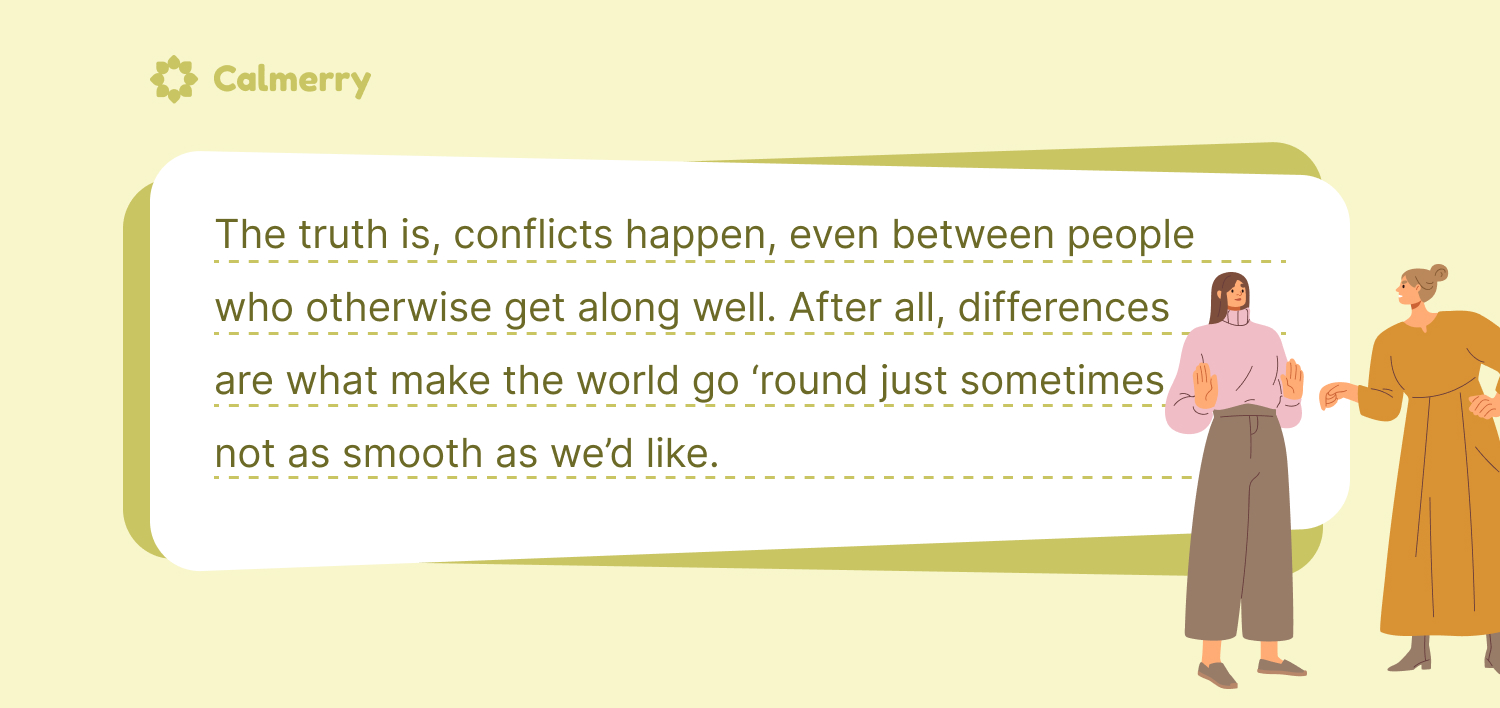 Sometimes people can talk it out. Sometimes they can't. Sometimes getting to a place of resolution is hard. As hard as conflicts are, they can often be the catalyst of positive change if you're willing to take steps to resolve the problem rather.
No one wants to be in a conflict, but when you know what you can do, you can find your way through them. Conflict resolution strategies offer a proactive and positive way to work through the conflict, whether in your personal or your professional life.
Just what is conflict?
In its simplest terms, conflict is a disagreement between two or more people. It can be about facts or feelings, a point of view or values – just about anything that people might disagree on.
Conflict can even occur between people who otherwise get along well. The fact is, as close as two people might be, they are still individuals with their own wants and needs, and fears. Sometimes theirs and yours will clash.
Some of the common reasons for conflict include:
Different agendas – You have different desires or goals, be it about what to have for dinner or future plans.
Personalities – Not everyone is the same, and sometimes personalities clash. It doesn't necessarily mean anyone is doing wrong. For example, you might be really animated at family dinners. Your brother might be quieter and more reserved. He might find you annoying. You might find him boring. Neither of you is wrong, just different.
Relationship changes – This could be in a romantic relationship or a workplace relationship (e.g., your coworker becomes your boss)
Hurtful actions – Some examples might be thoughtless actions or a betrayal.
Different values or ideologies – Anything from religion to politics can create conflict.
Resources – This is a "you have what I need" kind of conflict.
Regardless of the source, conflict creates tension.
Conflict can happen in any relationship
Conflicts can arise in any relationship – parents and children, a spouse or partner, even best friends or co-workers. Let them fester, and conflicts can destroy the connection you have.
Deal with conflict in healthy ways, and you just might find your connection stronger than ever. One study found that emotions like hurt, anger, fear, avoidance, and blaming can damage relationships. On the other hand, open, inclusive, and non-judgmental conversations led to deeper emotional connections.
Not surprisingly, many of the strategies for healing conflicts are similar to those you might use to build and maintain healthy relationships.
Dealing with conflicts in the workplace is a little different than how you might approach a relationship conflict. It's a different dynamic and requires a different approach.
While the goal is the same – resolve the conflict – the approach will be different because, after all, the relationship between you and your coworkers or boss is a professional rather than a personal relationship, and that brings other dynamics to the table.
Conflicts with family and friends can be some of the hardest to deal with. After all, there's an emotional connection there that can't be denied. They might infuriate you, but you love them too.
Conflicts are bound to happen, but knowing how to resolve relationship conflict can go a long way to keeping those connections strong.
How do people respond to conflict?
How we respond to conflict is not unlike how we respond to anything we perceive as adversity or a threat and is linked to your body's "fight or flight" instinct. Simply put, your brain gets triggered. The part of your brain that perceives threats, the amygdala, sounds the alarm, and you respond.
Typical conflict responses include:
Fight – You stand your ground and try to defend your position. This response can sometimes end in angry outbursts and regrets for saying things you maybe didn't mean.
Flight – You back away and avoid the conflict, hoping it will go away.
Freeze – Unlike the flight response, you avoid the conflict by backing away but by simply doing nothing. You go along, unsure of what else to do.
These reactions can happen in an instant, often before you even realize it. It can be really hard to make calm, rational decisions in the moment.
Thanks, amygdala.
Avoidance of a conflict can create additional problems, especially if it happens a lot or you avoid talking about an important issue. Maintaining your own boundaries gets really hard when someone continues to violate them. Avoiding the problem can make the problem worse or at least seem worse. Left unresolved, conflict can create tension and even damage otherwise healthy relationships.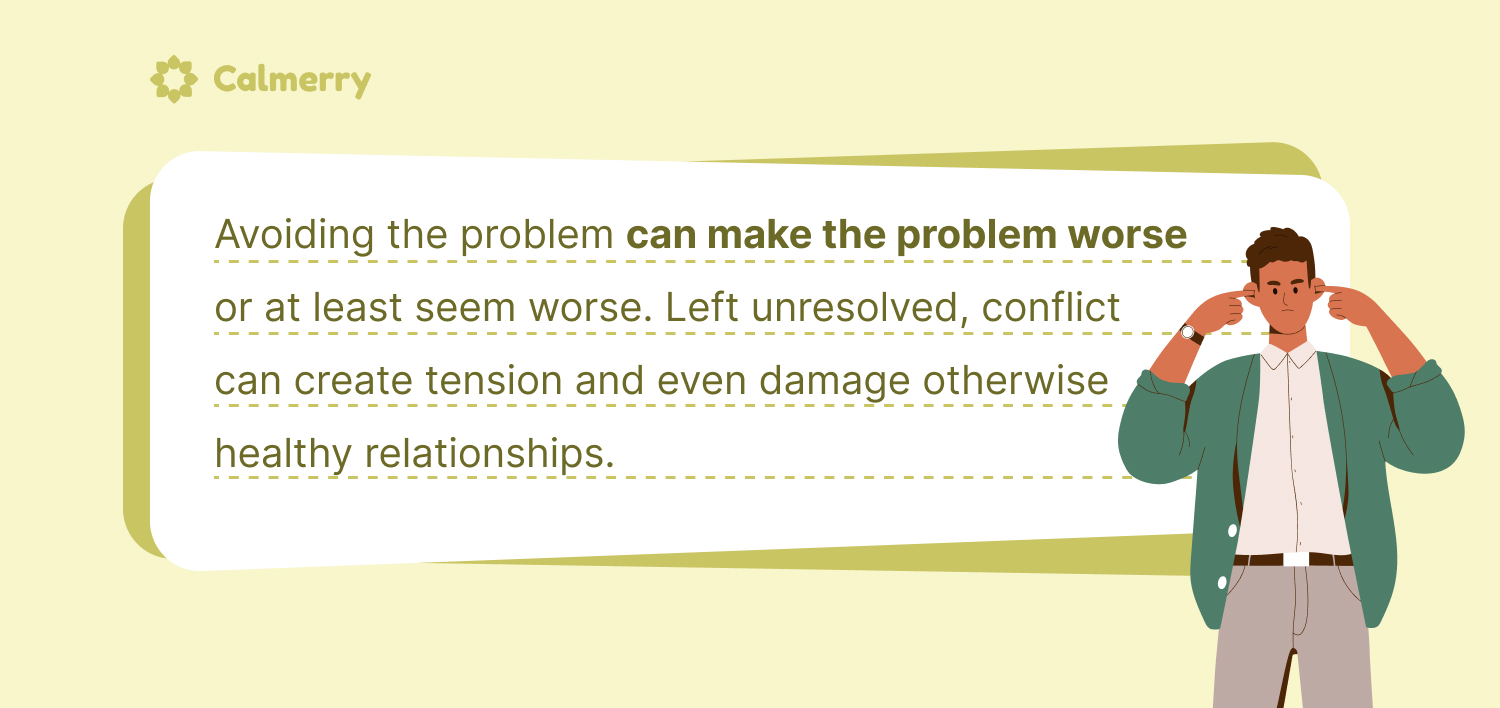 Living with conflict can take a personal toll, too, affecting your physical and mental health:
Increased levels of stress and stress-related illness
Increased risk of anxiety, depression, or self-destructive behaviors (e.g., substance use)
Impacts on self-esteem
Impacts on the immune system
Difficulty managing emotions
Taking care of your mental health at work has gained a lot of attention, especially since the pandemic, and for a good reason. The old standard of just taking one for the team just doesn't hold up.
Work-related conflicts can be just as emotionally taxing as those in your personal life. Avoiding them only creates more physical and emotional distress and can impact your performance and satisfaction.
A better option for dealing with conflict is finding a way to stay calm and face the conflict in a positive way. If you can do that, you may well be able to either diffuse or even resolve the problem. In many ways, dealing with conflicts in a healthy way is just good self-care.
So, what is conflict resolution?
Conflict resolution is a process intended to help two or more people (or parties) find a peaceful solution to a disagreement. This process can be formal (e.g., mediation), but it's often more informal (e.g., talking it out). Just what that process looks like will depend on the type of relationship between the parties.
Most of us don't really know how to deal with conflicts all that well. Solving a conflict is hard! We are often so attached to our own beliefs and views that we can't see beyond them.
Sometimes we're right. Sometimes we just want to be right. It can be hard to think of even giving an inch, even knowing that it could move the situation closer to a resolution.
However, resolving conflicts is much more than just giving up or giving in. And you don't have to fight over anything. Learning to use healthy conflict resolution strategies can help you handle conflicts when they happen.
You need a good set of conflict-resolution skills!
10 Conflict resolution strategies
Finding yourself in a conflict isn't a red flag of impending doom. It's a sign that something needs your attention. Resolving conflicts is all about communication and a willingness to find a solution.
Effective strategies for resolving conflict focus on identifying the sticking point, trying to understand each other's point of view, and finding the places where you can agree.
These conflict resolution strategies can help you see the issue and open a path for resolving it.
1. Practice mindfulness
Mindfulness is a great strategy to use during conflicts. Remember that pesky amygdala? By focusing on the present and being intentional in your actions, you may be able to override that "fight or flight" response and remain in control of how you respond. It takes some practice, but mindfulness can be quite effective.
2. Timing is everything
Trying to resolve a problem in the heat of the moment doesn't usually end well. Emotions are running high, and no one is really listening. There is no shame in taking a grown-up time out to let emotions settle and gather your thoughts.
When angry or hurt, people often say or do things they might not otherwise. And, once said, those words forever hang between you even long after apologies and amends are made.
Likewise, don't just spring a "conversation" on someone. No one likes surprises like that, and it can feel almost like a set-up, especially if the conflict has been contentious. Let them know you'd like to talk about what happened and find the time when you can both sit down without distraction.
Sometimes, we may get caught up in the fast pace of conflict. As a result, even if the other person is saying something to show us they want to end a disagreement, we don't notice that and continue fighting, which only makes things worse. A more effective strategy is trying to regulate your emotions and remain calm.

Download this free worksheet that will help you imagine a secure interaction with a conflict and teach you how to use this skill in an interpersonal situation 👉🏽 Imagining a secure interaction with a conflict
3. Ask about their experience with the problem
Sometimes, we think we know what the problem is because we are seeing it from our own experience. However, the other person's experience of the conflict might be very different. Perception is a reality, so your view of the situation may be different from theirs.
Affirmation of someone's experience lets them know you hear them. Hearing someone's experience fosters understanding and even empathy and compassion for each other's struggles.
4. Use "I-statements"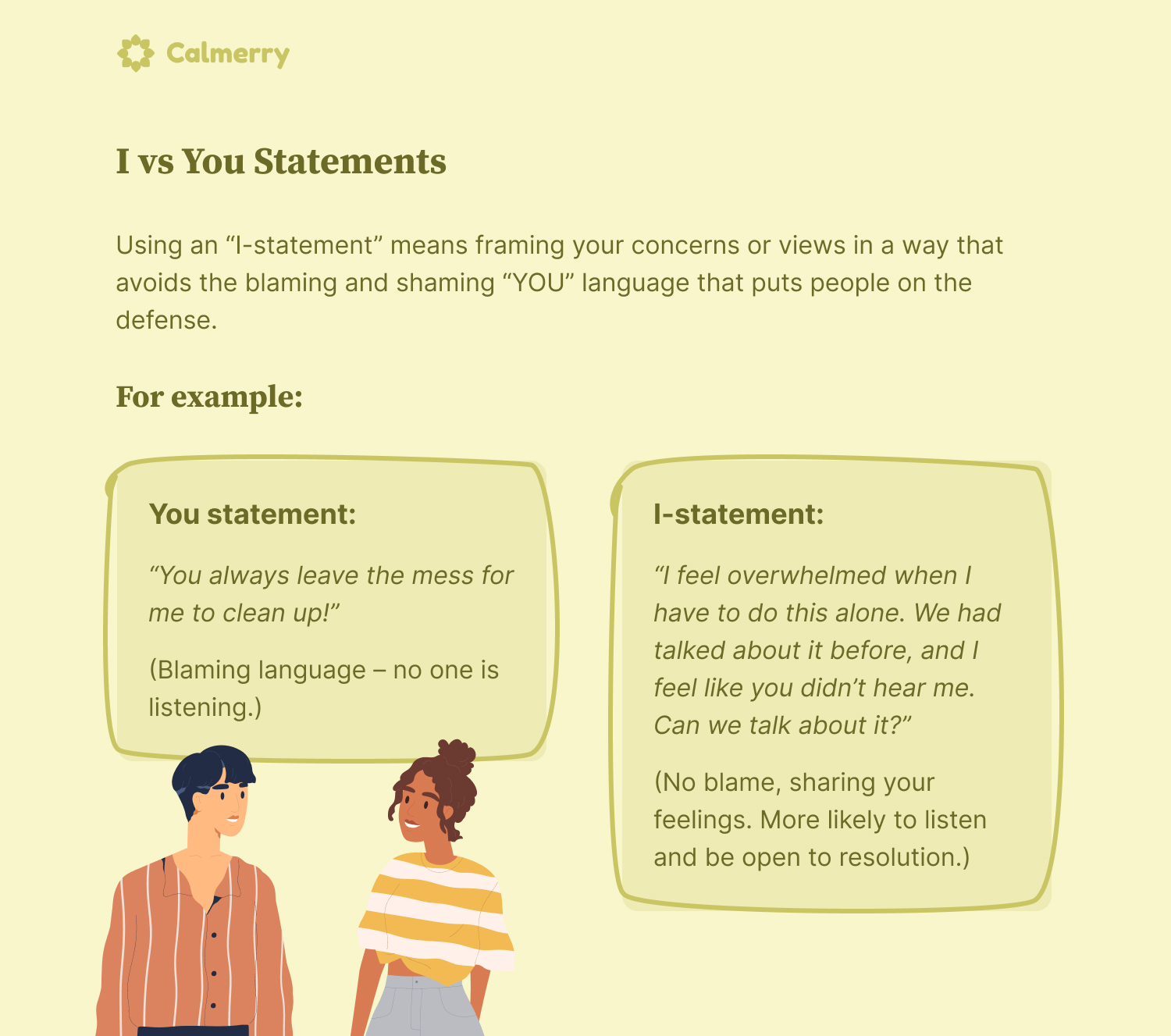 This is a communication technique people often learn in therapy, but it is a useful skill for every day too. Using an "I-statement" means framing your concerns or views in a way that avoids the blaming and shaming "YOU" language that puts people on the defense. For example:
You-statement: "You always leave the mess for me to clean up!" (Blaming language – no one is listening.)
I-statement: "I feel overwhelmed when I have to do this alone. We had talked about it before, and I feel like you didn't hear me. Can we talk about it?" (No blame, sharing your feelings. More likely to listen and be open to resolution.)
I-statements are really helpful when you need to let someone know your concerns and that you need their help. I-statements help to shift to a collaborative "we" focus for solving the problem.
5. Practice active listening
Listening to someone is so much more than just hearing their words and pouncing on the first opportunity to respond.
Active listening is a way of listening that involves not only hearing someone's words but also trying to understand what they are trying to convey. When you can hear and understand, it allows for more meaningful dialogue, and more likely that you can see where the other person is coming from, even if you don't agree.
Listen for meaning and also observe body language. What does their body language convey? What does yours convey?
Some ways to encourage active listening include:
Treat the other person as you would like to be treated – Active listening is all about cultivating respect and understanding.
Be attentive – Put your phone down. Look at them.
Show that you're listening – Keep an open and inviting posture. Lean in slightly. Nod. Smile. Encourage them to continue "I hear you," "I see," "Yes."
Ask open-ended questions – Simple yes or no questions don't tell us much. Instead, try open-ended questions like "How do you feel about that?", "What is your experience with that?" "Can you tell me more about that?"
Reflect on what they're saying to show you understand – "What I hear you saying is…is that right?"
Ask for clarification if needed – "When you say…is this what you mean?"
Avoid interruption – It doesn't help and can derail the conversation. Listen to the other person. Remember, you're listening to understand, not just respond.
Be appropriate when you respond – Be open and honest as you share your views. Speak assertively and not aggressively. There is nothing to be gained from attacking or belittling the other person.
In our tech-driven world, this needs to be said: face-to-face is best. Texting, social media posting, and emails lack the communication nuances that are so important in finding meaning. And do you really want to hash out a conflict on social media?
6. Apologize If you need to
Of course, this doesn't mean apologizing for something you didn't do. However, if your actions were hurtful in some way, a true, appropriate apology can go a long way to resolving a conflict. It lets the other person know you are sincere and recognize your part in the conflict.
And practice self-compassion. You are human, and we all sometimes do things we are less than proud of.
7. Lean in
Let's be honest. Taking on an issue that has been contentious is uncomfortable, to say the least. It's tempting to avoid or minimize the problem because who wants to confront hard things?
Part of resolving a problem is being willing to be vulnerable and open with your feelings. Chances are, the other person is feeling uncomfortable too. Instead of avoiding those feelings, share them. It states the obvious, but more than that, it signals that you're willing to be open. This may pave the way for them to be willing to share too.
8. Look for ways to compromise 
No one wants to feel like they've "lost." All-or-nothing approaches usually end badly, with someone feeling unheard and someone feeling victorious. Neither is a good place to be if you want to sustain the relationship.
When it comes to healthy conflict resolution, finding the middle ground and ways of compromising can often bring a solution. Everyone walks away feeling heard and getting some of what they needed. It might not be the final solution, but sometimes it's enough of a start.
9. Agree to disagree
Will there be times when you have to agree to disagree? Sure, but that doesn't mean the conflict has to continue. Sometimes resolution comes from the acceptance that not everyone feels exactly the same as you, and that's ok too.
In this case, it's important to delineate the boundaries of how you will interact on the issue so that the conflict doesn't have to continue. Saying no to conflict is a solution too.
10. Ask for help
Sometimes, no matter how hard you try, you just can't find a solution. That's when counseling can help. Talking with someone who is neutral and trained to help people navigate hard issues can set you on the path to resolving the conflict.
Finding a therapist to help is easier than ever. Online therapy is accessible and convenient. And it's effective. You can schedule your sessions on your time and see someone right from the comfort of your home. A skilled therapist can help you sort through the issues and find healthy ways to deal with conflict.
Subscribe
to our mental health digest
Let us support you on the way to better mental well-being. Get expert tips and insights on mental health delivered to your inbox monthly.
Takeaway
You don't have to accept that conflict will just be part of your relationship. You can be proactive in addressing the issue and finding solutions that work for you and maybe even enhance the relationship you have with the other person.
You never know what you'll find on the other side of the conflict. It could just be the place you needed to be all along.
Сheck your mental well-being for free: