Published September 23, 2022 / Updated April 21, 2023
6 Signs Your Wife Doesn't Love You Anymore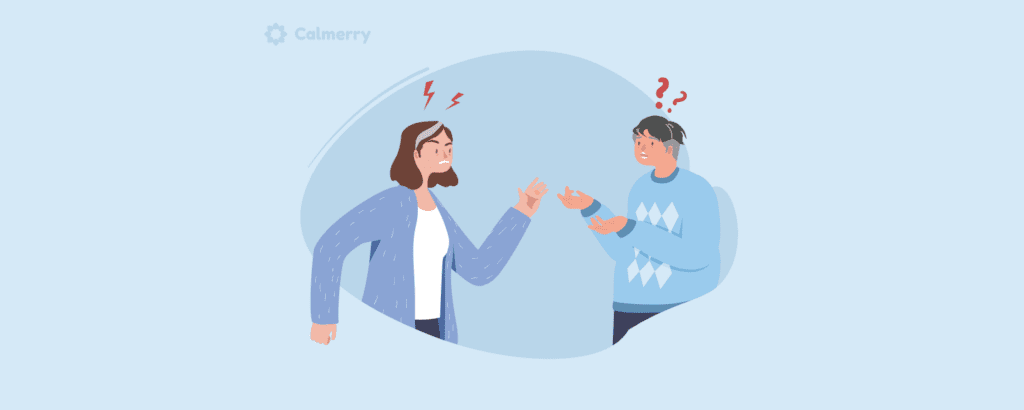 Reading Time:
6
minutes
When we get married, we promise to love our spouse for the rest of our lives, staying committed to the relationship in good times and in bad. Unfortunately, life doesn't always work out so perfectly, and you may find that the romance dies. When this happens, it eventually feels as if your spouse has fallen out of love.
So, how can you tell if your wife loves you still, or if she simply just doesn't love you anymore? Look out for some of the following signs, which suggest that she has fallen out of love.
Does my wife love me?
If you find yourself asking this question, chances are that things aren't so great in your marriage. Maybe it seems like there is a growing distance between you and your spouse, or perhaps there is so much conflict in the relationship that it seems all love has been lost. If you're looking for signs your wife no longer loves you, the following details might suggest that the romance has died.
Lack of intimacy
Intimacy is an important part of a healthy, lasting marriage. When most people hear the term "intimacy," they may imagine sex, but there is more to intimacy than sexual contact. Intimacy also includes physical touch, as well as a feeling of being emotionally close and vulnerable with your spouse.
One study with couples who reported falling out of romantic love with their spouse found that loss of intimacy was a common experience among these couples. If you feel like you and your wife just aren't close anymore, this may be a sign of an unhappy marriage, and perhaps that she has fallen out of love.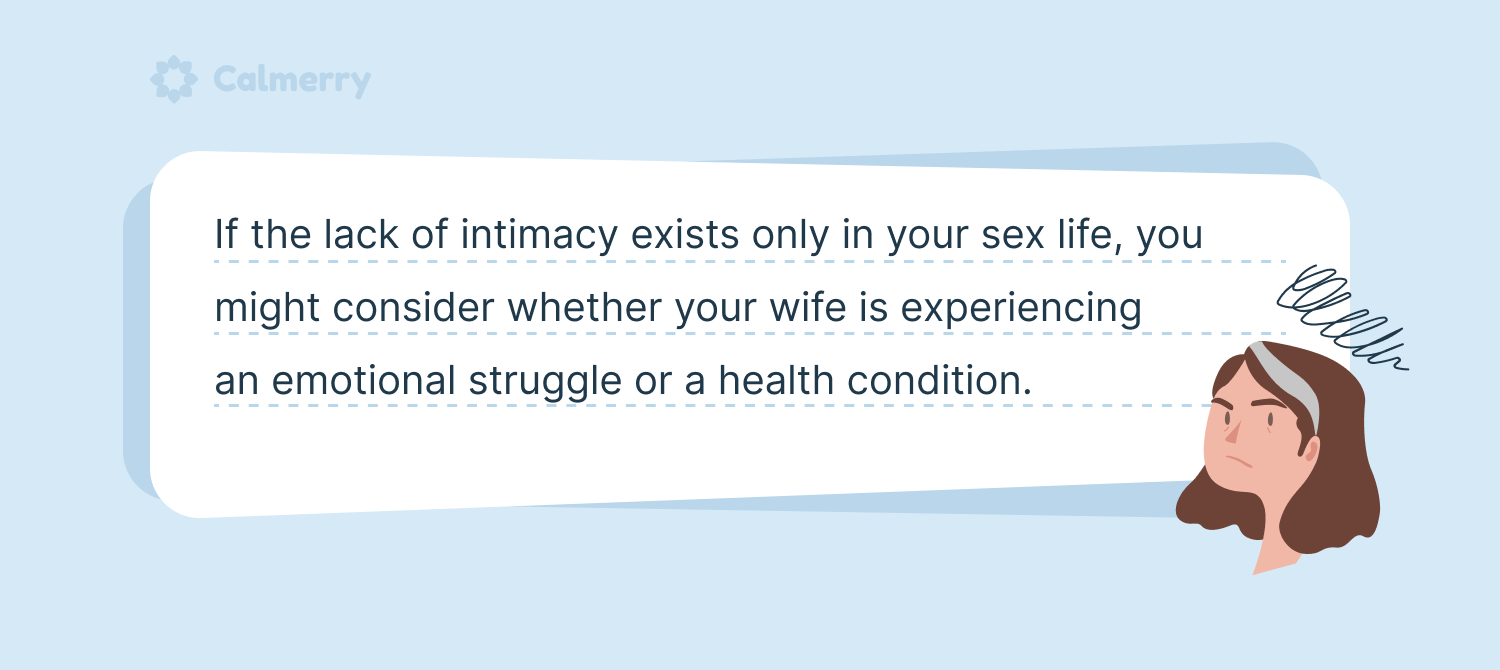 If the lack of intimacy exists only in your sex life, you might consider whether your wife is experiencing an emotional struggle or a health condition. Sometimes, lack of sex isn't one of the signs your wife doesn't love you. Rather, it can be an indicator that she is living with a physical condition that makes sex painful, or she is struggling with negative emotions that reduce her sex drive.
There is constant conflict
Conflict is normal and even healthy in the best of relationships, but if most of your interactions with your spouse involve conflict, fighting, or negativity, this can be a sign that your wife is falling out of love. In some cases, when one spouse stops loving the other, they may intentionally pick fights in order to push the other person away.
In healthy relationships, negative interactions like conflict and fighting are heavily outweighed by positive interactions. If your wife has fallen out of love, you will notice that there are more negative than positive interactions in the relationships.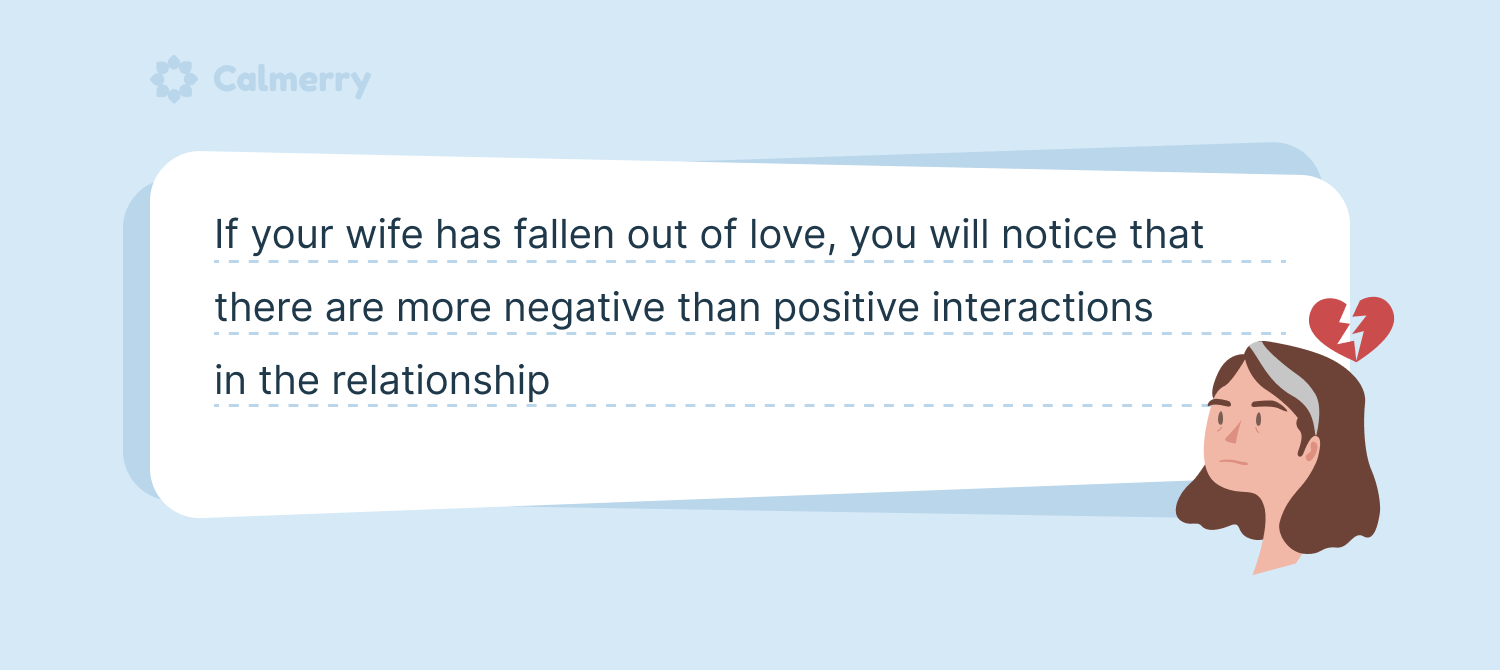 Signs of contempt
If your wife treats you with contempt, it's a pretty clear sign that she has developed negative feelings toward you. Some signs of contempt include frequent attacks on your character, name-calling, put downs, and disrespectful body language, such as eye rolling or sneering.
Relationship counseling expert John Gottman describes contempt as being one of the "four horsemen" that leads to relationship dissatisfaction and divorce in couples. If your wife shows contempt toward you, it might be time to have a discussion regarding the state of the relationship.
You're not communicating at all
When two people are in love, they are constantly communicating. They express their needs to each other, discuss problems as they arise, and tend to day-to-day matters within the relationship. If your wife loves you, there will be regular communication.
On the other hand, if she's fallen out of love, you might notice that the two of you do not communicate at all. Maybe you used to talk all the time, and now you hardly know what goes on in her life. If the relationship has completely deteriorated, your wife may engage in a behavior called stonewalling, in which she completely withdraws from you. Instead of communicating with you, she puts up a wall and ignores any attempts for communication, both positive and negative.
She's having an affair
This one may seem like a no-brainer, but if you catch your wife in an affair, this can be an indicator that she's fallen out of love with you, and in love with someone else. Research shows that falling in love with someone else and having emotional needs met are two primary reasons that people begin affairs.
Certainly, this does not excuse the behavior, but if your wife feels that she's not in love anymore, she may turn to a relationship outside of the marriage in order to have her needs for love and closeness met. At the very least, being willing to engage in an affair suggests that she is not considering your feelings, which is a red flag.
You're not spending time together
In healthy, happy marriages, couples spend time apart exploring separate interests, but they also enjoy time together as a family. If your wife has completely distanced herself from you, to the point that you're living separate lives and aren't spending any time together, the feelings of love may have faded.
Maybe she always has a reason to be away from you, or she's spending more and more time with friends rather than making an effort to go on dates with you. When you feel your wife pulling away like this, it's natural to wonder, "Does my wife love me?"
What to do if your wife doesn't love you anymore
When you find yourself coming to the realization of, "My wife doesn't love me anymore…" it can be absolutely devastating. This is a normal reaction. After all, you may realize that your marriage could potentially be over. So, what should you do? Consider some of the strategies below.
Have a conversation
Before coming to the conclusion that your marriage is destined for failure, sit down and have a conversation with your wife. Pick a time when you are both unoccupied and in a relatively good mood, and share your concerns with her.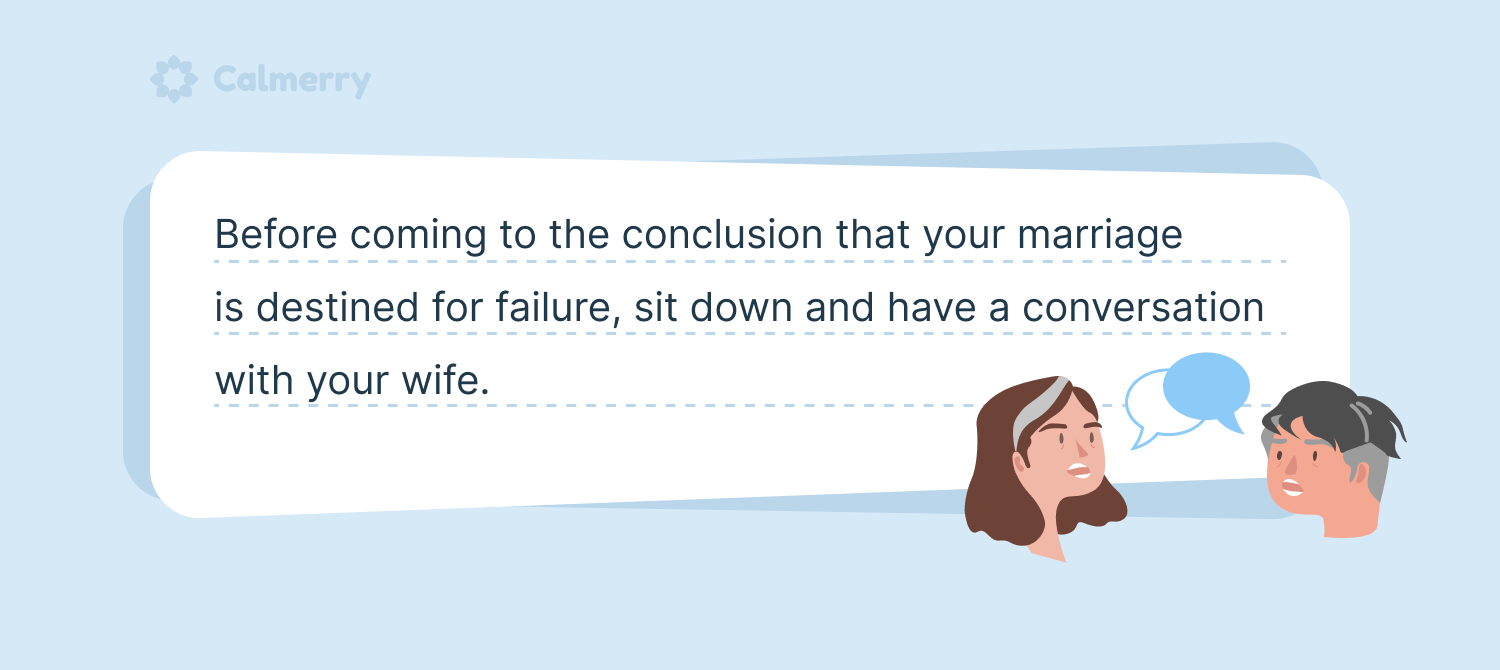 Mention specific behaviors that you've noticed, such as a lack of communication and the distance between the two of you. Maybe she truly hasn't noticed these issues, because she's going through something personal, such as depression or stress at work. In this case, it could be that her behaviors are a reflection of her own struggles and not an indicator of a failing marriage.
If this is the case, you can rekindle the love between the two of you by addressing whatever has been bothering her. It's possible that she's simply been experiencing extra stress, and now that she's aware of the way she's making you feel, she'll make more of an effort to be loving.
Be intentional about physical affection
Sometimes, couples grow apart over time, because life simply gets in the way. Between illnesses, financial stressors, raising kids, and living life, the relationship may be put on the backburner. You can begin to get that loving feeling back by setting aside more time for physical touch.
Even in couples with conflictual relationships, physical touch is associated with better relationship satisfaction. If you're noticing signs your wife doesn't love you, it may be that she is just as hurt as you are about the distance between you. Reconnecting through physical touch can help you to rekindle the romance.

Consider relationship therapy
If you've approached your wife about your feeling that she's fallen out of love, and she admits to being unhappy in the relationship, there are things you can do to save your marriage. Lasting marriages require effort, and sometimes it may not be as easy to love each other.w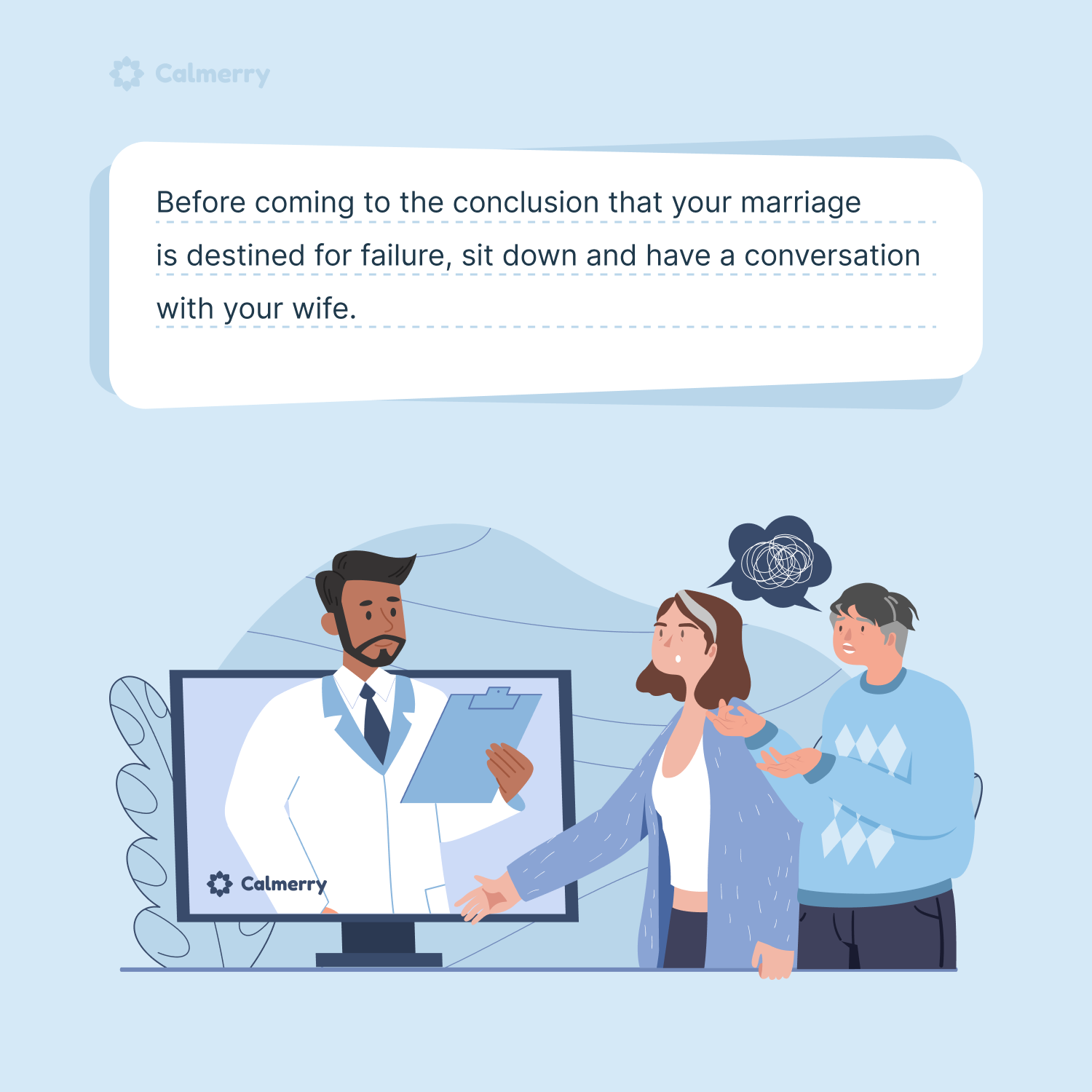 Working with a relationship or couples therapist can help you develop strategies for improving your communication, resolving conflicts in a more loving manner, and reconnecting with each other physically and emotionally. With the tools developed in therapy, you can strengthen your relationship and address problems that have caused the love to fade. With time and effort, levels of relationship satisfaction can improve for both of you.
If you're seeking relationship counseling, Calmerry is here to help. We offer completely online therapy services so that you can connect with a professional from the comfort and privacy of your home.
Сheck your mental well-being for free: