Published April 9, 2021 / Updated August 31, 2023
The 5 Love Languages – How We Can Express and Experience Love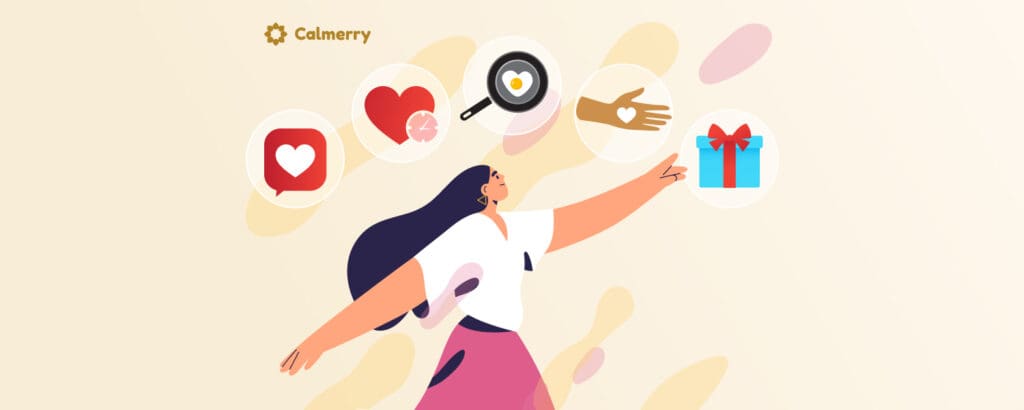 Reading Time:
12
minutes
Connecting with someone on an emotional level is one of the most rewarding experiences in life. But how do we ensure that our expressions of love align with each other's needs? Because we all have different preferences regarding things that make us feel loved and cared for.
Grasping the concept of the five love languages can provide valuable insights into building more meaningful and fulfilling relationships.
What are the love languages? An overview of the concept
The love languages theory was introduced by Dr. Gary Chapman, a marriage counselor and a pastor, in his 1992 book "The 5 Love Languages: How to Express Heartfelt Commitment to Your Mate." 
Before publishing the book, the author had spent years studying how couples tend to misunderstand each other in their relationships. The findings led to the concept of love languages – a unique lens into how we prefer to give and receive love.
The concept suggests that everyone has primary (the most used) and secondary love languages, which inform how they best understand and interpret acts of love.
These languages are:
Words of affirmation – using verbal affirmations like compliments, words of appreciation, and encouraging statements
Acts of service – doing things for your partner, such as cooking a meal or handling chores
Receiving gifts – providing thoughtful tokens or gifts as symbols of love and appreciation
Quality time – investing in undistracted and meaningful moments together
Physical touch – engaging in physical expressions of love (holding hands, hugging, cuddling, etc.)
Are the love languages a thing?
Many people are curious whether love languages are ever real. The idea of love languages is a concept, a framework, but not a scientific formula.
Moreover, this model needs further testing with diverse populations and more conclusive research:
Some studies provided a certain degree of support for the theory. [1] Hughes, J. L., & Camden, A. A. (2020). Using Chapman's Five Love Languages theory to predict love and relationship satisfaction. Psi Chi Journal of Psychological Research, 25(3), 234–244. https://doi.org/10.24839/2325-7342.jn25.3.234 For example, one study suggests that couples who understand and match each other's love language preferences are usually happier in their relationships, including their intimate lives. [2] Mostova, O., Stolarski, M., & Matthews, G. (2022). I love the way you love me: Responding to partner's love language preferences boosts satisfaction in romantic heterosexual couples. PloS one, 17(6), e0269429. https://doi.org/10.1371/journal.pone.0269429
On the contrary, another study with 67 heterosexual couples found that having the same love language doesn't always mean increased relationship satisfaction. Self-regulatory behaviors of both partners seemed to play a bigger role in happiness. [3] Bunt, S., & Hazelwood, Z. (2017). Walking the walk, talking the talk: Love languages, self-regulation, and relationship satisfaction. Personal Relationships, 24(2), 280–290. https://doi.org/10.1111/pere.12182
However, the model has indeed resonated with many. The reason may be its emphasis on understanding individual differences and needs and the importance of effective communication in relationships.
Importance of love languages in relationships
While not everyone might find that the concept precisely maps to their experiences, it can be used as a tool for self-exploration and navigating relationships. And like any tool, its effectiveness depends on how it's used.
In general, this model can be beneficial for:
1. Enhancing self-awareness and personal growth
Understanding love languages can prompt introspection, allowing you to gain clearer insights into your relationship needs and desires. This self-awareness is often the first step towards personal growth and creating more meaningful connections with others.
2. Strengthening communication
Being versed in love languages can improve communication between partners, colleagues, familial bonds, or friends. Recognizing how someone expresses love and how they wish to receive it can reduce misunderstandings and foster a more harmonious relationship.
3. Building empathy and deepening bonds
By making an effort to understand and cater to someone's needs, you not only show them that their feelings are valid but also that you truly care. This empathy and understanding can deepen bonds, making relationships more resilient and fulfilling.
However, the research found that a significant challenge for couples attempting to communicate through love languages is the inability to recognize when their partner is making efforts to speak their love language. [1] Hughes, J. L., & Camden, A. A. (2020). Using Chapman's Five Love Languages theory to predict love and relationship satisfaction. Psi Chi Journal of Psychological Research, 25(3), 234–244. https://doi.org/10.24839/2325-7342.jn25.3.234 So, it's essential for couples to learn to acknowledge these efforts, even if they aren't perfect.
4. Fostering intimacy and connection
On a deeper level, being attuned to your partner's love language can elevate intimacy and feelings of appreciation.
Whether through words of affirmation or physical touch, knowing how to connect with them can bring closeness and a stronger bond.
5. Facilitating personal adaptability
By being aware of the varied ways people express love, you can become more adaptable in different relational contexts. This adaptability is beneficial not only in romantic relationships – it helps in interpersonal dynamics across various situations.
Limitations of the theory
While popular and useful to many, the theory isn't without its limitations:
One significant criticism is its heteronormative focus. Originally developed by observing heterosexual couples, the model might not fully capture the relational dynamics within the LGBTQIA2S+ community. This can exclude or misrepresent non-heteronormative experiences. However, one study suggested that the theory can be useful for gay couples as well. [1] Hughes, J. L., & Camden, A. A. (2020). Using Chapman's Five Love Languages theory to predict love and relationship satisfaction. Psi Chi Journal of Psychological Research, 25(3), 234–244. https://doi.org/10.24839/2325-7342.jn25.3.234
Another limitation is the theory's lack of robust empirical evidence, as was mentioned above. While many find it resonates with their experiences, scientific studies have not consistently supported its transformative claims.
Human experiences are very complex. Boiling down their affectionate expressions to just five categories can oversimplify and potentially overlook other significant modes of expression.
Theory may pressure individuals and partners to fit into one of the prescribed categories. This can potentially lead to self-doubt or confusion if they don't resonate with any particular language or don't consistently express their loved one's love language.
Lastly, while the model emphasizes individual preferences, it doesn't necessarily account for cultural, societal, or developmental factors that might influence one's preferred love language.
So, what are the five languages of love and their examples?
The five love languages is a theory that guides understanding our emotional needs and expressing our feelings in relationships. By understanding these languages, we can better communicate our love and, in turn, feel more loved and understood.
Let's delve deeper into each of these languages to grasp their essence better.
Words of affirmation
For many, words hold power. Those who primarily identify with this love language value verbal acknowledgments of affection, including frequent "I love you's," compliments, and words of appreciation.
These verbal expressions make them feel understood, secure, and appreciated.
Acts of service
Actions, they say, speak louder than words. For individuals who resonate with the acts of service, it's these thoughtful gestures and deeds – like making breakfast or doing a chore without being asked – that truly communicate love.
For them, actions are a direct representation of their partner's devotion and commitment.
Receiving gifts
This isn't about materialism – it's rather about the thought, symbolism, and effort behind the gift.
A person whose primary love language is receiving gifts feels most loved when presented with visual symbols of love, whether a special token or a regular reminder. Remembering birthdays, anniversaries, or just bringing an item of appreciation can mean the world to them.
Quality time
For those who value quality time, it's all about giving undivided attention. It doesn't always mean grand gestures or fancy dates, but it could be as simple as having a heart-to-heart conversation or enjoying a quiet walk together.
Being present, without the interference of screens or other distractions, holds immense value for them.
Physical touch
Physical intimacy, like holding hands, hugging, kissing, cuddling, or sex, is a powerful communicative gesture for those with this primary love language. It helps them feel safe, secure, and closely connected to their partner.
It can also be about the small touches that infuse everyday moments with love.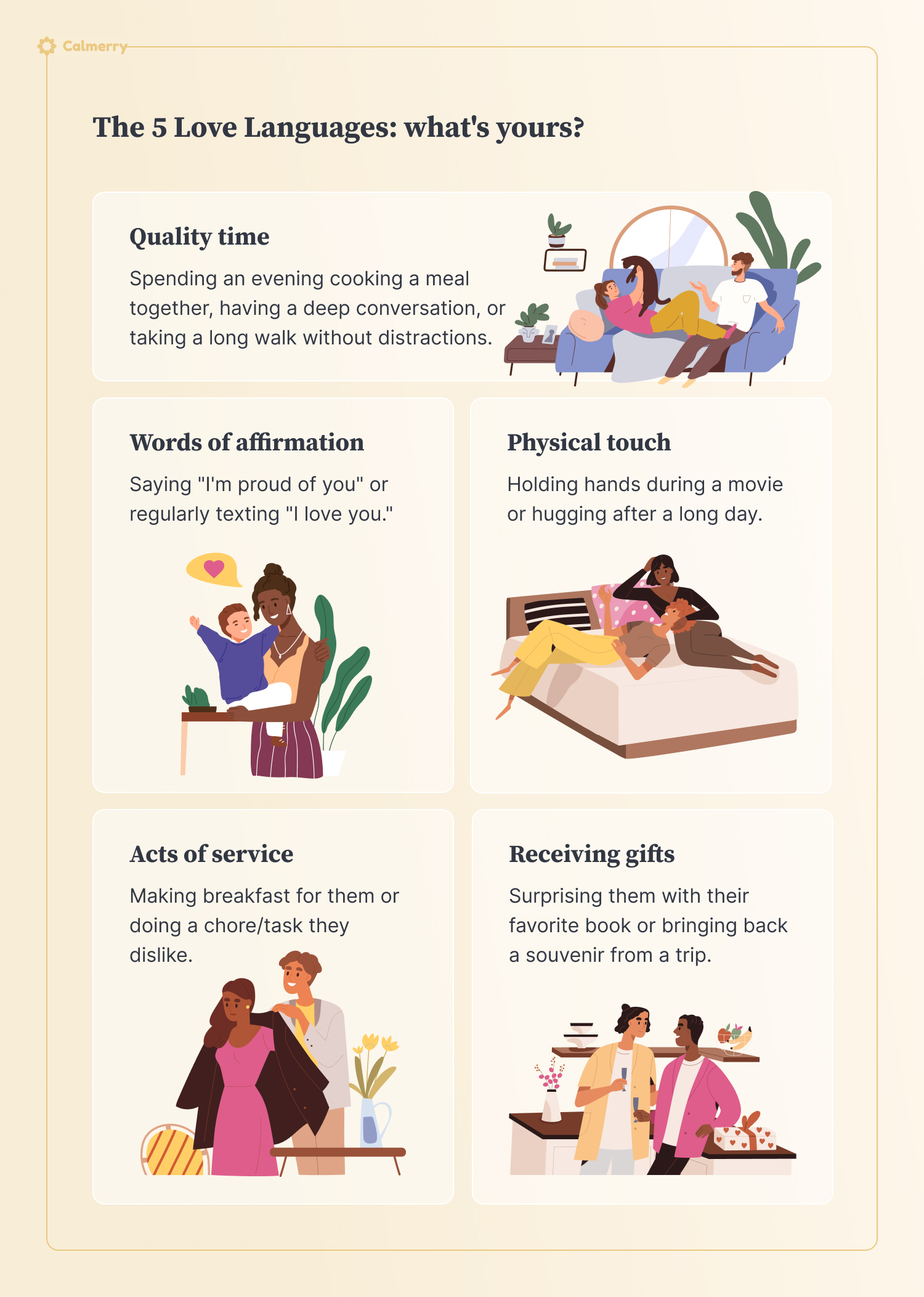 What's my love language?
Discovering your love language can be an exciting journey, revealing the ways you most genuinely feel and express affection.
A helpful starting point is taking the official test – The Love Language® Quiz. This quiz can help you identify which of the five love languages speaks to your heart.
Also, there are a few strategies that can provide a more personalized insight into your preferences.
1. Self-reflection
Reflect on your past relationships (both romantic and platonic bonds).
Were there specific actions or words that consistently made you feel especially cherished? Perhaps it was a heartfelt compliment, a surprise gift, or a dedicated evening spent together.
2. Journaling
Write down when you feel profoundly appreciated or, conversely, when you feel distant or misunderstood. Reviewing these entries can help identify recurring themes or triggers, possibly highlighting your love languages.
3. Feedback from friends and family
Those closest to us often notice patterns in our reactions and behaviors. Be curious about their observations — do they think you value kind words, acts of service, another language altogether, or a combination of several ones?
In the end, the journey to uncovering your love language is deeply personal. It's about tapping into your own feelings, memories, and experiences to understand how you connect with others at the heart level.
Can your love language change?
Absolutely, love languages are fluid and can change over time. [4] Borst, H. (2023, January 31). The 5 Love Languages—And How To Use Them To Strengthen Your Relationship. Forbes Health. https://www.forbes.com/health/mind/what-are-the-five-love-languages/ The dynamics of life, personal growth, experiences, and evolving relationships can all contribute to shifts in our preferences and priorities. Moreover, it can also be a temporary shift, depending on your current needs and moods.
Here's a deeper look into why and how love languages can transform:
1. Different life stages
As we move through different phases of life, our needs and desires can change. For instance, a person who once highly valued receiving gifts in their younger years might later prioritize quality time as they mature and seek deeper connections.
2. New relationships
Entering a new relationship can shift our love language preferences. A person might develop a new appreciation for words of affirmation after being with a partner who frequently expresses love verbally.
3. Personal growth
Personal development, such as through therapy or self-reflection, can lead to increased self-awareness and changes in what you value most in life and relationships.
4. Past experiences
Both positive and negative experiences can shape how we want to give and receive love. For example, someone who felt neglected might come to prioritize quality time, while another who felt undervalued might appreciate words of affirmation more.
5. Changing life circumstances
Situational changes like long-distance relationships, new job demands, or raising children can influence how we express and want to receive love.
6. Evolution of a relationship
As relationships mature, the ways partners show love can naturally evolve. A couple might initially connect deeply through physical touch and, over time, come to cherish acts of service like taking care of each other during sickness.
7. Going through and healing from trauma
This can significantly reshape how we perceive and desire expressions of love. For instance, someone who has endured emotional neglect or verbal abuse might find words of affirmation particularly healing, as they rebuild their self-worth.
On the other hand, a person recovering from physical violence might temporarily or permanently find physical touch triggering rather than comforting.
Understanding and adapting to these experiences can play a crucial role in further healing and rebuilding trust in relationships.
Can you have more than one love language?
It's common for people to respond positively to multiple love languages. According to the model, most people have a combination of love languages, with one being primary and others serving as secondary (or tertiary).
Your primary love language is what resonates most deeply. But secondary languages also significantly influence feelings of love and connection. They often play a role in your emotional well-being and relationship dynamics.
Besides, different situations can amplify certain languages. For example, after a long separation, "quality time" might become crucial.
It's also possible to express love in one language and prefer receiving love in another. As life changes, so can the prominence of these languages.
Can one person have all 5 love languages?
It's possible for an individual to resonate with all five love languages and go beyond the ones defined in the model.
Human emotions, needs, expressions, and relational dynamics are very complex! And some might not have a singular, dominant way they prefer to receive/give love. Instead, they may find value and meaning in various expressions, depending on the context, mood, or situation.
Just as we have multifaceted, evolving personalities, our preferences for giving and receiving love can be equally diverse.
Is it possible to not have a love language?
Your way of expressing and receiving love might not align closely with these categories, or you might have a combination of preferences that don't neatly fit into a single category. That's perfectly okay.
Everyone is unique, and that's what makes human connections so rich and diverse. The love languages framework is just one tool among many to navigate these connections. But it's not meant to encompass every individual's experiences.
The key is to explore and communicate openly with your loved ones about your emotional needs and how you prefer to give and receive love.
Do love languages apply to friendships?
Yes, this model isn't limited to romantic relationships.
In fact, Dr. Chapman has written several other books in the same series, each focusing on different aspects of relationships and communication:
In parent-child bond
Within military service members and their families
In professional relationships, and others
The model emphasizes that every individual, regardless of marital status, plays multiple roles in relationships – as a child, a parent, a colleague, a friend, and more. So, applying it in these relationships might help pave the way for deeper connections and improved mutual understanding.
For instance, in a workplace environment, a manager might appreciate acts of service, while an employee might value words of affirmation. Recognizing these preferences can lead to improved mutual respect and cooperation.
Similarly, in friendships, one friend might express their care through quality time – like setting aside an afternoon just to catch up – while another friend might frequently gift small tokens of appreciation. Understanding this can help acknowledge and reciprocate their gestures in ways that resonate with them.
What is the most and least common love language?
In 2022, YouGov, a global public opinion and data company, surveyed 1,000 Americans about their preferences for giving and receiving love. [5] Orth, T., & Sanders, L. (2022). What are Americans' love languages? YouGov. https://today.yougov.com/topics/society/articles-reports/2022/02/11/what-are-americans-love-languages They found that the top love languages are quality time and physical touch. And the least preferred is receiving gifts (considered the most misunderstood love language [6] Borresen, K. (2022, December 7). Why "Receiving Gifts" Is The Most Misunderstood Love Language. HuffPost. https://www.huffpost.com/entry/love-languages-receiving-gifts-most-misunderstood_l_5fc95b04c5b6636e0923d420 ).
However, we should keep in mind that recognizing diversity is crucial. Cultural, societal, economic, and personal contexts can significantly influence how we give and receive. And they're still not extensively researched:
For example, in some cultures, giving and receiving gifts during specific occasions or milestones is paramount, making it a pronounced love language. In others, spending quality time with family members, especially during holidays and festivals, might be deeply rooted in tradition, emphasizing the quality time love language.
Or, for instance, in settings where resources are scarce, receiving gifts might be especially meaningful as it denotes sacrifice and thoughtfulness. In contrast, in environments where physical presence was a luxury due to war or migration, quality time or physical touch could become significant love languages.
"Psychologist William James said that possibly the deepest human need is the need to feel appreciated."

― Gary Chapman, The Five Love Languages: How to Express Heartfelt Commitment to Your Mate
How do you know someone's love language?
Identifying someone's love language can enhance understanding and improve relationship dynamics. Here are some steps and strategies to discern a person's primary love language – or just what resonates with them and their needs the most.
1. Don't guess – ask!
If you're comfortable, consider directly asking them about their love language. They might already be familiar with the concept. And if not, it can be a great opportunity to discuss and explore together.
Even if you're learning your preferences and needs beyond the framework, it can still be a good starting point for broader discussions on what works for you. It's also helpful to revisit this conversation from time to time.
Here are some questions for deeper exploration and reflection:
"What makes you feel most loved or appreciated in a relationship?"
"How do you usually express your love or affection towards others?"
"Can you recall when you felt deeply valued or understood by someone? What did they do?"
"Looking back at our time together, can you pinpoint moments when you felt most loved or connected?"
"Have there been times when you wished I expressed my affection differently?"
"Do compliments or words of encouragement make you feel especially loved?"
"How important are acts of service, like helping out with chores or tasks, in making you feel cared for?"
"Do you feel particularly cherished when you receive gifts, even small ones?"
"How vital is quality time, like undistracted conversations or shared activities, for you in relationships?"
"Does physical touch, like hugging or holding hands, deeply resonate with you in expressing love?"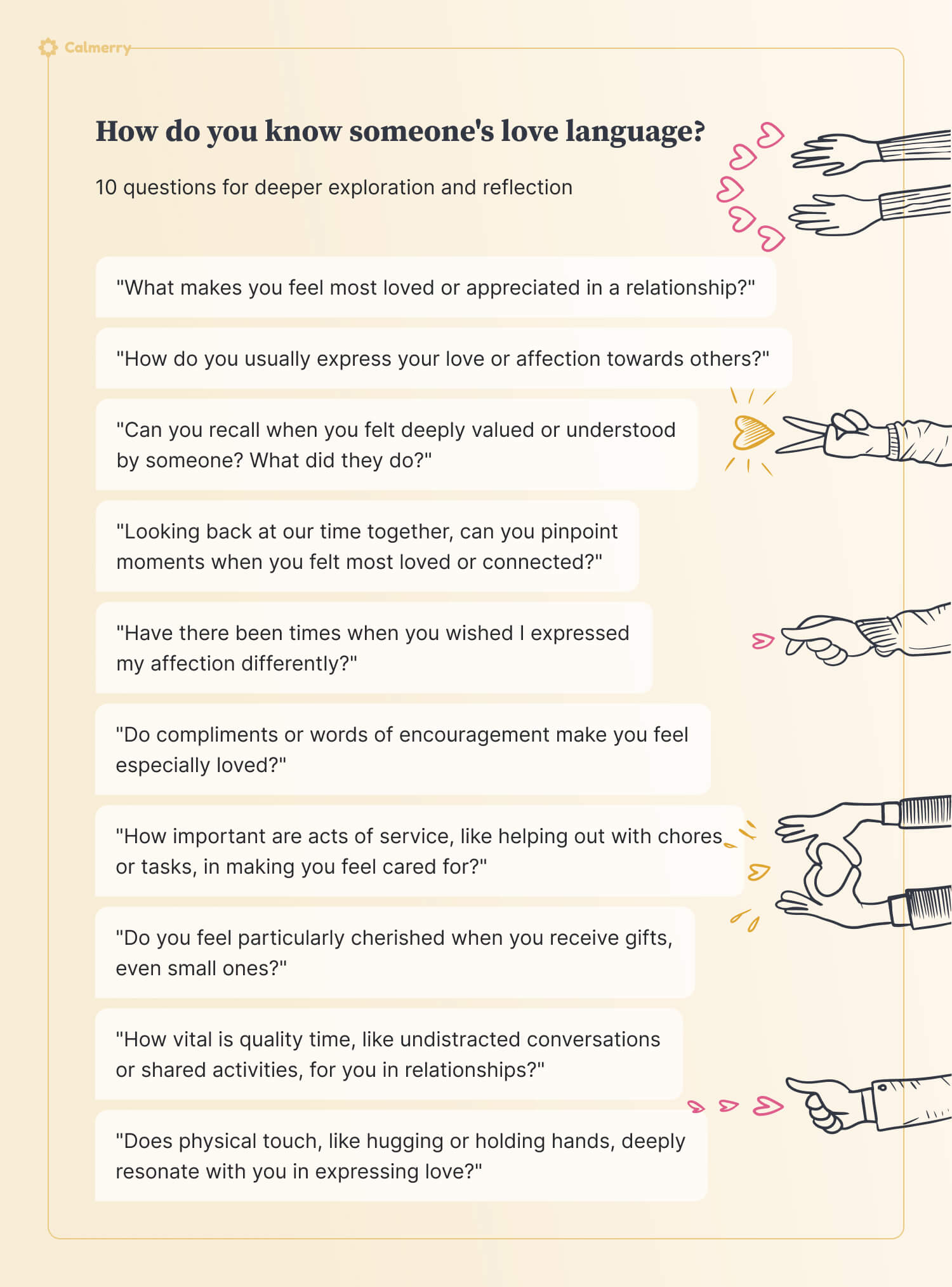 2. Observe how they show affection
According to the theory, how a person expresses love to others often mirrors how they want to receive it. For instance, if someone frequently offers words of encouragement, they might value "words of affirmation" themselves.
"People tend to criticize their spouse most loudly in the area where they themselves have the deepest emotional need."

― Gary Chapman, The Five Love Languages: How to Express Heartfelt Commitment to Your Mate
3. Listen to their needs
Sometimes, the needs your partner or friend communicates most often may hint at their love language.
For instance, if they regularly ask for help or favor assistance with tasks, they might value acts of service. Quality time might be their preference if they emphasize wanting to spend time together.
This might reflect what makes them feel most loved and valued. But while these patterns can provide insights, they aren't definitive. People are multifaceted, and various factors might influence our behaviors, not solely our love languages.
4. Reflect on past and observe future interactions
Think about times when they seemed exceptionally happy, hurt, or disappointed. These moments can provide clues about what they value in relationships.
Also, try to experiment, expressing love in different languages and observing what resonates with them most.
5. Take the quiz
Encourage your friend, partner, or family member to take the quiz and share their results with you: "I found this interesting quiz about love languages online. Would you be interested in taking it with me?" or "After learning about these love languages, which one(s) do you feel might be closest to your preferences?"
Can mismatched love languages work?
It's common to hear the sentiment, "Oh, my partner and I have different love languages…" Certainly, having contrasting primary love languages might mean that each person may need to make a more concerted effort to explore and express love in a way their partner truly needs.
But this distinction, while significant, doesn't automatically spell doom for the relationship. Rather, it offers a potential avenue for growth.
When both partners are committed to understanding and meeting each other's needs, different love languages can not only work but lead to a rich, multifaceted relationship where both parties continually learn and grow together. By understanding and valuing the diversity of giving and receiving, couples can draw strength from their differences rather than perceiving them as barriers.
It's also essential to recognize that sustaining a relationship takes much more than just understanding and (healthily) adapting to each other's love languages. Trust, mutual respect, empathy, effective communication, shared values, and commitment are all pillars of a healthy relationship.
"Real love" – "This kind of love is emotional in nature but not obsessional. It is a love that unites reason and emotion. It involves an act of the will and requires discipline, and it recognizes the need for personal growth."

― Gary Chapman, The Five Love Languages: How to Express Heartfelt Commitment to Your Mate
Foster healthy relationships in counseling
While understanding love languages can offer valuable insights, building and maintaining a thriving relationship encompasses so much more. If you find yourself seeking clarity, deeper understanding, or tools to navigate relationship challenges, that's where professional guidance can be invaluable.
At Calmerry, we offer individual relationship counseling tailored to your unique needs. Taking this step towards better understanding and connection – with others and yourself – can be the catalyst for lasting relationship growth and fulfillment.
The 5 LOVE LANGUAGES ®, THE FIVE LOVE LANGUAGES ®, and LOVE LANGUAGE ® are the trademarks of The Moody Bible Institute of Chicago.
We curate our articles with warmth and care, drawing from reputable sources and expert knowledge. Explore our editorial process to understand how we prioritize your trust and keep accuracy in every word we share.
Сheck your mental well-being for free: