Published May 28, 2021 / Updated November 1, 2023
How to Speak Quality Time Love Language in Your Relationship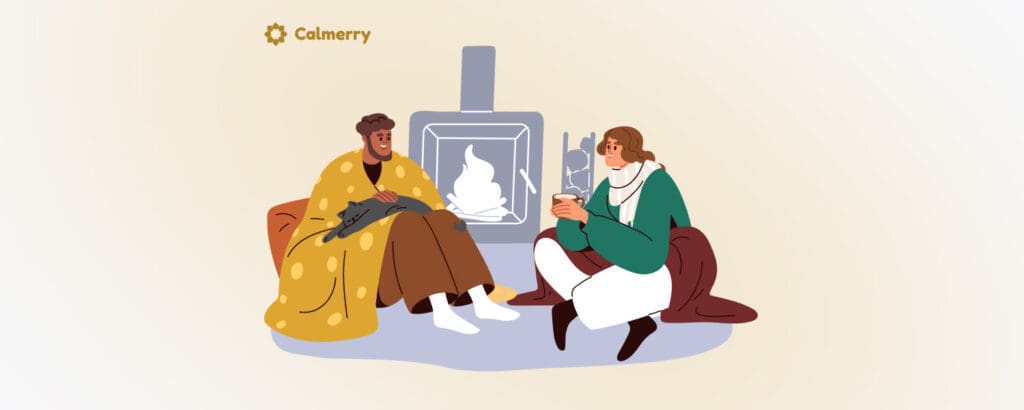 Reading Time:
5
minutes
Although you may already know that one-on-one time is incredibly important within a relationship, you may not realize that quality time is one of the 5 love languages. 
Quality time is often seen as a way to strengthen a relationship. Giving each other your undivided attention can be a great time to communicate, focus on your relationship, and even avoid conflict.
But when life is busy, how can you protect your quality time to ensure both you and your partner always feel loved?
Here, we will look at what quality time love language is and simple ways you can dedicate valuable time to each other.
What is quality time love language?
If quality time is the love language of either you or your partner, you'll need to be sure that love and affection are demonstrated by dedicating time to just the two of you.
This might involve scheduling regular date nights or having phone-free evenings to give each other your undivided attention.
Quality time is a common language of love because, by its very nature, it demands that you and your partner make each other feel special.
By intentionally reserving time away from your children, friends, work, or distractions such as emails or social media, you can focus on your partner and spend quality time reconnecting with each other.
Of course, modern life is busy. Kids, work, grocery shopping, and household chores can all get in the way of carving out quality time.
However, if you get creative, dedicated, and plan ahead, it's possible to create quality time out of even the smallest gaps in your agenda.
The benefits of quality time
Don't worry if quality time isn't your primary love language or you feel unsure about which love language you best identify with.
Reassuringly, there are very few couples who won't benefit from investing in some quality time together.
Minimization of distractions
Whether you have been together for decades or are in a relatively new relationship, it can be easy to let other areas of your life take priority over spending time together.
Even if you spend every evening together sitting on the couch, this time may not actually be quality time.
If you are both sitting scrolling through your phones, checking work emails, or immersed in a TV show, chances are you're not connected with your partner. By the time you go to bed that night, you may barely have said two words to each other.
Quality time demands that you focus on each other, free from distractions. This is your chance to dedicate all of yourself to your partner and to receive the same in return.

– Hannah Rose, Copywriter with a clinical background
Being mutually present
Simply being together physically on the couch isn't enough. Setting aside some quality time for the two of you signifies a real investment in your relationship.
Rather than switching on the TV or mindlessly scrolling, talk about how you can dedicate time to each other when you can both be completely present and free from distractions.
Even the busiest of couples can find space for quality couple time.
Better communication and conflict resolution
Research in the field of relationship psychology suggests that quality time facilitates better communication and conflict resolution. [1] Flood, S., & Genadek, K. R. (2015). Time for each other: work and family constraints among couples. Journal of Marriage and Family, 78(1), 142–164. https://doi.org/10.1111/jomf.12255  
When couples dedicate time to understanding each other's perspectives, they are more likely to find common ground and resolve disagreements amicably.
Improved well-being of both of you
Quality time is not just about exchanging words but about sharing experiences, emotions, and understanding each other's perspectives. This level of communication fosters a deeper connection and can significantly enhance the well-being of both partners. [2] Raman, C. (2022, July 12). Perceived conversation quality in spontaneous interactions. arXiv.org. https://arxiv.org/abs/2207.05791  
Healthier and more stable relationships
The stability of a relationship is often mirrored in the consistency and quality of communication between partners.
Quality time acts as a nurturing ground for maintaining and even enhancing this communication. It's not just about the quantity of words exchanged but the emotional intensity and sincerity behind them. [3] Hidd, V. V., López, E., Centellegher, S., Roberts, S. G. B., Lepri, B., & Dunbar, R. (2023). The stability of transient relationships. Scientific Reports, 13(1). https://doi.org/10.1038/s41598-023-32206-2   
This consistent, quality interaction helps in keeping the relationship vibrant and emotionally intense over time.
How can you include quality time in your relationship?
One of the most effective ways to make space for quality time is to plan ahead to enjoy quality time every day.
At first, you might think this sounds unrealistic, but quality time can be created in the simplest of ways.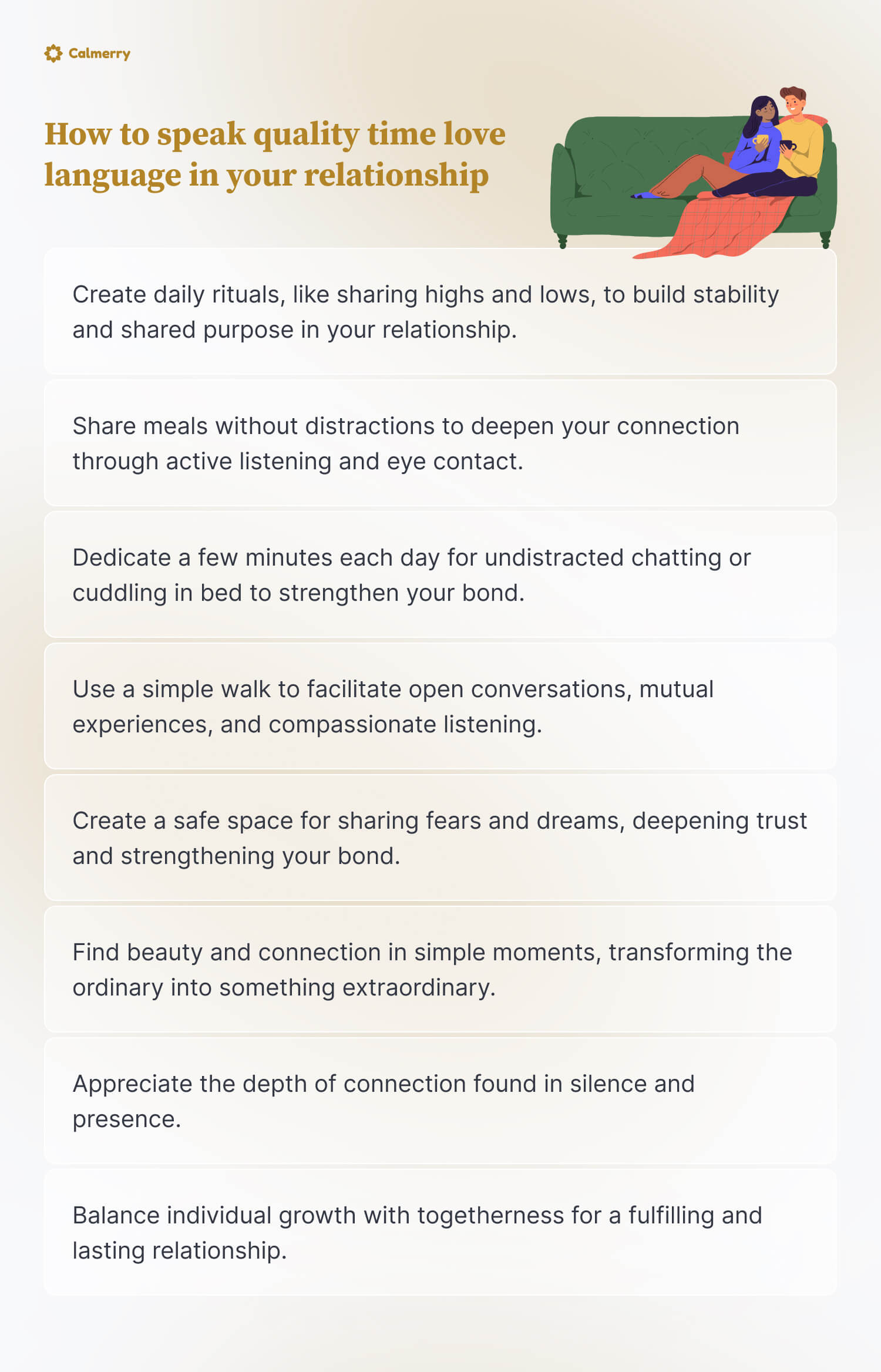 1. Enjoying dinner at the table together
Sitting together to eat is a great way to reconnect and actively listen to what your partner tells you about their day.
Active listening means paying attention to what is being said and reacting to it, rather than letting it wash over you. This is a great way to show your partner that you are present with them, and that you care.
Without distractions, you can maintain eye contact and have deeper conversations that help bring you closer to each other whilst you share a meal.
2. Cultivating a ritual of connection
Consider creating a daily ritual that becomes your sacred time together. It could be as simple as sharing your highs and lows of the day or expressing gratitude for each other before going to sleep. 
These rituals, over time, become the pillars of your relationship, providing stability and a sense of shared purpose.
3. Minding your precious time in bed
Even if you don't have any other time together that day, spend five minutes chatting or cuddling in bed at the start or end of the day. Ignore your phone and focus on each other.
If you have struggled to find time for each other, five minutes can be all it takes to recouple, alleviating any worries you might have about your relationship.
4. Walking together
Quality time doesn't have to involve extravagant plans. Even if you only have 15 minutes together, go for a walk around the block. Walking side by side can feel less intimidating than talking face to face.
Many people find it easier to talk openly about their feelings whilst walking with their partner.
During this activity, actively listen to each other and show compassion for any worries or concerns your partner has.
5. Embracing vulnerability
Quality time is an opportunity to be vulnerable with each other. It's about creating a safe space where you can share your fears, dreams, and insecurities without judgment.
This vulnerability is what deepens trust and strengthens your bond. It's about being brave enough to show your true self and to see and accept your partner's true self in return.
6. Mastering the art of simplicity
Quality time is often found in the simplest moments. It's not about grand gestures or elaborate plans but about finding beauty and connection in the ordinary.
Sometimes, the most profound conversations and moments of connection happen over a cup of coffee or while watching the sunrise together.
It's about being fully present in those ordinary moments and transforming them into something extraordinary.
7. The power of unspoken communication
Sometimes, sitting in silence, holding hands, or simply being in each other's presence can be incredibly powerful.
Learn to appreciate and understand the language of silence and presence. It's in these quiet moments that you often find the deepest connection.
8. The dance of independence and togetherness
While quality time together is crucial, it's also important to respect and encourage each other's need for individual space and growth.
A healthy relationship is like a dance between independence and togetherness. Find a rhythm that allows you both to grow individually and as a couple. This balance is key to a fulfilling and lasting relationship.
Why talk to a mental health professional
Love languages are a wonderful tool for understanding how we give and receive affection, but they're just one piece of the complex puzzle of relationships. 
Beyond knowing whether you prefer quality time or acts of service, there's a deeper layer of personal growth and emotional well-being that significantly impacts how we connect with others.
This is where talking to a mental health professional on Calmerry can be incredibly valuable.
A mental health professional can guide you through a journey of self-discovery, helping you understand your needs, desires, and patterns in relationships.
You will learn strategies to manage stress and anxiety, allowing you to be more present and engaged in your relationships.
You can develop better communication skills to express yourself clearly and understand others better.
If you're facing challenges in your relationships, a therapist can provide guidance and support. They can help you understand the dynamics at play and develop strategies to address and overcome these challenges.
If you're ready for this transformative journey, one that offers deep insights into your own emotions, behaviors, and patterns in relationships, online therapy might be an excellent avenue to explore. 
Just start with a brief survey.
Final thoughts
Quality time is a love language that allows couples to show their love and appreciation by dedicating regular time and undivided attention to each other.
Sharing time and simple acts can lead to a deeper connection, greater contentment, and fewer anxieties within the relationship.
We curate our articles with warmth and care, drawing from reputable sources and expert knowledge. Explore our editorial process to understand how we prioritize your trust and keep accuracy in every word we share.
Flood, S., & Genadek, K. R. (2015). Time for each other: work and family constraints among couples. Journal of Marriage and Family, 78(1), 142–164. https://doi.org/10.1111/jomf.12255

Hidd, V. V., López, E., Centellegher, S., Roberts, S. G. B., Lepri, B., & Dunbar, R. (2023). The stability of transient relationships. Scientific Reports, 13(1). https://doi.org/10.1038/s41598-023-32206-2
Сheck your mental well-being for free: