Published November 1, 2023
10 Types of Cyberbullying and How to Protect Yourself – Emotionally and Digitally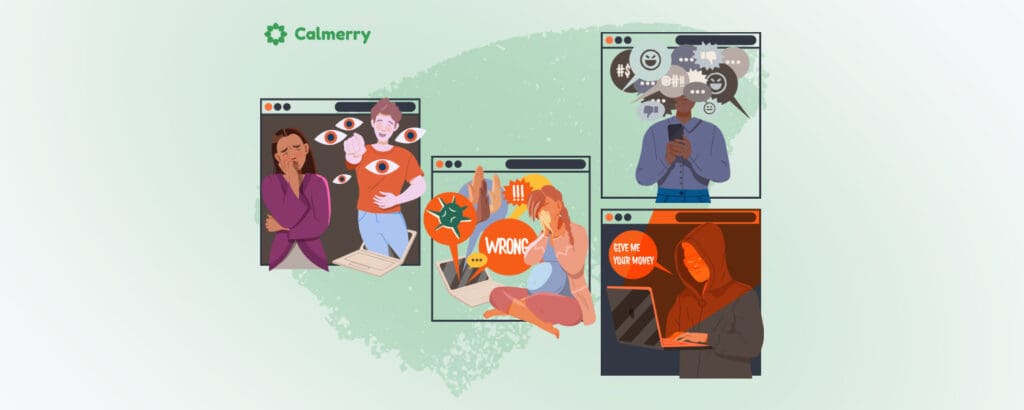 Reading Time:
8
minutes
I have often encountered situations where someone in my circle falls victim to cyberbullying. What's most unsettling and dangerous is when individuals don't recognize that they are being cyberbullied and are unaware of how to respond or protect themselves in such circumstances.
There are various forms of cyberbullying, each with its own tricky characteristics and requiring specific defense methods.
I'm going to walk you through the most common and harmful forms of cyberbullying, giving you tips on how to resist and prevent them.
In today's rapidly evolving digital landscape, defense against cyber threats is of high priority. We created this article with Kamil Akbari, a cybersecurity expert and blogger, to help people protect themselves from cyberbullying. His extensive knowledge and practical experience help to build an understanding of modern digital threats and solutions.
For those who wish to dive deeper into the intricacies of online safety and cybersecurity, visit Kamil's website CyberSecureFox.
What is cyberbullying?
Cyberbullying is using digital devices such as computers, smartphones, and tablets to harass, threaten, or target individuals or groups.
It can occur on social media platforms, chat rooms, online gaming environments, and other online spaces.
It's a modern and increasingly prevalent form of bullying that can seriously affect an individual's mental, emotional, and physical health.
Unlike "traditional" bullying, cyberbullying incidents can reach a vast audience quickly. It can lead to an even increased humiliation or distress for the victim.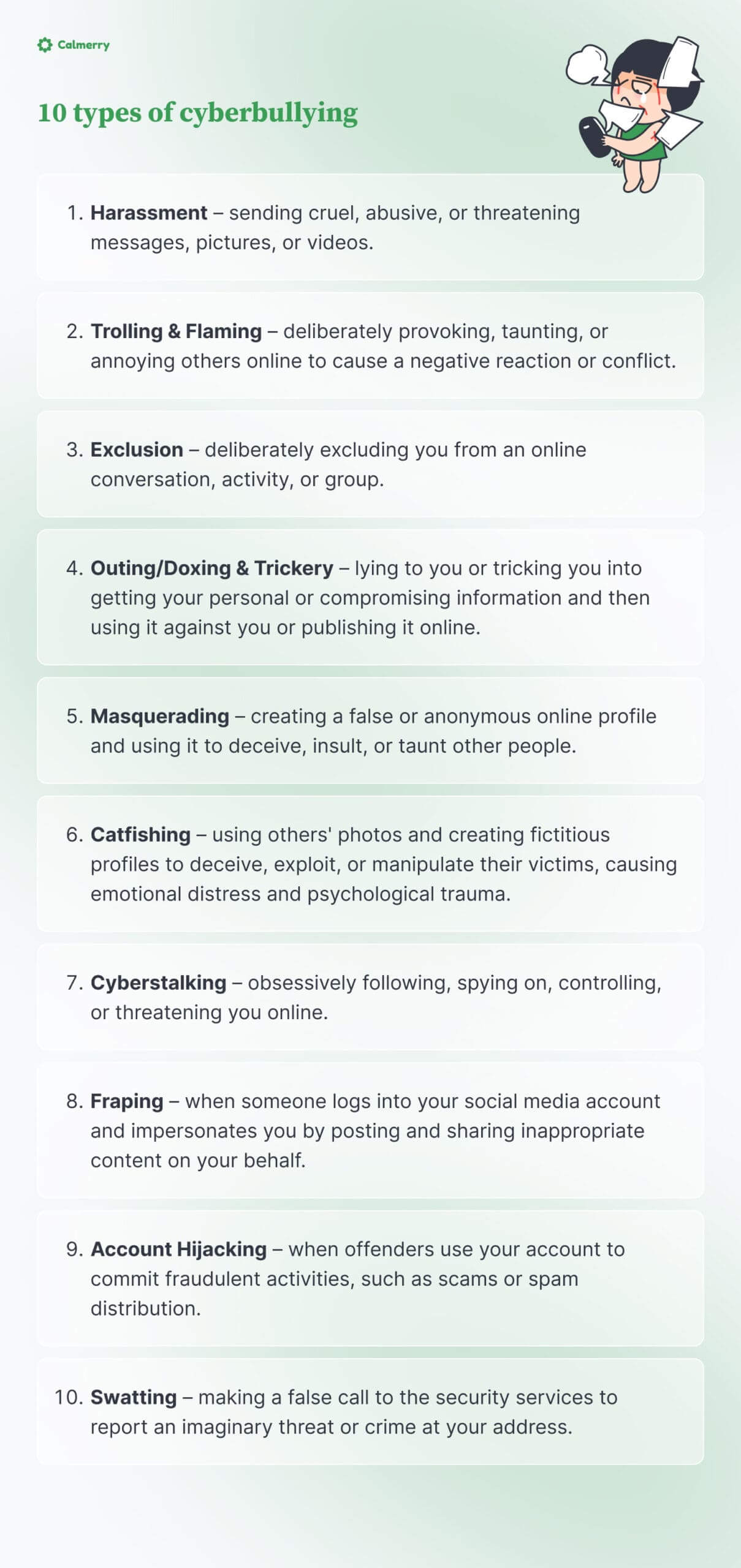 10 types of cyberbullying
1. Harassment
Denny regularly received insults and threats.
Harassment is when someone continually sends you cruel, abusive, or threatening messages, pictures, or videos. This can cause you to feel fear, anxiety, anger, or sadness.
Protection: you can block or report the offender, keep evidence of the harassment (screenshots, recordings, etc.), and tell a trusted adult or professional about the problem. It's not recommended to respond to provocation or engage in conflict.
2. Trolling & Flaming
By using aggressive language and insults, Sam often provokes others to elicit emotional reactions and engage others in controversy online.
Trolling and flaming is when someone deliberately provokes, taunts, or annoys others online to cause a negative reaction or conflict. This can make you feel annoyed, angry, or frustrated.
Protection: you can ignore or block trolls. Avoid engaging with their provocations or jests and refrain from reacting to their opinions or criticisms. There's no need to validate yourself or demonstrate wit to trolls; doing so only fuels their interest.
3. Exclusion
Ann was excluded from the college chat room without explanation or warning, leaving her isolated from the group's social life.
Exclusion is when someone deliberately excludes you from an online conversation, activity, or game. They ignore your messages or comments or withdraw you from friends or groups. This can make you feel lonely, isolated, and depressed.
Protection: you can try to find other people and communities who share your interests and respect you. Also, seek support from friends, groupmates, family, or colleagues in real life. You should not try to please those who reject or hurt you.
You can also seek mediation or conflict resolution through resources available in your institution or workplace.
4. Outing/Doxing & Trickery
The offender deceived Jenny into releasing confidential, sensitive data and published it online, exposing her to public embarrassment and shame.
Outing/doxing is when someone lies to you or tricks you into getting your personal or compromising information and then uses it against you or publishes it online. This can be quite a traumatic experience that can damage your reputation, self-esteem, trust, or relationships with others.
Protection: you can limit access to your online profiles and privacy settings. Don't share your information with strangers or untrusted individuals. Seek help from law enforcement or legal counsel.
5. Masquerading
Jim was shocked and disheartened when they received an offensive and hurtful message from their "best friend," not realizing it was a fake account created by a malicious student.
Masquerading is when someone creates a false or anonymous online profile and uses it to deceive, insult, or taunt other people. This can cause you confusion, frustration, or anger.
Protection: be cautious and skeptical of those you don't know personally online. Please don't trust everything you see or read online and block or complain about suspicious accounts. Blocking helps not only your safety but the safety of the digital community.
6. Catfishing
Katy started an online relationship with a young man she met online. Over time, she discovered that she realized his profile and pictures didn't match, and someone else was behind the account.
Individuals engaged in catfishing often use others' photos and create fictitious profiles to deceive, exploit, or manipulate their victims, causing emotional distress and psychological trauma.
Protect yourself: be critical of information presented on the internet and check out the people you communicate with online. Don't send money or share personal information with anyone you don't know personally. You can also use search engines and specialized services to check photos and profile details to ensure they are real.
7. Cyberstalking
Kim noticed that an unknown account regularly visited her page and left strange and frightening comments.
Cyberstalking occurs when someone obsessively follows, spies on, controls, or threatens you online.
Protection: you can change your online identifiers and passwords. Don't reveal your location or plans; report the stalker to the appropriate services or organizations. Please don't ignore or disregard the stalker's threats – take action for your safety.
This includes apps where you can share your location (Snapchat, Instagram, Facebook). You may need to adjust your settings so only those on your approved friend list can see them or disable/not enable this feature altogether.

– Tiffany Lovins, Licensed Mental Health Counselor (LMHC)
8. Fraping
Recently, David discovered that someone had been posting offensive content on their behalf.
Fraping is when someone logs into your social media account and impersonates you by posting and sharing inappropriate content on your behalf. This can damage your image, compromise your privacy, or affect your relationships with others.
Protection: to protect yourself from this type of cyberbullying, use complex passwords and two-factor authentication to protect your account. Don't share access to your devices or apps with anyone; quickly delete or refute false information.
9. Account Hijacking
Liam faced a sad situation – someone hijacked his account and used it for financial fraud.
Account Hijacking occurs when offenders use your account to commit fraudulent activities, such as scams or spam distribution.
It's different from Fraping, which might be done by friends or acquaintances as a prank and isn't meant to hurt anyone. On the other hand, Account Hijacking is done with the intent to profit or cause harm.
Protection: Update your passwords regularly, and use two-factor authentication and anti-virus software.
10. Swatting
Adam had to explain himself to the police when they arrived at his house after a false call.
Swatting is a dangerous form of cyberbullying in which the offender makes a false call to the security services to report an imaginary threat or crime at your address, which can lead to an unexpected visit from special police units with weapons.
This not only creates a risk to the physical safety of the victim and others but can also have serious legal and emotional consequences.
Protection: to prevent such situations, never share your exact location or home address. Contact the police if you're a victim of swatting.
Effects of cyberbullying on mental health – Calmerry explains
Cyberbullying doesn't just hurt in the moment. The pain can last long after the bullying stops.
People who've been bullied online often face emotional and mental distress. Let's look at how cyberbullying can affect someone's well-being:
Depression and anxiety – prolonged cyberbullying can indeed lead to severe depression and anxiety in victims. The continuous negative feedback can exacerbate feelings of hopelessness. [1] Schodt, K. B., Quiroz, S. I., Wheeler, B., Hall, D. L., & Silva, Y. N. (2021). Cyberbullying and Mental health in Adults: The moderating role of social media use and gender. Frontiers in Psychiatry, 12. https://doi.org/10.3389/fpsyt.2021.674298 [2] Maurya, C., Muhammad, T., Dhillon, P., & Maurya, P. (2022). The effects of cyberbullying victimization on depression and suicidal ideation among adolescents and young adults: a three year cohort study from India. BMC Psychiatry, 22(1). https://doi.org/10.1186/s12888-022-04238-x
Low self-esteem – Being a target of incessant online ridicule or criticism can deteriorate an individual's self-worth and self-confidence over time.
Isolation – to escape the constant barrage of negativity, victims might choose to withdraw from social interactions, both online and offline, further isolating them. [3] Skilbred-Fjeld, S., Rème, S. E., & Mossige, S. (2020). Cyberbullying involvement and mental health problems among late adolescents. Cyberpsychology, 14(1). https://doi.org/10.5817/cp2020-1-5
Sleep problems – the stress and anxiety from cyberbullying, combined with the "always-on" nature of the internet, can lead to difficulties in sleeping or even insomnia.
Guilt and shame – victims might blame themselves for the bullying, thinking they did something to deserve it. This unwarranted guilt can eat away at their peace of mind.
Trust issues – experiencing betrayal, especially if the cyberbully is known to the victim, can lead to broader trust issues in both online and offline relationships.
Suicidal thoughts – in extreme and tragic cases, the relentless pressure and feeling of being trapped can lead to suicidal ideation or even attempts.
How to deal with cyberbullying to protect your mental health
Know that it's okay to feel
Emotions, be they sadness, anger, fear, or frustration, are part of being human. Taking time to allow yourself to experience these feelings is a huge part of self-validation and care.
If you're being cyberbullied, it's okay to not be okay. Take moments to sit with your emotions, understand them, and allow yourself the space to heal.
Share your story
Every story, including yours, has power. When you open up about your experiences, you not only unburden yourself but also create a bridge for others to understand or even relate to.
Seeking the comfort of a trusted individual can be therapeutic. Their unique perspective, advice, or just a simple nod of understanding can be a beacon of hope in challenging times.
Set online boundaries
The digital world can be vast and relentless. Just as you might shut your door for some peace, it's perfectly okay to hit the "off" button online.
Customize your online experience so it serves you, not the other way around. Whether it's muting certain words or taking a full online break – your space, your rules.
This helps to build safety, empowerment, and control.
Take self-care as key
Simple acts like indulging in a favorite hobby or meditating can offer a respite from stress and arm you with resilience against negativity.
Ground yourself in reality
Surrounding yourself in an online world can drastically shift your view of self, others, and the world and influence your perspective and experiences. Especially if bullying is present and your brain becomes accustomed to defining self-worth in comments, likes, and information overload.
Grounding yourself in your physical and social reality can help shift from overthinking to actually experiencing and challenging thought distortions.

– Tiffany Lovins, Licensed Mental Health Counselor (LMHC)
Focus on mindfulness and connection to nature, your daily life and routines, and being fully present in social interactions, experiences, and activities that foster your growth and self-esteem. Be present in your life!
Learn to reframe your thoughts
Bullying is a reflection of the tormentor, not the tormented. It's actually about them, not you.
Challenge and reframe any self-doubt with affirmations of your worth and strengths. Celebrate who you are, and don't let online noise distort your self-image.
Establish a routine
In the chaos that cyberbullying can bring, grounding yourself in a routine is like finding your north star. This consistency becomes your anchor.
Whether starting your day with a morning jog, writing in a gratitude journal, or simply organizing your space, these acts bring predictability.
They remind you that despite the turmoil, there are aspects of your life you control and can find solace in.
Avoid isolation
It's natural to want to cocoon yourself away, especially when the digital world feels hostile. But isolation can amplify feelings of loneliness and despair.
Instead, lean into your offline world. Physical interactions, even simple ones like a coffee outing with a friend or attending a local workshop, can be healing.
"Reflect on what needs you are seeking through your online world and how these needs can be met through other sources. Is it boredom, seeking social connection, distraction from stress, or avoidance of emotional pain? Whatever the need may be, seeking how these needs can be met through other activities, supports, or even coping strategies can be helpful!" – explains Tiffany Lovins, LMHC at Calmerry.
Limit exposure before bed (please, just don't check those messages!)
By reducing screen time before bed, you're promoting better sleep and protecting yourself from exposure to potential negativity.
Create a pre-sleep ritual – perhaps reading, listening to calm music, or having a warm bath. This prepares your mind for rest, ensuring your dreams are untainted by the day's digital stresses.
If done consistently, these rituals will build positive associations between the routine, mind, and your physical ability to relax and ease into restorative sleep.

– Tiffany Lovins, Licensed Mental Health Counselor (LMHC)
Seek professional support
Cyberbullying can be a distressing and traumatic experience. But there's immense strength in seeking help.
Therapists or counselors on Calmerry can be your guides on the road to healing. They come equipped with knowledge, tools, and strategies that can offer solace and clarity.
Their expertise encompasses a blend of empathy, understanding, and evidence-based strategies tailored for situations like yours. They can provide a safe space to unpack your feelings, equip you with tools to navigate your emotions, and help you build resilience.
If you're ready, online therapy is a convenient, safe, and confidential option.
A final word from Kamil Akbari
I hope you found this information useful and interesting and that it will help you protect yourself and others from cyberbullying.
Remember, you are not alone, and you can always seek help or support from those you trust. Stay healthy and happy! 😊
If you're interested in real-time discussions, updates on the latest cyber threats, or seeking advice directly from me, join my Telegram channel. It's an active community of cybersecurity enthusiasts and professionals, where I frequently share my expert insights and answer queries.
We curate our articles with warmth and care, drawing from reputable sources and expert knowledge. Explore our editorial process to understand how we prioritize your trust and keep accuracy in every word we share.
Schodt, K. B., Quiroz, S. I., Wheeler, B., Hall, D. L., & Silva, Y. N. (2021). Cyberbullying and Mental health in Adults: The moderating role of social media use and gender. Frontiers in Psychiatry, 12. https://doi.org/10.3389/fpsyt.2021.674298

Maurya, C., Muhammad, T., Dhillon, P., & Maurya, P. (2022). The effects of cyberbullying victimization on depression and suicidal ideation among adolescents and young adults: a three year cohort study from India. BMC Psychiatry, 22(1). https://doi.org/10.1186/s12888-022-04238-x

Skilbred-Fjeld, S., Rème, S. E., & Mossige, S. (2020). Cyberbullying involvement and mental health problems among late adolescents. Cyberpsychology, 14(1). https://doi.org/10.5817/cp2020-1-5
Сheck your mental well-being for free: