Published January 18, 2023 / Updated January 19, 2023
Social Media Is Changing the Way We Talk About Mental Health – for Better and for Worse
Reading Time:
6
minutes
If you're one of the 4 billion people who use social media, then you've probably come across some type of content that talks about mental health. Social media users, especially younger users, have revolutionized the mental health conversation. It's no longer shameful or daunting – now it's empowering and hopeful.
But the subject of mental health in the media can also be tricky to navigate. In fact, if it's left unregulated, the so-called "social media therapy" can lead to self-diagnosis, which can be harmful, and even dangerous.
Mental health in media has reduced the stigma
When we talk about the impact of social media on mental health, especially for young people, we tend to make a negative association. And that assumption does have some validity – numerous studies have found that young people who spend more time online, including on social media, may have a higher risk of developing depression.
But perhaps what we're not talking about enough are the ways in which social media has moved the conversation about mental health forward – and reduced the stigma against talking about it.
Historically, mental disorders have been a topic that has been swept under the rug at best and demonized at worst. But social media has normalized talking about mental health. There are millions of videos with the hashtag #MentalHealth that have over 11 billion views in total.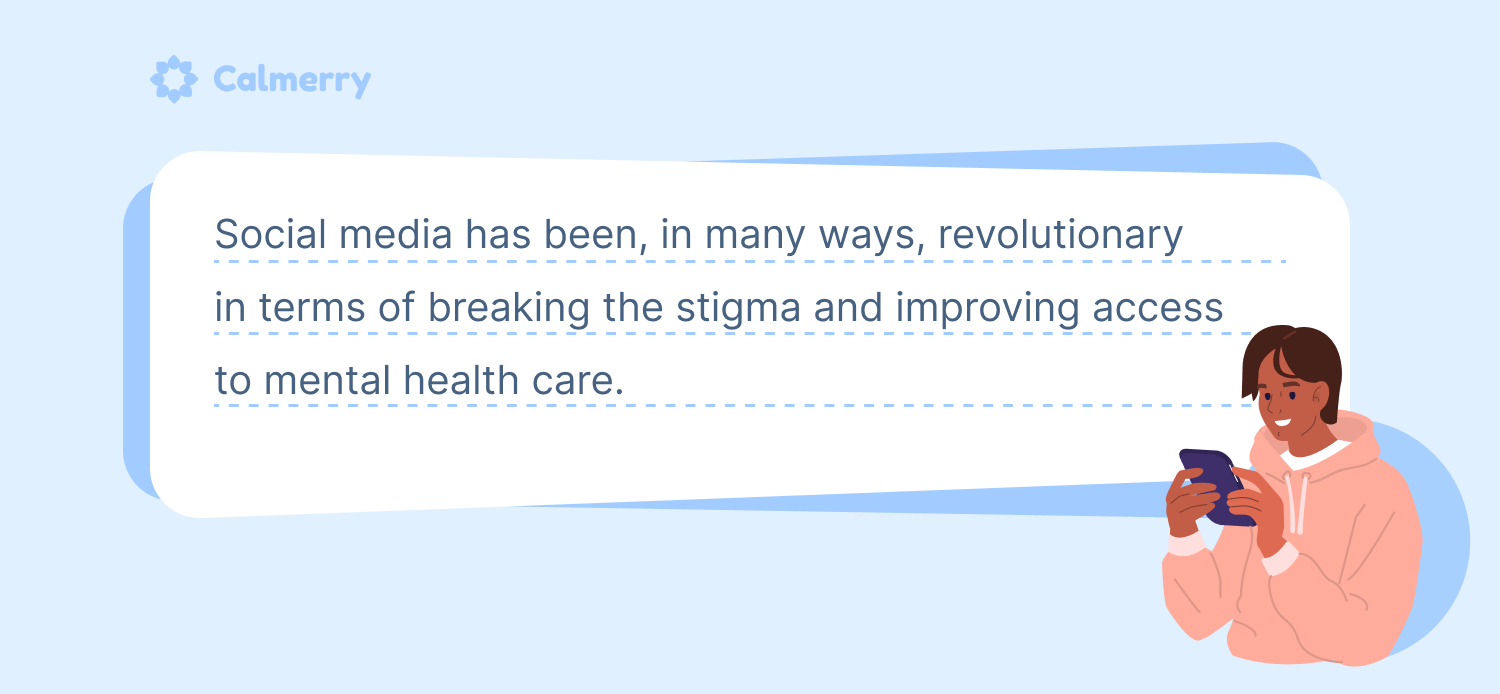 Reports show that up to 40% of people who need mental health treatment don't receive it. Stigma contributes to this: People may not know enough about mental health enough to recognize when they need help, or they may be too afraid of judgment to seek help even when they know they need it.
Social media has been, in many ways, revolutionary in terms of breaking this stigma and improving access to mental health care.
People are no longer afraid to go to therapy because it's been so normalized on platforms like TikTok. People who may have previously been in the dark about certain mental health symptoms can now recognize them in themselves and others. And this is a wonderful thing.
The problem with self-diagnosis
Overall, social media has had a positive impact on the perception of mental health issues and increasing awareness. But unfortunately, there are serious problems that have come along with so-called "social media therapy" as well.
One major problem is the influx of people – especially young people – who are self-diagnosing mental illness based on what they see on social media posts. Many mental health professionals report seeing a rise in young patients who come into their offices complaining of mental health "symptoms" that aren't, in reality, signs of mental illness.
Mental health-related social media posts often give lists of symptoms that are related to certain mental health disorders. This can cause other people seeing these posts to pathologize their own experiences or even invent symptoms that aren't really there.
Take, for example, the rise of adolescents reporting tics, a relatively rare mental health condition. In one recent study, the authors concluded that the tic phenomenon was "an example of mass sociogenic illness, which involves behaviors, emotions, or conditions spreading spontaneously through a group."
In other words, young people were learning to have tics from each other through social media.
The original posters may not intend for these types of posts to be used as diagnostic tools. But viewers, especially those without access to other types of mental health care, often use these posts to self-diagnose themselves with mental health disorders – which they may or may not have.
It's positive and helpful for people to have more information about what they might be going through in terms of their mental health. The problem is that self-diagnosis often leads to misdiagnosis – which can lead to inadequate or unhelpful treatment.
Social media is not therapy
Only a licensed mental health professional can correctly diagnose you with a mental health condition. Even if you think you have a mental health condition based on something you saw on social media, it's important to receive a full clinical assessment so you can receive the proper diagnosis and treatment.
The information that's found on social media platforms like TikTok is unregulated, which means that anyone can post anything. Diagnosing is such a complex process because so many conditions and disorders have overlapping symptoms – so much so that even seasoned professionals get it wrong sometimes.
For example, ADHD can often look like anxiety, and bipolar disorder is often misdiagnosed as unipolar depression.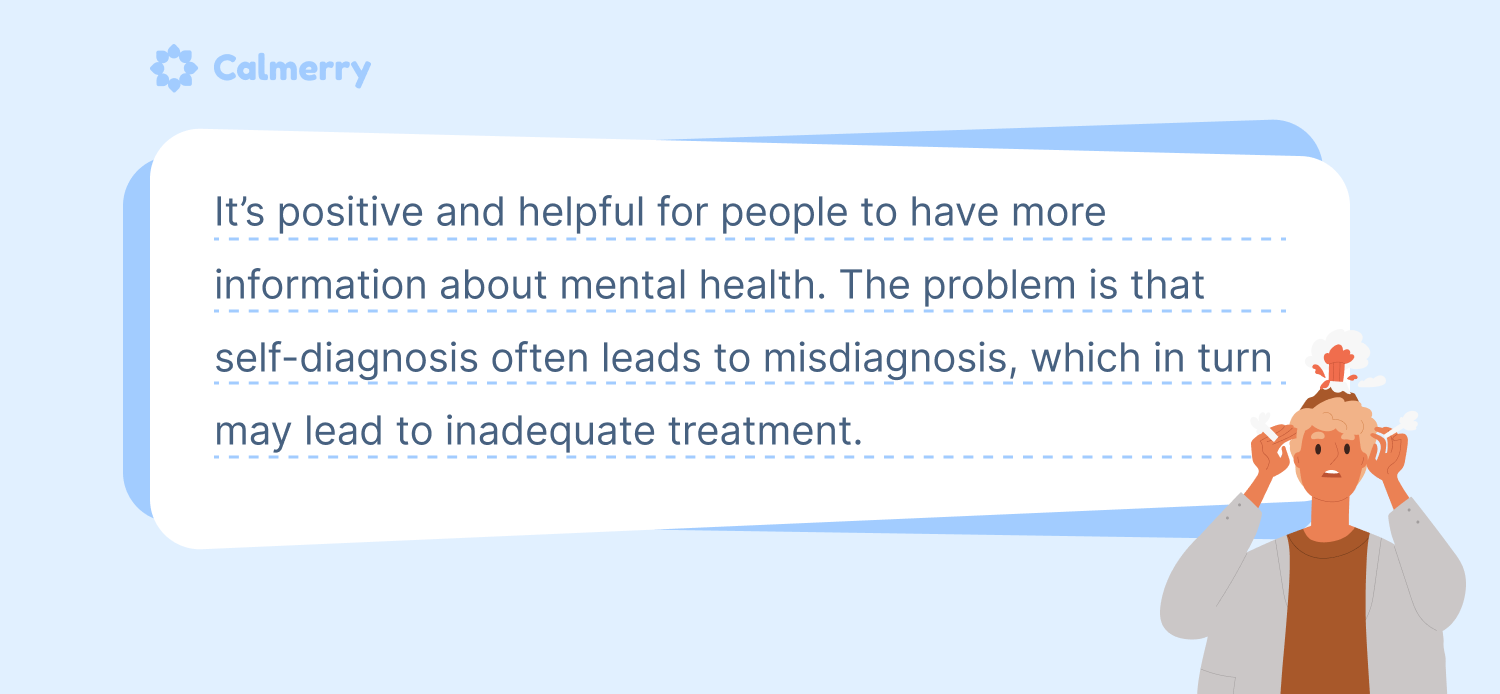 On top of that, people can experience comorbid conditions, which means living with two or more mental health conditions at the same time. A mental health professional can help you tease out where different symptoms may be coming from – something that a TikTok influencer cannot do.
This isn't to say that all self-diagnosis is misdiagnosis. Many people may truly live with a mental health condition, but only feel safe enough to come to terms with it when they've seen other people posting about it. But others may be pathologizing experiences that are a normal part of life's challenges or confusing one mental health condition for another.
The point isn't to determine whether or not people are "faking" mental illness. It's to remember that mental problems can be treated, but to access the right treatment, you must first receive the correct diagnosis. And that's not something any of us can receive through a social media post.
How to use social media to improve your mental health
There's no doubt about it: Social media has been, overall, a positive thing to move the conversation about mental health forward and reduce stigma. The more people talk openly about mental health, the less shame we will all feel when we need mental health support.
Subscribe
to our mental health digest
Let us support you on the way to better mental well-being. Get expert tips and insights on mental health delivered to your inbox monthly.
But there are some things to keep in mind while using social media to ensure that it's supporting your mental health rather than feeding you misinformation. Follow these tips:
Check your sources
Look into the background of the original poster. Do they have mental health qualifications, such as a PsyD, LCSW, or LPC?
Do your research
Do your own fact-checking when it comes to anything you read on social media. Websites that end with .gov or .edu tend to be more legitimate when it comes to health information.
Understand what mental health is
Be careful not to romanticize mental illness, which studies have found can sometimes happen. Remember that just like a physical illness, mental issues require treatment. If you do have a mental health condition, it's something you live with – not an unchangeable part of your personality.
Leave room for doubt
Be wary of echo chambers, or areas of social media in which discourse isn't invited. If everyone seems to be saying the same thing and disagreement is discouraged, it could be a sign that you're not getting the full picture.
Practice real-life communication
Balance your social media usage with real-life conversations. If you feel safe, talk to your friends and family members about their experiences with mental health.
Talk to a professional
If you think you are experiencing symptoms of a mental health disorder, talk to a therapist to receive a full clinical assessment.
Be open-minded
If your therapist or psychiatrist has a different opinion than what you've learned on social media, then it's important to take their opinions and guidance seriously.
Try online therapy
Many people don't have much time to commute to a therapist's office because they're already struggling to balance their professional and personal lives. That's why people often turn to social media for help.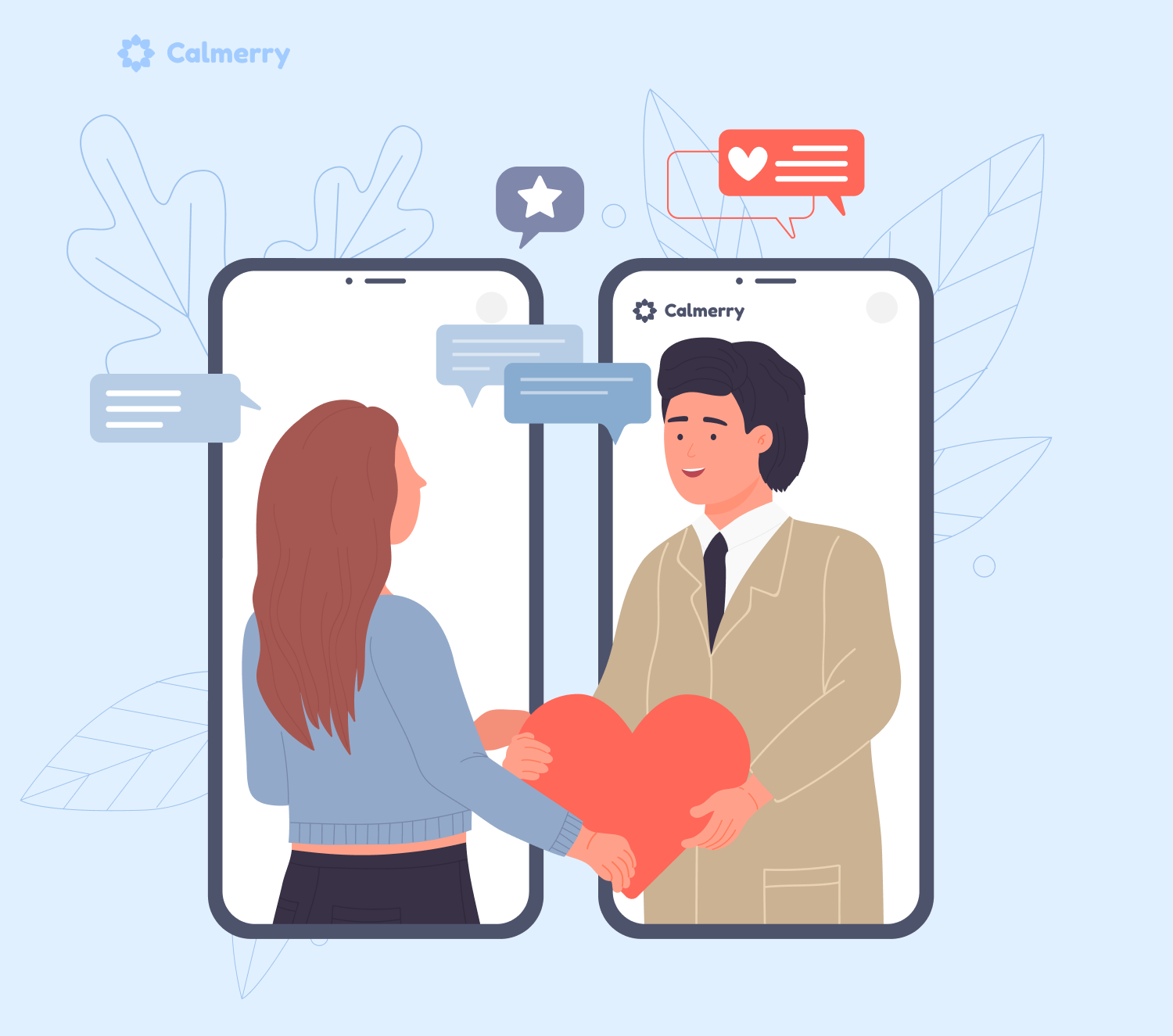 If you feel more comfortable receiving mental health care online, then online therapy is definitely a more effective option than social media therapy. Again – although social media can make us feel empowered to talk about mental health issues, only a qualified mental health professional can provide treatment.
Calmerry has a large and diverse team of licensed online therapists who can help you figure out what it is that you're going through, and plan a way forward through qualified treatment. You don't have to go through this alone.
Сheck your mental well-being for free: