Published June 23, 2022 / Updated October 5, 2023
Symptoms of ADHD in Adults and Children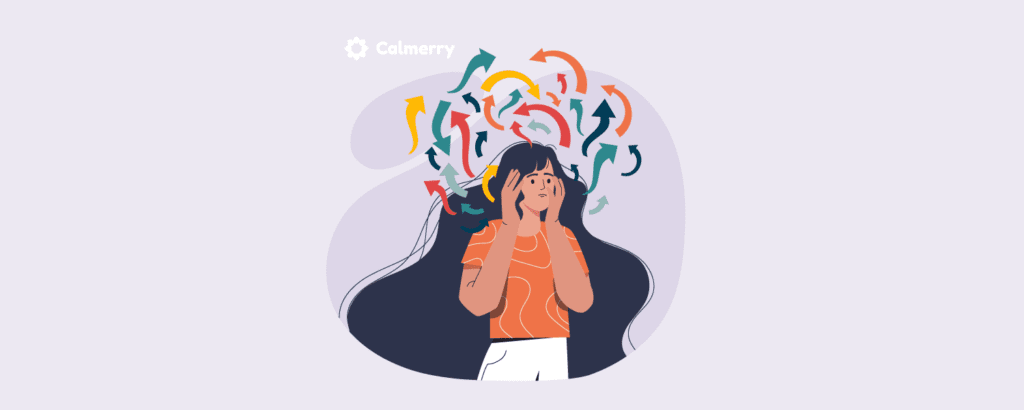 Reading Time:
7
minutes
Are you frequently forgetful, hopelessly disorganized, easily distracted, make impulsive decisions, and experience frequent mood swings?
Have you ever wondered whether ADHD is to blame for all your persistent problems?
Before jumping to any conclusions, note that diagnosing ADHD in adults isn't quite that simple.
Most people feel unfocused, scattered, or restless at times. That's quite normal. And such symptoms of ADHD as concentration problems and restlessness can be confused with other disorders like depression, anxiety, and learning disabilities, or may be caused by medical problems.
Medical conditions that mimic ADHD include sleep disorders, seizure disorders, thyroid disorders, as well as cognitive impairments.
Just because your symptoms look like ADHD doesn't mean you have it, so the only way to know for sure is to see a doctor or a mental health professional.
ADHD cannot be determined by a blood test. Rating scales, symptom checklists, review of behavioral and academic history, interviews with the individual, family members, and school personnel (for those of school age) are used to determine a diagnosis and treatment recommendations.
Not sure whether you should schedule an appointment to get checked by a health professional? Let's take a closer look at the signs and symptoms of ADHD in children and adults.
What is ADHD?
Attention deficit hyperactivity disorder (ADHD) is a relatively common neurodevelopmental condition affecting people's behavior.
The disorder impacts the prefrontal cortex of the brain. This area is responsible for executive functions, emotional regulation, and impulse control, among other things.
The causes of ADHD are unclear, but the condition often runs in families. It develops in childhood and can happen to anyone.
Some kids seem to outgrow the condition, but the majority of those who had ADHD in childhood will continue to have it as adults.
According to some estimates, 8.4% of children and 2.5% of adults have ADHD. [1] What is ADHD? (n.d.). https://www.psychiatry.org/patients-families/adhd/what-is-adhd But many adults go undiagnosed, so the numbers may be higher.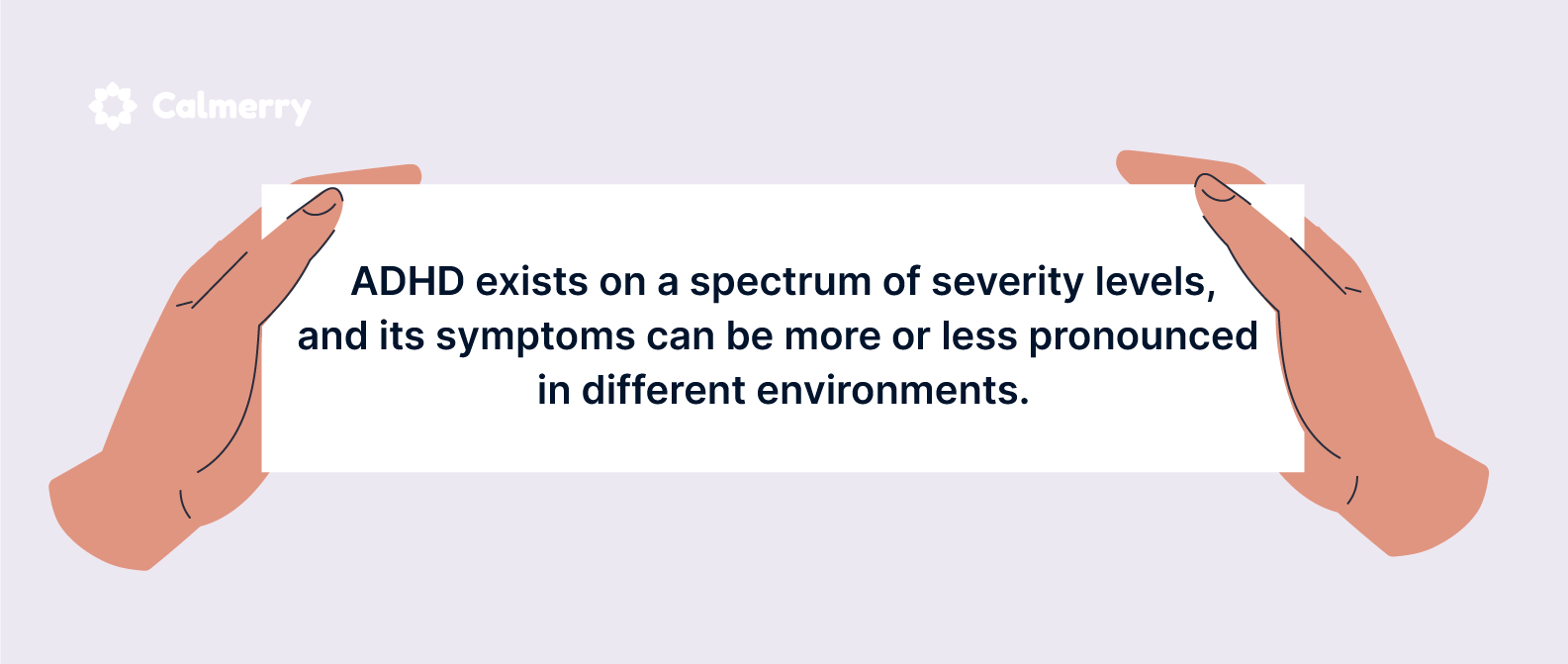 Symptoms of ADHD, such as difficulty paying attention, hyperactivity, and impulsive behavior, tend to be noticed at an early age. They may become more noticeable when children start school when ADHD leads to poor school performance or disruption in the classroom.
The symptoms continue into adulthood and usually improve with age. But many adults continue to struggle with impulsiveness, restlessness, and difficulty paying attention.
The effects of ADHD on life
If untreated, ADHD can interfere with many aspects of a person's daily life. It makes it difficult to manage tasks that require planning, organization, and focus.
ADHD has been linked to:
Poor work performance
Substance misuse issues
Relationship challenges
Poor self-image
Issues with self-esteem
Frequent accidents or injuries, etc.
It's important to recognize the symptoms of adult ADHD so you can get proper treatment.
Common symptoms in children and teenagers
The symptoms of ADHD in children are usually noticeable before the age of six. [2] Danielson, M. L., Visser, S. N., Gleason, M. M., Peacock, G., Claussen, A. H., & Blumberg, S. J. (2017). A National Profile of Attention-Deficit Hyperactivity Disorder Diagnosis and Treatment among US children aged 2 to 5 years. Journal of Developmental and Behavioral Pediatrics, 38(7), 455–464. https://doi.org/10.1097/dbp.0000000000000477
Children with ADHD show a persistent pattern of both inattentiveness and hyperactivity and impulsivity that interferes with their functioning or development.
They may also have symptoms of just one of these types of behavior. Before ADHD can be diagnosed, the symptoms must have been present in multiple settings for at least six months and have a negative impact on a child's life.
The main signs of inattention are:
Difficulty sustaining attention while completing long tasks
Failing to pay close attention to details
Appearing forgetful in daily activities or losing things
Difficulty organizing tasks and activities
Being easily distracted by unrelated thoughts or stimuli
Appearing to be unable to listen to when spoken to directly
Not following through with instructions and failing to finish schoolwork or workplace duties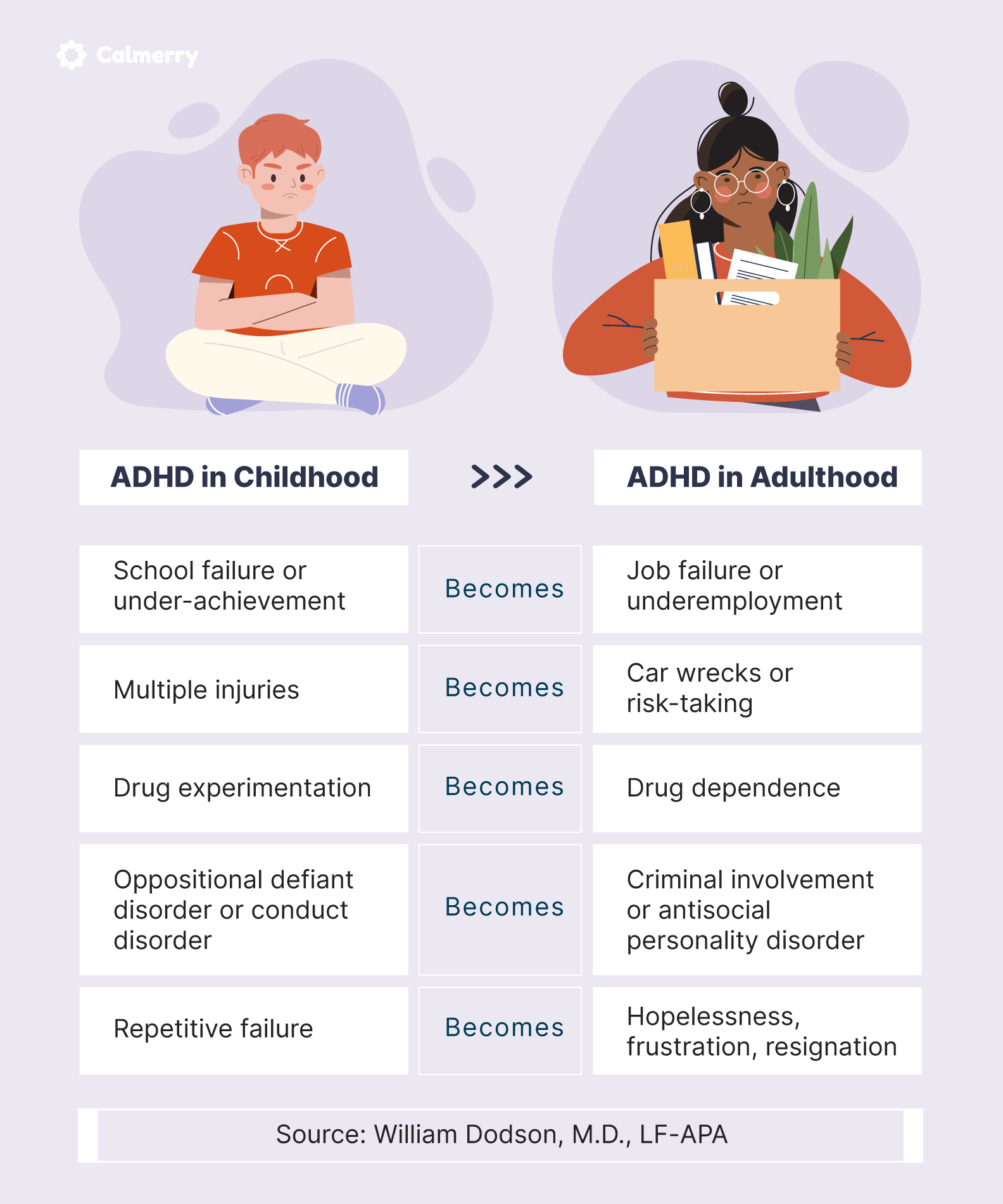 The main signs of hyperactivity and impulsiveness include:
Constantly fidgeting with or tapping hands and feet
Difficulty sitting still for extended periods, especially in calm or quiet surroundings
Talking excessively
Interrupting or intruding on others
Having difficulty waiting for one's turn
Answering questions before they are asked completely
Acting without thinking
Little or no sense of danger
Most people with ADHD get a diagnosis during childhood, but sometimes, the signs and symptoms of this condition are misinterpreted or overlooked.
Many adults with ADHD don't even realize they have the disorder. They just know that completing day-to-day tasks can be a challenge, but they attribute their difficulties to their shortcomings.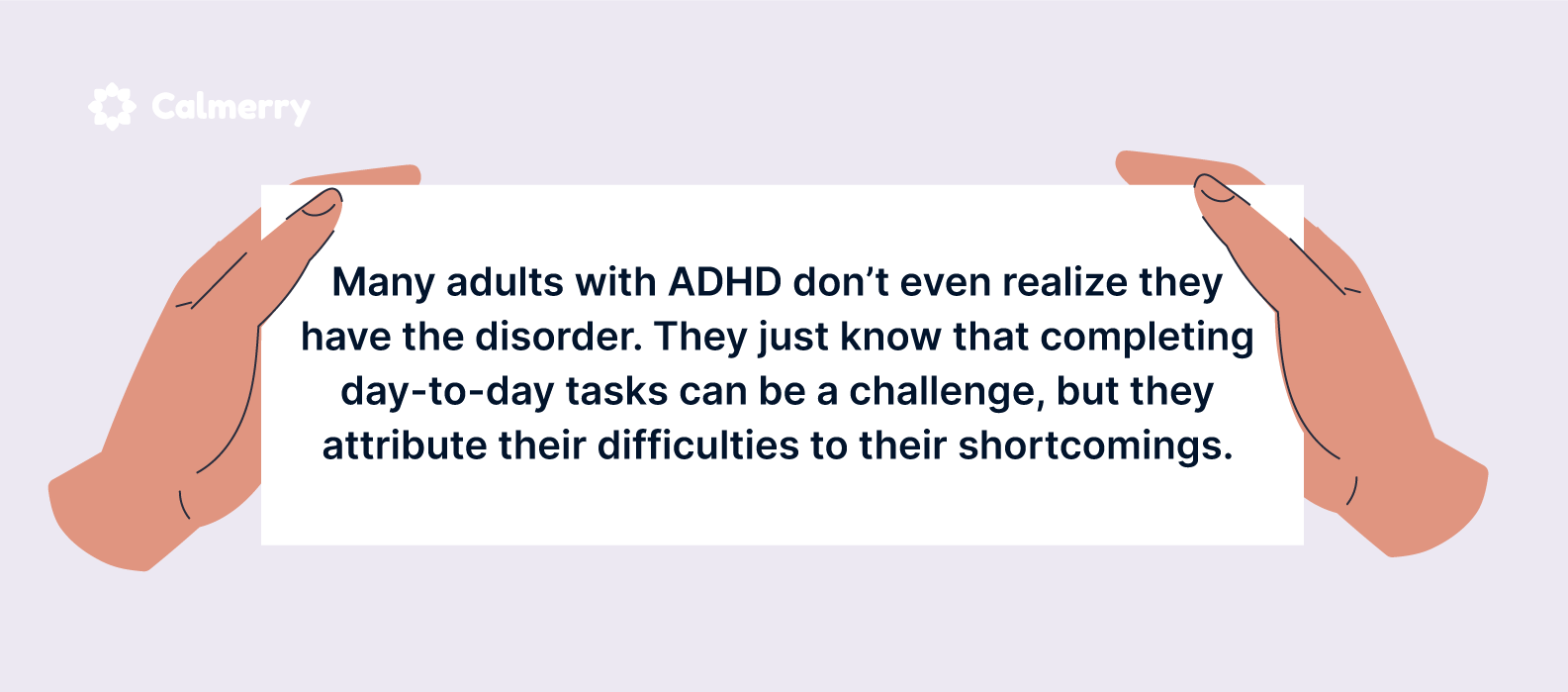 Symptoms of adult ADHD
For decades, ADHD was considered a disorder of childhood that ends after adolescence. But a number of studies showed that ADHD can continue into adulthood.
Now, experts say that 60% to 86% of children with ADHD will have symptoms as adults. [3] D'Arrigo, T. (2021). Symptoms, impaired function of ADHD often persist beyond childhood. Psychiatric News, 56(11). https://doi.org/10.1176/appi.pn.2021.9.6
The signs of ADHD in adults are more difficult to spot. Adult symptoms also tend to be more subtle than childhood symptoms.
But some adults continue to have major symptoms that interfere with daily functioning and can cause problems at work, school, in romantic relationships, and friendships.
Adults might be less hyperactive than a child with the diagnosis, but they struggle with paying attention, staying on task, regulating emotions, and warding off impulsive behaviors.
The symptoms associated with ADHD in adults may include:
Inability to focus and prioritize
Poor time management skills
Poor planning
Carelessness and lack of attention to detail
Forgetfulness in daily activities
Getting easily distracted
Continually losing or misplacing things
Excessive activity or restlessness
Difficulty keeping quiet and speaking out of turn
Low frustration tolerance
Mood swings, irritability, and a quick temper
Extreme impatience
Trouble coping with stress
Over- or under-responsiveness to light, sound, touch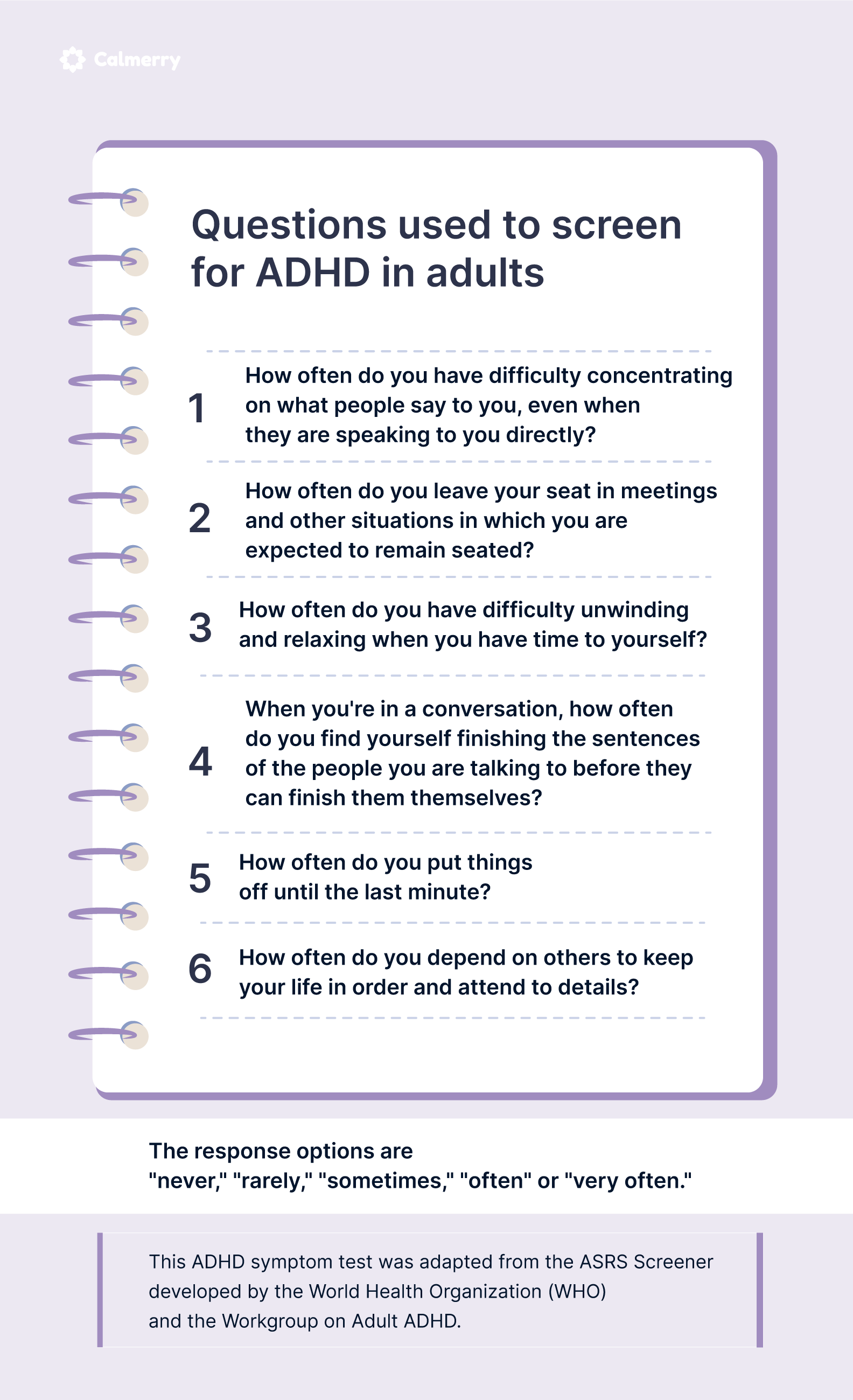 Keep in mind that ADHD exists on a spectrum of severity levels, and its symptoms can be more or less pronounced in different environments.
You can be diagnosed with ADHD for the first time as an adult, but only if you have experienced significant symptoms before age twelve.
Signs of ADHD in women and girls
There is a stereotype that ADHD mostly shows up in boys, and the evidence seems to back it up. According to research, males are generally more likely to be diagnosed with ADHD than females. [4] Ramtekkar, U. P. (2010, March 1). Sex and age differences in Attention-Deficit/Hyperactivity Disorder symptoms and diagnoses: Implications for DSM-V and ICD-11. PubMed Central (PMC). https://www.ncbi.nlm.nih.gov/pmc/articles/PMC3101894/
But these stats don't necessarily mean that more boys have this condition.
In fact, ADHD frequently goes undiagnosed in women and girls because their symptoms often differ from those of men and boys and can be hard to spot.
Girls have a tendency to exhibit inattentive ADHD, which doesn't have visible behavior problems, so it doesn't always catch the attention of parents and teachers.
This presentation of ADHD makes it hard to stay organized, focus, pay attention to details, finish assigned activities, listen, and remember things. But often, ADHD symptoms in girls, such as being shy, inattentive, or impulsive, are viewed as character traits rather than symptoms of a condition.
According to the research, women with ADHD may be more likely to develop better coping mechanisms than men to hide their symptoms, which may lead to misdiagnosis or a lack of treatment. [5] Quinn, P. O., & Madhoo, M. (2014). A review of Attention-Deficit/Hyperactivity Disorder in Women and Girls. The Primary Care Companion for CNS Disorders. https://doi.org/10.4088/pcc.13r01596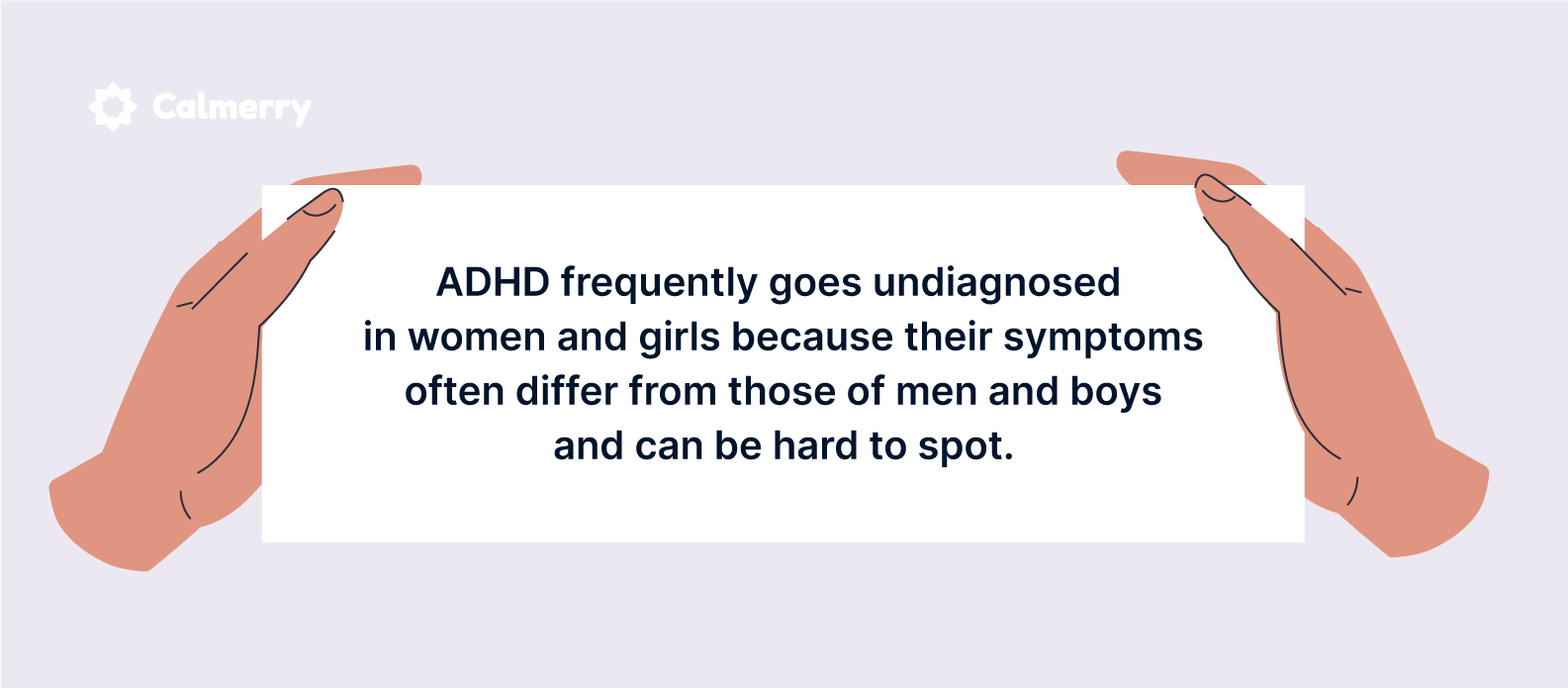 Girls and women may suffer more negative effects from their ADHD than boys and men.
They are more likely to blame themselves when they have problems getting things done. As a result, they tend to have more mood disorders, anxiety, and self-esteem problems.
Girls with ADHD are also more likely to develop bulimia or anorexia than girls without the condition.
How is ADHD treated?
Adults with ADHD may learn to manage it successfully. There are effective treatments that can help relieve the symptoms and make the condition much less of a problem in everyday life.
Standard treatment options for ADHD in adults typically involve:
Medication
Psychoeducation
Skills training
And therapy
Although there is no cure for this condition, a combination of these treatments can effectively reduce symptoms and improve your quality of life.
Medication
There are two main types of medication for ADHD: stimulants and non-stimulants:
Stimulants (methylphenidate or amphetamine) appear to boost and balance levels of neurotransmitters. They are the most commonly prescribed medications because they can work more quickly, but they also can be habit-forming.
Other medications include the non-stimulant atomoxetine and such antidepressants as bupropion.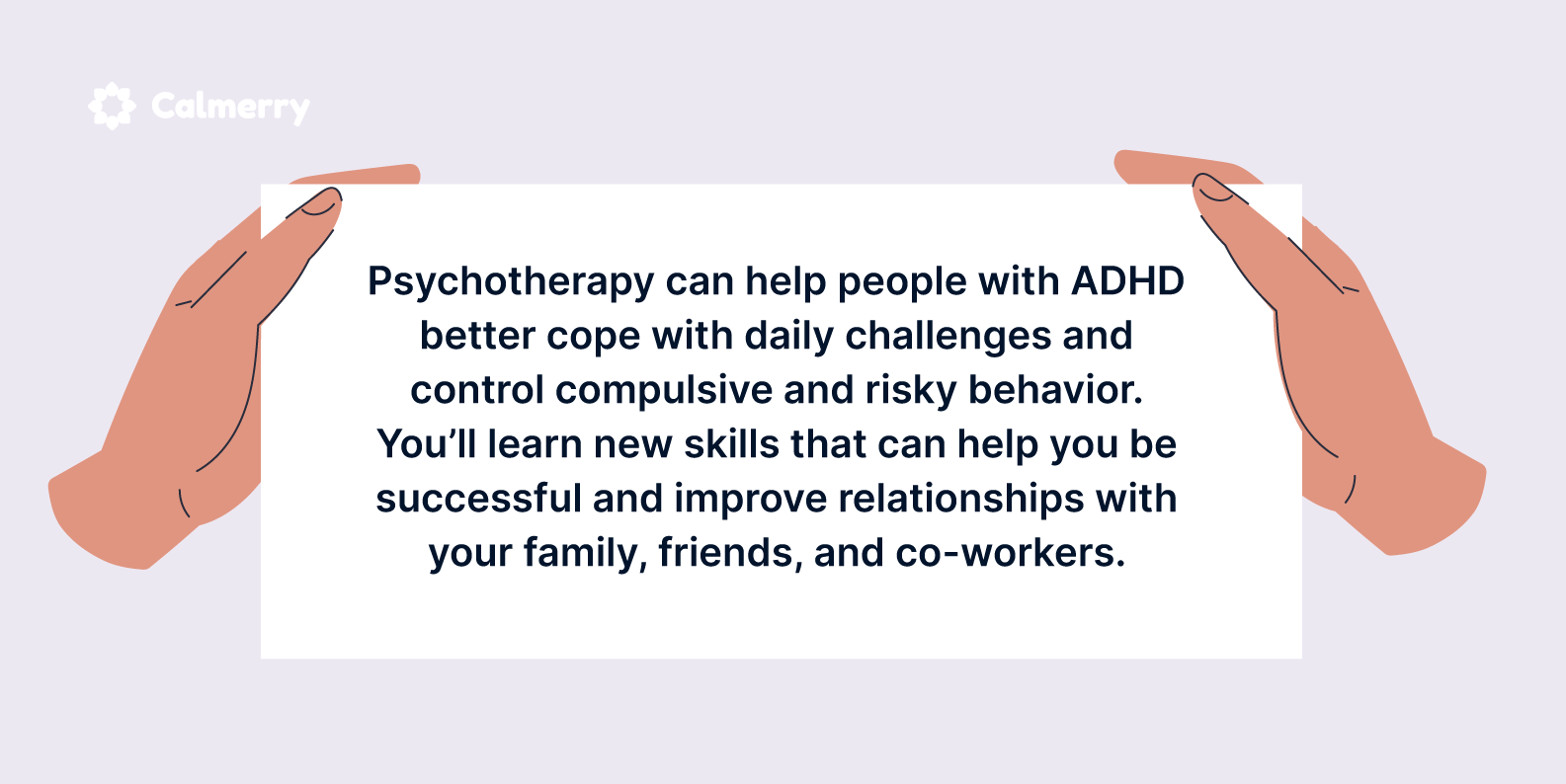 Psychotherapy and coaching
Psychotherapy can help people with ADHD better cope with daily challenges and control compulsive and risky behavior. You'll learn new skills that can help you be successful and improve relationships with your family, friends, and co-workers.
Cognitive behavioral therapy (CBT) can help you reduce negative thinking, improve self-esteem, and adjust behavioral patterns that cause problems at work, school, or home.
Family therapy can help you and your loved one work together to manage the stress of ADHD, practice problem-solving, improve communication, and develop conflict-resolution skills.
People with ADHD also use coaching, mindfulness-based training, exercise, yoga, and nutritional interventions to manage their symptoms. Building cognitive associations with environmental cues can be helpful in creating routines for success.
Some people also find it helpful to join a support group and meet with others and share experiences and "what works."
Find your therapist on Calmerry
If you or someone you know is grappling with ADHD and seeking a supportive, understanding, and experienced mental health professional, we're here. Within 1 hour, you'll be matched with a licensed therapist – a trained expert in your particular issue.
They're ready to help you navigate the daily challenges ADHD brings, fostering enhanced coping strategies and positive behavioral adjustments.
Our goal is to provide a safe, conducive space for you to learn and cultivate skills essential for success and enriched relationships both personally and professionally.
Bottom line
Attention deficit hyperactivity disorder (ADHD) is commonly diagnosed in children and teens, but it can be diagnosed in adults too.
ADHD can affect how people think, process emotions, and respond to their environment, and the major symptoms include inattention and hyperactivity or impulsivity.
ADHD can cause you to be disorganized in your everyday life and prevent you from performing your best at work or school.
If you recognize the signs of ADHD in yourself and have significant problems with your job or career, day-to-day tasks, relationships, or emotions, consider scheduling an appointment with a mental health professional with experience in treating ADHD to get an assessment.
With the right treatment and support, you'll be able to manage your symptoms and live a happy and productive life.
Subscribe
to our mental health digest
Let us support you on the way to better mental well-being. Get expert tips and insights on mental health delivered to your inbox monthly.
We curate our articles with warmth and care, drawing from reputable sources and expert knowledge. Explore our editorial process to understand how we prioritize your trust and keep accuracy in every word we share.
Сheck your mental well-being for free: