Published October 20, 2023
Your Path to Progress: Defeat ADHD Paralysis with These Expert Tips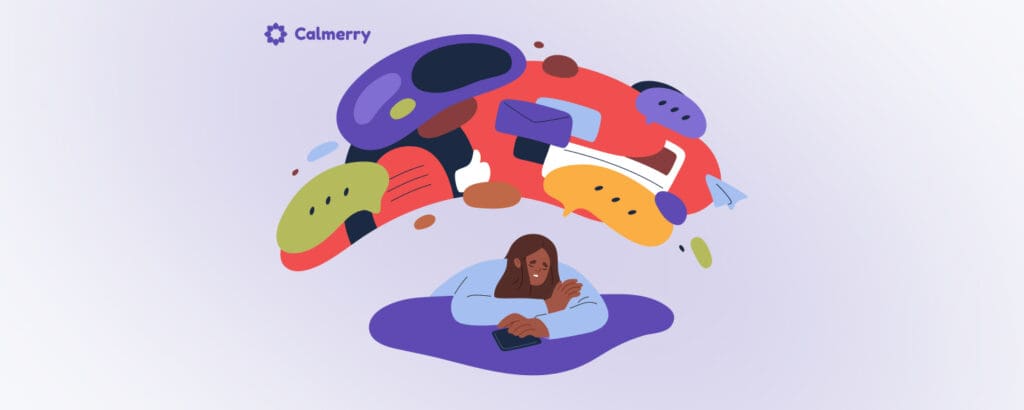 Reading Time:
4
minutes
When most people think of ADHD, they imagine hyperactivity. However, it's essential to know that ADHD covers a broad spectrum, including experiences that are literally the opposite of hyperactivity.
Introducing: ADHD paralysis, a lesser-known but equally significant aspect.
If you're reading this, you've likely experienced it yourself, and you are in the right place. Maybe you've battled guilt, impulsivity, or decision-making struggles. Perhaps you're dealing with overwhelming emotions, sensory overload, or a never-ending to-do list?
In this article, we'll dive into the nitty-gritty of ADHD paralysis and learn the ways to overcome it. Yes, it's possible!
What is ADHD paralysis?
ADHD paralysis is deeper than your usual procrastination. It's the feeling of being stuck in life, unable to initiate tasks or prioritize all the things. It's when your brain hits pause when you need it to play. [1] Lola. (2023). ADHD Paralysis Is Real: Here Are 8 Ways to Overcome it. ADDA – Attention Deficit Disorder Association. https://add.org/adhd-paralysis/
This can lead to not getting things done and unmet expectations that can spiral into other mental health concerns if not addressed.
Tip: To understand more about ADHD, check out our guide on ADHD symptoms.
Types of ADHD paralysis
1. ADHD task paralysis
This type of ADHD paralysis involves struggling to start or complete specific tasks. This is not about laziness! It becomes an actual challenge to be a responsible adult at times.
Task paralysis can manifest in several ways:
Procrastination on starting assignments
Neglecting chores (forgetting laundry in the washer is a common one!)
Or struggling with work deadlines
2. ADHD choice paralysis
ADHD paralysis can also affect your decision-making abilities. Everyday choices, like what to eat or what movie to watch, can become stressful.
The decision-making process can feel like it never ends.
3. ADHD mental paralysis
This type of paralysis involves mental tasks and the challenge of having to refocus after being interrupted. This makes it hard to switch between thoughts or tasks.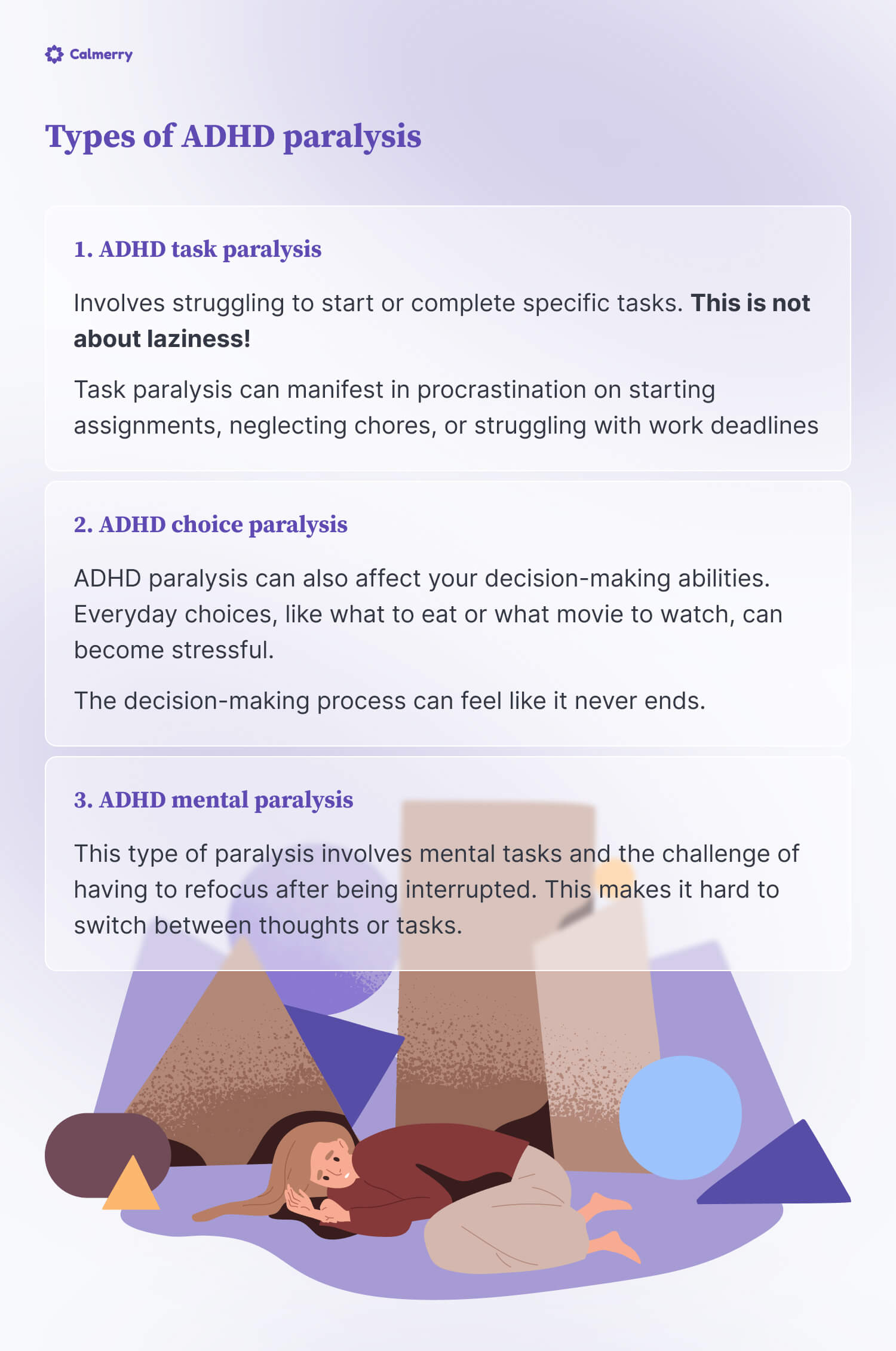 The root of ADHD paralysis
ADHD paralysis is not about defiance or a lack of willpower! It is based on neurological and psychological differences.
The ADHD brain operations can affect executive function skills like prioritizing tasks or the inability to organize your thoughts. It's important to understand that it's not just about "getting it together."
ADHD paralysis vs. procrastination
ADHD paralysis and procrastination may seem similar, but they do have major differences:
Procrastination usually occurs when people avoid tasks because they're boring.
ADHD paralysis is rooted in neurological and cognitive differences. It's literally the struggle to start or complete tasks despite wanting to.
ADHD paralysis vs. depression
When discussing ADHD paralysis vs. depression, it's important to know that these conditions share some similarities, so it can be difficult to distinguish between them (you can start with a simple ADHD self-assessment).
Both can lead to a sense of being stuck, unable to initiate tasks, and feeling overwhelmed by daily responsibilities.
However, they are distinct in their origins and nuances:
ADHD paralysis: This phenomenon involves difficulty with task initiation, prioritizing, and maintaining focus. People with ADHD can feel like their brains are stuck on pause when they need them to be in action. The struggle with ADHD paralysis can lead to things going undone and unmet expectations, creating a cycle of frustration and guilt.
Depression: Depression, on the other hand, is a mood disorder characterized by persistent feelings of sadness, hopelessness, and a lack of interest or pleasure in daily activities. It can also cause fatigue and affect your appetite. In terms of depression, even simple actions like getting out of bed or basic chores become overwhelming. Procrastination often results from a lack of motivation, self-worth, or interest, and people with depression may experience difficulty making decisions as well.
While both ADHD paralysis and depression can involve procrastination and task avoidance, the key difference is the root cause.
ADHD paralysis is usually associated with executive dysfunction (initiating tasks, focusing, and organizing thoughts). Depression, however, is rooted in mood and emotional dysregulation that affects motivation and interest.
A great resource to inspire motivation is online community and support.
How long does an episode last?
ADHD paralysis episodes can vary in duration. They can last for minutes, hours, or even days.
Factors like task complexity, stress, and your overall well-being can influence how long these episodes persist.

– Teliesha Moore, Behavior Therapist, Child & Teen Neurodiversity Educator
Self-care is important for everyone and is non-negotiable if you have ADHD!
Ways to overcome ADHD paralysis
Here are some strategies that can help manage and reduce episodes of paralysis if you find yourself struggling [2] ADDitude Editors. (2023, August 15). 13 Ways to Beat ADHD Paralysis. ADDitude. https://www.additudemag.com/slideshows/analysis-paralysis-and-adhd-trouble-making-decisions/ :
ADHD-based strategies
Use task lists and reminders to break down large tasks into smaller steps.
Set timers for tasks to maintain focus.
Create an organized workspace to minimize distractions.
Seek support from therapists with expertise in ADHD management.
Consider medication options under the guidance of a healthcare professional.
Depression-based strategies
Develop a daily routine to provide structure and purpose.
Engage in regular exercise to boost your mood and energy.
Practice mindfulness to help manage negative emotions.
Connect with a trusted therapist.
Explore medication options for depression management with your doctor.
By distinguishing between ADHD paralysis and depression, you can develop more customized strategies to enhance your well-being and live your best life.
It's also important to know that people can experience both ADHD and depression simultaneously, making the paralysis even worse.
Seeking therapy with experienced and informed professionals, whether in-person or through online therapy platforms like Calmerry, can provide valuable guidance for addressing these challenges in a healthy way.
On a final note
Conquering ADHD paralysis requires learning to work with your unique brain. There's not a one-size-fits-all solution, but there are techniques that can help you manage.
In your journey to overcome ADHD paralysis, remember that: self-improvement is important, but self-love and acceptance are equally vital. There is no need to beat yourself up about the things you can't change.
Your brain works differently, but it is not flawed.
We curate our articles with warmth and care, drawing from reputable sources and expert knowledge. Explore our editorial process to understand how we prioritize your trust and keep accuracy in every word we share.
Сheck your mental well-being for free: