Published November 7, 2023 / Updated November 15, 2023
ADHD in Women: A Comprehensive Checklist and Unspoken Realities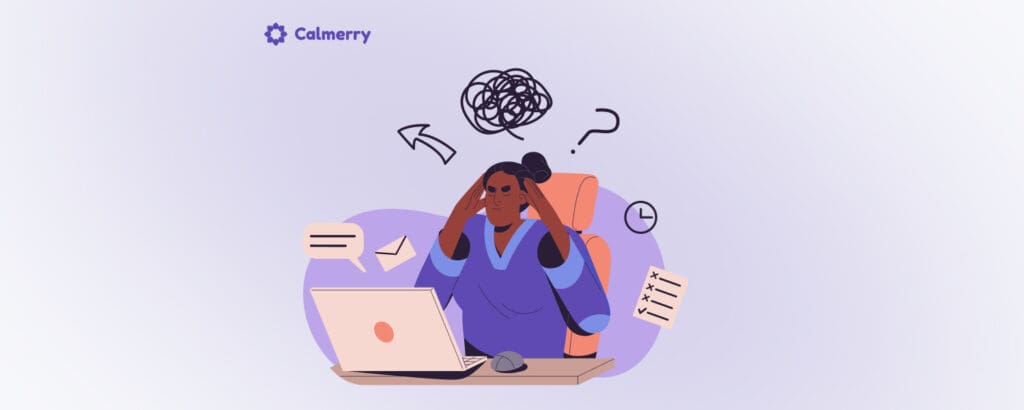 Reading Time:
5
minutes
ADHD, or Attention Deficit Hyperactivity Disorder, is not confined to childhood. It's a complex neurodevelopmental condition that persists into adulthood.
While it's a condition often associated with hyperactive boys, it's essential to shed light on how it manifests in women. ADHD in adult women can be elusive, easily overlooked, or mistaken for something else entirely. [1] Attoe, D. E., & Climie, E. A. (2023). Miss. Diagnosis: A Systematic Review of ADHD in Adult Women. Journal of Attention Disorders, 27(7), 645–657. https://doi.org/10.1177/10870547231161533
Let's explore ADHD in women, offering clarity, understanding, and actionable steps for those navigating this condition.
How does ADHD affect women differently?
ADHD doesn't discriminate by gender but can affect women differently, leading to unique challenges often overlooked or misattributed to other diagnoses. [2] Young, S., Adamo, N., Ásgeirsdóttir, B. B., Branney, P., Beckett, M., Colley, W., Cubbin, S., Deeley, Q., Farrag, E., Gudjónsson, G. H., Hill, P., Hollingdale, J., Kılıç, Ö., Lloyd, T., Mason, P. R., Paliokosta, E., Perecherla, S., Sedgwick, J., Skirrow, C., . . . Woodhouse, E. (2020). Females with ADHD: An expert consensus statement taking a lifespan approach providing guidance for the identification and treatment of attention-deficit/ hyperactivity disorder in girls and women. BMC Psychiatry, 20(1). https://doi.org/10.1186/s12888-020-02707-9
Here's a glimpse into some of the distinctive aspects of ADHD in women:
Emotional turbulence
Women with ADHD often experience intense emotional turbulence, leading to mood swings and heightened emotional sensitivity.
Example: Maybe you sometimes struggle to manage your emotions when overwhelmed and are accused of having an attitude, not knowing it's a co-occurrence with ADHD.
Masking and camouflaging
Many women with ADHD become experts at masking their symptoms, concealing their struggles behind a facade of "having it all together".
Example: You appear to have everything under control and have a calm and successful exterior, but you're literally exhausted from concealing your ADHD-related challenges.
Inattentiveness over hyperactivity
In women, hyperactivity may manifest thoughts that never stop, as well as difficulties with focus, leading to a string of unfinished tasks and missed details. [3] Hinshaw, S. P., Nguyen, P. T., O'Grady, S. M., & Rosenthal, E. A. (2021). Annual Research Review: Attention‐deficit/hyperactivity disorder in girls and women: underrepresentation, longitudinal processes, and key directions. Journal of Child Psychology and Psychiatry, 63(4), 484–496. https://doi.org/10.1111/jcpp.13480
Example: Your forgetfulness leads to challenges in your daily life, but you often dismiss it as scatterbrainedness.
Hormonal influence
Hormonal changes can exacerbate ADHD symptoms in women, affecting focus, emotional regulation, and overall well-being.
Example: You may notice your ADHD symptoms worsen during your premenstrual phase, experiencing heightened emotional sensitivity and more severe PMS symptoms.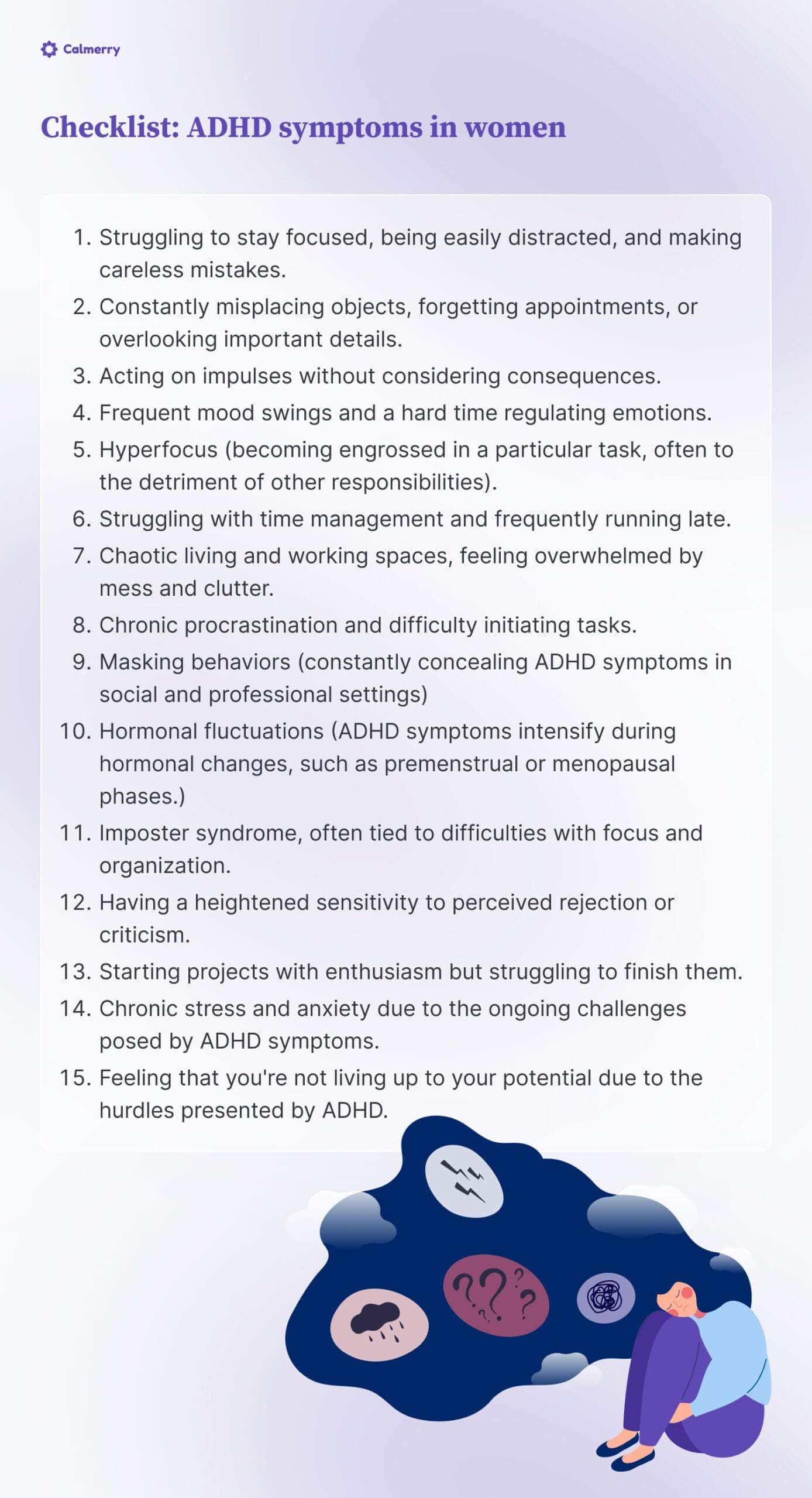 ADHD symptoms specific to women: the full checklist
Now, let's explore a comprehensive checklist of ADHD symptoms specific to women. If you resonate with several of these recurring symptoms, it may be time to seek a professional evaluation.
Inattention – struggling to stay focused, being easily distracted, and making careless mistakes.
Forgetfulness – constantly misplacing objects, forgetting appointments, or overlooking important details.
Impulsivity – acting on impulses without considering consequences.
Emotional rollercoaster – frequent mood swings and a hard time regulating emotions.
Hyperfocus – becoming engrossed in a particular task, often to the detriment of other responsibilities.
Time management challenges – struggling with time management and frequently running late.
Disorganization – chaotic living and working spaces, feeling overwhelmed by mess and clutter.
Procrastination – chronic procrastination and difficulty initiating tasks.
Masking behaviors – constantly concealing ADHD symptoms in social and professional settings. This leads to both physical and mental exhaustion and burnout. 
Hormonal fluctuations – ADHD symptoms intensify during hormonal changes, such as premenstrual or menopausal phases.
Imposter syndrome – feeling like a fraud, often tied to difficulties with focus and organization.
Rejection sensitivity – having a heightened sensitivity to perceived rejection or criticism.
Difficulty completing tasks – starting projects with enthusiasm but struggling to finish them.
Stress and anxiety – chronic stress and anxiety due to the ongoing challenges posed by ADHD symptoms.
Underachievement – feeling that you're not living up to your potential due to the hurdles presented by ADHD.
You can also start with a simple ADHD self-assessment to better understand your condition.
Understanding the unspoken realities of ADHD in women
Doctors often provide diagnoses and medications without delving into the daily management details. It's disheartening to encounter newly diagnosed women who were never informed about executive function skills or the emotional aspects of ADHD.
This highlights the urgent need for broader education and support.
The ADHD tax
In the ADHD world, we refer to the concept of "paying ADHD tax." This is essentially the price you pay for the effects of your disability.
ADHD tax can manifest as wasted money on expired food or the extra water and detergent used because you had to rewash a load of clothes left in the washing machine. These issues can be avoided with knowledge of executive functioning skills.

– Teliesha Moore, Behavior Therapist, Child & Teen Neurodiversity Educator
Unveiling executive function skills
These skills are essential for staying organized when life gets busy. Poor executive function can lead to bills being paid late, forgetting important dates or appointments, falling behind on chores, forgetting to shop for essentials, or procrastination on things that are boring but necessary.
Emotional toll of ADHD
Another under-talked-about aspect is the emotional toll that ADHD can have on women.
Many of us grew up being told we were moody or overreacting, leading to an adulthood of constantly feeling like we are "too much." So, we tend to mask our emotions until we reach an explosive point, only to be labeled as "too much" once again.
Doctors often leave out this crucial aspect, but you are not alone.
Rejection sensitivity
Understanding rejection sensitivity as a common part of ADHD in women is important. Rejection Sensitive Dysphoria (RSD) is a condition linked to ADHD, theorized by experts as being due to brain structure differences.
RSD is severe emotional pain due to sometimes perceived rejection or failure. Our brains make it harder for us to regulate emotions or behaviors linked with rejection.
So, if our feelings get hurt, it hurts a little differently – it's more intense.
How to get diagnosed with ADHD as a woman
Males are almost three times more likely to be diagnosed with ADHD than females (13% vs. 4.2%). [4] Attention-Deficit/Hyperactivity Disorder (ADHD). (n.d.). National Institute of Mental Health (NIMH). https://www.nimh.nih.gov/health/adhd
If you resonate with the symptoms on our checklist, it's essential to seek a professional diagnosis.
Here are steps to guide you through the process:
Find a specialist: Seek a mental health professional or psychiatrist experienced in ADHD evaluation.
Prepare your history: Gather information about your life history, school, work, and any previous psychological assessments.
Document your symptoms: Keep a journal of your symptoms and their impact on your daily life.
Engage in open communication: Be open and honest during your assessment, sharing your experiences and symptoms.
Consider therapy: If accessing in-person evaluations is challenging, consider online therapy as a convenient and effective option.
Support and resources for women with ADHD
Receiving an ADHD diagnosis is a pivotal step in your journey, and you don't have to take it alone. There's a wealth of support and resources available to help you navigate the path ahead:
Online communities – join online communities and support groups to connect with others who share similar experiences.
Medication management – consult your healthcare provider about medication options to help manage your symptoms.
Educational resources – dive into books, articles, communities, ADHD organizations, and podcasts focused on ADHD symptoms to gain a deeper understanding.
Holistic approaches – explore holistic approaches, such as mindfulness, exercise, and dietary changes, which can complement your ADHD management.
Career support – if ADHD has impacted your professional life, seek guidance from career counselors or coaches who specialize in supporting individuals with ADHD.
In your ADHD journey, remember that you're not alone, and your experiences are valid. Seeking diagnosis and support is a powerful step toward a more fulfilling and balanced life.

– Teliesha Moore, Behavior Therapist, Child & Teen Neurodiversity Educator
A word from Calmerry
At Calmerry, we understand the often silent struggles that come with ADHD in women and the importance of specialized support. Seeking online therapy can be a transformative step toward managing your symptoms and embracing your potential.
Our compassionate therapists are here to offer personalized strategies that fit your unique experiences, providing a convenient and confidential space to explore and understand your ADHD.
You don't have to navigate this alone. Calmerry is here to guide you toward a more focused and balanced life.

Start with a brief survey – and get matched with your mental health professional within 1 hour.
We curate our articles with warmth and care, drawing from reputable sources and expert knowledge. Explore our editorial process to understand how we prioritize your trust and keep accuracy in every word we share.
Сheck your mental well-being for free: