Bored at Work? Reasons and Solutions for Employees and Leaders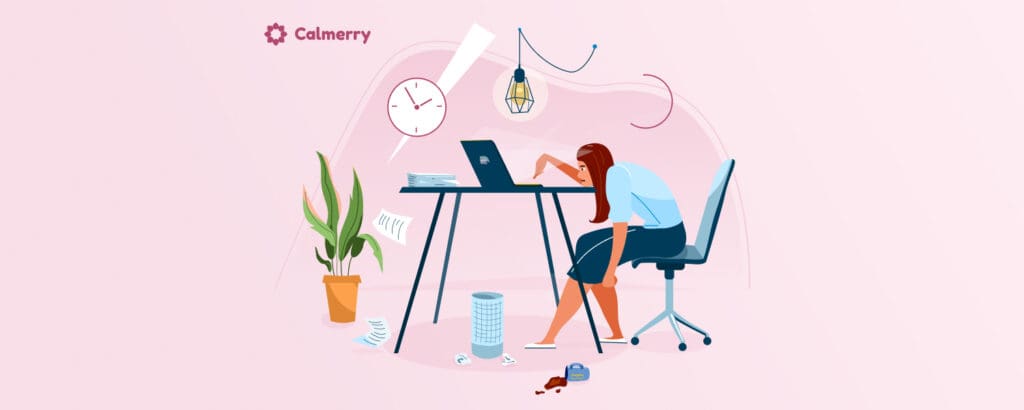 Reading Time:
11
minutes
If you feel your job is boring, you aren't alone. Boredom in the workplace is a growing problem. According to Korn Ferry's Breaking Boredom survey, 33% of people who want to leave their jobs cite it as the main reason.
Luckily, even if you're already experiencing boredom at work, it's never too late to make a change.
(Less) obvious signs you're bored at work
Have you ever found yourself thinking, "My job feels meaningless" or "My job is boring"? Unless these thoughts frequently appear in your mind, you might find it difficult to recognize that you're bored with your job.
Recognizing the signs of boredom is the first step towards reclaiming your professional fulfillment. Here are the signs to look out for: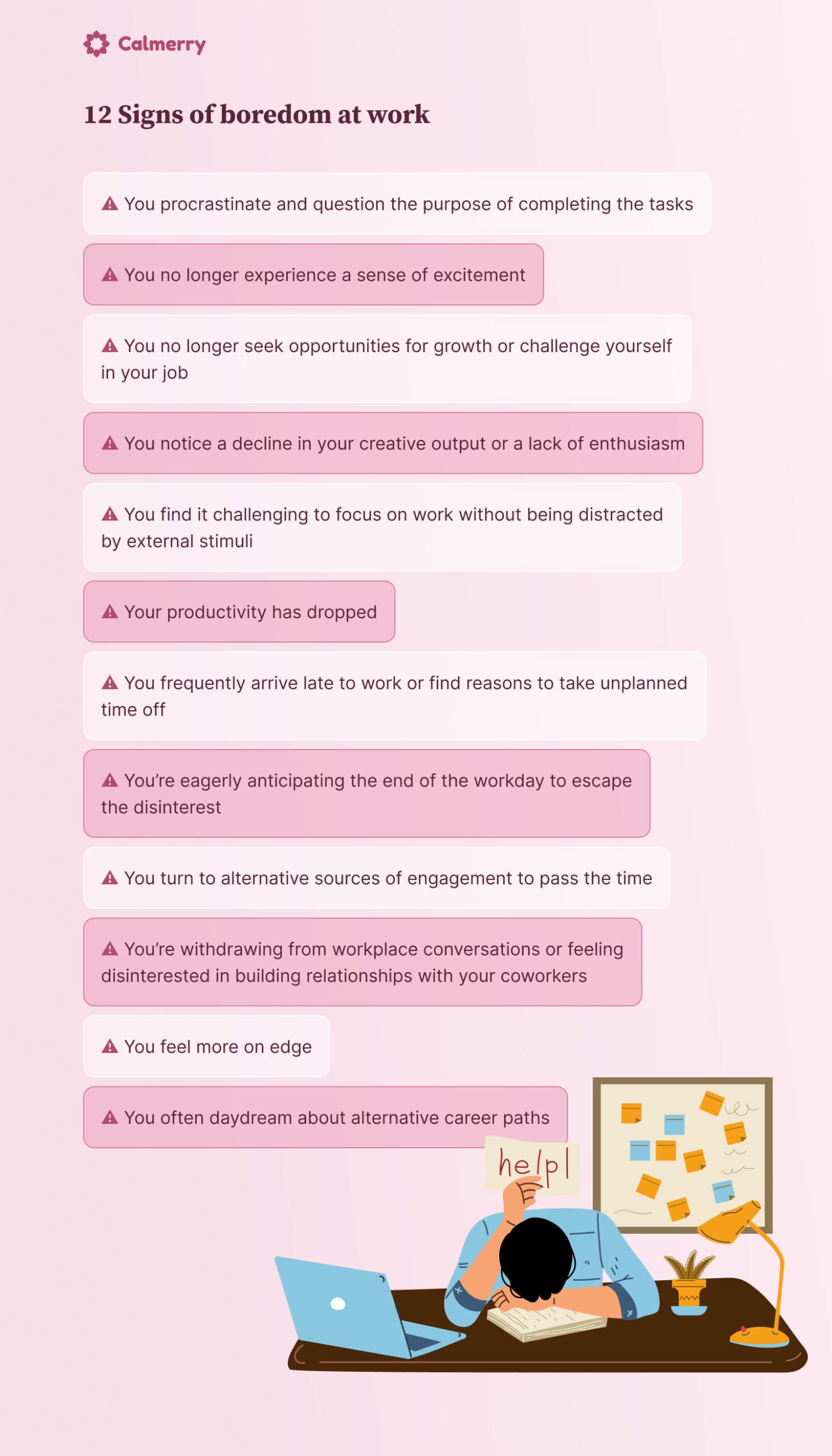 1. You procrastinate
Do you often question the purpose of completing one task when another similar task is awaiting you? Boredom can erode your motivation, leaving you feeling uninspired and inclined to procrastinate.
2. You no longer enjoy your job
Although it's natural for certain professions to have moments of tedium, you should still experience a sense of excitement or the feeling that time flies by when engaging in less high-intensity work.
If your job consistently fails to elicit any enjoyment, it may be a sign of underlying boredom.
3. You feel a lack of innovation or creative thinking
Boredom can stifle your creativity and hinder your ability to think innovatively. If you notice a decline in your creative output or a lack of enthusiasm when it comes to generating new ideas, it may be a result of feeling unstimulated in your current role.
4. You experience the absence of professional growth
Boredom can lead to a stagnation of skills and knowledge. If you find that you're no longer seeking opportunities for growth or challenging yourself in your job, it could be a sign that you're not intellectually or professionally engaged.
5. Your mind often wanders
Are you finding it increasingly challenging to focus on your tasks without being distracted by external stimuli?
When your job isn't engaging, your mind might try anything to avoid it and find more stimulating experiences.
6. Your productivity has dropped
A decreased performance at work might be a sign that you're bored. It's important to address it as soon as possible, as prolonged periods of reduced productivity might lead to a loss of motivation and burnout.
7. You experience increased absenteeism or tardiness
When work fails to excite or motivate you, you may find yourself seeking ways to avoid it.
If you frequently arrive late to work or find reasons to take unplanned time off, it could be a subconscious attempt to escape the disinterest you feel on the job.
8. You keep looking at the clock
The feeling of having spent endless hours at work only to realize that mere minutes have passed can indicate a lack of interest in your job. If you frequently find yourself eagerly anticipating the end of the workday, it may be time to confront your feelings of disengagement.
9. You look for engagement elsewhere
Do you scroll through social media more often than you used to? If the tasks at work aren't interesting, you might turn to alternative sources of engagement to pass the time.
10. You feel more on edge
Some people who have stressful jobs yearn for moments of peace and tranquility – but boredom doesn't equal feeling content. On the contrary, it can be as damaging as stress and cause mood changes.
If you find yourself lying awake at night, unable to turn off your mind and snapping at your colleagues more often, boredom is likely the underlying cause.
11. You withdraw from colleagues
Boredom can lead to decreased social interactions and a sense of disconnection from your colleagues. If you find yourself withdrawing from workplace conversations, avoiding team activities, or feeling disinterested in building relationships with your coworkers, it may be that sign.
12. You daydream about alternative career paths
When you constantly find yourself daydreaming about pursuing different career paths or longing for a change in your professional life, it can be a strong indication of boredom.
Fantasizing about more exciting or fulfilling work opportunities highlights your dissatisfaction with your current job.
Subscribe
to our mental health digest
Let us support you on the way to better mental well-being. Get expert tips and insights on mental health delivered to your inbox monthly.
But why am I so bored at work?
Boredom is an emotion that we all can experience, regardless of our position or the level of compensation. And if you're bored in a job that pays well, you might be too embarrassed to acknowledge it because you might think many people would like to be in your shoes.
However, the grass is always greener on the other side. Boredom indicates that your job might not be fulfilling your emotional, mental, cognitive, or other needs.
Here's why you might be feeling bored at work:
Your job lacks purpose
Do you feel like your job is pointless and doesn't contribute to society? Not everyone has to do a job that makes an obvious difference in someone else's life, like a doctor, a therapist, or a care worker.
But if what you do doesn't align with your core values and skills, you may feel like it lacks purpose and get bored with jobs easily. For example, if you value independence, you're likely to feel fulfilled in a career that allows you to take the initiative even if the tasks might not be exciting.
It's also common to feel like your job is meaningless if it's something you fell into accidentally, out of necessity, or social expectations – and not a job you've wanted to do. This isn't unusual. For some people, paying bills and providing for a family is a more urgent priority than pursuing a dream career.
You're not feeling challenged at work
Having a lot of free time at work might sound like an ideal scenario. But in reality, sitting around doing nothing can contribute to job boredom.
When you have nothing to occupy yourself with, your mind might start to wander, and you might overthink your problems.
Even people who aren't ambitious eventually get bored with responsibilities that don't challenge them because doing the bare minimum isn't enough to motivate you.
Having clearly outlined goals and an opportunity to improve your skills can give you a sense of achievement and prevent you from feeling bored with your career.
You feel a lack of autonomy
Feeling micromanaged or having limited control over your work processes can lead to boredom and disengagement. When employees can't make decisions or take ownership of their tasks, it can stifle creativity and lead to a sense of detachment from their job.
Your tasks are repetitive
People like trying new things. However, even thrilling experiences can lose their luster when they become routine – even skydiving might be boring if you do it every day.
If your job requires you to do the same tasks for hours, it's no surprise that you find yourself trapped in a cycle of monotony. It's the likely culprit behind your chronic boredom. With no room for creativity, you might feel like a mere cog in a machine, mindlessly executing your duties on autopilot.
Additionally, if you do the same thing every day, you might start questioning if you're an asset to your company and feel disengaged as a result.
You don't see any growth opportunities
A lack of opportunities for advancement or skill development can contribute to feelings of stagnation. When you feel like you're stuck in a dead-end job with no potential for growth, it can lead to disinterest in your work and a decline in motivation.
You feel a lack of recognition and feedback
When employees consistently go unnoticed for their efforts or receive little to no feedback on their performance, it can lead to feelings of underappreciation and disinterest.
Recognition and constructive feedback are essential for motivating individuals and fostering a sense of purpose in their work.
You need more meaningful connections
Human beings thrive on social connections and a sense of belonging. Feeling isolated or disconnected from your colleagues can lead to a sense of disengagement and boredom.
A workplace environment lacking camaraderie and meaningful interactions can make the daily routine monotonous and unfulfilling.
What is boreout syndrome? A note on chronic boredom
Boreout is not a widely recognized and relatively new concept of a psychological state of being chronically bored.
While it sounds similar to burnout, there are some key differences between the two:
Burnout is a complex state caused by excessive stress and exhaustion due to an overwhelming workload and responsibilities, boreout arises from a lack of meaningful tasks and stimulation at work.
Signs of burnout at work include:
Feeling trapped
Loss of productivity
Emotional and physical exhaustion
Lack of job satisfaction
Self-doubt
And a negative outlook, which might lead to existential depression
Boreout may have similar symptoms but different causes. When you aren't challenged enough at work, you might end up struggling from chronic boredom and feel like there's no point in doing your job.
Chronic boredom, as well as burnout, can have detrimental effects on your well-being, performance, and overall workplace dynamics. Employees who experience boreout may struggle to find motivation, and their productivity may suffer as a result.
Moreover, chronic boredom can lead to disengagement from the organization, reduced job satisfaction, and a higher likelihood of seeking alternative employment opportunities.
What to do when bored at work
When you struggle with boredom at work, it might feel like there's no other solution but to change your career. However, boredom might be a symptom of a bigger issue, and if you improve some aspects of your work, you can make it feel more meaningful.
Learning how not to be bored at work is especially important when you can't quit your job.
Whether you experience working-from-home boredom or struggle to be engaged in a fast-paced environment, you can try these strategies:
Talk to your supervisor
If you feel like your time is being wasted, let your manager or boss know that you'd be happy to take on additional work or change responsibilities to help you reach your full potential.
You might also request to be considered for specific projects. Perhaps you have some skills that the company is unaware of but would be an asset.
Remind yourself what your goals and passions are
Sometimes we end up doing the job we're doing because we need a way to pay the bills. But then life responsibilities get in the way, and we stay in the same position for years, feeling more and more unfulfilled.
You might have a career that allows you to use your skills, but it's not exactly what you want to do for the rest of your life. For example, you might be a copywriter working for a marketing company, but what you've always dreamed of doing was writing scripts.
To help you better tune to your true dreams, try this exercise: for a moment, forget about your financial responsibilities and ask yourself, "If money wasn't an issue, what would I like to be doing?"
Take advantage of your free time
Maximizing your free time can bring a sense of accomplishment and fulfillment. If you complete all the tasks ahead of time and experience office boredom, take advantage of this and do something productive for yourself.
For example, you could use the time to learn a language, keep a journal, listen to a new course, or draw.
Make breaks exciting and frequent
Instead of viewing breaks as mere downtime, use them to recharge and engage in activities that bring you joy. Whether it's spending time on a hobby, exercising, or catching up with friends, breaks can become more meaningful and refreshing.
If you struggle with work-from-home boredom, you can take more frequent breaks or switch activities to boost your productivity and make work less monotonous.
For example, the Pomodoro technique is an effective method that involves 25 minutes of focused work followed by 5 minutes breaks.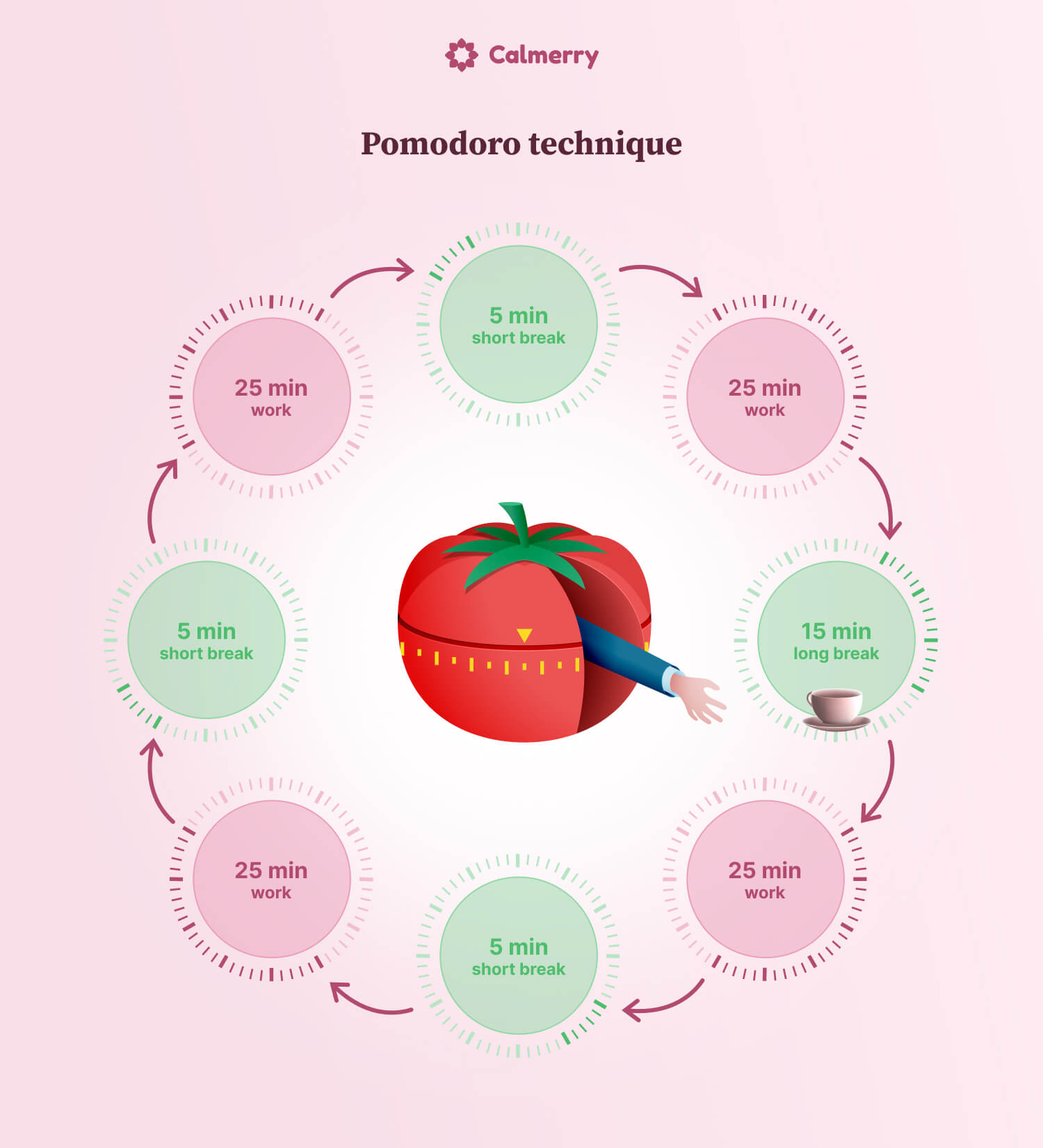 Get support from professionals
Many people have been doing their jobs for years and yet don't know what they want to do with their lives. It's not easy to identify your values because you might be held back by beliefs about what you think you should be doing.
For example, you might have been raised by parents who believe art isn't worth pursuing – so admitting to yourself that it's something you want to do might not come easily.
If you're feeling lost and overwhelmed at work and struggle to identify your true aspirations due to external influences or limiting beliefs, it's always a good idea to talk to a mental health professional. They can help you gain clarity, rediscover your purpose, and set meaningful life goals based on your values.
At Calmerry, we offer online therapy and counseling – so you can talk to a licensed provider from the comfort of your home or office.
Consider a career change
If you've tried everything to improve things and still suffer from chronic boredom, it might be worth considering a career change.
The first step is to identify your core values and passions and narrow down professions that align with them.
Then, you can speak to professionals in the industry you're interested in and ask them about their daily duties. It's important to be realistic because no job is as perfect as it seems.
You should also consider signing up for a course to gain the necessary skills that can help you get a job in your chosen field.
Please remember that making significant life and career decisions requires thoughtful consideration. So take your time in exploring your options.
What leaders can do to manage boredom in the workplace
Chronic boredom is the enemy of success. A bored employee often experiences decreased productivity and burnout, which might translate into poor business outcomes.
Currently, millennials are the group most likely to switch jobs, with lack of engagement being a possible leading reason. According to Gallup's data from 2022, only 32% of employees are engaged at work.
As a person in charge, you can make a few adjustments to prevent the boreout at work and help your organization flourish.
Ask employees for feedback
A good way to check if employees are bored at work is to ask for anonymous feedback. Another option is to call a meeting and ask your staff to throw in ideas on how you can improve how things are done.
By actively seeking employee feedback, you demonstrate a genuine interest in their perspectives, fostering a sense of psychological safety in the workplace. This inclusive approach can motivate employees to contribute openly, knowing their voices are valued and heard.
Make the work environment more fun and relaxed
Acknowledging that certain job tasks may inherently be repetitive and less engaging, you can still inject some excitement and relaxation into the work environment. However, you can always break up the routine by making the work environment more fun.
Consider these strategies to boost morale:
Music and personalization
Allow employees to listen to their favorite music while performing tasks like writing emails or working independently. Personalizing their workspace with photos or decorations can create a more enjoyable and comfortable atmosphere.
Frequent breaks
Encourage frequent breaks throughout the day to give employees time to recharge and relax. Short breaks can help combat feelings of monotony and increase productivity by allowing employees to step away from their desks and engage in activities they enjoy.
Creative team-building activities
Organize occasional team-building activities or fun events to strengthen team spirit. These activities offer employees an opportunity to unwind, connect with colleagues, and boost their enthusiasm for work.
Celebrate achievements
Recognize and celebrate individual and team accomplishments regularly. Acknowledging their efforts and successes reinforces a positive work culture and motivates employees to stay engaged and committed to their tasks.
Organize staff outings to strengthen the bond within your team
Employees who get on well with each other are found to derive more satisfaction from work. Even if what they do might be less stimulating, cooperating with someone they consider their friend makes a job more enjoyable.
You can create a more enjoyable and cohesive work environment by providing opportunities for employees to socialize and bond outside of the workplace. Engaging in fun and lighthearted activities allows team members to get to know each other personally, fostering a sense of friendship and camaraderie.
Challenge them – but don't overwhelm
Occasionally employees are bored because they don't have enough growth opportunities. If you see your employees sitting around doing nothing because they complete their projects ahead of time or if your team always effortlessly hits the target, it might be time to talk about new challenges and opportunities.
You can provide a sense of purpose and accomplishment by identifying areas where they can further develop their skills and expertise.
However, it's crucial to strike a balance and avoid overwhelming them. Ensure the challenges are manageable and conducive to their professional development.
Hire the true leaders
A great way to engage your staff is to hire managers who will provide constructive feedback and encouragement. Investing in inspirational leaders who prioritize employee growth and happiness is an investment in the success and well-being of your organization as a whole.
When employees feel genuinely supported, they are more likely to perform at their best and contribute to a thriving and motivated team. It can help everyone feel like a part of a team and improve their mental health at work.
This is also to make sure that the work environment isn't demoralizing. The happier your employees are, the more productive they will be.
Provide access to mental health support
The key to tackling chronic boredom and burnout is often improving employees' mental health and learning about their needs.
Calmerry offers the B2B mental health solution for employers who want to boost their staff's productivity by ensuring that the company's work environment promotes well-being.
By talking to a therapist and using our self-help toolbox, they can improve self-awareness, discuss their personal challenges, and find meaning in their work and their journeys.
Let's connect
Book a 30-min demo call with us to learn more about our B2B offering and how Calmerry can help take the pressure off your team through flexible, customizable, and holistic therapy.
See a live demonstration of how platform works
Have an overview of our flexible payment models
Get a tailored offer based on your company needs and number of employees
Сheck your mental well-being for free: